One of America's most fascinating and beautiful places, the Commonwealth of Pennsylvania is indeed filled with loads of historic intrigue and natural wonder. The second State admitted to the Union in 1787, Pennsylvania has a rich story to tell, and its cities are important centres of the American story. From historic attractions, to stunning natural surroundings, and unique cultural activities, Pennsylvania's beautiful cities are great ways to get acquainted with America's past and present. For tourists looking to make the most out of a trip to the Eastern United States, then first hand discoveries with Pennsylvania's cities are a must for all.
Lancaster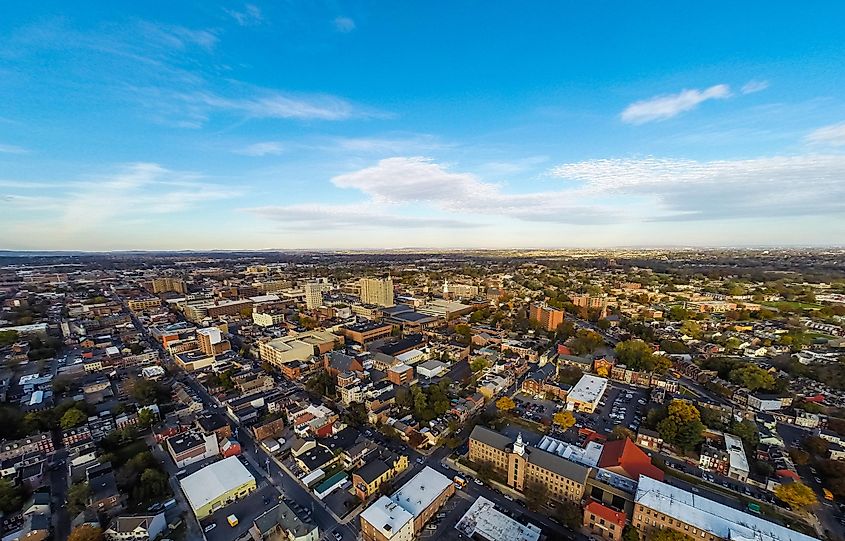 Established in 1729, the historic city of Lancaster is widely known as a central hub of the Pennsylvania Dutch Country. With a modern population of just over 58,000 residents, Lancaster is also the home of one of America's largest Amish communities. Located just 61 miles from Philadelphia, this historically fascinating place is full of great landmarks perfect for the history afficionado to discover. Explore such sites like the America's oldest running theatre the Fulton Opera House (1852), President James Buchanan's Wheatland Estate, or the always charming Central Market (1889).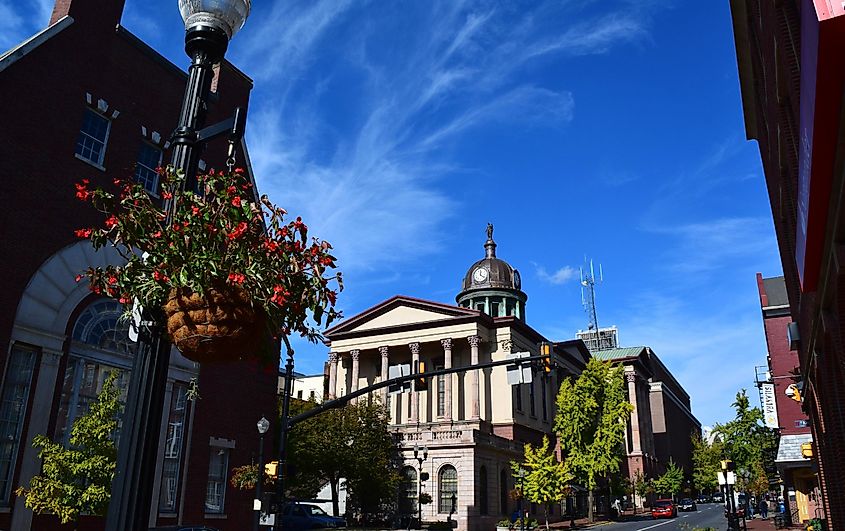 And with an assortment of great boutique stores and art galleries at Gallery Row something unique to bring back home is never hard to find. Meanwhile tasty restaurants and popular breweries can also be enjoyed here, particularly those serving authentic German style cuisine.
Hershey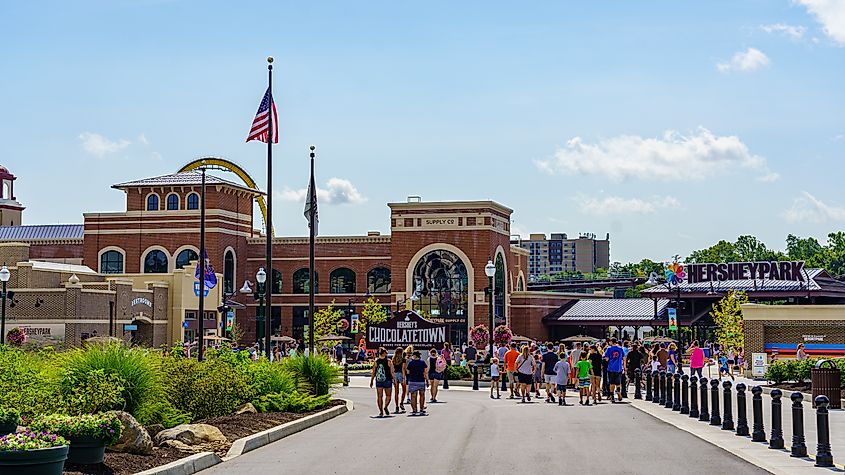 Renowned as the headquarters of the Hershey Chocolate Company, the town of Hershey was founded in 1903 specifically so that company employees could have close access to work. In the 120 years since its inception, the town has grown to a humble size of nearly 14,000 inhabitants, not all of whom that work as chocolatiers! But of course chocolate remains Hershey's main attraction and its tourist industry dominates the local economy. For the sweet-toothed visitor stops at the wonderful theme park Hersheypark and Chocolate World are surely not to be missed.
Here interesting behind the scenes tours and great souvenir merchandise are on hand, celebrating everything that is Hershey Chocolate. Meanwhile at the alluring ZooAmerica, see a variety of wildlife in an outing perfect for the whole family. Indeed when in Hershey a fun and delicious experience will be had for all in this most unique Pennsylvania destination.
Allentown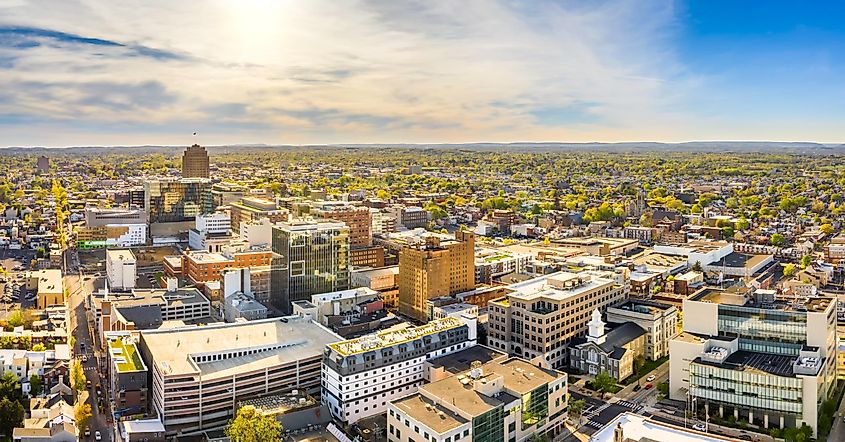 With a population of 125,845 inhabitants, Allentown is the State's third largest urban centre after Philadelphia and Pittsburgh, respectively. Just some 78 miles from New York City, Allentown was formally established in 1762 and is situated on the Lehigh River. A wonderful modern city with a great historic background, visitors will encounter a place where the past meets the present. Full of many 19th century homes and landmarks, Allentown also has an eclectic range of fascinating modern attractions. Stop by the Da Vinci Science Center, the Allentown Art Museum, or the historic Nineteenth Street Theater (1928). Meanwhile at the stunning Lehigh Parkway some 629 acres of greenery, creeks, and soothing nature make it a most relaxing locale for the solo or group traveller alike.
Scranton
Scranton was one of the most important industrial hubs for iron and coal production in America, and today this city founded in 1856 is home to just over 76,000 residents. Pennsylvania's sixth largest city, this modern yet historic city is a great blend of the past and present. Among the historic landmarks and attractions of note include the Lackawanna Coal Mine, the Steamtown National Historic Site, and the Electric City Trolley Museum, which all highlight Scranton's historic development. In addition growing financial, tech, and healthcare industries make the city a most lucrative and comfortable place to consider living in, for both young professionals, families, and retirees alike.
Williamsport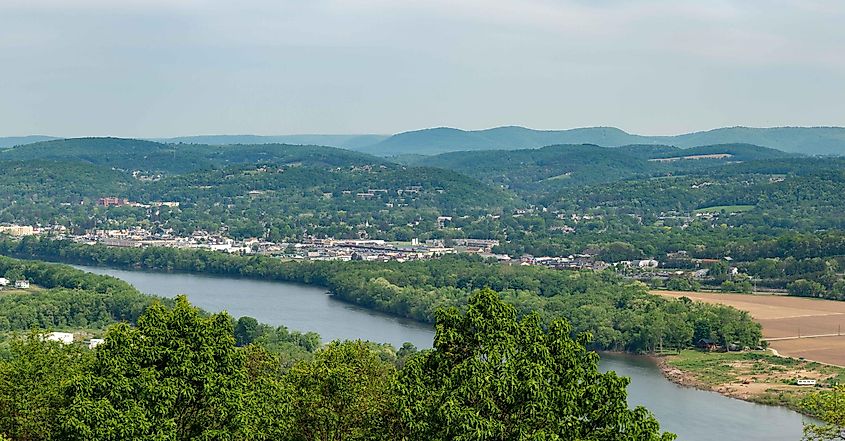 Founded in 1769, the city of Williamsport serves as the seat of Lycoming County and is home to a population of 27,754 residents. Located on a branch of the Susquehanna River, this former lumber centre is now a bustling modern city for finance, the arts and quality higher education. Visitors may take beautiful strolls through several of the town's historic neighborhoods, where a number of 18th and 19th century homes and landmarks can be found. Indeed at the famed Millionaire's Row Historic District, up to 263 buildings are listed as being of historic importance. And with a climate that features hot summers and mild winters, spending time outdoors is always popular in Williamsport. From ice skating in the winter to hiking, biking, and jogging in the summer, being outside in this great Pennsylvania town is always a pleasant experience.
York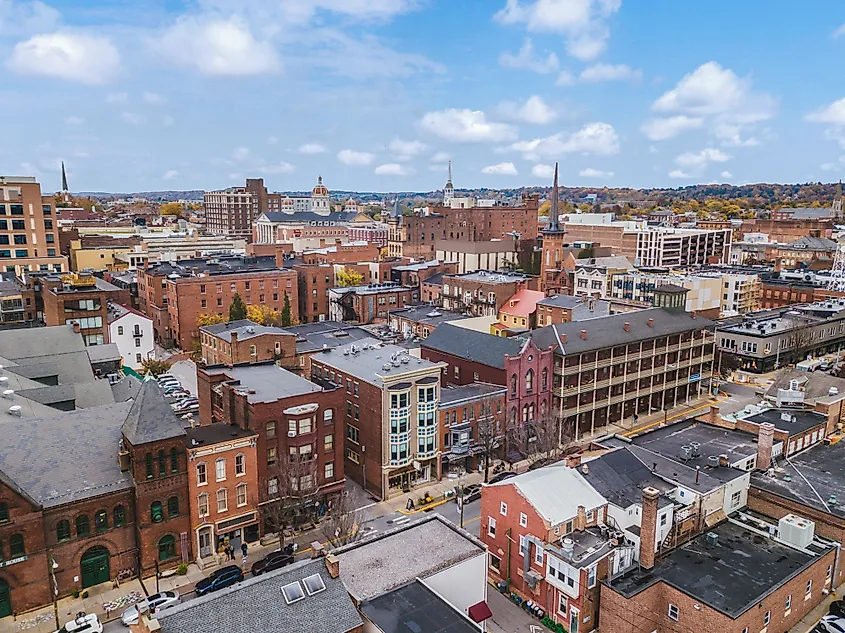 Named after the English city of the same name, Pennsylvania's York is also known as the "White Rose City". Established in 1741 and seat of York County, the city of York is only 52 miles from Baltimore, Maryland. Home to a population of just under 45,000 inhabitants, the city boasts mild winter and warm summer temperatures where a number of fascinating historic sites can be discovered. Visit the York Meetinghouse (1766), the Golden Plough Tavern (1741), or stroll through the town's four historic districts. In addition the annual York State Fair, founded back in the 1760s continues to fascinate the public with its ties to America's colonial past. Indeed for a most authentic historic time capsule that meets modern hospitality, York is a great place to include on anyone's list of Pennsylvania cities.
Philadelphia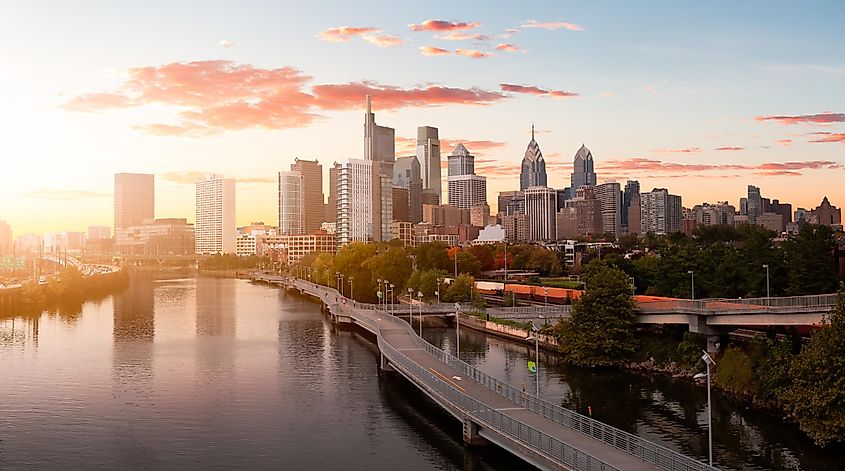 Pennsylvania's largest city with a population of 1.6 million residents, Philadelphia is also one of the most significant and historically important places in the United States. Once serving as the nation's capital, the "City of Brotherly Love" is an absolute must visit for tourist in the Eastern US. Site of several important places and events in America's early history, some 67 National Historic Landmarks can be found in Philadelphia. Visit the stately Independence Hall and National Historical Park (where both the US Constitution and the Declaration of Independence were debated, drafted, and signed), or view the Betsy Ross House, where the first American flag was sown. Of course getting to know Founding Father Benjamin Franklin is a must when in Philly, and a stop at his eponymous museum in the Old City District comes complete with cobblestone streets and 18th century townhouses. And naturally the iconic and eternal Liberty Bell and its signature crack cannot be missed when in this most special and symbolic American city.
Pittsburgh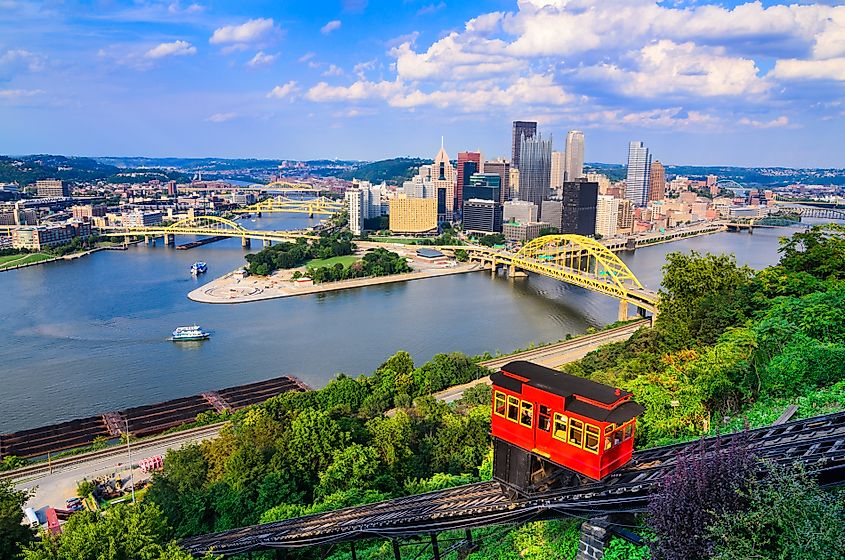 Known as the "Steel City, the beautiful city of Pittsburgh is Pennsylvania's second largest with a population of 302,971 residents. Seat of Allegheny County, Pittsburgh is situated at the confluence of the Monongahela, Ohio and Allegheny Rivers and traces its history to the 1750s. Long known for its steel producing industry, Pittsburgh is also known by the moniker of the "City of Bridges", due to the nearly 450 bridges that can be found within the city's borders. And with a thriving arts, sports, and higher learning community, Pittsburgh is truly one of the great modern American cities, where the past and present come together. From the campuses of the University of Pittsburgh and Carnegie Mellon, to regional offices of Microsoft, Google, and Apple, the "Steel City" is an undoubted gem of Pennsylvania and America at large.     
Harrisburg
Pennsylvania's State capital, Harrisburg is a beautiful destination for all who visit the "Keystone State". The ninth largest urban centre in the State and home to a population of just over 50,000 residents, Harrisburg is located on the Susquehanna River's eastern bank and is some 107 miles from Philadelphia. An important historical centre during the American Civil War, the city's historic growth was spurred by the rapid industrial changes of the 19th century, and it continued to be a major industrial hub into the 20th century. Today this modern city is a most comfortable place to visit and live in, and it has frequently been rated as one of the best places in America by various publications. And with a splendid variety of arts and cultural events like the Great American Outdoor Show, even just visiting Harrisburg will be sure to leave a most positive impression.
Pennsylvania is one of America's most important and fascinating places to discover, where history and natural beauty come together. Indeed visiting the "Keystone State's" wonderful cities is a great way to get acquainted with the history of the early United States and the stunning natural surroundings of the area. From the beloved streets of Philadelphia to the unique and charming Hershey, and the culturally rich town of Lancaster, these Pennsylvania cities are worthy destinations for any lover of America to discover and return to time and time again.