Welcome to the Hawkeye State, Iowa! Known for its rolling hills, fertile farmland, and friendly small towns, Iowa offers an idyllic escape from the hustle and bustle of city life. In this blog, we'll explore the 9 best small towns in Iowa for a weekend getaway, focusing on their mountains, rivers, lakes, and parks. Prepare to be captivated by the picturesque landscapes, outdoor adventures, and charming atmospheres that these quaint destinations have to offer. Let's set off on this journey to discover the unique appeal of each town and the natural wonders that make Iowa a must-visit destination for relaxation and exploration.
Pella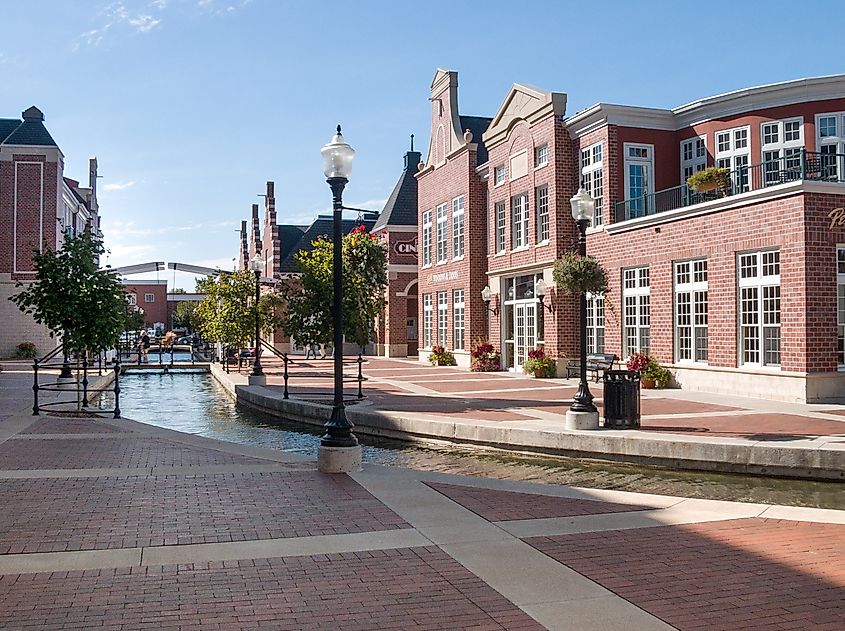 Pella, a delightful small town with Dutch origins, offers visitors a unique experience steeped in history and charm. The town's centerpiece, Lake Red Rock, is Iowa's largest lake, providing an array of recreational activities such as boating, fishing, and swimming. Surrounding the lake, the Red Rock Recreation Area boasts over 50,000 acres of parks, trails, and wildlife habitats waiting to be explored. In Pella itself, you can stroll through the picturesque Central Park, visit the historic Vermeer Windmill, and enjoy the annual Tulip Time Festival, which celebrates the town's Dutch heritage. For history enthusiasts, the Pella Historical Village showcases beautifully preserved buildings and artifacts from the town's early days. With its beautiful landscapes, rich cultural experiences, and distinct character, Pella is a perfect destination for a memorable weekend getaway in Iowa.
Okoboji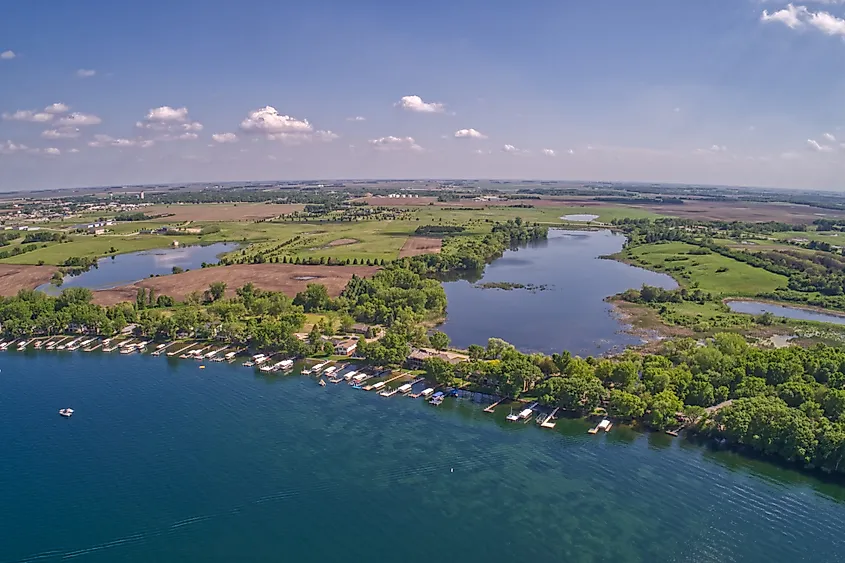 Located in the Iowa Great Lakes region, Okoboji is a premier destination for water enthusiasts and nature lovers alike. Home to five interconnected glacial lakes, the town offers a plethora of water-based activities, including boating, fishing, and watersports. In addition to the lakes, Okoboji features numerous parks and trails, such as the beautiful Arnolds Park Amusement Park, which boasts a vintage wooden roller coaster and stunning lake views. For a more serene experience, explore the Dickinson County Nature Center and the nearby Kenue Park, where you can hike, bike, and birdwatch. The Iowa Great Lakes Trail also offers miles of scenic pathways perfect for walking, jogging, or cycling. Okoboji's blend of natural beauty and family-friendly attractions make it a top choice for a weekend escape in Iowa.
Bentonsport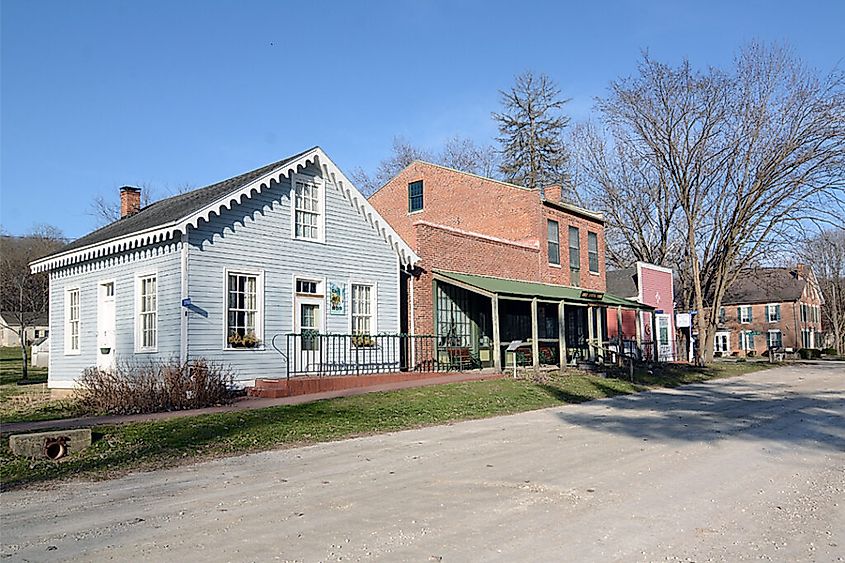 Bentonsport, a historic river town nestled along the Des Moines River, offers visitors a unique blend of natural beauty and fascinating history. The town's centerpiece, the Bentonsport Historic District, showcases beautifully preserved 19th-century architecture and the scenic Vernon Railroad Bridge. Outdoor enthusiasts can explore the nearby Shimek State Forest, which boasts miles of hiking and horseback riding trails, or embark on a river adventure with canoeing, kayaking, and fishing on the Des Moines River. For a more leisurely experience, stroll through the town's charming shops and galleries, or relax in the picturesque Bentonsport Riverside Park. In the autumn, the Annual Bentonsport Artisans Co-op Festival celebrates local arts and crafts. With its captivating history, stunning surroundings, and welcoming atmosphere, Bentonsport is an ideal destination for a relaxing weekend retreat.
Mount Vernon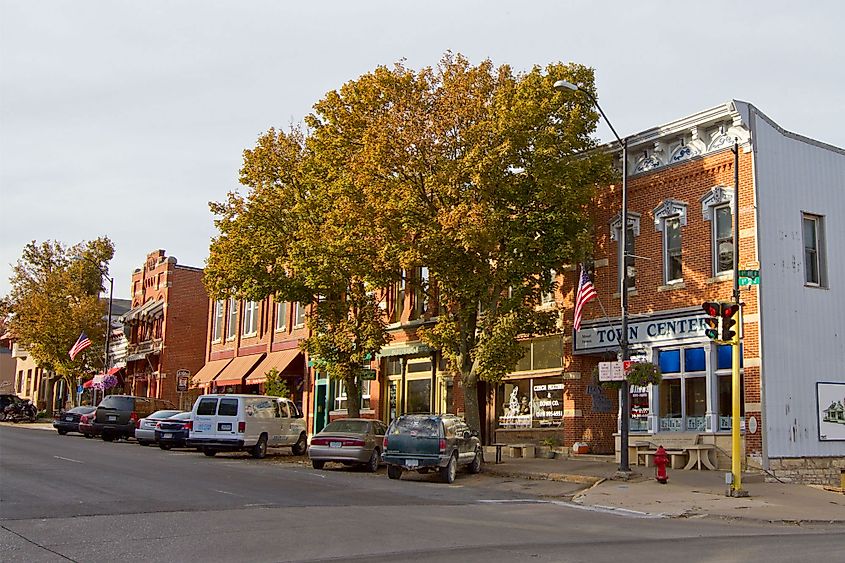 Situated near the picturesque Palisades-Kepler State Park, Mount Vernon is a vibrant small town with a thriving arts scene and abundant outdoor opportunities. The park offers scenic hiking trails along the Cedar River, providing breathtaking views of the unique limestone cliffs and dense woodlands. In town, you can explore the charming shops, galleries, and restaurants that line the historic Main Street, or attend one of the many cultural events hosted by the community. Just a short drive away, you'll find the Cornell College campus, a beautiful and historic liberal arts college that adds to the town's lively atmosphere. Mount Vernon's blend of natural beauty, cultural offerings, and welcoming community make it an ideal destination for a weekend escape in Iowa.
Winterset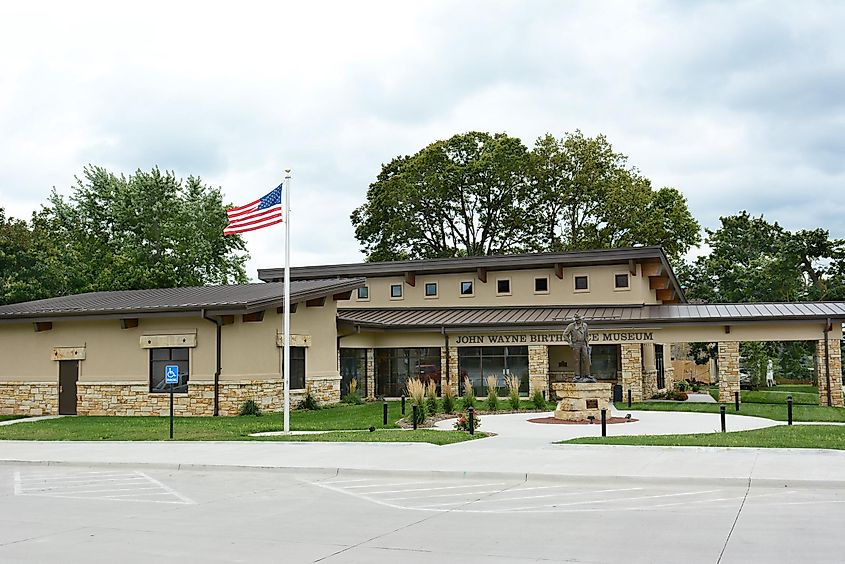 Winterset, renowned as the birthplace of John Wayne and the enchanting setting for the iconic covered bridges of Madison County, is a captivating town overflowing with historical charm and natural splendor. Immerse yourself in the idyllic Winterset City Park, where a striking stone bridge, intriguing hedge maze, and access to several renowned covered bridges await. Venture to the nearby Pammel State Park for hiking, picnicking, and wildlife observation amid breathtaking limestone bluffs and verdant forests. In town, the historic Courthouse Square beckons with its unique shops, delightful restaurants, and the stately Madison County Courthouse. Winterset's vibrant history, tranquil landscapes, and welcoming ambiance make it the ultimate weekend getaway in Iowa, leaving an indelible mark on all who visit.
Dubuque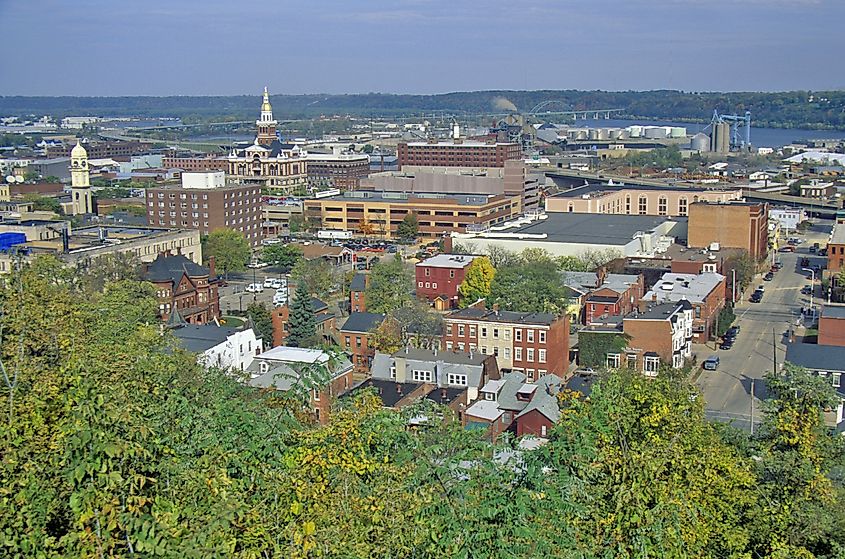 Perched majestically along the Mississippi River, Dubuque is an enchanting small town where natural beauty seamlessly intertwines with a rich industrial past. At the heart of Dubuque's allure is the Mines of Spain Recreation Area, boasting miles of picturesque trails and awe-inspiring views of the Mississippi River, not to mention the iconic Julien Dubuque Monument. Eagle Point Park, gracefully situated on a bluff overlooking the river, captivates visitors with its panoramic vistas and charming gardens. Immerse yourself in the town's rich history by exploring the Millwork District, where beautifully restored 19th-century architecture and a flourishing arts scene take center stage. Dubuque's captivating fusion of natural wonders and cultural attractions positions it as a truly irresistible destination for a weekend escape in Iowa.
Fairfield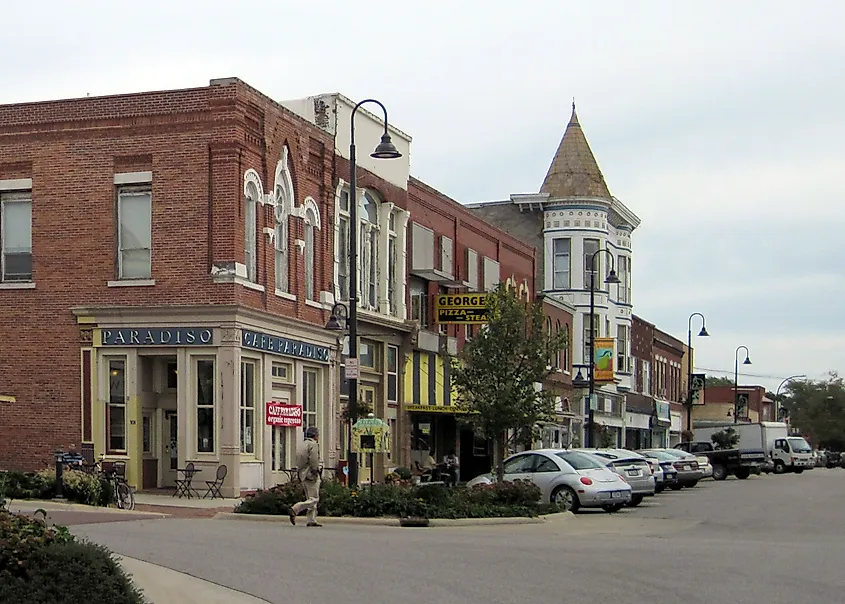 Bursting with an eclectic atmosphere and a lively arts scene, Fairfield is a small town that exudes a magnetic charm. Nestled amidst lush parks and picturesque trails, the town's center is teeming with art galleries, chic boutiques, and an array of delightful eateries. Adventure awaits at Jefferson County Park, with its extensive network of multi-use trails ideal for hiking, biking, and birdwatching, while the nearby Lamson Woods State Preserve offers a tranquil haven for nature lovers. Additionally, Fairfield takes pride in being home to Maharishi International University, which enriches the town's distinct character and cultural diversity. Boasting a fusion of natural beauty, artistic flair, and a vibrant community, Fairfield promises an invigorating weekend escape in Iowa, delivering an unforgettable experience for all who visit.
Elkader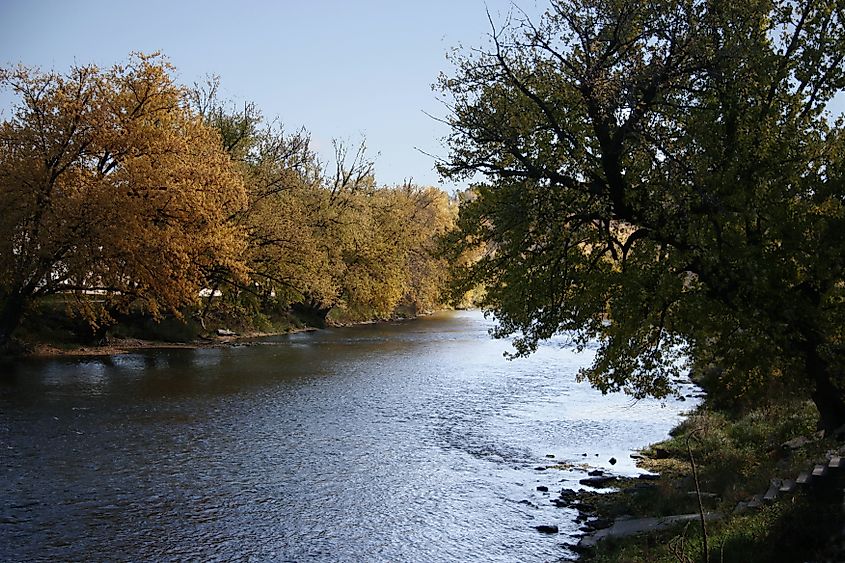 Nestled along the meandering Turkey River, Elkader is a mesmerizing small town steeped in history and adorned with nature's splendor. The town's crowning jewel, the historic Keystone Bridge, is an architectural marvel that has withstood the test of time since 1889. The surrounding parks, such as the verdant Founders' Park and the exhilarating Elkader Whitewater Park, provide a treasure trove of outdoor recreation opportunities, including hiking, kayaking, and fishing. Within the town's borders, discover enchanting shops and restaurants, as well as the majestic Elkader Opera House, hosting an array of cultural events that capture the imagination. Elkader's breathtaking landscapes, rich heritage, and welcoming atmosphere come together to create a memory-filled destination for a weekend escape in Iowa.
Decorah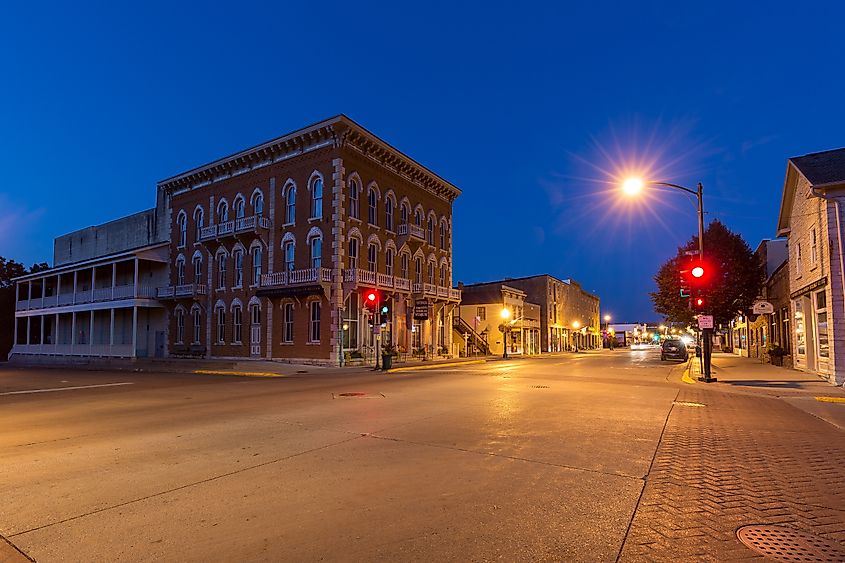 Nestled in the northeastern corner of Iowa, Decorah is a charming town that boasts stunning natural beauty and rich cultural heritage. The town is surrounded by striking limestone bluffs and the Upper Iowa River, offering excellent opportunities for canoeing, kayaking, and fishing. Decorah is also home to the enchanting Dunning's Spring Park, featuring a cascading waterfall surrounded by lush foliage. Don't miss the opportunity to explore the unique geological formations at the Ice Cave State Preserve, which showcases fascinating remnants of the Ice Age. For cycling enthusiasts, the Trout Run Trail is a must-try, as it winds through picturesque countryside and along the river. With its vibrant downtown area, friendly community, and a plethora of outdoor adventures, Decorah is an ideal weekend escape in Iowa, providing unforgettable experiences for all who visit.
Our exciting expedition through Iowa's most vibrant small towns for a weekend escape has unveiled the state's mesmerizing blend of diverse landscapes, magnetic communities, and one-of-a-kind attractions. From the tranquil waters of Okoboji to the historical enchantment of Winterset, these destinations promise to captivate travelers in search of both relaxation and adventure. So grab your bags and embark on a journey through the picturesque small towns of Iowa, where you'll uncover not only the breathtaking natural beauty but also the warm, inviting spirit that truly defines the heart and soul of the Hawkeye State. Happy travels!