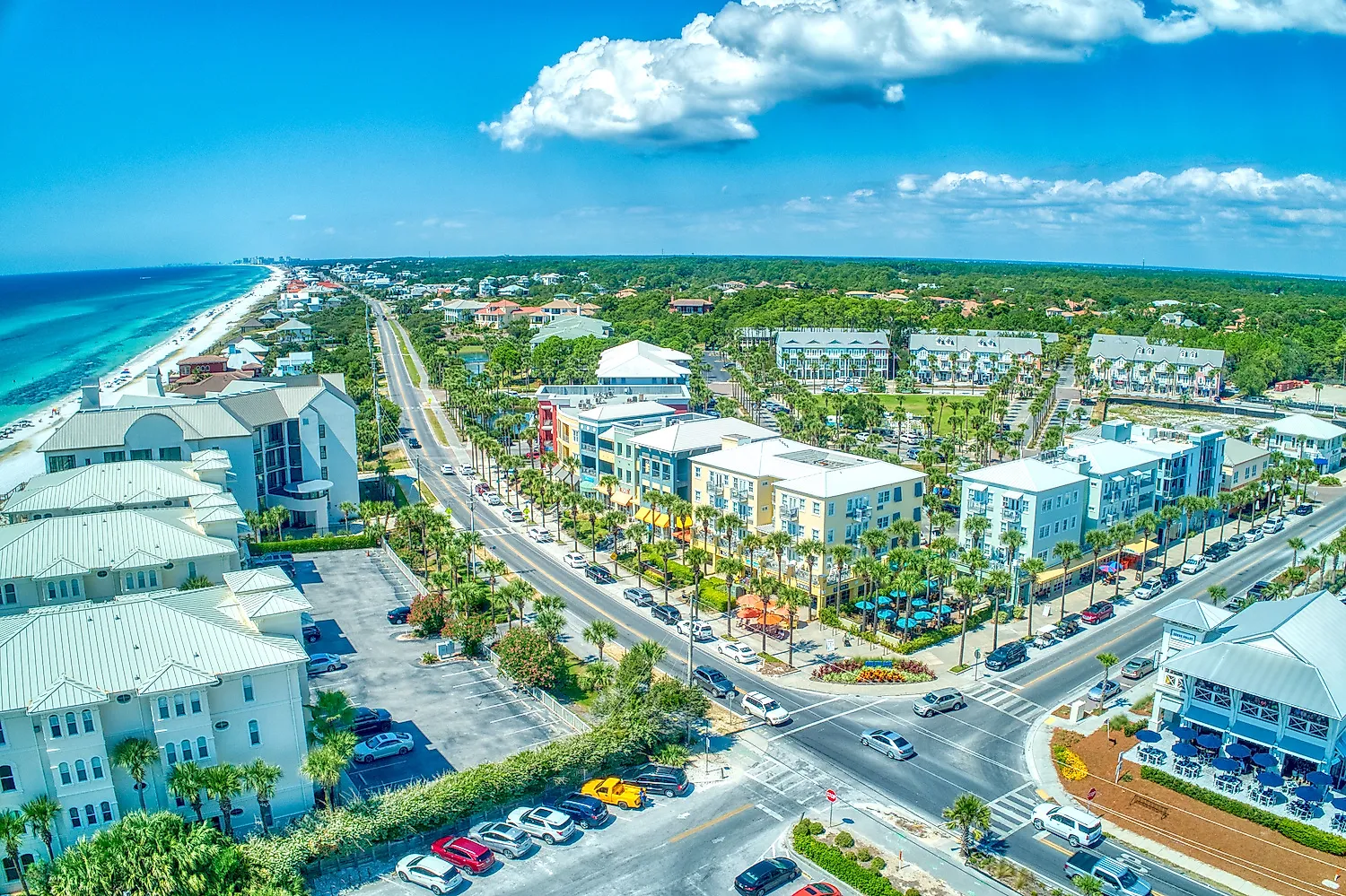 9 Adorable Small Towns on Florida's Emerald Coast
Florida's Emerald Coast, a sparkling gem of the Panhandle, is best known for its turquoise waters and sugar-white sandy beaches. Yet, this slice of paradise isn't just about the beaches; it's home to a collection of charming small towns, each with its unique flavor. Pack your bags as you discover nine of the most adorable small towns you simply can't miss when visiting Florida's Emerald coast!
Seaside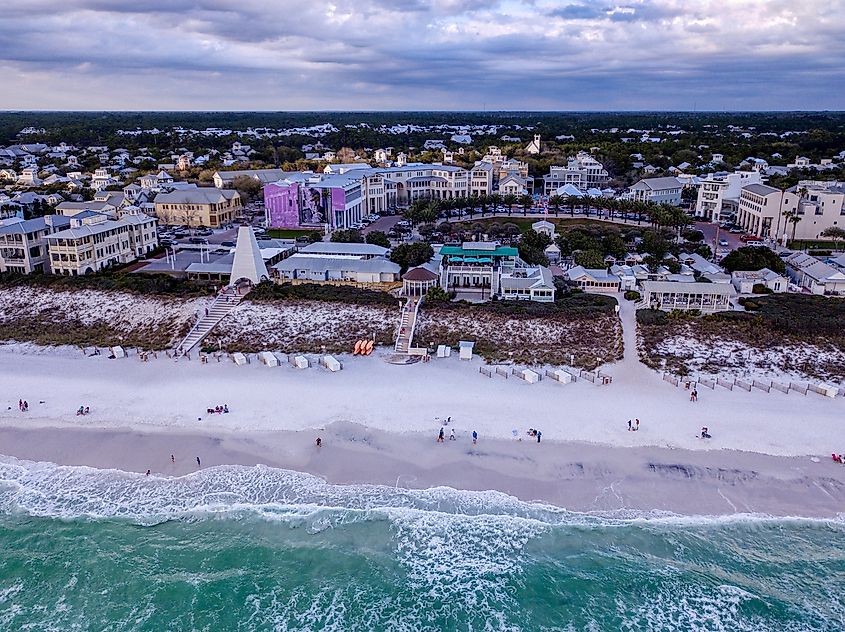 If you're a movie aficionado, you've probably caught glimpses of Seaside in "The Truman Show." Stepping into Seaside feels like you're walking onto a movie set — and in a way, you are! Pastel-hued homes, each framed by white picket fences, line the streets. As you stroll, the vibrant buzz of the open-air market draws you in. Nearby, boutique shops display handcrafted goods, inviting you in for a closer peek. Everywhere you turn, there's an air of relaxed coastal living. Seaside wraps you in its charm, making it near impossible not to fall head over heels for this beachside haven.
Grayton Beach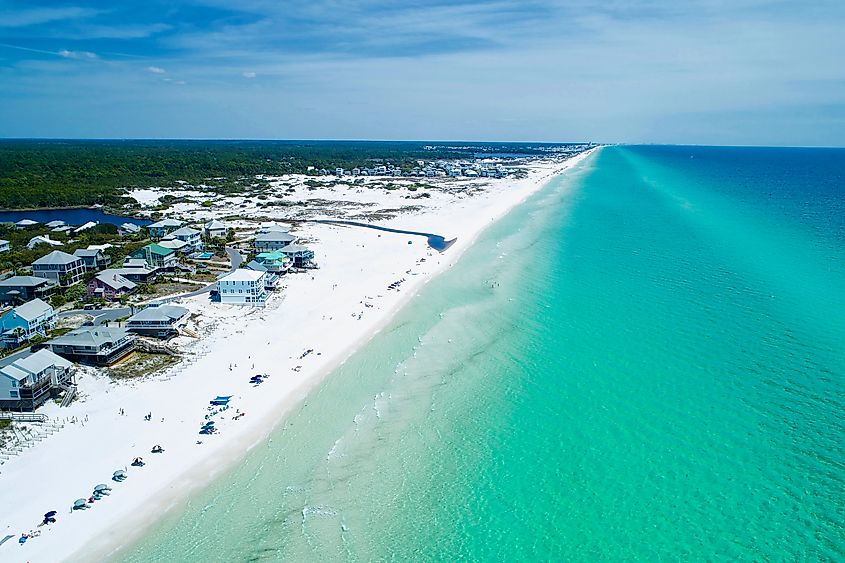 When you step into Grayton Beach, it's as if you're flipping open the worn pages of a beloved storybook. Old-world charm envelops you, beckoning you to explore further. Picture rustic beach homes with weathered shutters standing tall next to colorful, buzzing art galleries. Local artists pour their hearts into canvases, sharing tales of the sea and sand. And then there's the famous Red Bar — a hotspot where locals and visitors alike gather for music, laughter, and memories. Every nook and cranny of this quaint corner of the Emerald Coast promises an adventure, urging you to dive right into its narrative.
Destin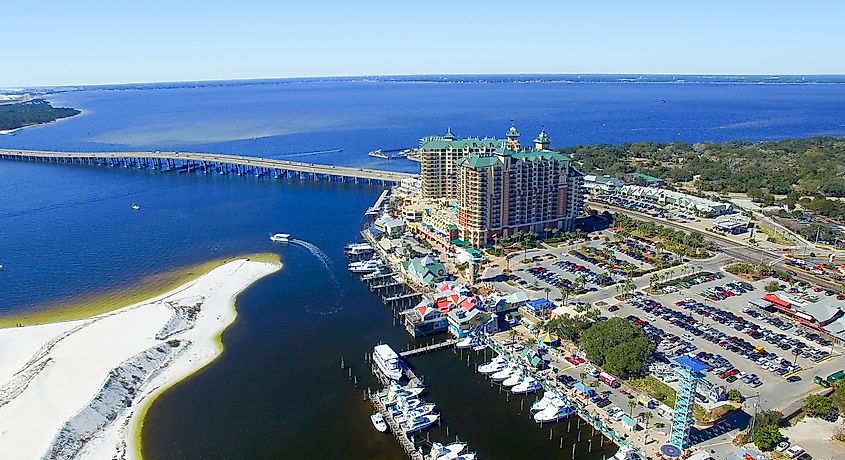 Ever heard of the "World's Luckiest Fishing Village"? That's Destin for you! And it's not just a catchy title. Thanks to its prime location granting quick access to the Gulf's deepest waters, fishing here is nothing short of legendary. Here, you can find snapper, grouper, and even mahi-mahi! Additionally, tempting aromas waft from local seafood eateries, where the day's fresh catch transforms into mouthwatering dishes. And if you're up for a magical experience, hop aboard a dolphin-watching cruise with Destin Dolphin Cruise. As the boat glides over shimmering waters, watch for those joyful moments when playful dolphins dance around, showcasing nature's own spectacle in their beloved habitat.
Fort Walton Beach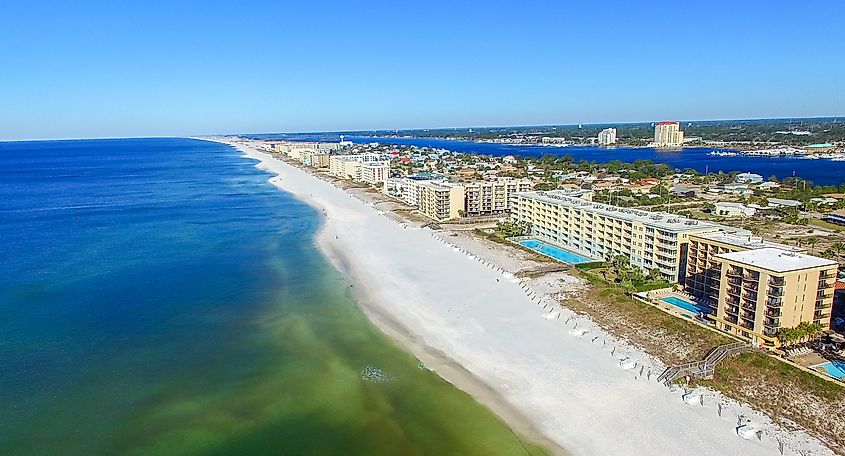 At Fort Walton Beach, the whispers of the past seamlessly blend with the vibrant hum of beach life. Imagine stepping back in time as you wander through the Indian Temple Mound Museum, where tales of ancient civilizations breathe life into artifacts and exhibits. Feel the weight of the region's storied past, rich with culture and traditions.
Then, switch gears and dive into the present at the Gulfarium Marine Adventure Park. Here, marine life dazzles in all its glory. Watch in awe as playful dolphins leap and curious sea turtles glide by. Families, especially, find themselves drawn to this marine wonderland, making memories against the backdrop of the ocean's mysteries.
Rosemary Beach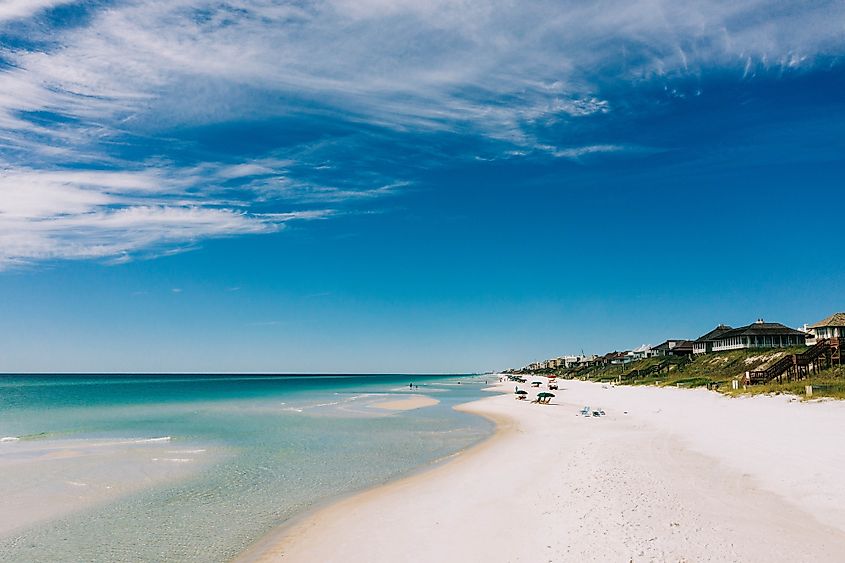 Strolling through Rosemary Beach, you might momentarily forget you're not wandering the alleys of a quaint European coastal town. Every step on the cobblestone streets resounds with history and charm. Gas lanterns cast a warm, inviting glow as evening descends, creating a magical atmosphere. And the architecture is a beautiful dance of Caribbean flair and European elegance. But there's more to discover here.
Feel like indulging your taste buds? Havana Beach Bar & Grill serves up delicious dishes that capture the essence of coastal cuisine. Or if pampering is on your agenda, the luxurious Spa Pearl awaits, ready to rejuvenate your senses. Whether you're shopping, dining, or simply soaking in the ambiance, Rosemary Beach sweeps you off your feet with its mesmerizing allure.
Alys Beach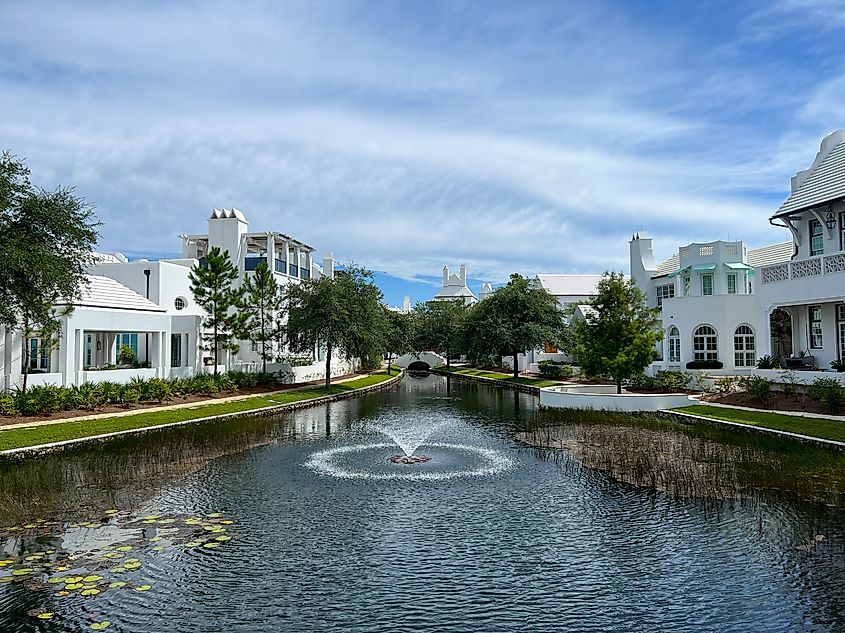 Alys Beach is a canvas painted in brilliant white, where buildings stand tall, echoing Moroccan-inspired designs. It's impossible not to feel captivated as you wander its paths. Fancy a walk with nature? The trails beckon, whispering secrets of the flora and fauna. If a relaxed vibe is more your pace, the quaint cafes are perfect spots to sip on a warm coffee and watch the world go by. And let's not forget the heart of community events, Ally's Beach Amphitheater. Whether it's a lively musical performance or a local gathering, it's the place to be. Every corner and every stone of Alys Beach invites you in, promising a mosaic of enchanting moments and memories.
Niceville
While its name might suggest otherwise, Niceville is far beyond merely 'nice'. This place warmly embraces you with its close-knit community vibes. Yearning for some greenery? Wander through Lions Park, where families gather for picnics, or meander along the trails of Turkey Creek Park, immersing yourself in nature's serenity. In addition, Niceville is dotted with local eateries, each one beckoning with mouthwatering aromas. From savory dishes that echo family recipes to modern twists on classics, there's a gastronomic journey awaiting you at every corner. So, in Niceville, it's not just about visiting; it's about savoring every experience that this delightful town offers.
Santa Rosa Beach
Santa Rosa Beach is a tapestry of nature's wonders, showcasing everything from sprawling dunes to lush marshes, making it an ecotourist's dreamland. If you're itching for an adventure, grab a kayak and navigate the serene waters of the coastal dune lakes, letting the rhythm of nature guide you. For the sun worshipers, the beaches, with their pristine stretches of golden sand, beckon for hours of relaxation. Also, golf enthusiasts, take note: the nearby Windswept Dunes Golf Club offers a challenging round amidst breathtaking scenery. And art lovers? L'Artiste Marti Schmidt Gallery awaits, where every brushstroke tells a story.
Miramar Beach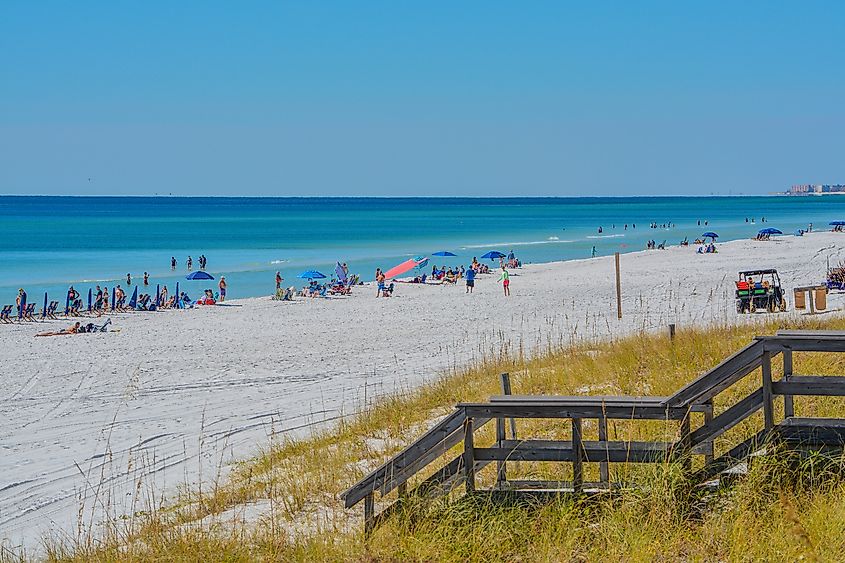 Miramar Beach is where the past gracefully dances with the present. Here, the nostalgia of yesteryears seamlessly melds with contemporary flair. As you wander, modern resorts beckon with their luxurious offerings while echoes of history whisper tales of bygone days. Craving a game? Tee off at the Seascape Resort Golf Club, where each hole presents its own unique challenge. Need some pampering? Drift into Serenity By the Sea Spa at Hilton Sandestin Beach Resort, letting the experts work their magic to rejuvenate your senses. But it's the pristine silver sands and the sparkling azure waters that truly seal the deal, making Miramar Beach a must-visit destination bursting with allure at every turn.
From the rustic allure of Grayton Beach to the European vibes of Rosemary Beach, the Emerald Coast of Florida is sprinkled with towns that offer both enchantment and adventure. Each town has its own tale to tell, its own memories waiting to be made. So, which town on Florida's Emerald Coast is calling your name? Drop a comment below, and don't forget to share this with your friends and family. Who knows? Your next unforgettable Florida getaway might just be a click away!