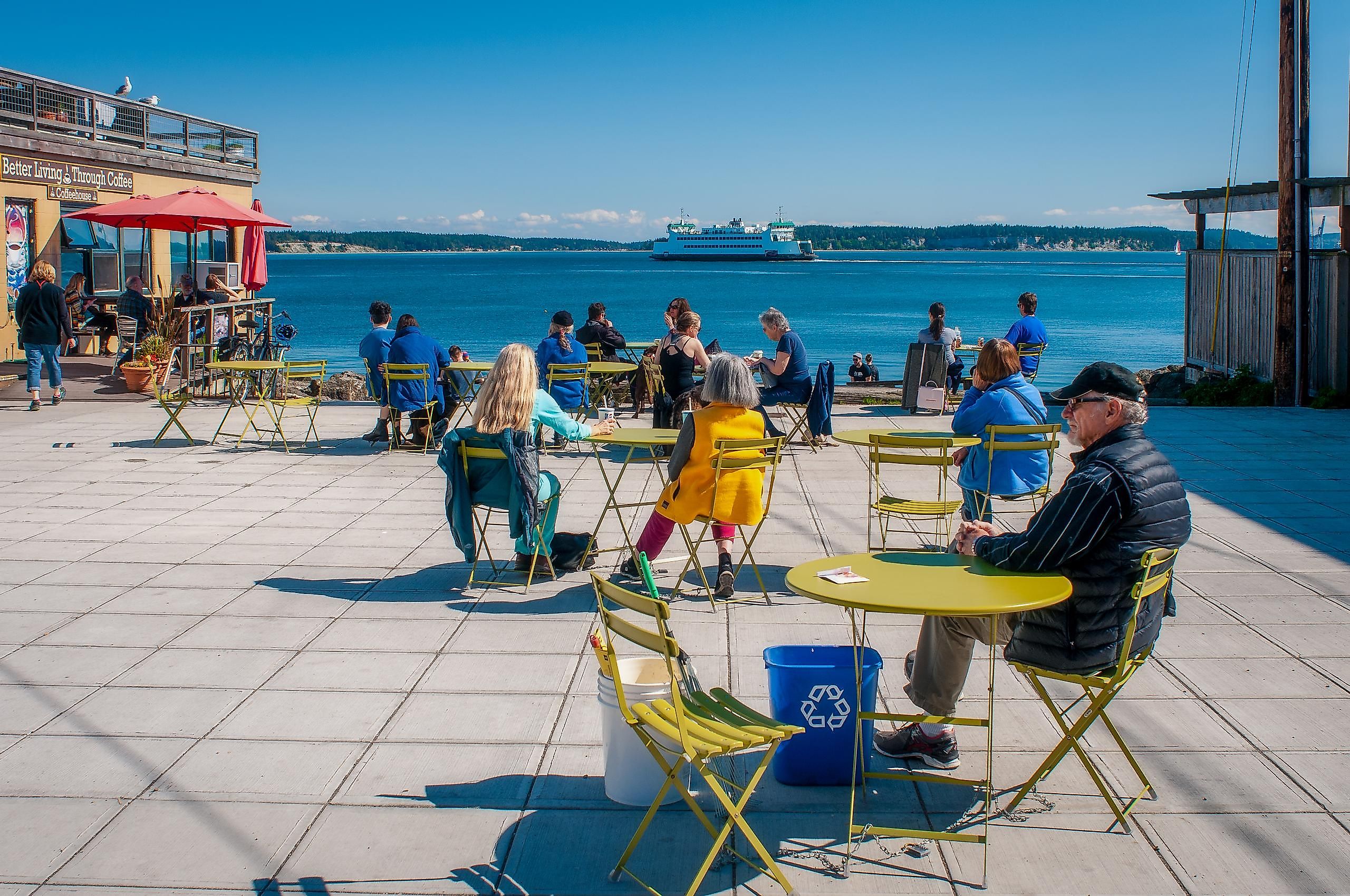 8 of the Most Unique Towns in Washington
Washington State (the only one to be named after a President) is an integral part of America's beloved Pacific Northwest Region. Indeed with its stunning natural beauty that includes mountain vistas, coastlines, rivers, and lakes, the "Evergreen State" is always a delight to discover. Add in wonderful cultural attractions and fascinating history, and Washington surely delivers as a place worthy of discovery. Although the major cities of Seattle, Tacoma, and Olympia, may still attract the most attention a number of smaller and unique towns also reveal why this Pacific Ocean State is one of a kind. So come see what makes Washington so special and visit these unique towns.
Sequim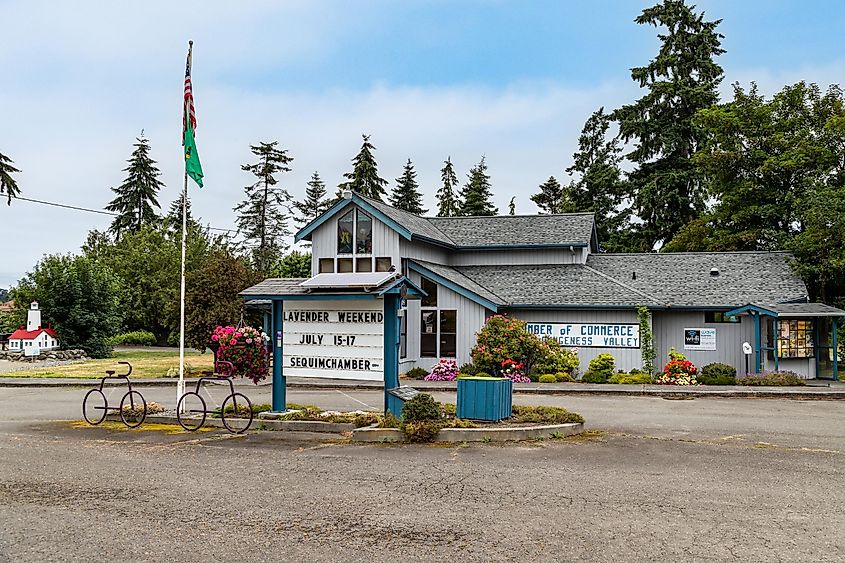 Located along the Dungeness River and at the base of the Olympic Mountains, the town of Sequim is a beautiful coastal community that has the distinction of being Washington's sunniest place. Home to a population of just over 8,000 inhabitants, Sequim sees only an average of some 400 mm of rain per year and mild temperatures from January to December. Tourists will certainly plenty to appreciate here and enjoy such scenic places like the Dungeness National Wildlife Refuge, where hundreds of species of birds and mammals reside.
In addition an afternoon at the Sequim Museum & Arts gives guests the opportunity to explore Washington State's geologic history, which include the discovery of excavated Mastodon tusks! Meanwhile for those in town in July, a visit to the Lavender Week cannot be missed. Here some of the very best of locally grown lavenders and other flowers can be enjoyed in a most fragrant and visually stunning excursion.
Port Townsend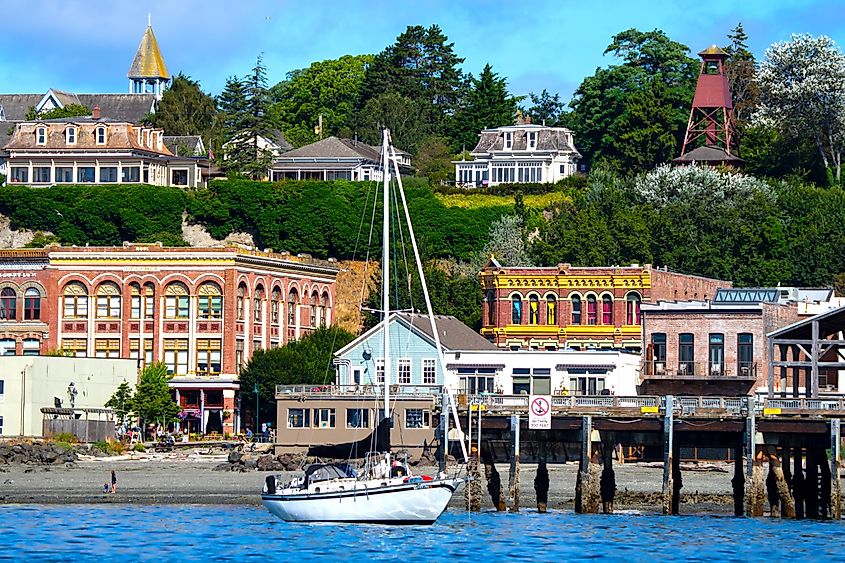 Seat of Jefferson County, Port Townsend is located on the Quimper Peninsula and was first chartered in the 1790s by British explorer George Vancouver. Today home to a population of just over 10,000 residents, this harbor town maintains a charming ambience full of historic buildings and 19th century architecture in a most splendid natural environment. Explore the Port Townsend Historic District all along the waterfront where such landmarks of note include the St. Paul's Episcopal Church (1865) and the Quimper Inn amongst many others listed on the National Register of Historic Places.
Meanwhile one can also enjoy a quiet day on one of the town's many beach areas. Marvel at the majestic views of the Cascade Mountains in the background or travel to the nearby Fort Worden State Park where great views and intriguing military history can both be appreciated.
Port Angeles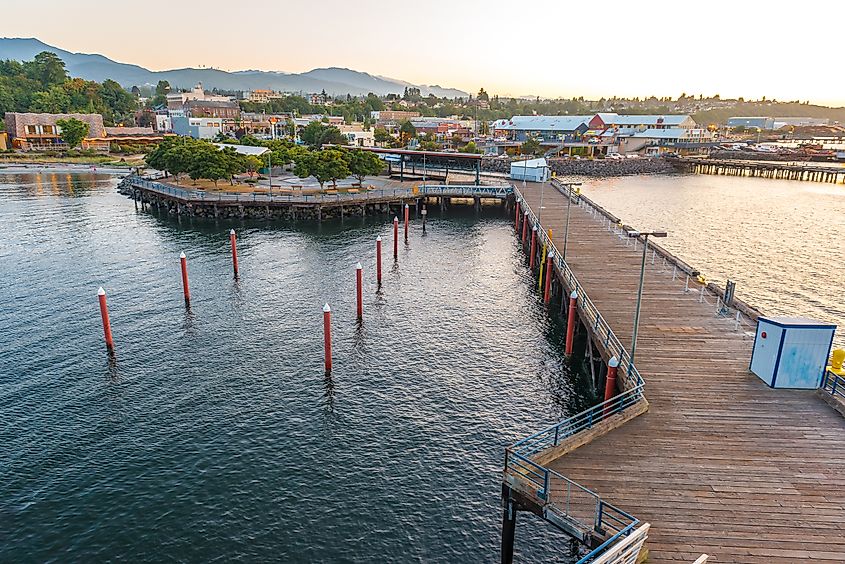 Framed by the stunning Olympic Mountains, the town of Port Angeles was established in the 1790s by Spanish explorers and today is home to a population of just over 20,000 residents. Seat of Clallam County, Port Angeles is indeed a nature lover's dream destination and there is never a shortage of breathtaking vistas and places to admire. Enjoy wonderful opportunities for swimming and sailing along the coastline, where the wonder of the Olympic Peninsula really shines. And with its warm summers and mild winters there really is never a bad time to explore the area. Tourists can also drive along the scenic State Route 112 and pass by such natural landmarks like the Hurricane Ridge (part of Olympic National Park) and the special Strait of Juan de Fuca near the Canadian province of British Columbia.
Maryhill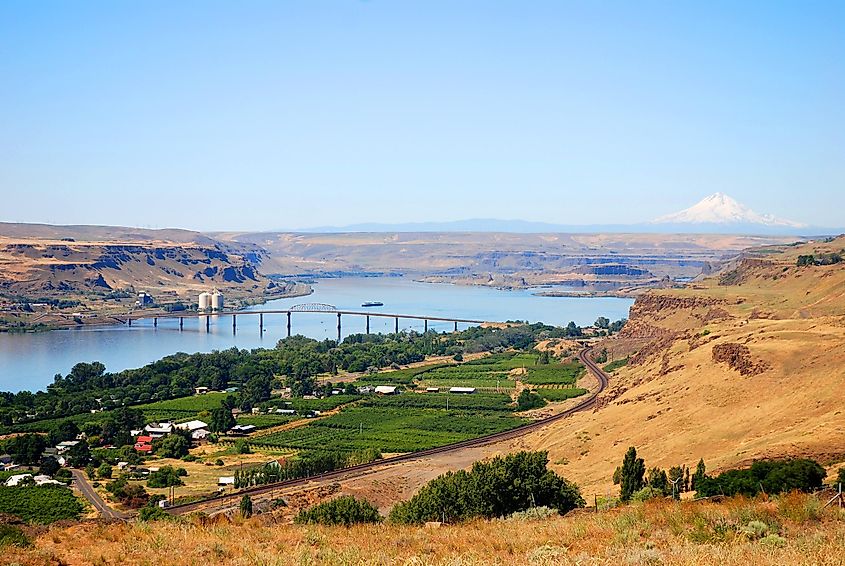 Looking for one of the most unique roadside attractions in Washington State? Then look no further than the small community of Maryhill. With a very humble population of just under 50 permanent residents, Maryhill's small size is compensated for with not only its replica of the iconic Stonehenge monument but its stunning natural vistas. Indeed in addition to the replica Stonehenge (which also serves as a First World War memorial) and constructed in 1918, Maryhill's views of the Columbia River are truly splendid. Meanwhile back at Stonehenge, a place of calming reflection and gorgeous scenes of both the Columbia River and imposing Mount Hood in the background make for quite a special experience for any traveller.
Stevenson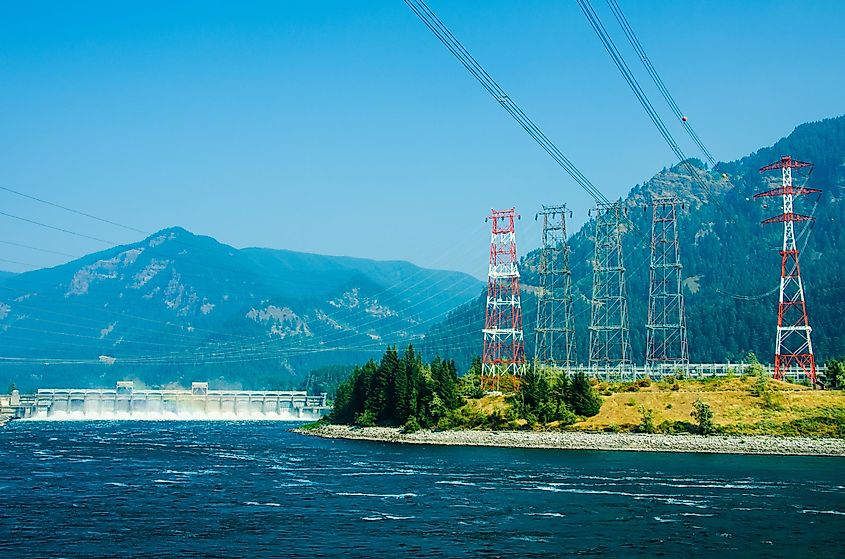 Situated within the exquisite Columbia River Gorge, Stevenson is a quaint mountain town with a humble population of just over 1,600 inhabitants. Seat of Skamania County, visitors to this charming town will find themselves surrounded by the scenic beauty that is the River Gorge which includes mountain vistas, lush greenery, and the mighty Columbia River and its raw awesomeness. Visit the Columbia Gorge Interpretive Center Museum and its great array of fascinating exhibits and important artifacts or perhaps even drive across the nearby Bridge of the Gods. And for a real mountain resort experience why not spend a night (or two) at the Skamania Lodge. Here a beautiful retreat covering an area of 175 acres gives guests a truly rustic experience that only a mountain town can offer.
Walla Walla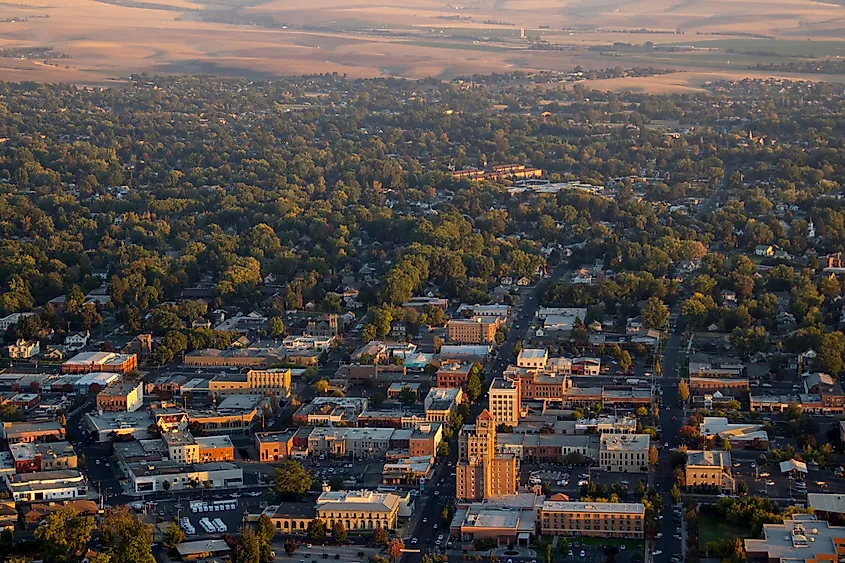 The seat of the same named county, the town of Walla Walla was named for a Native American people and can trace its modern history to the early 1800s. Home to a population of just under 34,000 residents and just some 6 miles from the border with the State of Oregon, visitors can enjoy a most pleasing climate and atmosphere in Walla Walla. Located within the Walla Walla Valley and surrounded by the beautiful Blue Mountains, rolling green hills, and stunning wheat fields, hot summers and mild winters characterize this charming Washington locale.
Meanwhile when not taking in all the natural sights, visits to the nearby historic Fort Walla Walla or the famed Oregon Trail bring guests back in time to the foundational years of the region and the Western United States. And do not forget to enjoy a glass of wine while in town, where up to 120 separate wineries continue to operate in the area!
Coupeville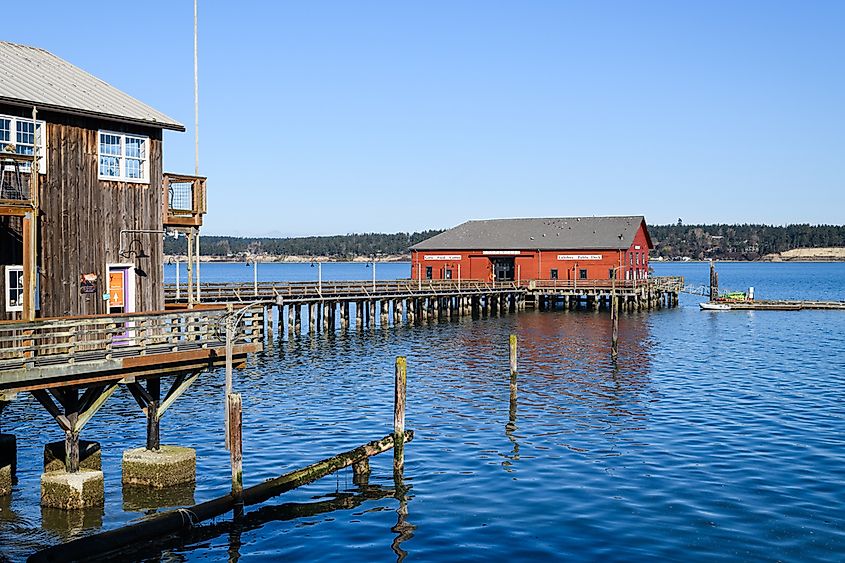 The town Coupeville is uniquely situated on Whidbey Island and on the southern shore of Penn Cove, where a modest population of just under 2,000 people reside. Seat of Island County, Coupeville was formally established in the 1850s which makes it one of Washington's oldest towns. Full of beautiful natural views and plenty of historic intrigue, visitors can enjoy a quiet and charming community that is perfect for a weekend trip. Explore such nearby landmarks like Fort Ebey State Park and Fort Casey State Park, while the waterfront district is dotted with many 19th century buildings all lovingly maintained. And of course even a just a casual stroll along the water and its beach areas and trails might be all that's needed for a most memorable vacation excursion.
Gig Harbor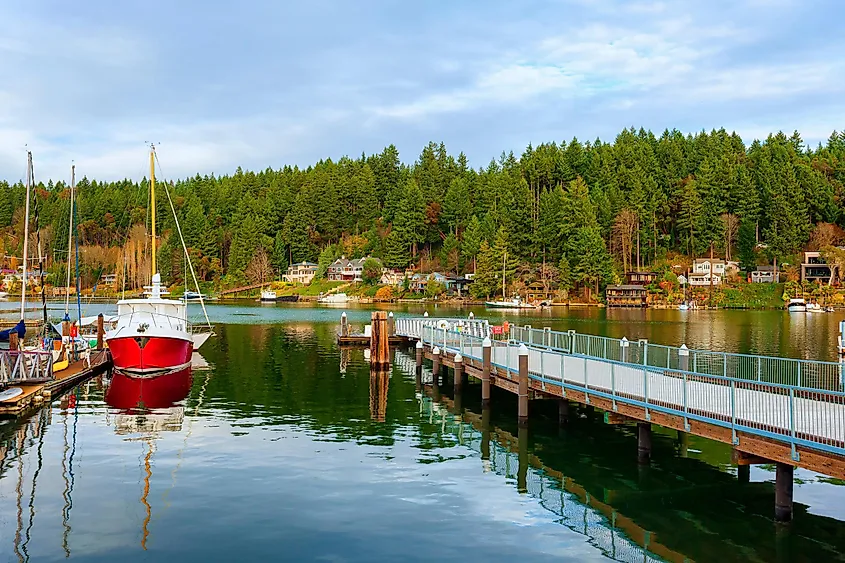 Gig Harbor is located along a one mile stretch of the Puget Sound and like many Washington State locales can trace its modern history to the mid 1800s. Now home to a population of just over 12,000 inhabitants, the town is also affectionately known as the "Maritime City" and is a popular stopover destination due to its proximity to many State Parks and the Olympic Peninsula. And of course in town proper, boat tours, waterfront restaurants, and Mount Rainier in the distance also make for a most wonderful sojourn that is a great way to escape the stress of the big city.
The "Evergreen State" of Washington is indeed a jewel of America's Pacific Northwest region and with its beautiful mix of stunning natural scenery and fascinating local history makes for quite the unique place to discover. These special Washington towns are as alluring as any of the big cities (like Seattle) but without all the large crowds still offer some of the best the State has to offer. From the historic district of Port Townsend to the island beauty of Coupeville, these and other unique Washington State towns are reminders that sometimes the best treasures on any trip are the ones that are lesser known.