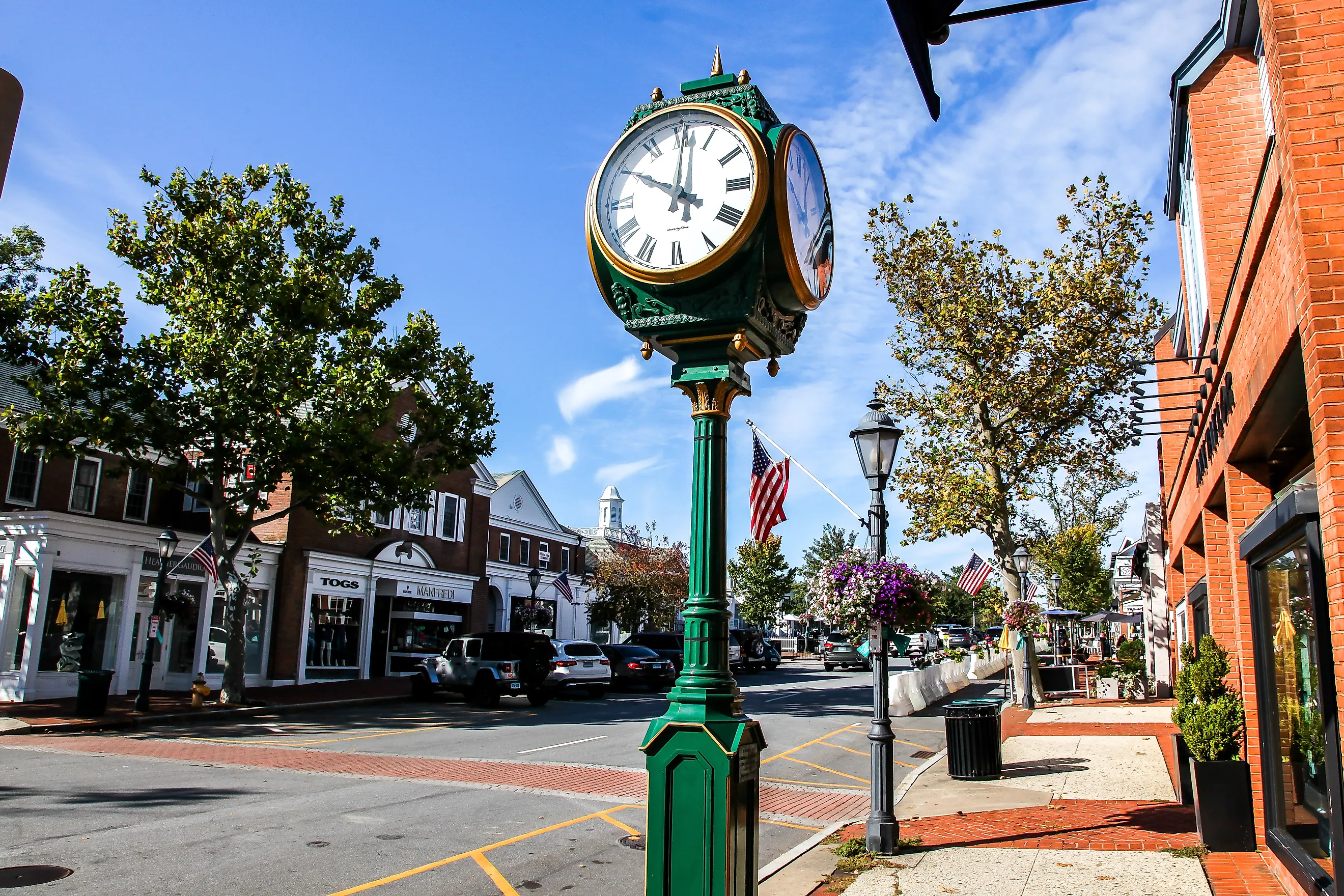 8 Of The Friendliest Towns In Connecticut
Nestled in the heart of New England, Connecticut, the Constitution State, provides an enchanting blend of coastal cities, charming rural villages, and historically significant towns. This compact state is ripe with friendly locales ready to welcome visitors with quintessential New England charm and warmth. From the picturesque hamlets of the Litchfield Hills to the vibrant seaside communities of the Connecticut Shoreline, there are ample opportunities for exploration, relaxation, and connection with affable locals. Journey with us as we uncover the friendliest towns in Connecticut, where the doors are always open, and the locals eagerly share their love for their home with every visitor.
Ridgefield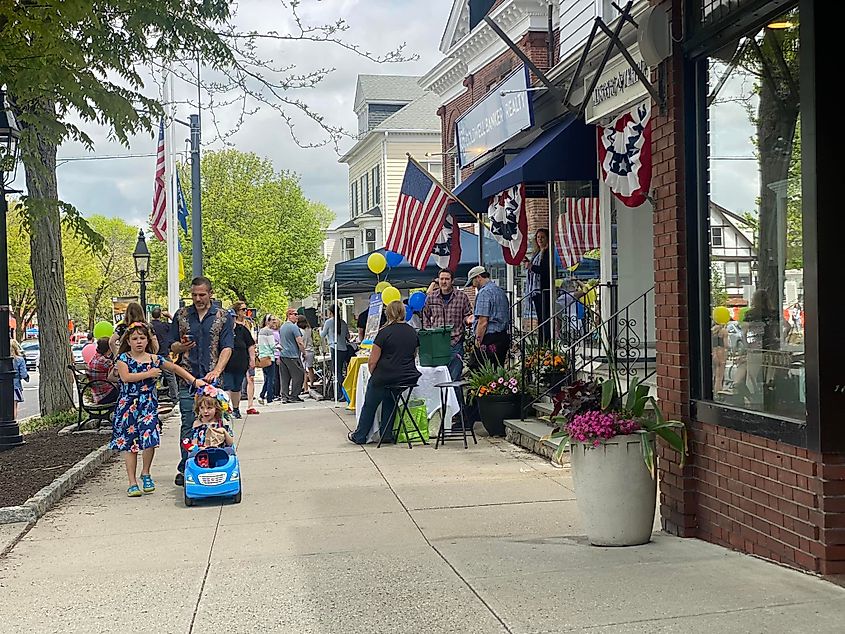 Located in Fairfield County, Ridgefield is often regarded as one of the best places to live in Connecticut. The town is home to a lively population of 25,000 and you'll always find someone to strike up a conversation with. This is bolstered by the town's sparse suburban vibe which offers a unique mix between urban lifestyle and small-town relaxation. That being said, Ridgefield is also filled with some amazing sights and attractions. From a historical point of view, the town's 300+ year history is visible through many historic sites and establishments. For example, the Keeler Tavern Museum which was built in the 1700s and has since been fired upon in a battle, used as a post office, and has now become a museum. Apart from this, sites such as the Aldrich Contemporary Art Museum and Weir Farm National Historic Site are perfect to spend the day and find new people!
However, there's no better place to take in a town than the local shopping areas. Ridgefield is no different with its amazing Main Street market filled with eclectic cafes, delectable sweet stores, and fancy boutiques. To this end, you can mingle with the locals and grab some of the best food available in Connecticut. One of the must-visits here is Books on the Common, an amazing bookstore with some of the nicest staff on the planet! With so much on offer, there's no doubt that Ridgefield is one of the friendliest towns in Connecticut.
Simsbury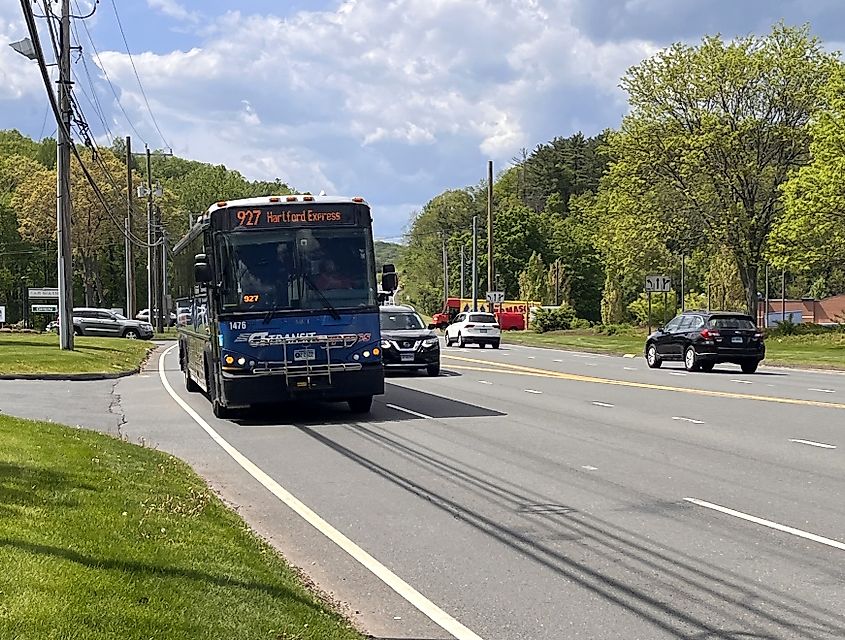 Home to large expanses of woodland and some amazing scenic views, Simsbury is a beautiful town in Hartford County. The town primarily consists of peaceful suburbs with families who have been here for decades. Thanks to this, the entire town has a positive vibe which is promoted by the amazing schools, families, and security. Move out of the suburbs and you'll be met with one of the many nature preserves such as the Talcott Mountain State Park. This park houses more than 500 acres of land filled with waterfalls, cliffs, lakes, and more. So, grab your friends and family and enjoy some hiking or camping near Talcott Mountain. For some more time in the outdoors, check out Stratton Brook State Park, Flamig Farm, and other sites.
While natural sights are one thing, Simsbury's 25,000-strong population can often be seen enjoying the town's culture and entertainment! For example, the Simsbury Meadows Performing Arts Center is a popular meeting spot hosting large outdoor events such as concerts, festivals, etc. With a capacity of 10,000, you are sure to make some new friends here! Apart from this, Simsbury also houses some delicious eateries that anyone can enjoy. Italian enthusiasts can try out Carbone's Kitchen while those who want to grab a drink should visit the Republic bar!
Old Greenwich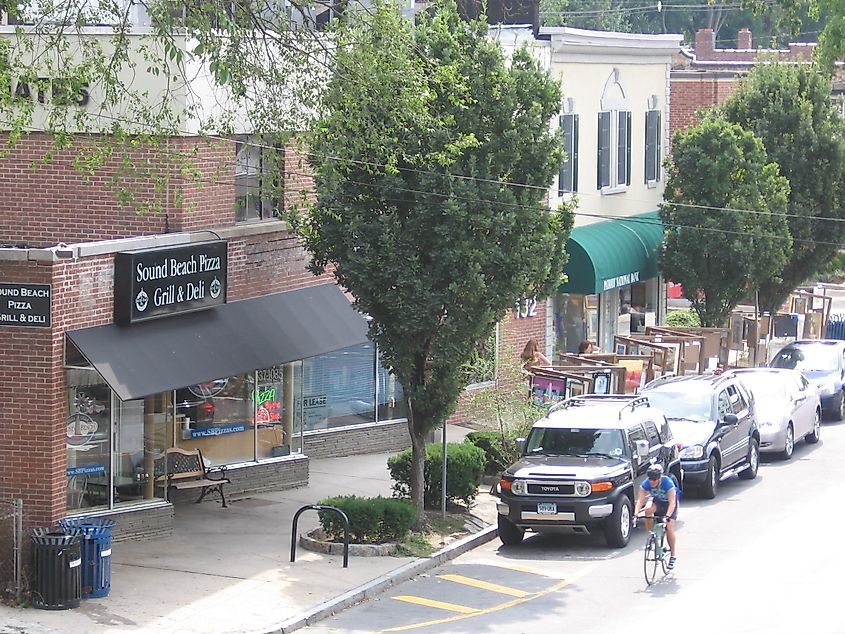 As the name suggests, Old Greenwich is a lovely town that can take you back in time. Home to less than 7,000 people, this town is the perfect place to be if you want a break from the urban hustle and bustle. It is nestled in southwestern Connecticut and boasts some of the most peaceful neighborhoods in the state. Just stroll through town and you'll be met with a plethora of historic sights and amazing people. The best place to take in the town's vibe is the Downtown Greenwich Shopping District. Home to historic establishments, amazing stores, and lovely people, this is the perfect place to enjoy a day out in Old Greenwich. Check out "Back 40 Mercantile" and "Images of Old Greenwich" for some amazing local arts and crafts.
After spending your day shopping, it's time to take a stroll through town to witness some of the beautiful scenery. Check out Binney Park or Greenwich Point Park, both of which offer amazing hiking trails surrounded by nature. These parks are perfect for a short walk or picnic with family to enjoy your evening. Recharge your body with some delicious beer and conversations at the Beach House Cafe and you're sure to enjoy yourself in Old Greenwich.
Newtown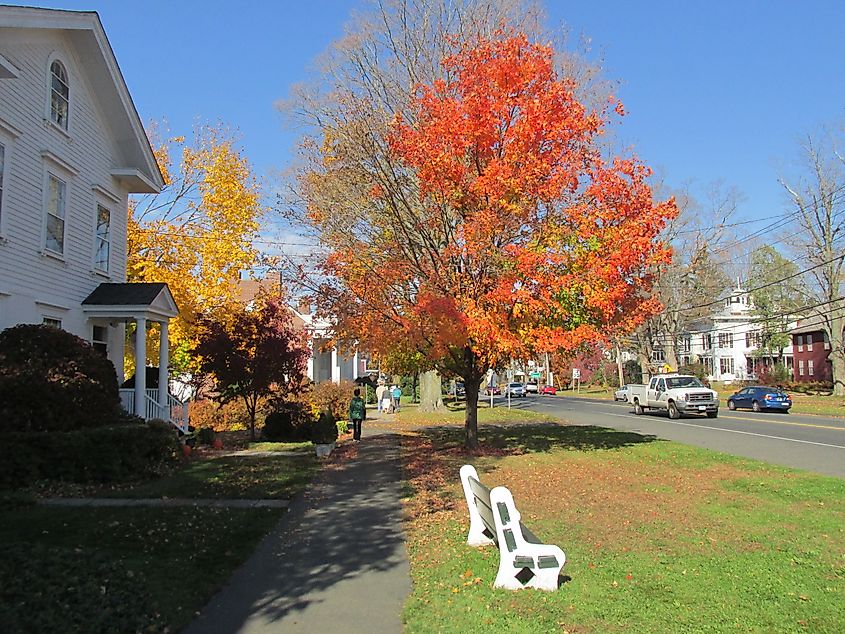 Newtown is another lovely town located in Fairfield County. This town is a perfect getaway from the qualms of modern living with a peaceful and safe environment to enjoy with family. It is home to a population of 27,000 people spread across 7 principal communities. While this may seem like quite a lot of people for a town, Newtown has an expansive area of 57 square miles (150 sq. km.) thanks to which everyone in town has ample space to live and have fun. Throughout this area, you can find a range of fun attractions such as the EverWonder Children's Museum and Blue Jay Orchards. The Children's Museum offers dozens of scientific and interesting exhibits while the Blue Jay Orchards are ideal for a day out in the sun!
Once you've explored these amazing sights, it's time to take in some of Connecticut's amazing hospitality. Just take a walk over to Digrazia Vineyards which has been producing wine for many years. Here, you can try out more than a dozen types of wines and meet some amazing people! If wine isn't your drink, check out the town center for many other pubs and bars to settle down and relax!
Portland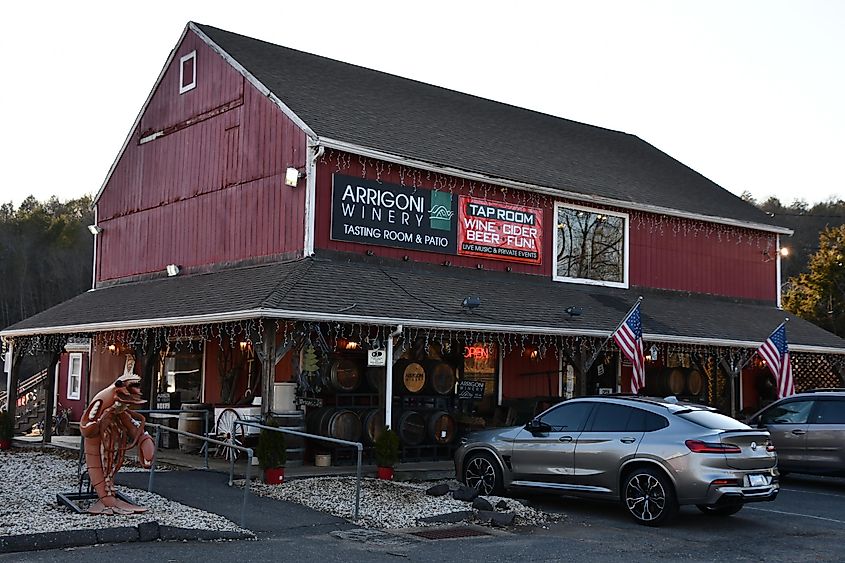 Located in central Connecticut, Portland is an amazing town filled with friendly vibes and people. What makes Portland special is its location along the Connecticut River. To this end, you can always find activities, people, and events taking place along the many waterside areas. For example, Brownstone Exploration & Discovery Park is an amazing amusement park with loads of fun rides for both kids and adults. 
Move back into the town's center and you'll be met with an array of lovely establishments ranging from souvenir shops to restaurants and everything in between. If you want to grab a bite with someone special, book a seat at Sittin Pretty Picnics which is known for its romantic picnic spots! Or, if you want to grab a snack, visit the famous Arrigoni Winery, a small winery with dozens of unique wines on offer. What makes these spots even better is that Portland's locals can always be seen enjoying some food or drink out in town.
Darien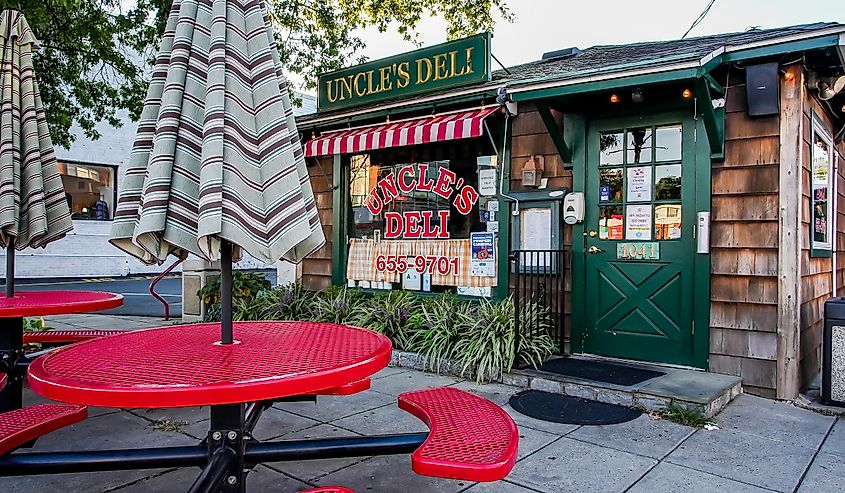 The smallest town on Connecticut's Gold Coast, Darien is a lovely place to cool down and meet new people. The town is filled with positive vibes and boasts the youngest population of any non-college town in the state. So, the town is filled with amazing spots that are enjoyable for everyone. One of the best places is South Horwalk Historic District. This neighborhood has been revamped to provide a unique mix of historic buildings, businesses, eateries, and more. So, you can spend the day here enjoying the view while snacking on amazing bites from the many cafes!
Apart from the amazing town center, Darien also houses many unique attractions. For example, the Salt Cave of Darien is a scenic cave filled with Himalayan pink salt. The site is known to heal ailments making it an ideal spot to relax with your loved ones. After rejuvenating yourself, grab a beer at the local Lock City Brewing Company to end your day in Darien the right way. The taproom has various beer options as well as board games, live music, etc. so anyone can have fun!
Weston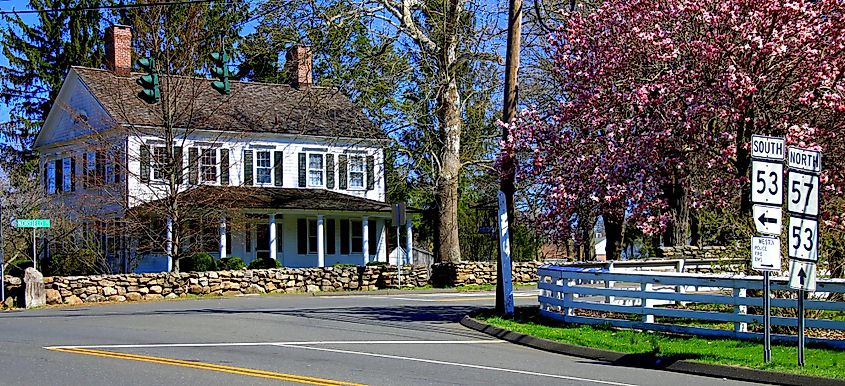 Weston is an underrated gem when it comes to friendly towns in Connecticut. The town is filled with a vibrant cultural scene which is eminent no matter where you go. For example, you can spend hours at Weston's Town Center without ever getting bored. This area is filled with food markets, restaurants, service stations, stores, and more. So, you can grab a bite with friends or meet new people in one of the many pubs! Move out of the town center into residential neighborhoods and you'll notice that Weston boasts safety and wealth. Home to 10,000, the town is one of the safest in the state making it a great place to stay with your family!
Apart from the town's beautiful culture and amazing activities, there is also an abundance of natural attractions nearby. Some of the top spots nearby are the Devil's Den Preserve, Great Ledge, and the Katharine Ordway Preserve. Devil's Den Preserve is the largest national preserve in the county and offers amazing opportunities for bird watching, hiking, and more. Located within the preserve is Great Ledge, a scenic cliffside that offers an amazing panoramic view of the entire area. So, if you're looking for natural activities to enjoy with friends, Weston is the place to be.
New Canaan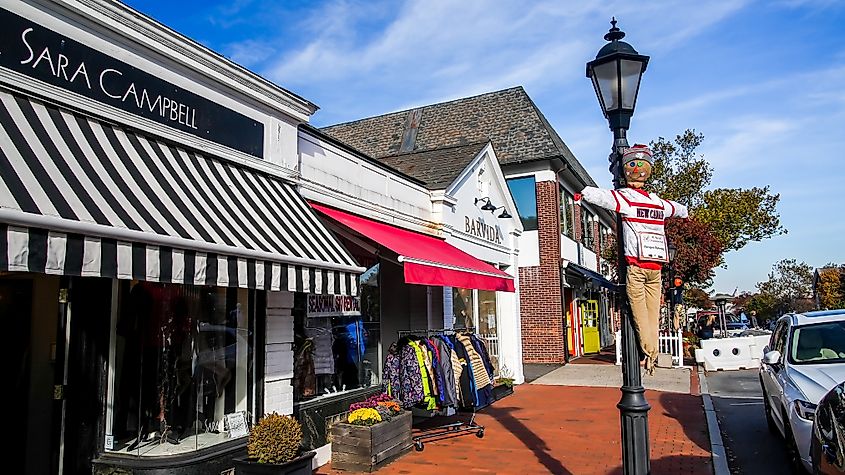 Located in Fairfield County, New Canaan is the embodiment of high society and safety. With one of the highest median incomes in America, the town is filled with luxurious houses, amazing shopping, and some of the best restaurants in the state. To this end, the town's 20,600-strong population is filled with friendly people always ready to go out for a meal or vacation. That being said, you probably won't need to go anywhere as Elm Street in New Canaan is filled with options. If you want to purchase some clothing or souvenirs, check out the many stores such as Ann Taylor, J. Crew, etc. On the other hand, food options are plentiful with restaurants such as The White Buffalo, Sole, Chef Luis, and many more.
If you do find some spare time after checking out Elm Street, the local art scene is also to die for. One amazing example of this is the Philip Johnson Glass House. Developed in the 1900s, this house is surrounded by glass and offers a unique take on modern living. Similarly, the Silvermine Arts Center showcases hundreds of unique pieces, perfect to start a conversation and find some lovely art. So, if you're into shopping, art, and good vibes, New Canaan is right for you.
With so much to see and do coupled with Connecticut's amazing hospitality, there is no end to friendly towns. Moreover, many of these towns boast amazing housing, low crime, and great amenities for a perfect living environment. If that won't make people friendly, there isn't a lot that will! So, book your trip now and get ready to meet some new and amazing people.