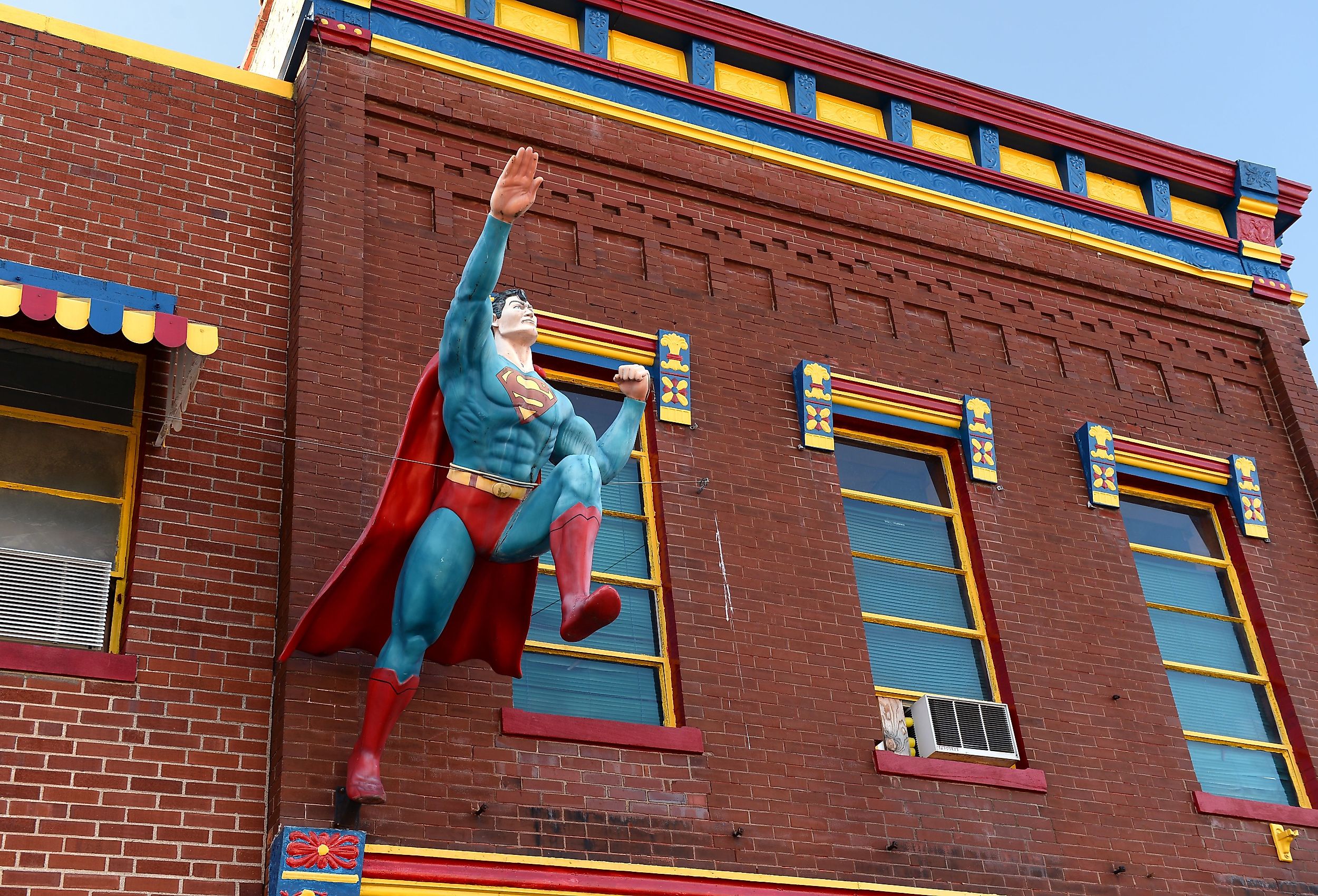 8 Most Unique Illinois Towns
The biggest cities in Illinois often grace the world's stage as popular travel destinations. For instance, travelers tend to adore the Millennium Park in the big city of Chicago or admire the beautiful grounds of Rockford's Anderson Japanese Gardens. It is worth noting however that the Prairie State offers amusement beyond Rockford and The Windy City; Illinois features many small towns, each with individual flair. Beyond the world-class museums and glinting skyscrapers, this Midwestern state is home to several towns with unique reputations, making for underrated and authentic sites!
Rock Island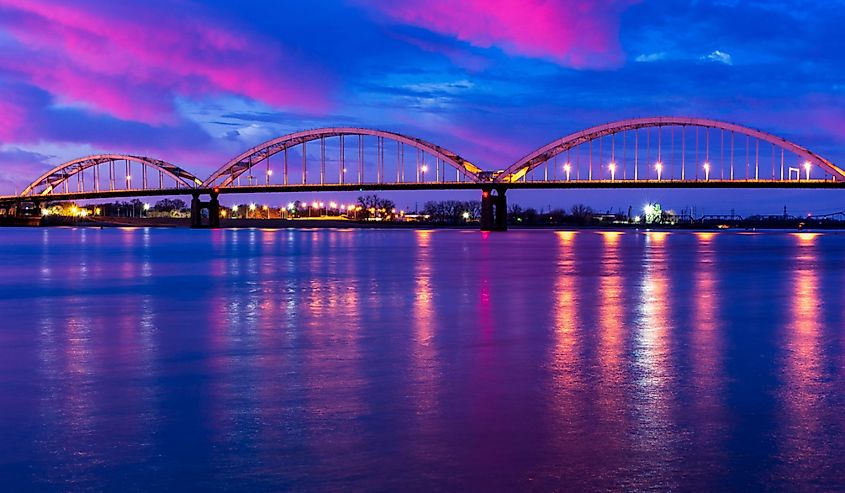 A member of the Quad Cities (with Moline, East Moline, and Iowa's Davenport and Bettendorf), Rock Island is well-known for a number of things west of Chicago. The town is one of the National Football League's 8 original towns and the former home of the Sauk and Meskwaki tribes. History buffs may take a particular shine to Rock Island for its historic attractions.
Visit the Circa 21 Dinner Playhouse, formerly known as the Fort Armstrong Theatre, which the one of the only 2 dinner theaters still in operation in the US. It's located inside a historic building that opened in 1920, that's currently on the National Register of Historic Places. Rock Island's Broadway Historic District is also worth perusing, which is a Victorian neighborhood listed on the National Register of Historic Places. This area is made up of over 550 homes in Queen Anne, Italianate, and Colonial Revival Architecture, with its earliest homes dating back to 1865!
Batavia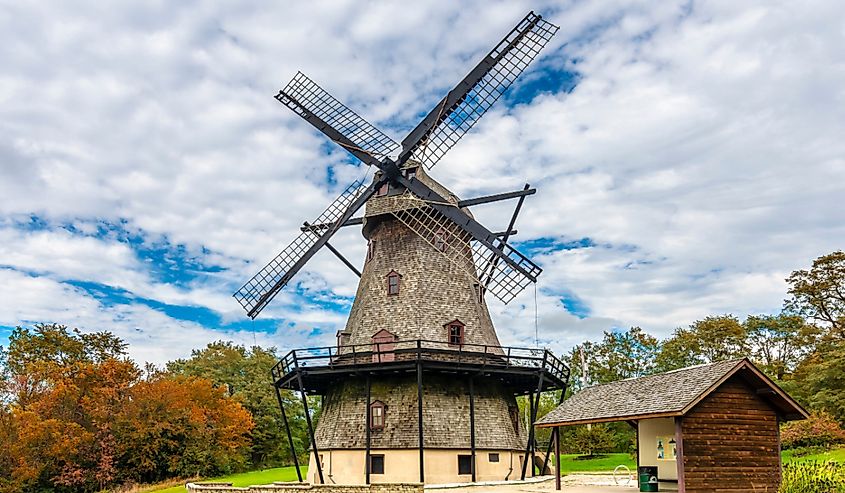 Batavia is the oldest town in Kane County and was established in 1833, though its reputation as the county's "oldest town" is superseded by its status as a destination for windmill production.
Batavia earned its nickname, "The Windmill City," in the late 19th century when it was recognized as the world's leading windmill manufacturing destination. Three major windmill factories were so productive in Batavia that it earned the town its nickname that it still celebrates today. Today, the Batavia Riverwalk features several original Batavia-manufactured windmills which have all been purchased and renovated. The windmills include a plaque describing the history of its manufacturer and its model type.
Besides its history of windmills, Batavia also boasts its annual Windmill City Festival, the town's biggest summer carnival-like event since 1978. Windmill City also houses the Fermilab, the country's particle physics and acceleratory laboratory since 1967 which spans 6,800 acres and employs over 1,750 people.
Lombard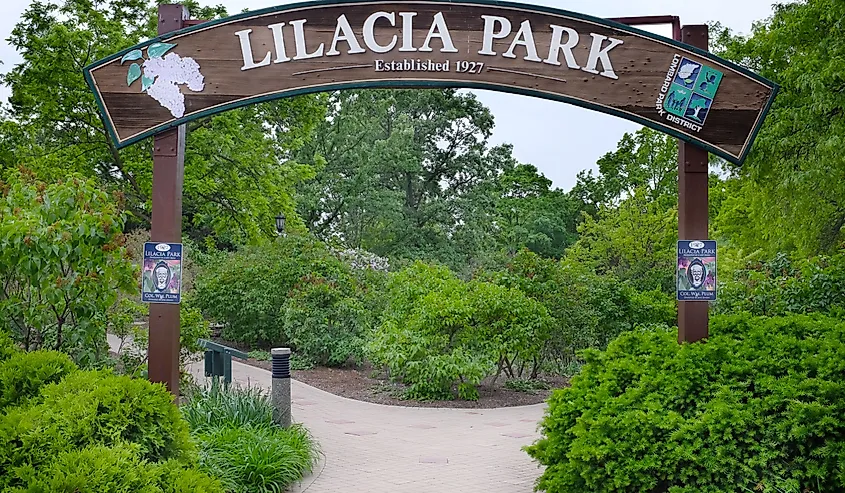 Twenty-one miles West of Chicago will land you into Lombard, a residential community with light manufacturing and services. Lombard's claim to fame is being the hometown of cartoonist Harold Gray, creator of Little Orphan Annie (who used his home in Lombard as inspiration). It also basks in its reputation as the "Lilac Village" in DuPage County!
Local Colonel William Plum—a telegrapher during the Civil War—collected over 200 varieties of lilacs from all corners of the globe. In 1927, he bequeathed his home and lilac gardens to the town as a park and public library, establishing the town's Lombard Park District, the Helen M. Plum Memorial Library, and Lilacia Park.
In the first two weeks of May, visitors flock to all 8.4 acres of Lilacia Park to celebrate the bloom of lilacs and other spring flowers, including 75,000 tulips. To conclude this world-famous horticultural event, the town hosts Lombard's Lilac Parade, which runs from Main Street to Maple.
Being several miles away from Chicago, Lombard makes for an easy day trip from the Windy City or the O'Hare International Airport (which is about 17 miles away).
Belvidere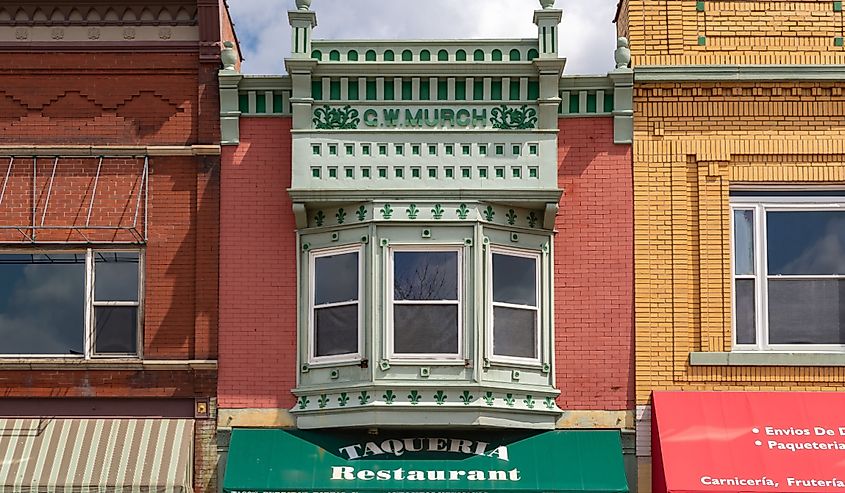 Around 1835, European settlers settled along an area called Belvidere, a nickname derived from the Latin word that means "beautiful to see." Today, this North Central Illinois town—which is 75 miles away from downtown Chicago—in Boone Country thrives as an industrial community with vibrant farmlands, though it is also nicknamed "The City of Murals" for a reason.
In June 1997, Belvidere created ten murals in its downtown core during a "Wall Dog" festival, which won them the 1997 Governor's Art Award and its newfound nickname, Illinois' "City of Murals." Since their victory, locals embraced this name, culminating in the creation of additional indoor and outdoor murals throughout Belvidere's commercial and private spaces.
Those with a keen eye for art can spend a day in the City of Murals to satiate their artistic curiosities, checking out many of the murals along Belvidere's State to Hurlbut Street and east to Logan (though some murals can also be found around South State Street on First Street). Abstract sculptures and historic architecture are also sprawled across the town for visitor's viewing pleasure.
Arthur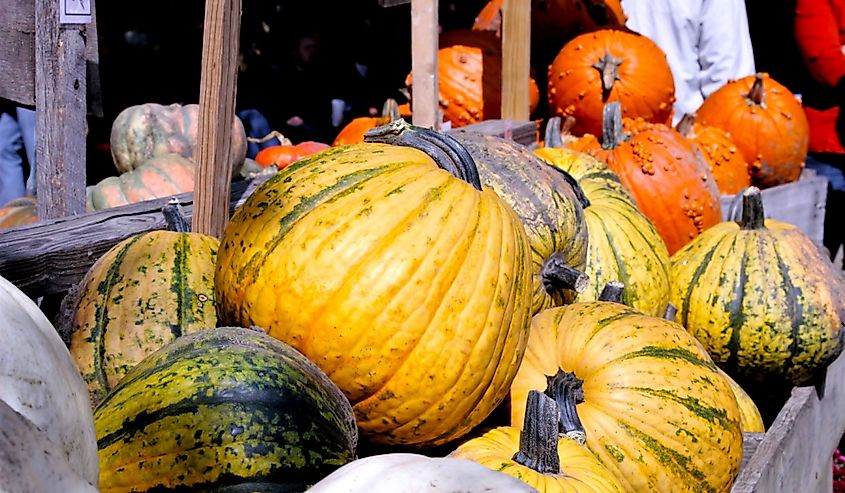 Straddling the Douglas and Moultrie Counties and 10 miles west of Interstate 57 (off exit 203) will transport visitors to Arthur, an East Central Illinois town and "The Heart of Illinois Amish County." Since its establishment in 1865, Arthur's always been an Amish settlement and is currently home to over 2,000 Amish families and between 3,500 to 4,000 members of the Amish community. Currently, it's the largest Amish settlement in Illinois.
Honking cars and gridlock aren't typical sights here in Arthur—it's common to see horse-drawn Amish buggies share the road with their automobile counterparts. Adopt the town's motto—"You're only a stranger once"—and quickly discover the friendly atmosphere of Arthur. Sip coffee at a local cafe downtown or explore over 300 pumpkin varieties, squashes, and gourds from over 30 countries at The Great Pumpkin Patch.
Arthur welcomes visitors to explore its town and heritage, though they ask guests NOT to take photographs (or photographs depicting the likeness of) members of the Amish.
Metropolis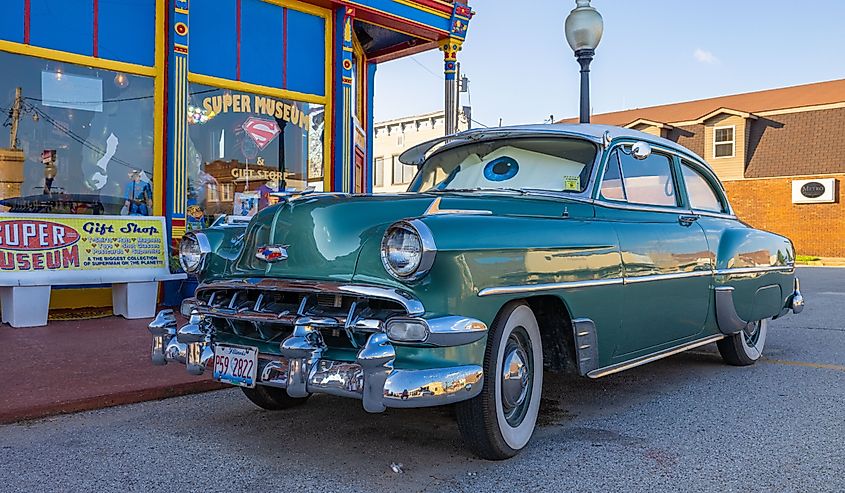 Unknowing travelers may dismiss Metropolis as another Illinois town along the border of Illinois and Kentucky on the Ohio River. Meanwhile, Metropolis remains a haven for passionate fans of America's most iconic superhero!
In January 1972, National Periodicals (D.C. Comics) crowned Metropolis as the adopted "Home of Superman." Through the decades, die-hard Superman fans ventured to this Massac County town to celebrate their beloved superhero.
Here, fans can discover the world's largest Superman collection at The Super Museum while taking selfies in front of the 15-foot Superman Statue at Market Street. The town also features displays of a giant kryptonite rock on the Corner of 3rd and Ferry Street and a 6-foot bronze statue of Lois Lane (portrayed by Noel Neill) in front of the Metropolis Planet Globe, the town's local newspaper. During the summers, the town opens its Superman-themed splash park next to the Globe!
Clark Kent's adopted hometown is not just chalked with Superman memorabilia; Metropolis is also home to over 800 slots at Harrah's Metropolitan Casino and the historic Fort Massac State Park and Museum. The town also boasts over 600 hotel rooms, 20 local restaurants, and 20 specialty shops!
Niles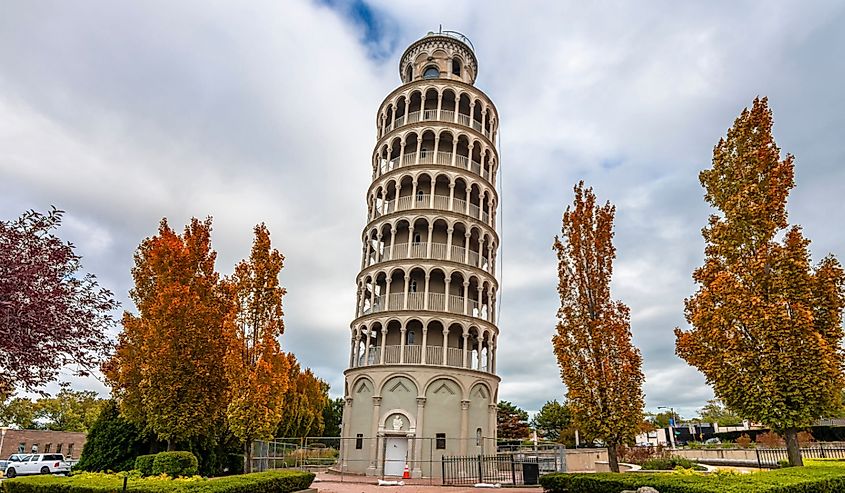 Covering only six square miles and bordering the Windy City, Cook County's town of Niles is Pisa's sister city. This small town may not have a designated and official downtown core, but it houses a historic attraction unlike any other across the state: The Leaning Tower of Niles.
In 1932, Robert Ilg, a local businessman, wanted to build a recreational park for his employees, which consisted of twin swimming pools and cabanas. Robert built the Leaning Tower of Niles—a half-size replica of Italy's Leaning Tower of Pisa—to cover the water tank for the pools. In 1996, the Ilg Family dedicated the tower to Niles. The tower was re-dedicated to the town after its restoration in 1997.
The Leaning Tower of Niles is a proud symbol of the local community and is surrounded by local shops and stores. The tower's striking resemblance to the Leaning Tower of Pisa isn't its only neat feature—every day, the tower chimes its historic bells for a few minutes during the hours of 9:00 AM, 12:00 PM, 3:00 PM, and 6:00 PM, humming tunes like Red River Valley, On Top of Old Smokey, and My Favorite Things!
Casey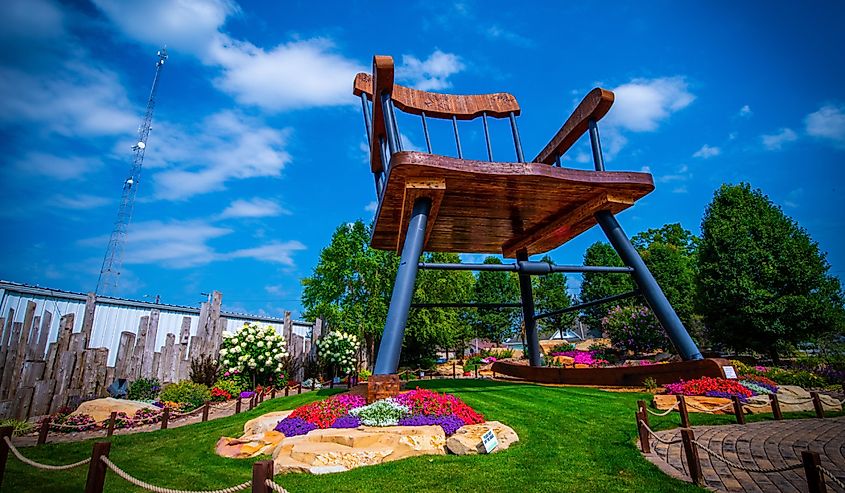 Casey's achievements are anything but small! The East Central Illinois town is famous for its collection of "World's Largest" and other larger-than-life objects, an idea birthed by local business owner, Jim Bolin.
Plenty of these objects are free to see and close to Casey's Main Street (Old National Road) intersection and Central Avenue (Illinois Route 49). Though many of the displays are outdoors, two objects—the World's Largest Crochet Hook and Knitting Needles and the Wooden Shoes—are installed indoors and viewable from the storefront windows at the Yarn Studio and Wildflour Bakery, respectively.
Conclusion
Casey has a place in the hearts of those who love quirky roadside attractions. Easily accessible on Interstate 70 (between St. Louis and Indianapolis), visitors can spend a day (or two) in Casey admiring its giant objects, including its 30-foot golf tee and the rideable teeter totter (or seesaw). Visitors can also appreciate the "Big Bat" and learn of Casey's former reputation as a softball town. No matter which destination you land on, there is sure to be something unique about each town.