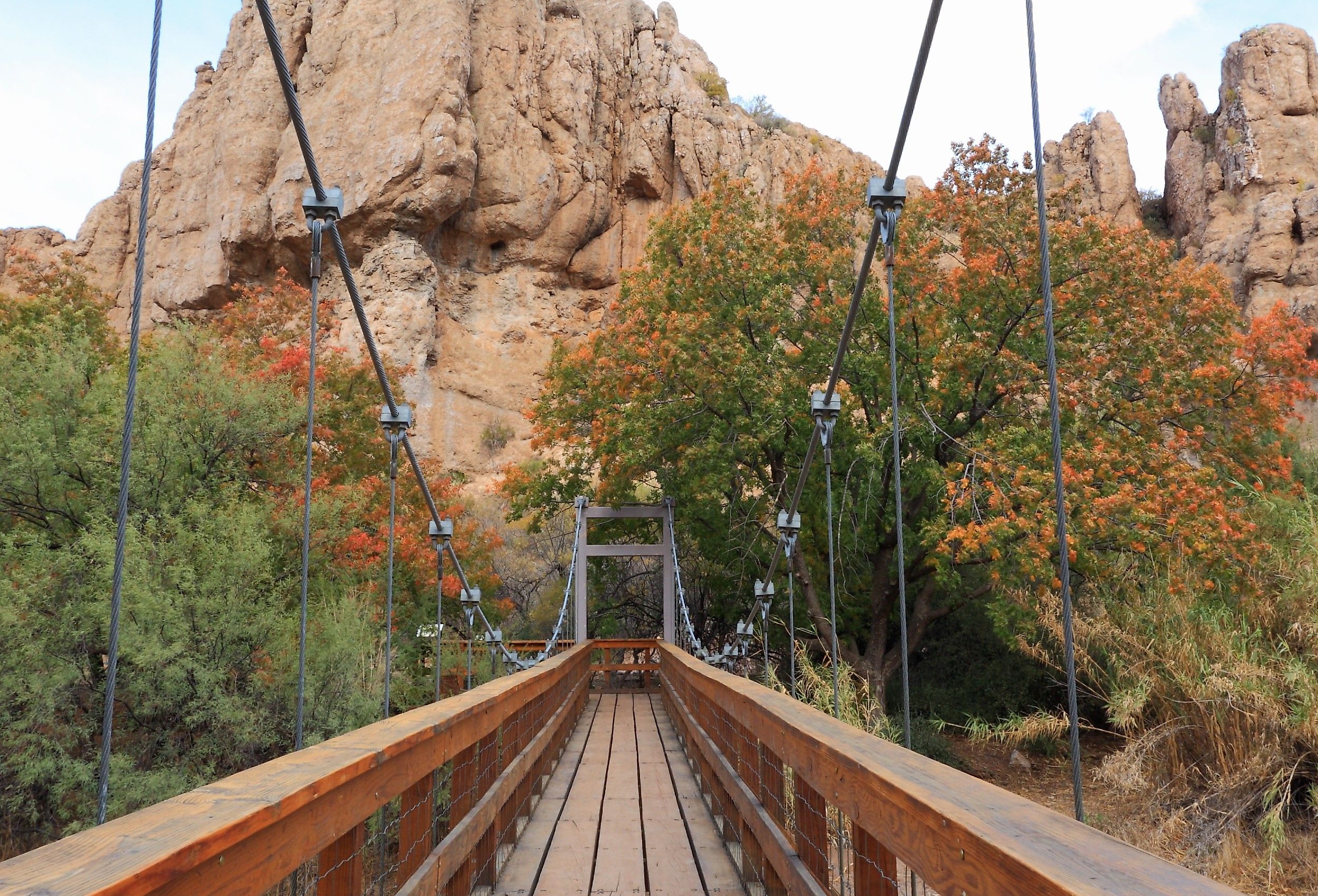 8 Least-Crowded Towns In Arizona To Catch Fall Foliage
Arizona's fall foliage is a hidden gem waiting to be discovered for a tranquil and less crowded autumn escape. With its desert landscapes, sprawling forests, and majestic mountains, Arizona offers a unique fall experience that is unlike any other. Since the state is often overlooked for its fall foliage, visitors can enjoy smaller crowds than in more popular fall locations, such as New England.
The incredible autumn transformation takes place across the southwestern state, from the northern region near the Grand Canyon to the south surrounding Tucson and central areas in between. Whether you are seeking serene alpine settings, scenic drives, or local festivals, Arizona boasts some of the best least-crowded towns to catch fall foliage.
Greer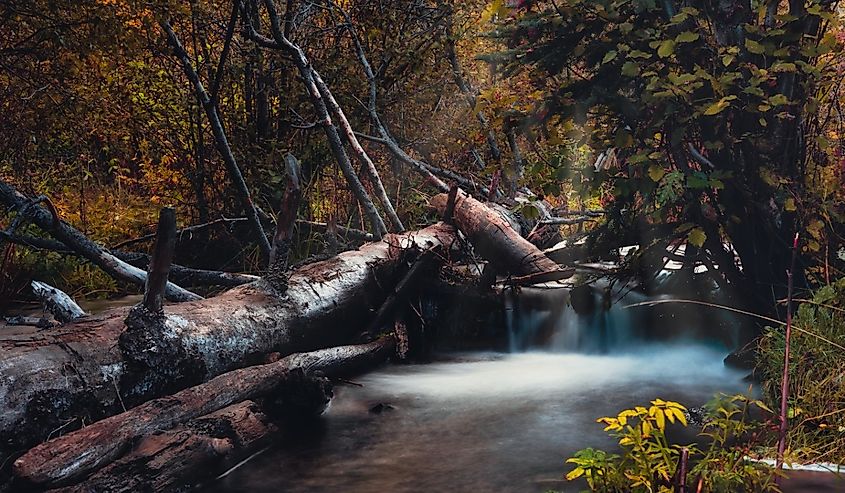 Nestled in the White Mountains is Greer, a charming alpine town that transforms into a fall paradise. Located just over four hours away from both Phoenix and Tucson, Greer is a small community that provides a great escape from the crowds. 
From late September to early October, Greer's lush aspen and spruce forests explode into a vibrant tapestry of red, orange, and gold. Some of the best views of the autumn colors are found on Butler Canyon Trailhead and along the Little Colorado River. For the best vantage point, hike the West Baldy Trail and pack warm clothing, as the elevation makes Greer considerably cooler than lower Arizona.
Payson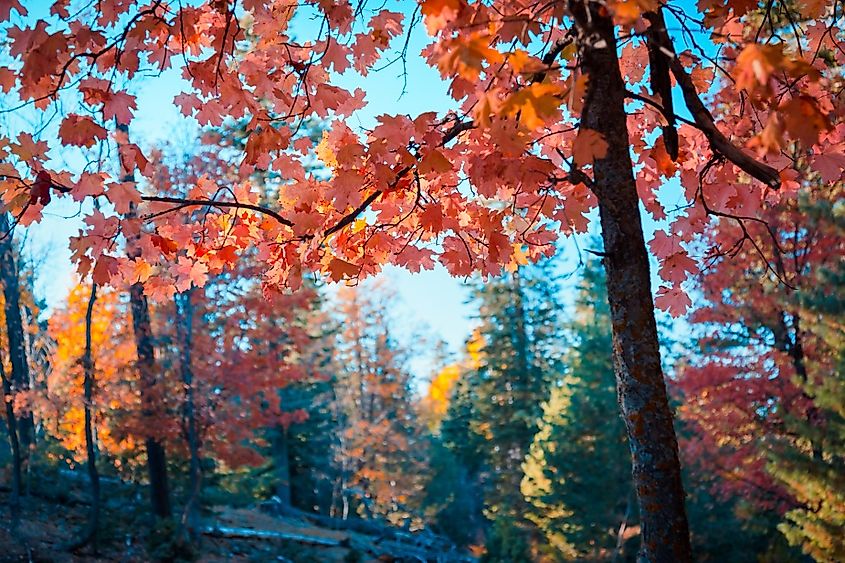 Surrounded by the Tonto National Forest, Payson offers a unique Arizona experience with a touch of fall charm. Known as the "Heart of Arizona," Payson boasts several varieties of native trees that come alive with fall colors from mid to late October. During this time, you can also experience several local festivals, including the Beeline Cruise In Car Show, the Aero Fair, and Monster Mash.
While you are in town, a hike through groves of maple and oak trees along the Horton Creek Trail is a must. You can also witness incredible panoramic views of the fall foliage on a scenic drive along the Mogollon Rim Road.
Mount Lemmon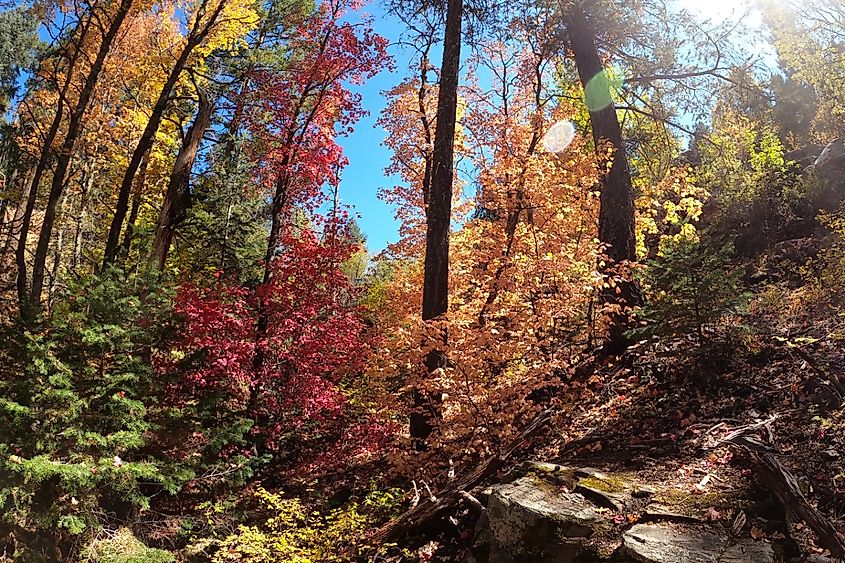 Mount Lemmon, located just north of Tucson, is a secret treasure for fall foliage seekers and offers a stark contrast to the desert below. Mount Lemmon features towering pines, maples, and aspens that blaze with color from late October to early November.
A trip to Mount Lemmon is not complete without exploring the Aspen Trail or enjoying a scenic chairlift ride at the Ski Valley. Just be sure to dress warmly, as temperatures are much cooler on Mount Lemmon than in the valley.
Williams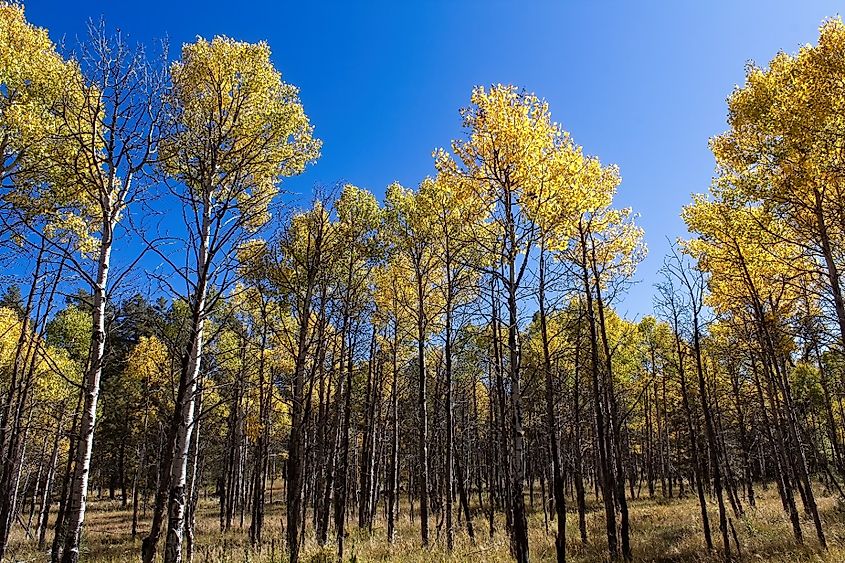 Williams is a charming town that showcases vibrant autumn colors in Arizona from mid-September to early October. Its proximity to the Kaibab National Forest makes the town an ideal fall destination away from the crowds. Known as the "Gateway to the Grand Canyon," Williams offers breathtaking fall foliage views along the Grand Canyon Railway. A drive on Historic Route 66 also offers panoramic views of the town's autumn colors. 
If you visit during the second weekend in September or October, you can experience local culture and art during Williams' Second Saturday Artwalk. The Gallery in Williams offers free food, wine, live music, and art from local artists on the second Saturday of each month from May to October.
Show Low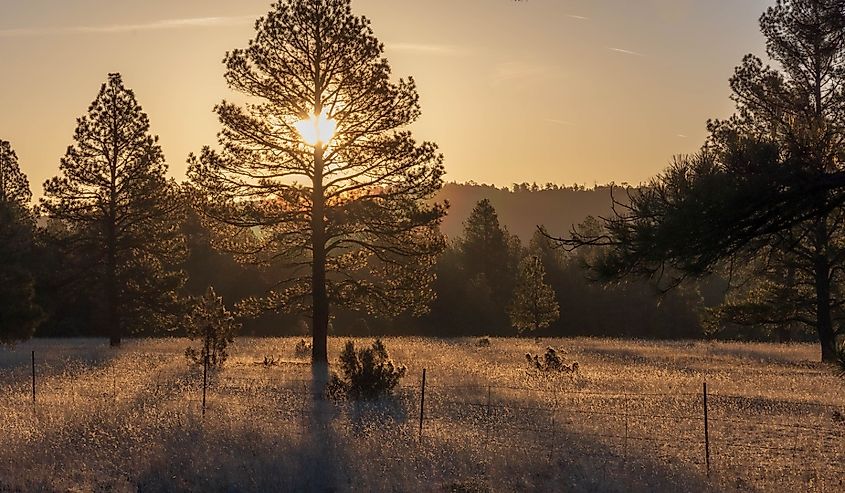 Located in the Apache-Sitgreaves National Forests, Show Low is a tranquil escape that boasts fall colors from late September to early October. Surrounded by a dense pine forest, Show Low offers several areas to explore for outdoor enthusiasts.
Visitors can fish, camp, or boat at the Fool Hollow Lake Recreation Area, hike the Show Low Bluff Trail, or attend the Show Low Film Festival in October. A great spot to view the transforming autumn colors is Show Low Lake, where visitors enjoy camping and bonfires in the fall.
Alpine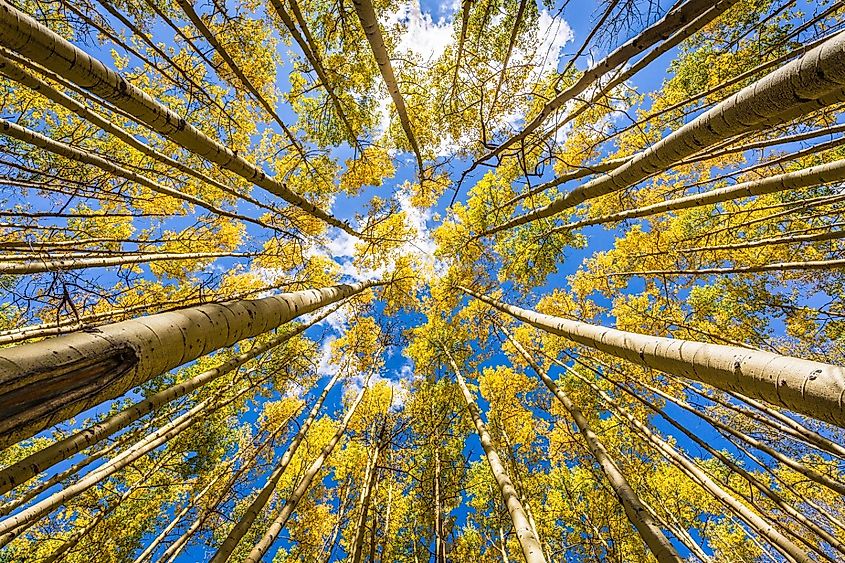 Nestled in the White Mountains, Alpine offers a kaleidoscope of fall colors from late September to early October. Since Alpine is surrounded by sprawling forests, its unique blend of Ponderosa pine and aspen groves adds beauty to this picturesque town during autumn. 
For optimal viewing, a drive up to the scenic viewpoints on Escudilla Mountain is a must. Nature enthusiasts also enjoy catching trout in the cool waters of Luna Lake and hiking through the Williams Valley. Just be cautious of wildlife encounters since the area is home to bears, mountain lions, and elk.
Pinetop-Lakeside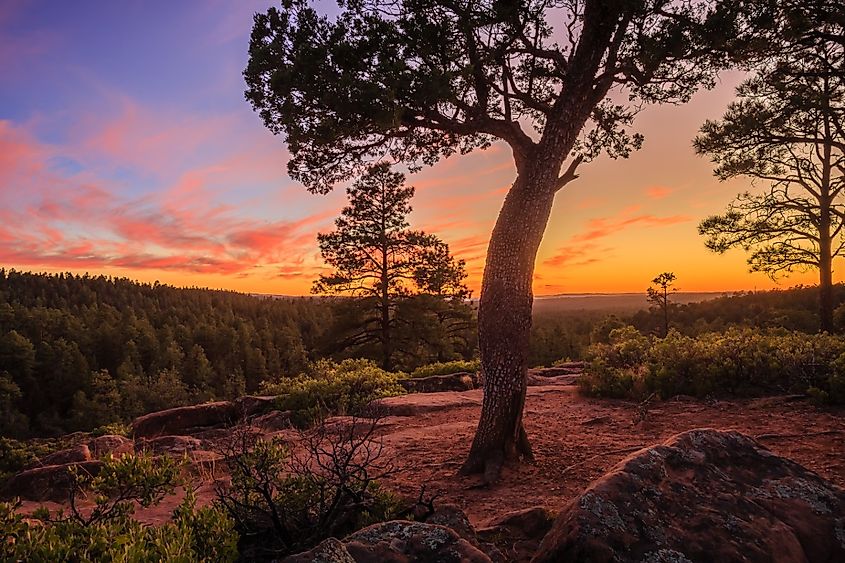 True to its name, Pinetop-Lakeside offers incredible autumn views of Ponderosa pines and lakes throughout the month of October. A great place to view fall foliage is on a serene hike along the Woodland Lake Park Trail. If you want a more challenging hike, you can explore vibrant autumn colors on the nearby White Mountain Trail System.
The charming town also offers excellent fishing and kayaking opportunities in its numerous lakes and streams, including Rainbow Lake and Woodland Lake. The lakes provide breathtaking views of aspen leaves shimmering with their golden brilliance. At the end of October, visitors also enjoy the annual Autumn Fest with local foods, live music, and an exciting costume contest.
Superior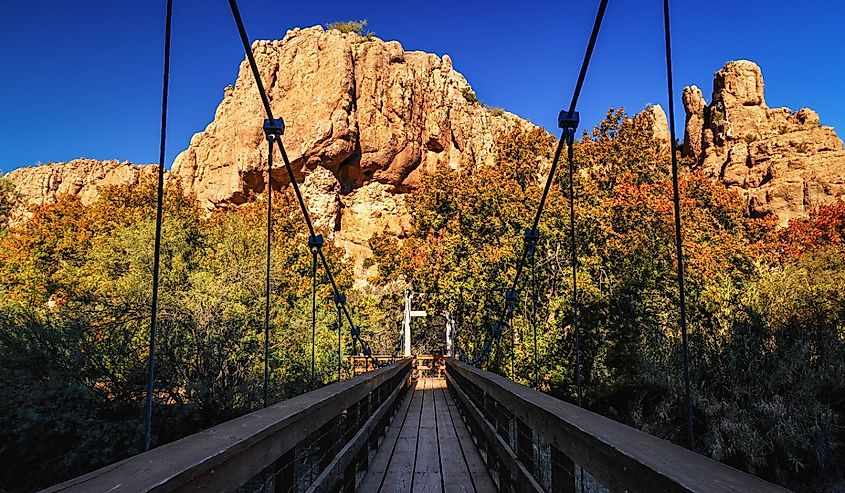 If you want to experience fall foliage late in the season, Superior is a great town to visit. Located about one hour southwest of Phoenix in the heart of the Sonoran Desert, the town becomes ablaze with fall colors from mid-November to early December. The best spot to view the brilliant trees wrapped in crimson and gold is at Boyce Thompson Arboretum.
While visiting this breathtaking town, be sure to go on a bike ride, hike, or equestrian ride along the Legends of Superior Trail. The trail offers stunning views of Arnett Canyon, Picketpost Mountain, and Apache Leap.
These Arizona towns offer mesmerizing views of fall foliage while providing a serene escape from more crowded autumn destinations. From gazing at aspen trees shimmering in gold in central Arizona to experiencing fall foliage in December throughout the desert, the Grand Canyon State provides a unique fall experience for nature lovers. Whether you are seeking beautiful alpine settings, scenic drives, or local festivals, these southwestern towns provide an unforgettable fall getaway.