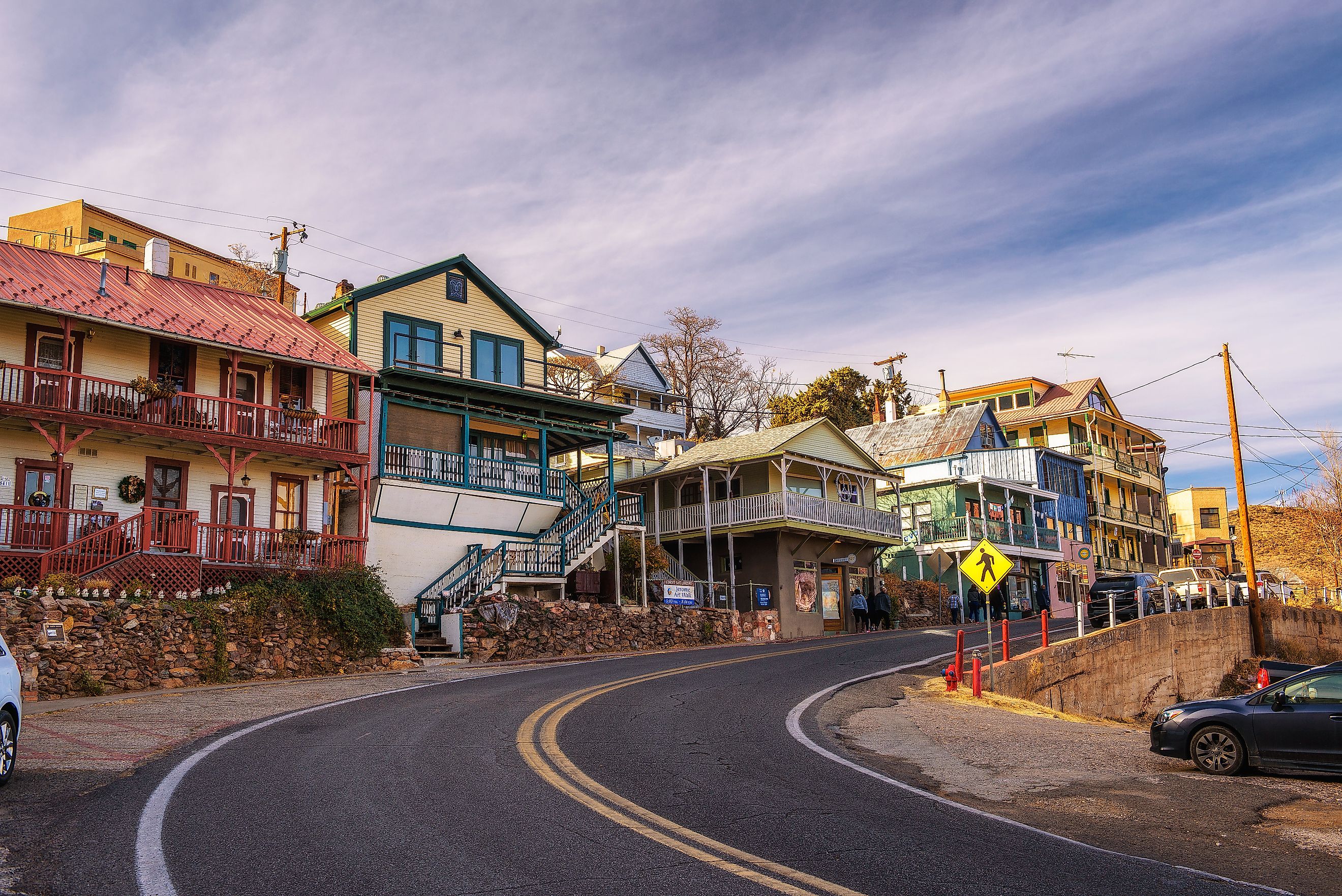 8 Best Small Towns To Visit In Arizona
There are many wonderful places to visit across the United States, but there are several small towns to visit in Arizona that often go unnoticed. When The Grand Canyon State is referenced, it most often brings to mind the breathtaking Grand Canyon, the bustling capital city of Phoenix, and the endless deserts full of saguaro cactus. But sprinkled across the beautiful landscape are forgotten oases that hold a mythical charm and deep roots in both indigenous and American history. Each one has its own culture and charm that cannot be found anywhere else in the world, with panoramic views and its own twist on the state's local cuisine.
From the gold rush to the Mexican-American War, these towns in Arizona reflect the spirit of the American Wild West: a determination to thrive through adversity and to carve out a home in the wildest of lands. Here is a list of the best of these small towns that continue to survive through the heat and sands of time, and where those seeking a respite or inspiration can go to recharge.
Jerome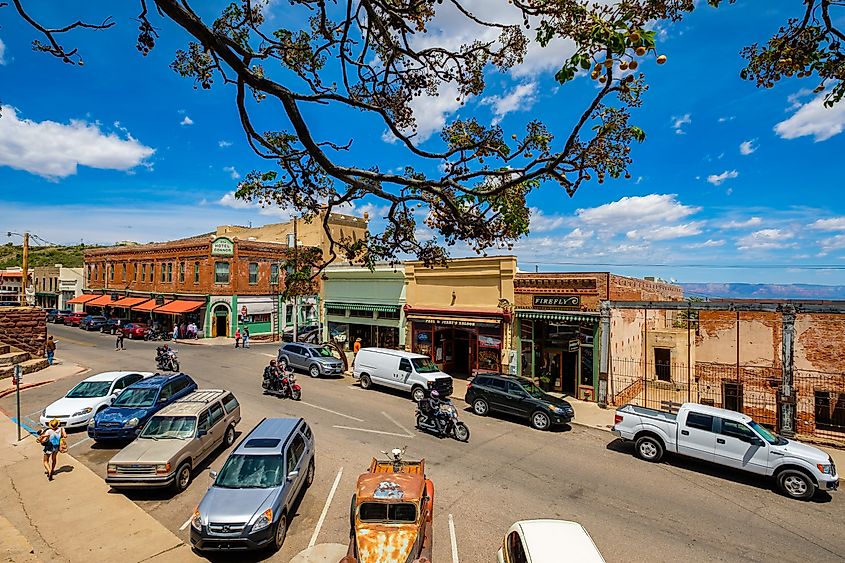 The city of Jerome has had a long history of ups and downs, from its time as a small settlement of tents to a massive mining community, to its current status as a ghost town. With only a few hundred people on its census today, this historic copper mining town was of great value to the country during World War II and the remnants of the mining operations are still there today, resting atop Cleopatra Hill. The town continues to find ways to thrive in the desert, battling all odds. It has transformed from its time as the Wickedest Town in the West into a friendly and welcoming tourist attraction, focusing on its unique history as a miners camp and is now also a bustling community of artisans and tour guides. 
Cave Creek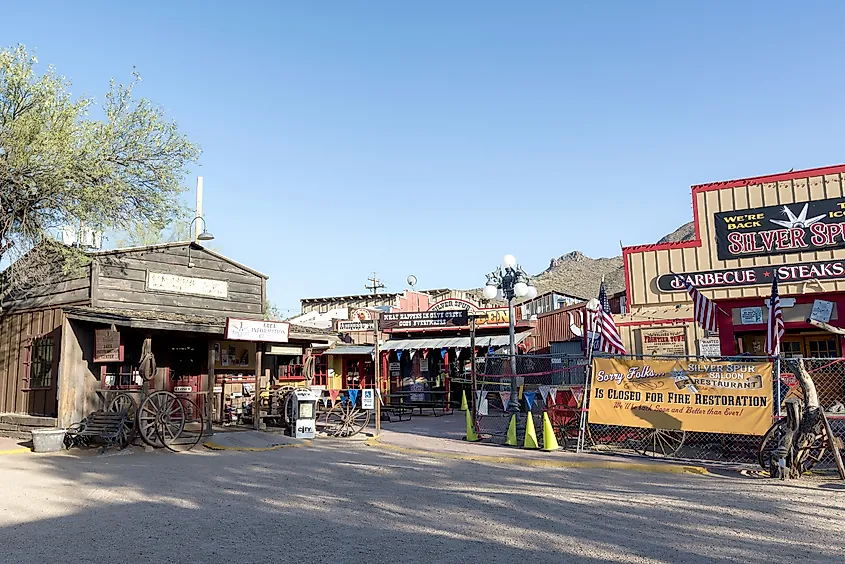 When it comes to a mix of the Old West and modern conveniences, no one needs to look further than Cave Creek, Arizona. Tucked away in the desert foothills, this small town is just as likely to have a horse tethered in the parking lot as a motorcycle or modern Tesla. The cowboy era is still alive and well in this old ranchers town, and its history is rich and deep, from the ancient peoples of nearly 20,000 years ago to the construction of their first dams. Visitors can tour the Cave Creek Museum to learn about its past or explore the countryside from the saddle of a horse on the Cave Creek Trails to see it for themselves. 
Patagonia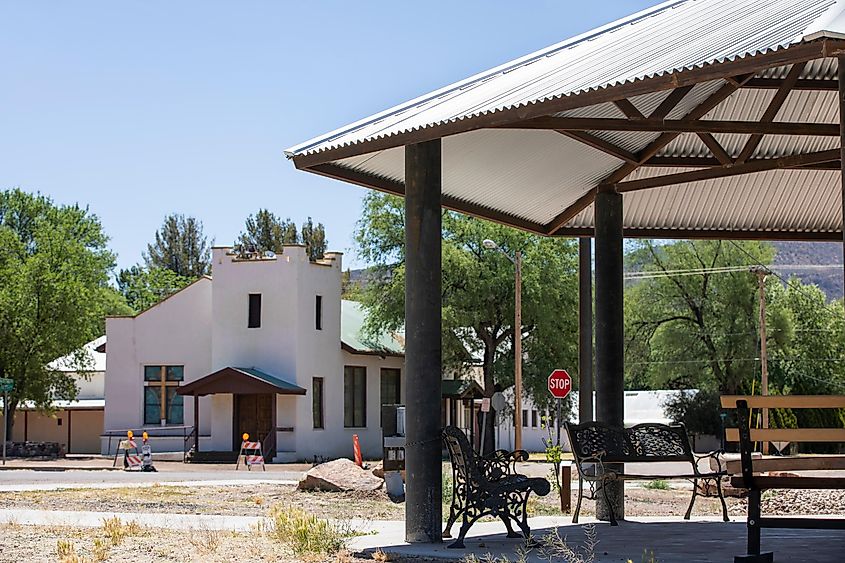 Patagonia is peacefully nestled between the magnificent Santa Rita Mountains and the gorgeous Patagonia Mountains, an idyllic town that offers a haven from the sandy deserts. With a tranquil lake and plentiful grasslands, this historic town has served as many things throughout its history, from an ideal plot for cattle ranching, a thriving trading post, and as a now internationally famous destination for bird watching. With over 200 species of exotic and rare migrating birds, it has become a paradise for those interested in the aviary hobby. For those not interested in feathered fliers, there are countless activities, from hiking the mountain trails to enjoying live music and art demonstrations at the Patagonia Museum. 
Sedona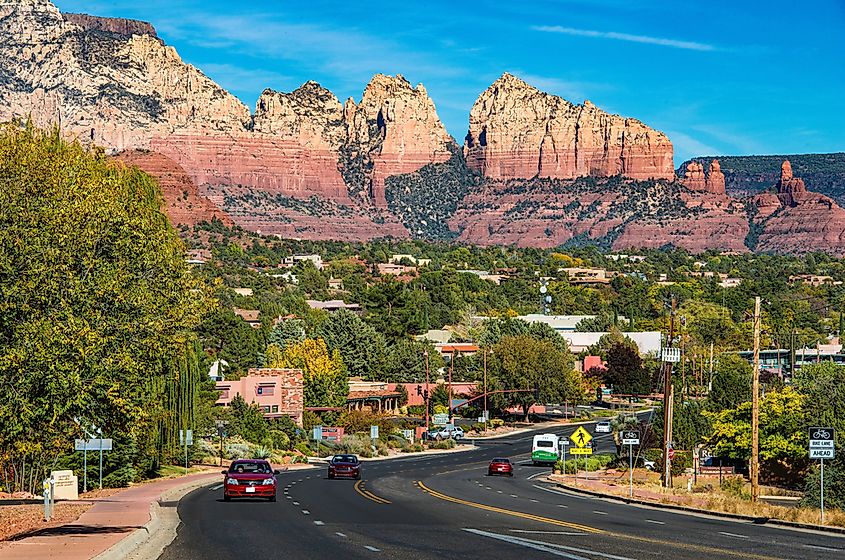 Of all the small towns to visit In Arizona, none compare to the picturesque location of Sedona. Enveloped by the red-rock buttes and pine forests, this town is known for its milder climate and its passionate art community. The rock formations surrounding it provide many opportunities for biking and hiking, while the cooler pine forests provide a welcome relief from Arizona's blazing sun. From Wild West history to award-winning vineyards, Sedona has a culture of fun and charm that is limitless in its potential, whether as a long-term resident or as a weekend tourist spot. With its variety of both relaxing getaways and heart-pounding adventures, there is something waiting for everyone in this small town.
Page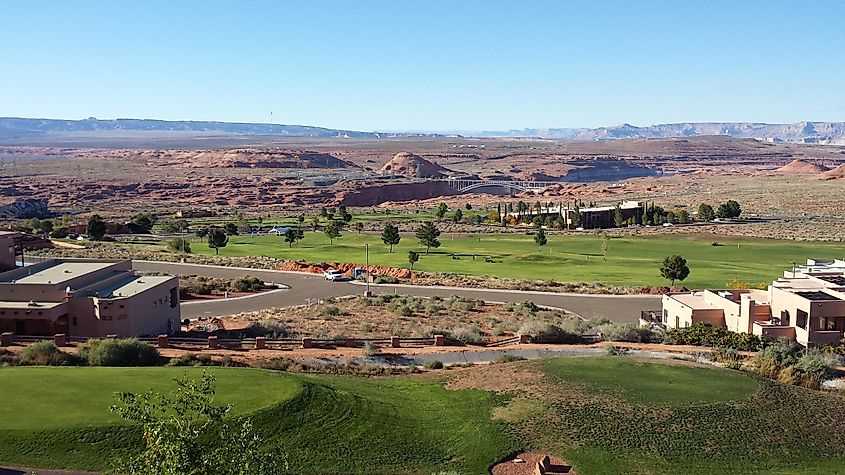 If someone is looking for beautiful landscapes to explore on their vacation, then the small town of Page is the perfect destination for them. Located to the north of Lake Powell, this town is close to some of Arizona's best examples of nature, like Antelope Canyon and Horseshoe Bend. While the town is relatively young, having sprung up as a housing site for when the Glen Canyon Dam was built in 1957, it still holds a simple charm that is prevalent throughout the state. It is now a wonderful place for visitors to mark on their summer vacation plans, with plenty of nearby trails for hiking and off-roading, and with a gorgeous lake for boating and swimming. 
Williams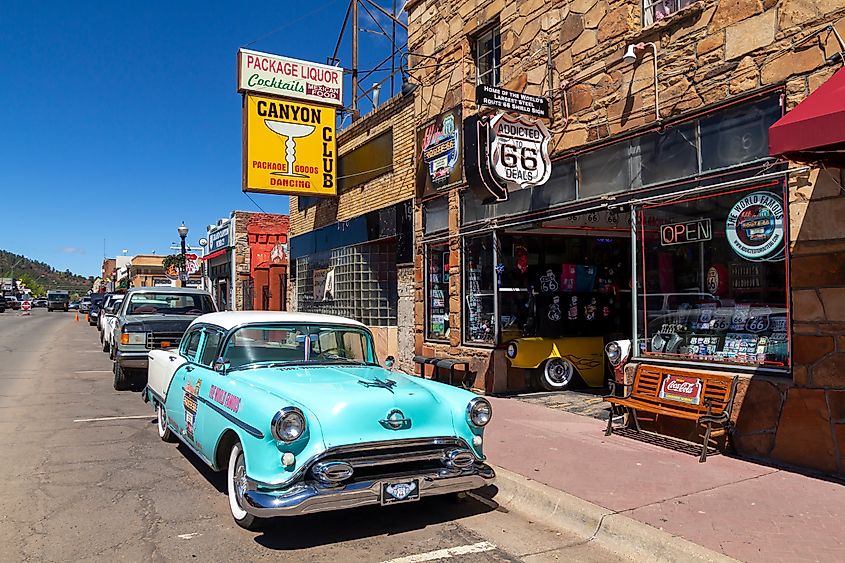 The town of Williams has long been known as the Gateway to the Grand Canyon, but there is more to this small city than just its association to the famous landmark. Williams has been known for its tourist attractions for over a century, and even after Route 66 was bypassed by Interstate 40 in 1984, it has continued to remain a visitor favorite to this day. Nestled in the Kaibab National Forest, this town has a climate that is much milder than the rest of the state, where lush forests provide a home for a variety of creatures, like bears and bison. There are many lakes for fishing and boating, museums and zoos to discover, and countless trails to explore.
Carefree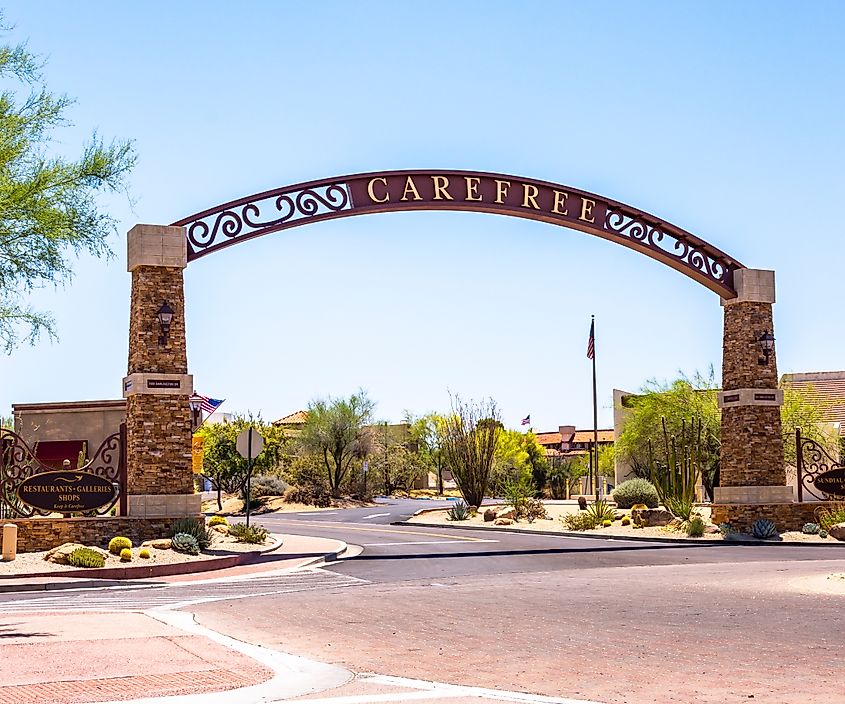 Boasting one of the Valley's two botanical gardens open to the public, Carefree has a lot to offer as one of the small towns to visit in Arizona. Surrounded by towering Saguaro and beautiful wildflowers, this historic town is known for its natural beauty that inspires the area's many artists, writers, and musicians. Tourists can take a stroll through the Carefree Desert Gardens, finding the country's largest sundial, the Carefree Sundial, among its sights. The town's whimsical theme extends to even its street names, with such examples as Easy Street and Lazy Lane. With its origins as a goat farm now long behind it, it has become a lively center for outdoor adventure, delicious food, and artistic atmosphere that encourages tourism and relaxation.
Bisbee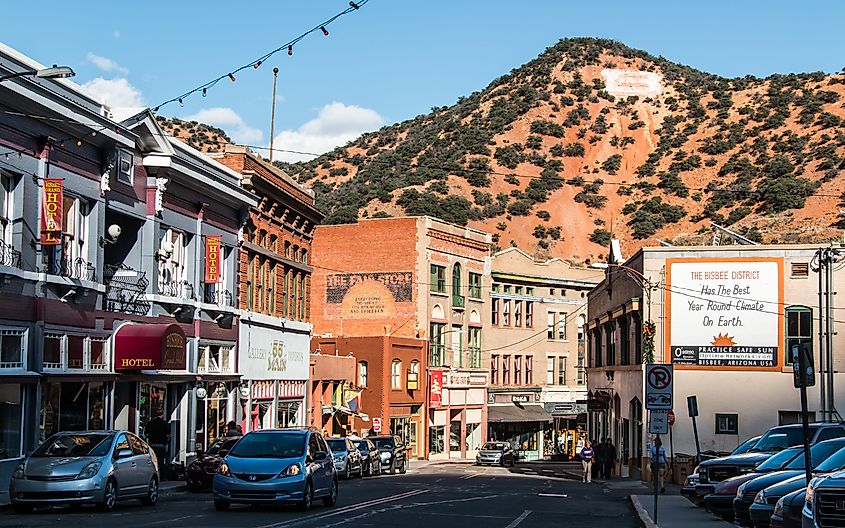 Freespirits call Bisbee home, and they extend that feeling of freedom and adventure to all who visit this charming town. It has come a long way since its days as a mining town known as the Queen of the Copper Camps, and has blossomed into the cosmopolitan paradise of today. With its rich history, gorgeous architecture, and large variety of entertainment, the town is the perfect spot for those looking for something different. Lounging in the Mule Mountains, Bisbee has a reputation for refreshing the soul and inspiring creativity and adventure to all lucky enough to travel its way. Whether it is for a day or a lifetime, Bisbee is the place to find that next burst of dopamine.
Arizona is home to so many wonderful marvels of nature and countless stories of survival and innovation throughout history. Regardless of whether guests are first-time travelers or yearly vacationers, there is always something new to discover through the quaint towns and charming cities across the state. There is so much history to be rediscovered, outdoor activities to experience, and inspiration to take in. From landmarks carved by roaring rivers and wind-blown sand to the man-made ghost towns that give haunting glimpses to the past, these small towns to visit in Arizona are guaranteed to leave all adventures with a renewed sense of passion and awe.