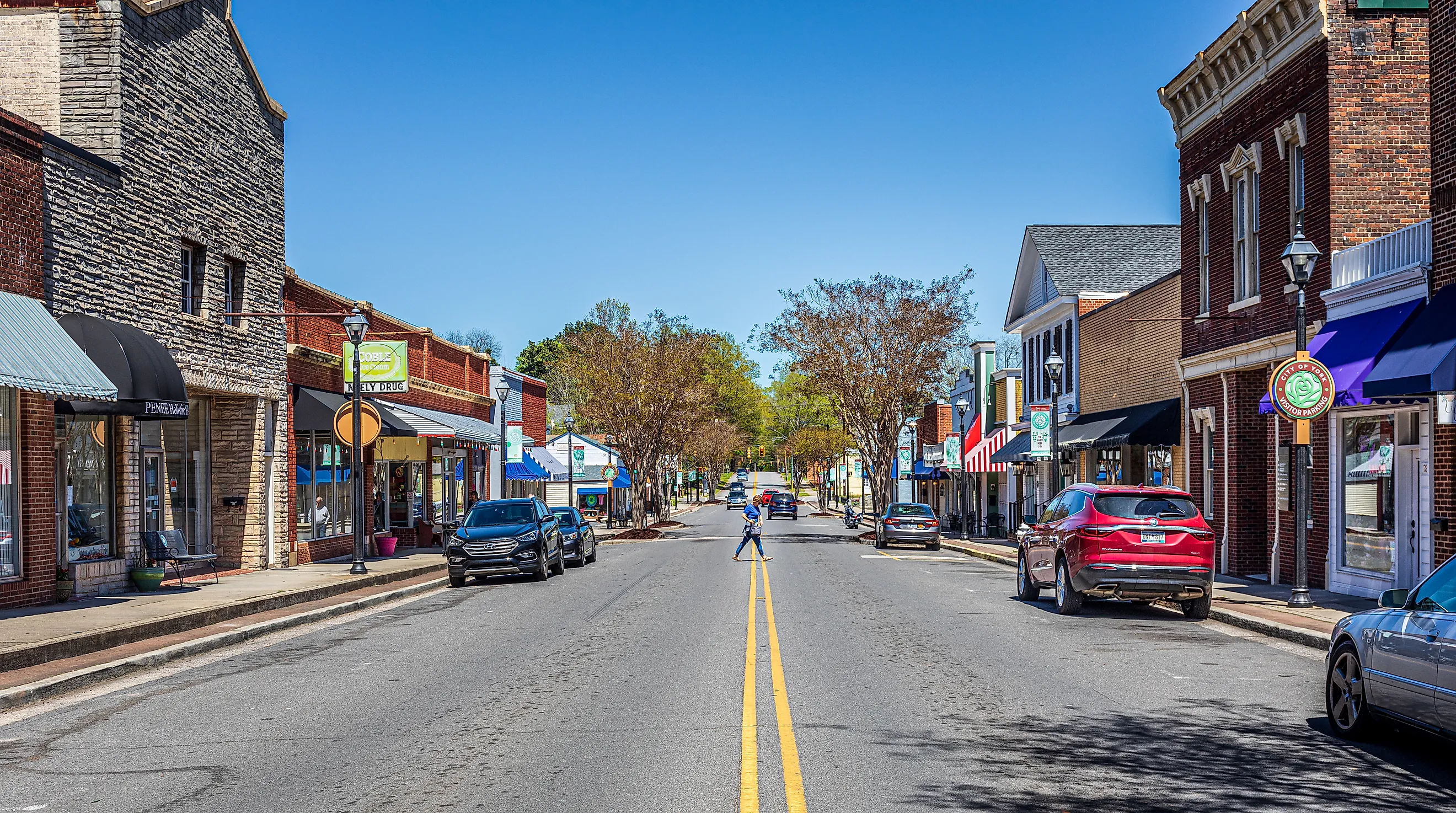 7 of the Most Unique Towns in South Carolina
Known for its lovely weather, sandy beaches, and refreshing natural activities, South Carolina is an amazing state filled with particular towns featuring amazing historical, cultural, and natural sights. Aisles of delightful pastel-colored houses, mesmerizing waterfront views, and the delectable classic Southern supper shape the soul of these welcoming communities. The "Palmetto State" has settlements of all shapes and sizes, from harbor towns to mountain hamlets to modern villages. If you seek a relaxing stroll through a green natural park, like Trailblazer Park in Travelers Rest, an adrenaline-rich paddleboarding adventure on Prestwood Lake near Hartsville, or a limitless Oktoberfest celebration in Walhalla, these unique South Carolina villages got you covered. So, take a moment to behold this all-American land laden with green natural scenery and festivals — South Carolina is waiting for you!
McClellanville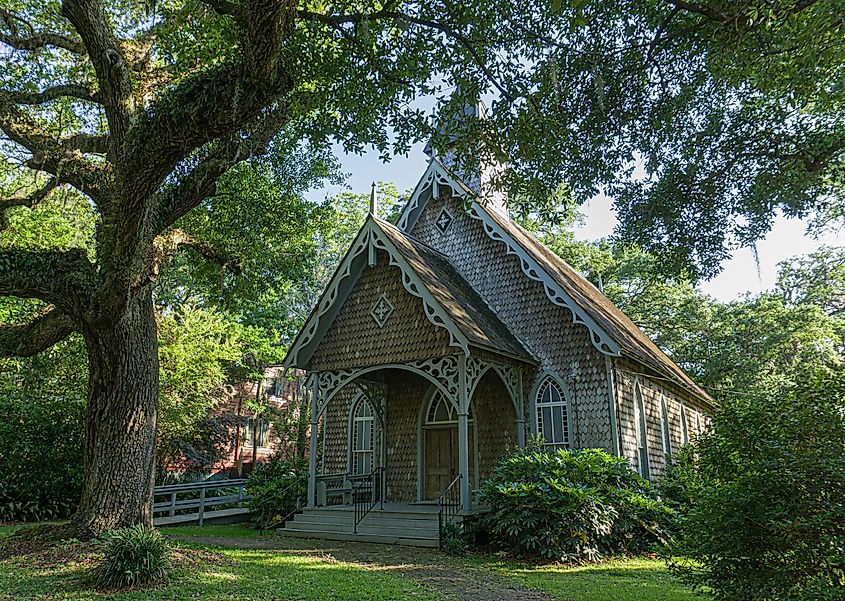 Turning your back to the Atlantic Ocean, McClellanville is where fishing, oystering, and shrimping are not just business but a way of life. The dense Francis Marion National Forest surrounds this small fishing town and grants a misty landscape usually found only in fairy tales. McClellanville has traditionally relied on the Atlantic Ocean and the coastal marshes for seafood provisions, which play a dominant role in the town's economy. The first store opened soon after the Civil War. Today, one can find many behind the ship masts. If one seeks to taste the fruit of the fishers' labor, T W Graham & Co provides a great selection of seafood dishes spanning from muscles to fried shrimps paired with scallops and french fries.
Travelers Rest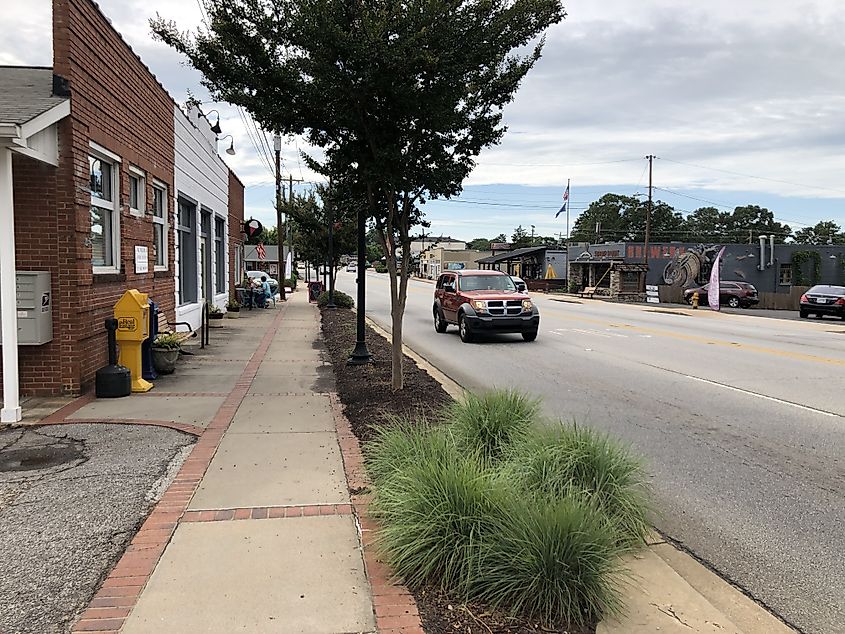 Travelers Rest enjoys the southern foothills of the Blue Ridge Mountains in South Carolina's magnificent Upcountry region. This cozy getaway once served as a hiding spot for the Lowcountry travelers who traveled through the highlands from the hot summer days. Those journeymen did not use highways but instead walked along iconic trails like the unique Bunched Arrowhead Heritage Preserve loop. Surrounded by the green forest, this trail still feels like a blast from the past, stepping where those journeymen once walked, and is popular with many tourists. Visitors to Travelers Rest can spend quality time at Trailblazer Park, where the green space is replete with fun attractions like a live music stage, food gazebos, car shows, and occasional movie projections. 
Landrum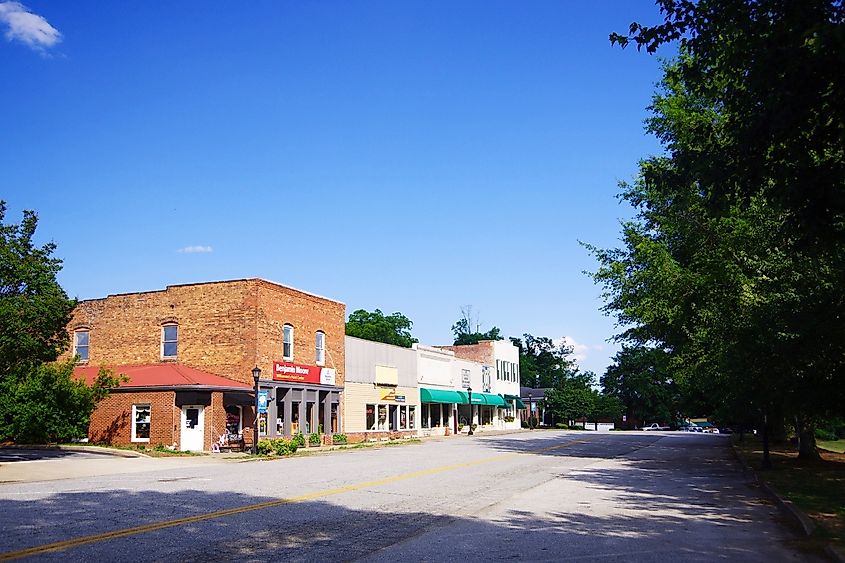 Amidst the rolling hills and pastureland near the North Carolina border, Landrum boasts breathtaking natural wonders. Landrum ensures a warm and inviting atmosphere that will enhance your visit to this town. The nearby Chestnut Ridge Heritage Preserve provides many hiking trails, charming waterfalls, and stunning vistas belonging to story books. Spanning across Beaverdam Creek, the iconic Campbell's Covered Bridge with its red-colored wood goes in pendant with the fall foliage of the surrounding trees. Hikers will find the Palmetto Trail at the 575-acre Blue Wall Preserve very stimulating, with its scenic paths along Lanny's Falls past the twin ponds. Staying in town, downtown Landrum has plenty of artsy shops, boutiques, welcoming eateries, and antique shops like Landrum Eclectics, a Beautiful home full of antique and vintage pieces that warmly welcomes every customer. 
York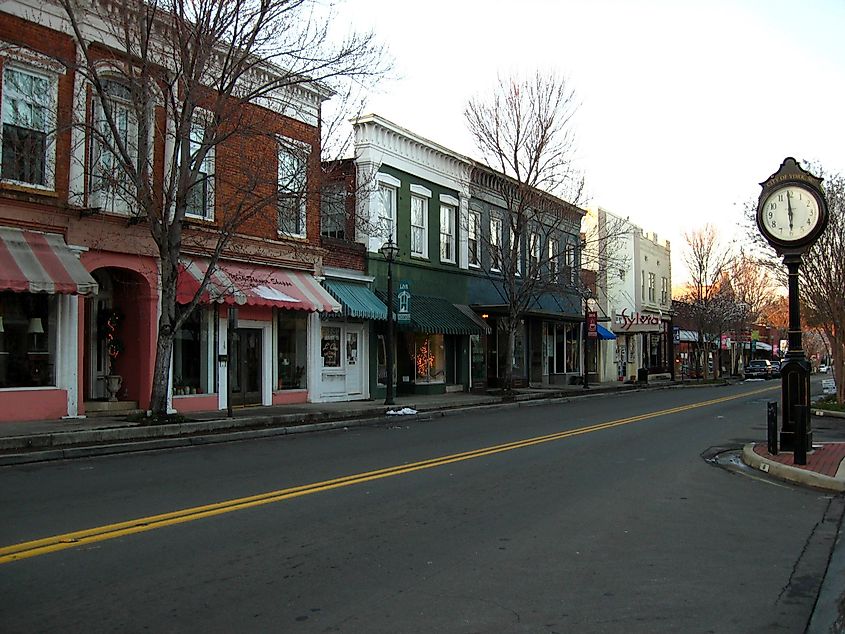 York combines urban charm and small-town tranquility, where the nearby James Ross Wildlife Reservation forest quietly infiltrates the settlement. The town maintains a deep reverence for its history, which is showcased through its beautifully preserved historic district. One can admire the splendidly unique 19th-century buildings in the downtown area or explore one of the many museums. For example, the Museum of York County is a heritage museum that grants a naturalist center with hands-on programs and tells the story of York County. Moreover, York boasts a collection of historical landmarks highlighting its importance in American history. Among these is the McCelvey Center, an esteemed establishment listed on the National Register of Historic Places. The nearby Kings Mountain State Park provides the perfect setting for activities such as camping, hiking, or simply enjoying the natural heaven that surrounds you.
Walhalla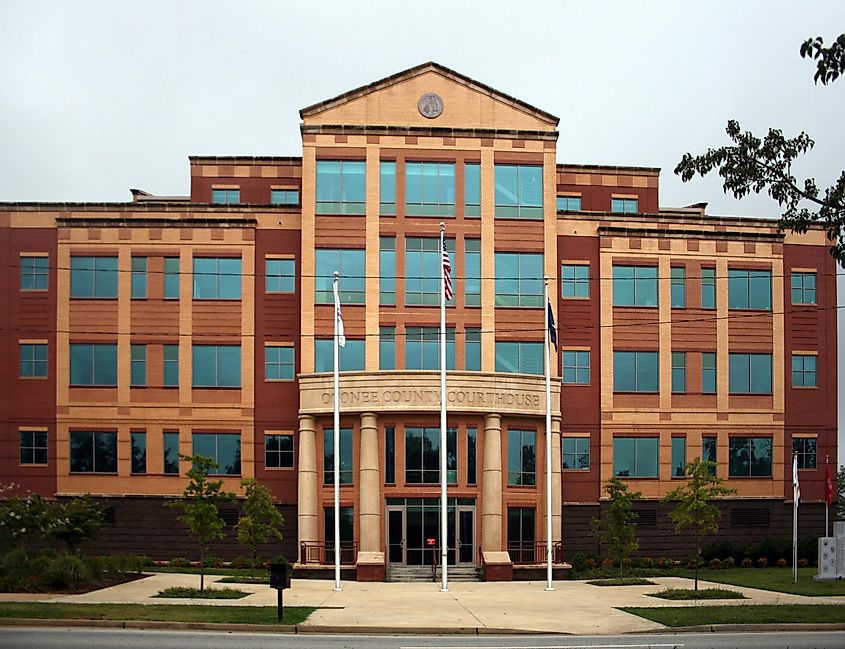 Walhalla overlooks the reaching shores of Lake Keowee near the Georgia border. Home to 4,072 hard-working people, Walhalla's community is known for its incredible natural scenery and its German heritage. German immigrants who sought refuge from the German revolutions of the mid-1800s settled here and named the town after "Valhalla" from Norse Mythology. Thanks to the prevalent German culture, the town also holds a massive annual Oktoberfest celebration with thousands of beer pints. 
Besides the town's German history, there is a lot more to discover at places such as the Museum of Cherokee. This museum showcases South Carolina's Cherokee Native American heritage through artifacts, pottery, and texts. One of the most popular attractions is Issaqueena Falls, a beautiful rocky waterfall. The view of this amazing cascade is accessible only by its namesake trail and is one of the most unique sites to visit in the state! Visiting Walhalla will be just like entering the Nordic heaven.
Georgetown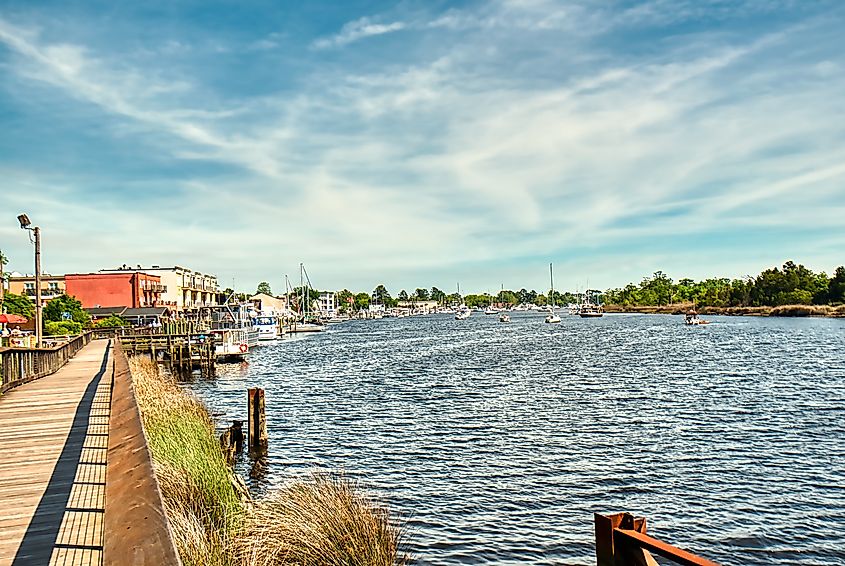 Georgetown is the third oldest city in the state of South Carolina and the second-largest seaport. Part of what makes Georgetown unique is its beautiful historic homes, adorned with gracious porches, shaded, live-oak canopies, and sparkling waterways. Georgetown is easy on the eyes and provides distinct natural beauty. Georgetown has over 50 antebellum mansions in and around its downtown district, with some rumored to be haunted by ghosts, demons, and other entities. If you are into spooky tours, feel free to join the unique Ghosts of Georgetown lantern tour for a shivering experience through town. 
For nature lovers, the Tom Yawkey Wildlife Center Heritage Center grants visitors an eye-watering 24,000 acres of pristine nature and hosts hundreds of animals, including American alligators and loggerhead sea turtles. Strolling along the town's scenic Harborwalk, one might find some of Georgetown's fine eateries. For example, Soco Grille delights customers with its juicy brisket and wide selection of seafood offerings.
Hartsville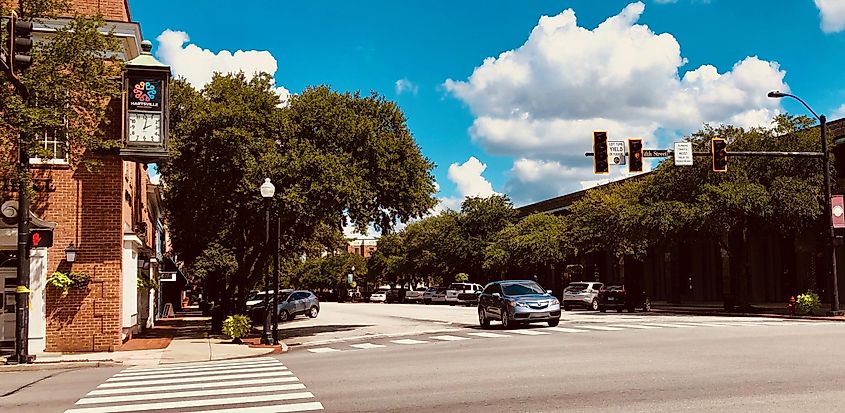 Prestwood Lake bounds the small town of Hartsville, creating a fantastic ambiance. Hartsville combines a collection of cultural attractions and a wide range of natural wonders. When it comes to nature, Hartsville houses many gorgeous gardens and parks filled with scenic views, such as the Kalmia Gardens, which displays 30 acres of floral biodiversity and is a great place to start your Hartsville journey. Another must-see attraction is the Hartsville Museum, an old 1930s post office that has been repurposed into a home for history and art. This museum also boasts historical movie exhibits, a sculpture garden, and a mural featuring the town's first commercial studio. For outdoor lovers, the nearby Prestwood Lake grants 280 acres of water sports fun, a perfect setting for swimming, kayaking, or even paddleboarding. For a more relaxing experience, the Hartsville Memorial Library is a great place to relax and wind down. This library was established in 1920 and has hundreds of books on display, as well as magazines and even historic newspaper prints.
South Carolina is a stronghold of that unique old-school American charm, and its small towns are proof that pairing natural beauty with historical legacy is an excellent match. From the small fishing town of McClellanville with its ever-crowded port to the splendidly restored 19th-century buildings in downtown York or the sweeping Tom Yawkey Wildlife Center Heritage Center with its free wildlife near Georgetown, South Carolina's communities are eager to show their peculiarity and charm with travelers of all origins. Each of these towns serves as a refuge of curiosities and provides a peaceful ambiance in their unique way.