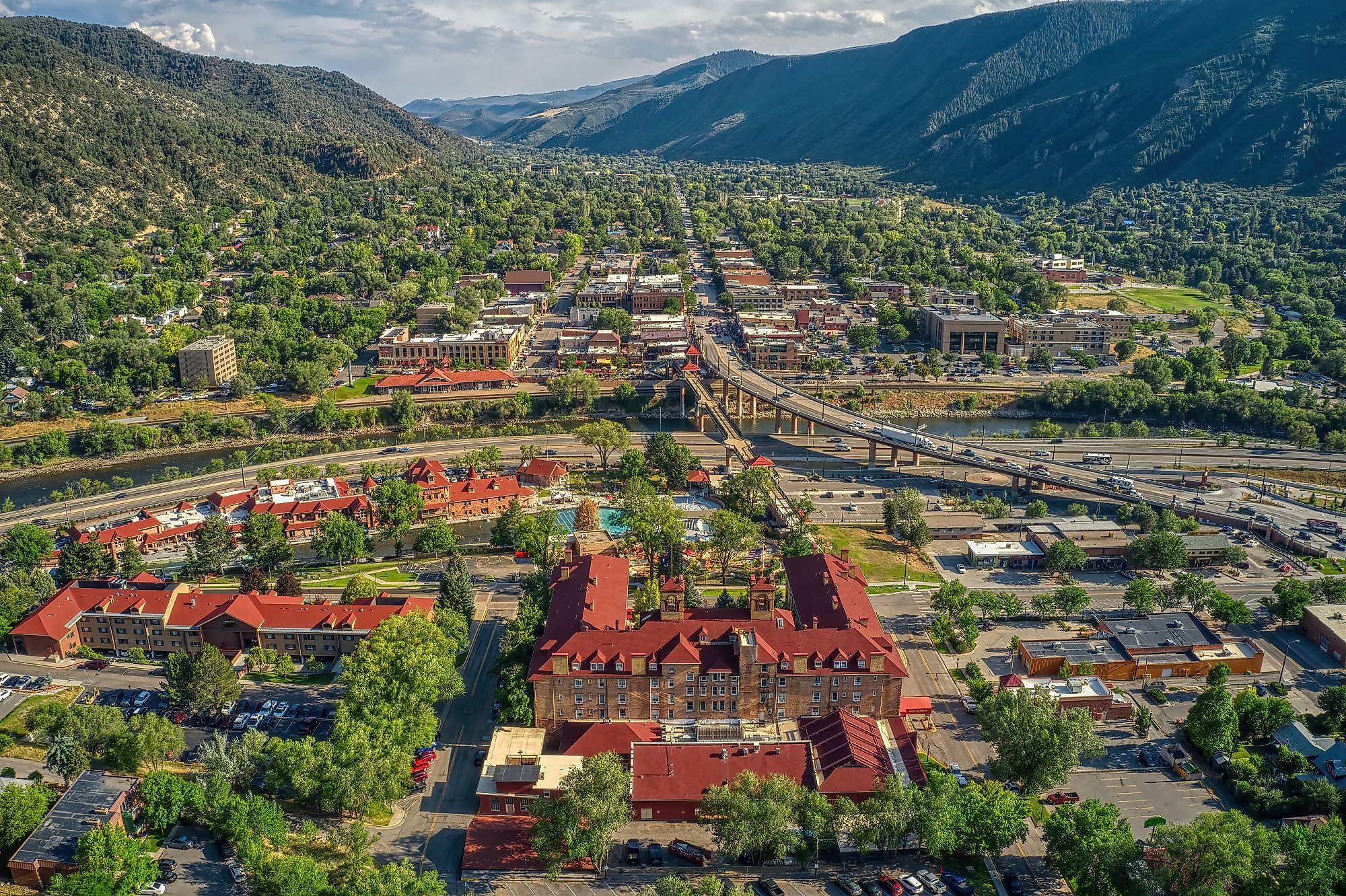 7 Most Underrated Towns in Colorado
A visit to any of Colorado's underrated towns allows one to explore the roads less traveled in this mountain state with tons of fascinating local history and lore. A stop in any of these picturesque towns will guarantee a fun time filled with recreation, storytelling, incredible local food, and a landscape that is unlike anything one may have seen before. After spending the day on the slopes, climbing the cliffs of the Rockies, or horseback riding through the backcountry, an obligatory stop is in one of the plentiful local hot springs in the region.
Salida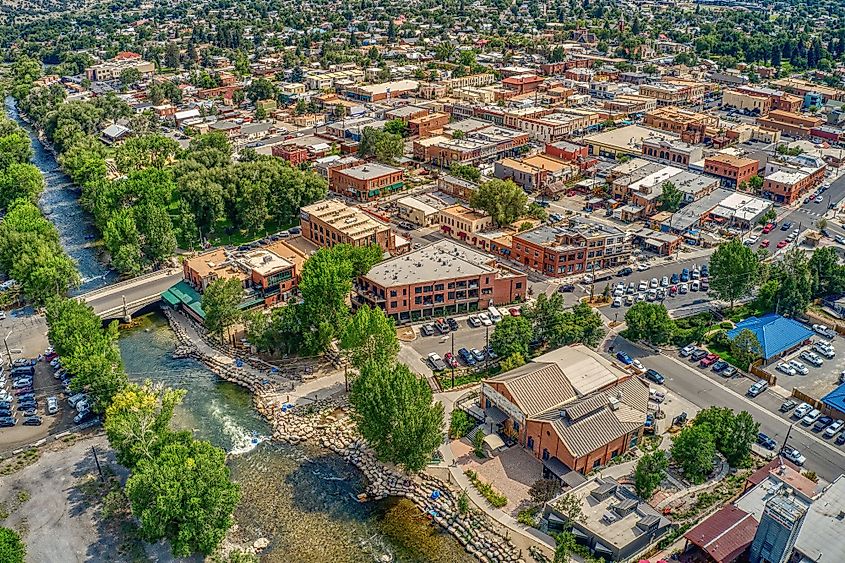 Some people refer to Salida as "the Heart of the Rockies." There is a diversity of breathtaking outdoor activities to choose from here, as well as access to Colorado's largest National Historic District. The Salida Downtown Historic District has more than a hundred preserved buildings from the times of the wild west, which one can explore while on walking tours. The city's historic downtown has also been designated as one of the state's "Certified Creative Districts." Here, one can find various art galleries, boutique hotels, locally owned retail stores, local wineries, breweries, and even distilleries.
For nature lovers, there are magnificent hikes via different walking trails, as well as the Browns Canyon National Monument, where one can participate in whitewater rafting, hiking, horseback riding, and fishing. There are also several natural hot springs in town with therapeutic thermal waters that are worth a visit. The Salida Hot Springs Pool is the country's largest indoor hot springs facility. 
Glenwood Springs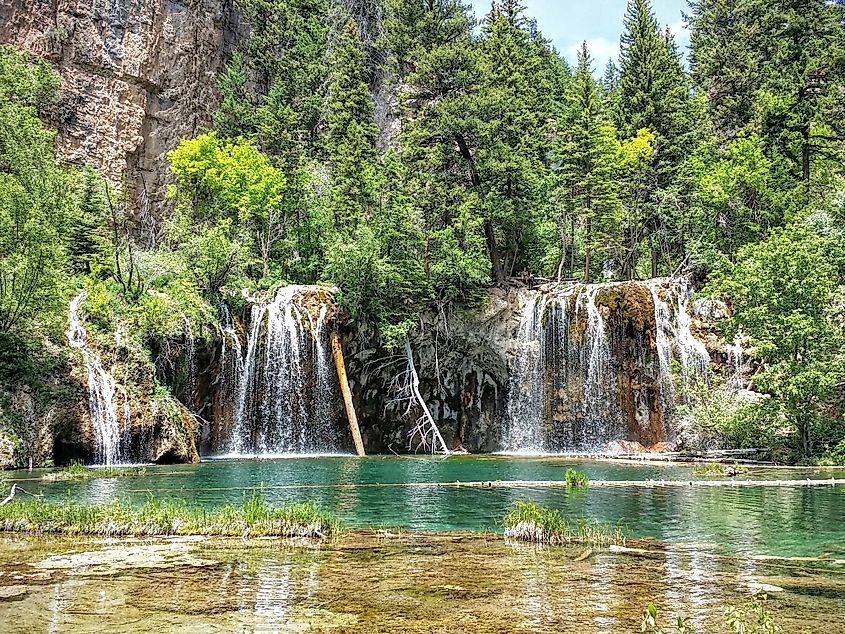 The county seat of Garfield County, Glenwood Springs, is a small home-rule municipality that is situated at the meeting point of the Roaring Fork and Colorado River. The area is known for its hot springs, boasting some of the best geothermal waters in the area. One can also hang out in the spas with vapor caves, like natural saunas within the caverns whose stones naturally generate steam. Nature lovers must visit the Hanging Lake, known for its crystal clear turquoise waters, besides being a popular hiking destination in the state. The lake can be reached via a trailhead located close to Interstate 70 Highway at the base of the Glenwood Canyon. 
Leadville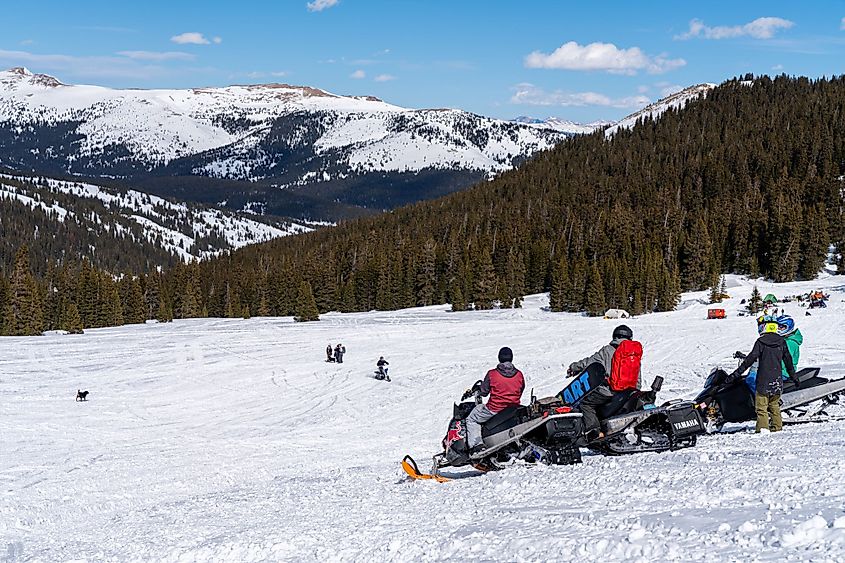 Leadville was once known as the most lawless town in the American wild west. It was a mining boomtown and attracted tons of outlaws in search of silver. The population once grew to 30,000 people during the peak of the boom, while today, just 2,633 people live here. Several museums and numerous walking tours in town are guaranteed to be interesting, with a rich local history of outlaws on the run, their love affairs, local legends, and stories of some of the most dangerous people in that time in American history. Currently, Leadville is a fantastic nature destination year-round, with a variety of winter and summer sports to enjoy. Winters offer ski slopes, sledding, snowboarding, skating, and hunting, while in the summers, one can drive along the Rockies Scenic Byway, check out Twin Lakes, go white water rafting, and do horseback riding.
Ouray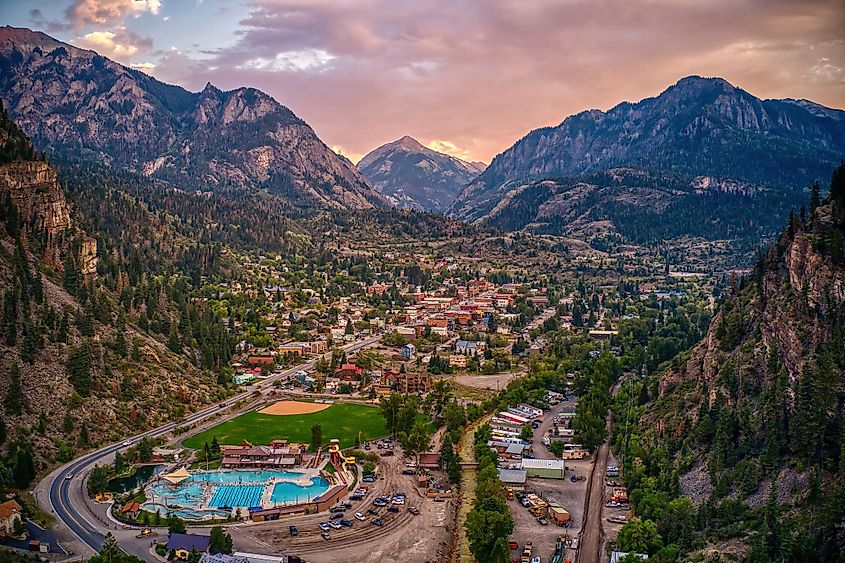 Ouray is known as the "Switzerland of America" due to its fantastic proximity to the snow-capped San Juan Mountains and other scenic canyon views in the area. Some of the highest peaks reach up to 13,000 and 14,000 ft, adding a spectacular backdrop to the terrain. There are also five hot springs in the area, located in valleys surrounded by mountains. A soak in the hot springs is a must after a long day of hiking. In the summer months, you can go rock climbing, canyoneering, off roading, and hiking, and in the winter you can even go ice climbing, skating and skiing. Due to the town's location at the beginning of the Million Dollar Highway, Ouray is a popular destination for motorcyclists. Tourists can also learn more about the town's rich mining heritage while on a visit to the Bachelor Syracuse Mine, located about 3.5 miles north of downtown Ouray. For those with interest in learning the stories of the early Americans, this is definitely a worthy stop in Colorado.
Crested Butte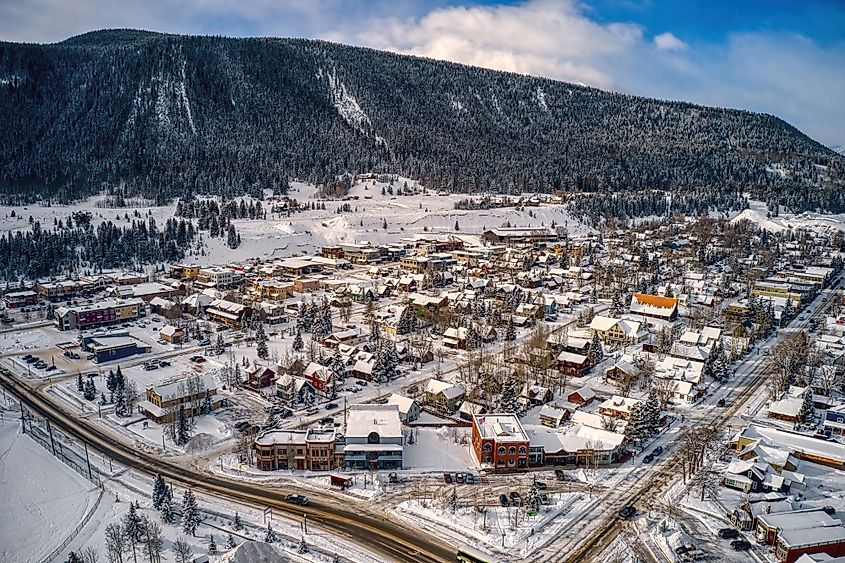 Often referred to as the state's "Last Great Ski Town," Crested Butted is best known for the ski slopes at Mt. Crested Butte, which stands at an elevation of 2,708 m. It is also the wildflower capital of the state, making it a worthy destination to visit in any season. The town serves as a popular destination offering a range of outdoor activities such as skiing and mountain biking.
Paonia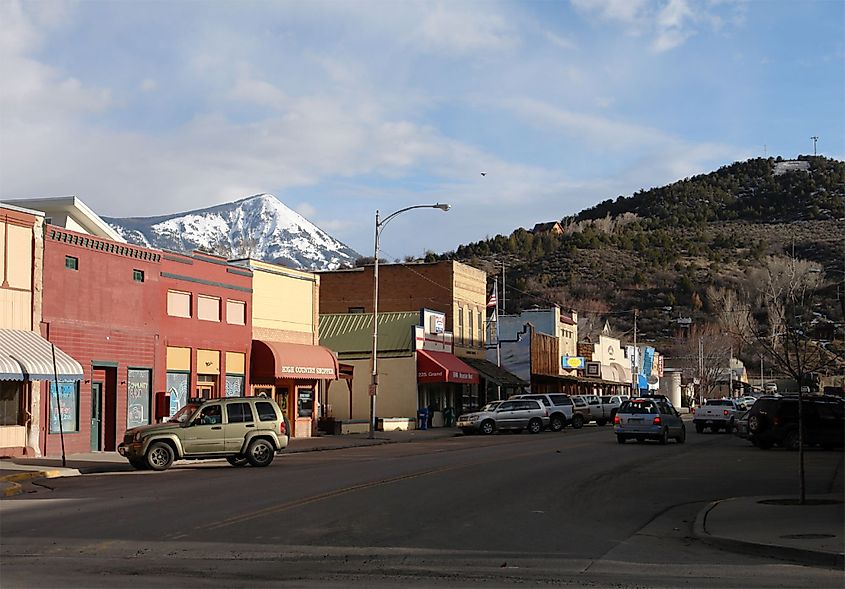 Paonia is a unique, artsy town known for its wine-making, apples, cherries, and peonies, which the town is named after. The community is full of an eclectic mix of agriculturists, winemakers, artisans, activists, and creatives. The town has a vibrant music scene and hosts several festivals, such as Paonia Cherry Days Festival, Mountain Harvest Festival, Paonia Film Festival, etc. There is also lots of food culture in the agriculturally rich area, giving way to great local dining and farmers' markets with quality food availability.
Durango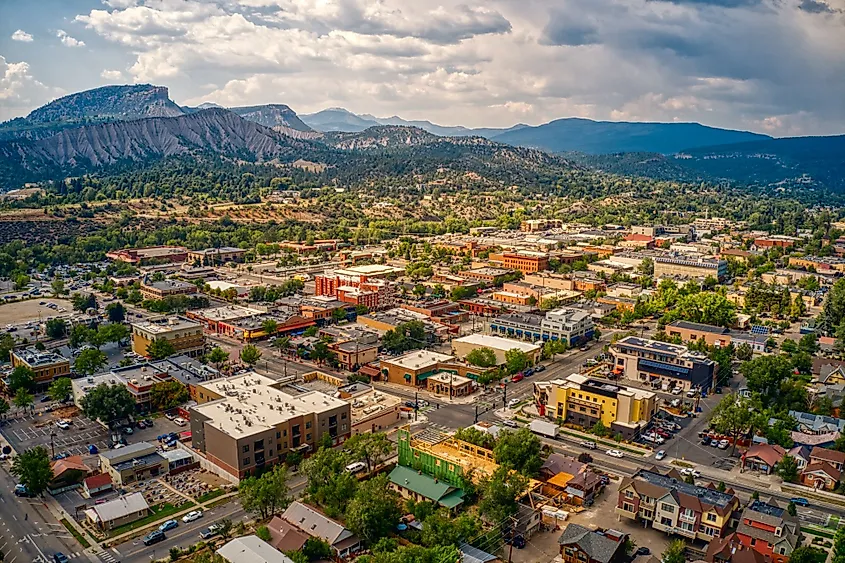 La Plata County's most populous municipality, Durango, is a breathtaking place in Colorado. The city's Main Avenue, home to several historical architectures, galleries, restaurants, boutiques, and businesses, is a popular year-round destination. Durango houses several important archaeological sites, including the Durango Rock Shelters Archeology Site, Chimney Rock National Monument, Spring Creek Archeological District, and many more. The town is also well-known for the Durango And Silverton Narrow Gauge Railroad that operates between Durango and Silverton. 
A visit to any of these underrated destinations in Colorado is guaranteed to have you passing through some prominent locations in the history of the Wild West. Not only are there interesting stories to hear in these areas, but a wide variety of winter and summer sports as well that serve as popular attractions for tourists. Don't miss out on some of the famous hot springs that this mountain state has to offer!