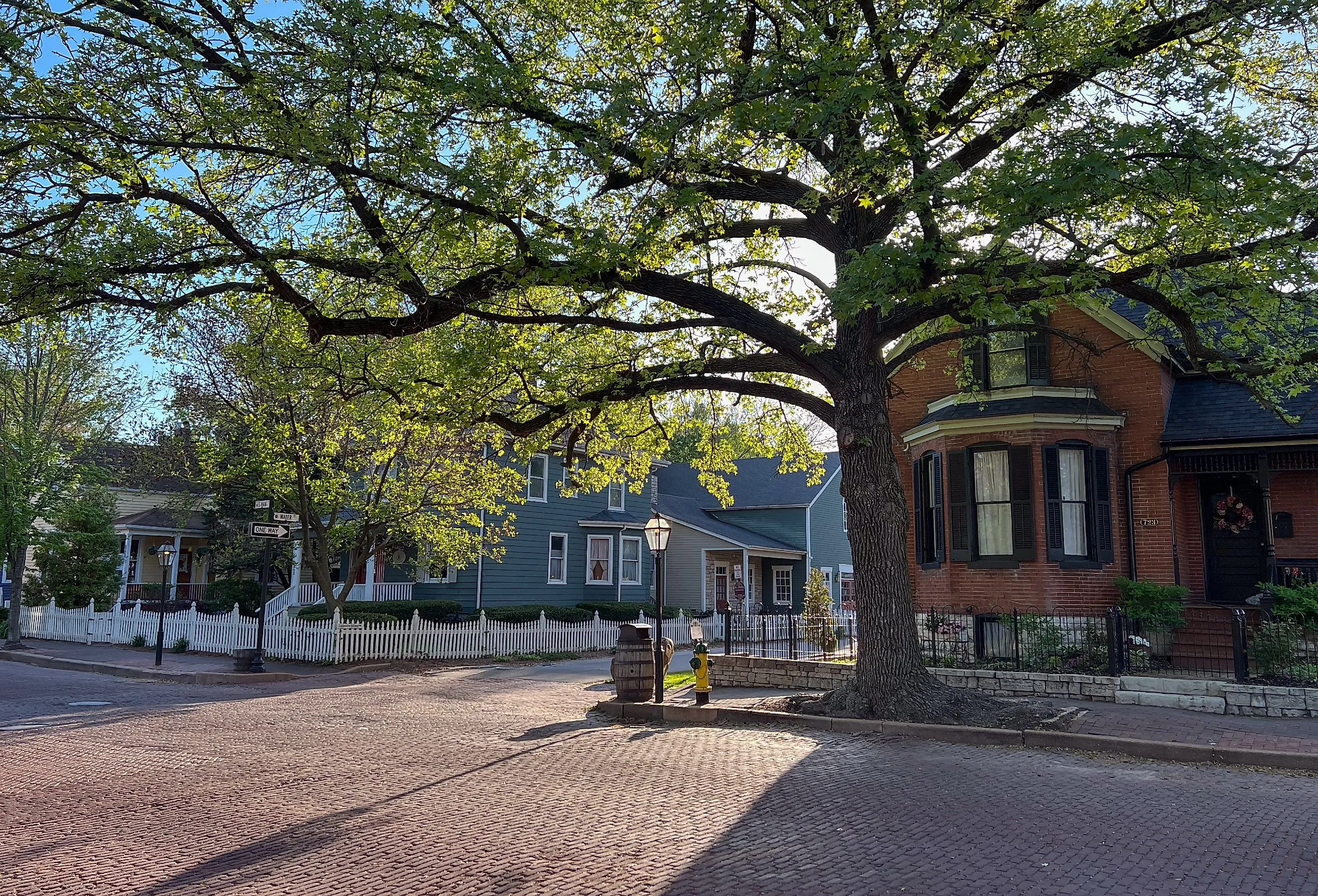 7 Most Underrated Cities in Missouri
Missouri is a scenic state located in the Midwestern United States. The state is home to lovely natural sights, such as the Ozarks, and the Mississippi River, for a beautiful experience. Along with this, Missouri boasts a lively population of more than 6 million residents, primarily residing in major cities such as Kansas City, and St. Louis, among others. However, many people tend to overlook the other cities in Missouri, filled with rich history, culture, and natural sights. These cities not only go under the radar, but they are ideal for vacations without the hustle and bustle of a major metropolis.
Chesterfield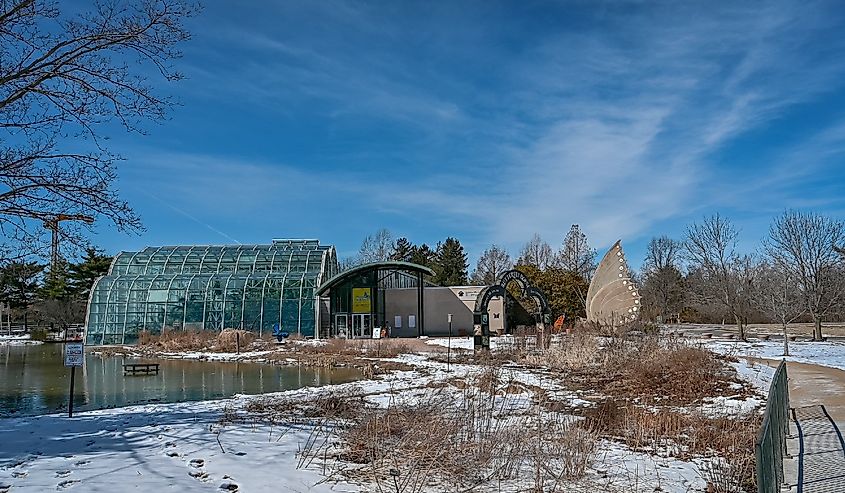 Home to a quaint population of 50,000, Chesterfield is a peaceful city in St. Louis County. The city exudes a suburban vibe, and everyone you meet here is always willing to strike up a friendly conversation. Testament to this, Chesterfield is often referred to as the "City of Volunteers" and includes many fun attractions. For example, Faust Park is an iconic park in town with an area of 200 acres. The park houses a play area, historic buildings, and even a humidity-controlled venue for community events. For those interested in the historic sites in Faust Park, Thornhill Home is an ideal option to check out. This home is built on land purchased by the second governor of Missouri and showcases iconic Virginia-style architecture.
While Chesterfield's history is quite intriguing, the city is also home to more lively attractions. One of the best spots to visit with friends and family is Topgolf St. Louis. This recreation center houses an amazing top golf field, multiple eateries, and various other games. So, you can spend the whole day here without getting bored. Similarly, Chesterfield is also home to an amazing arcade named Neutral Zone. Here, you can let your inner kid have fun with all sorts of retro games, such as Donkey Kong and Pac-Man! With all this, Chesterfield is definitely an underrated and enjoyable gem in Missouri.
Florissant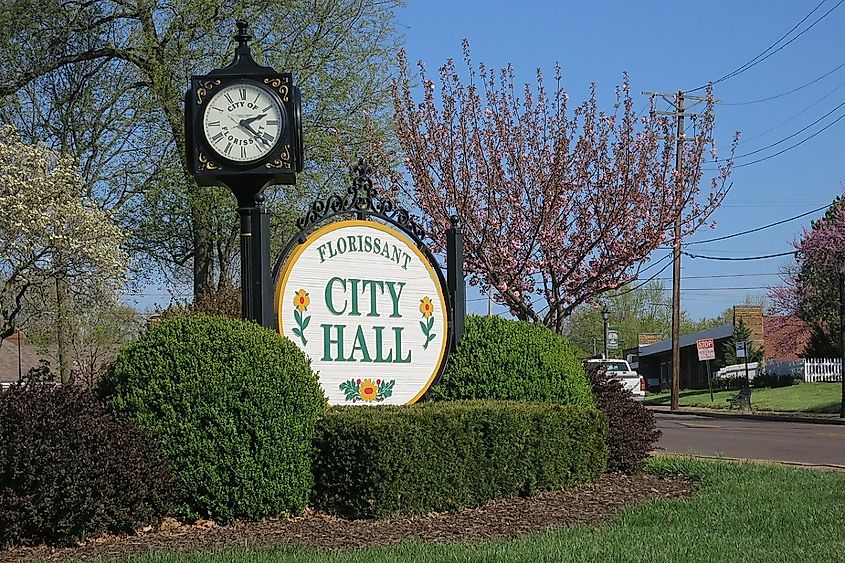 With such a beautiful name, the city of Florissant is bound to be a charming place to visit. Home to more than 52,000 people, Florissant is a suburb of St Louis with a rich past. This is because it is one of the oldest settlements in Missouri, settled in 1786. To this end, Florissant has many interesting historic sites, each with a unique story and vibe. For example, the Old St. Ferdinand Shrine and Taille De Noyer are two of the most popular. The Old St. Ferdinand Shrine consists of a church, convent, rectory, and schoolhouse from the 1800s, making it an all-around historical experience. On the other hand, Taille De Noyer is a 22-room mansion built in 1800! Both sites offer guided tours so you can take in Florissant's riveting past.
Once you have had your fair share of the past, it is time to come back to the present. With a lively population, the city of Florissant is also filled with enjoyable and fun activities. For those visiting with family, spend your day at Saint Ferdinand Park, a quaint 64-acre area that is perfect for a peaceful meal outdoors. The park also has soccer fields and tennis courts so you can burn the calories you eat! After a day out, grab a drink at Joe Momma's, a famous local bar with friendly staff, homely vibes, and some of the best drinks! So, while it may be a suburb of St Louis, there is a lot to see and do in Florissant.
Blue Springs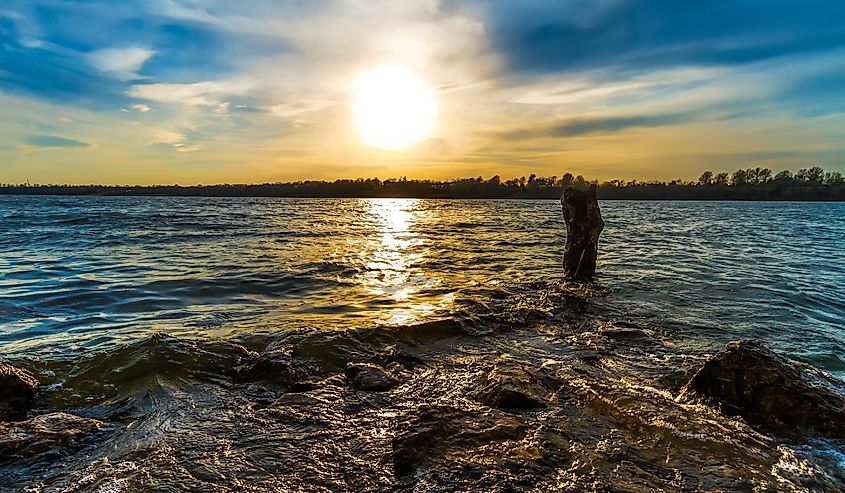 Offering a different take on Missouri's beauty, Blue Springs is an underrated display of natural beauty. The city is home to 58,000 residents but offers a peaceful and laid-back vibe you can rarely find elsewhere. When it comes to natural sights, the options are endless. For waterside fun, visit the stunning Lake Jacomo. This lake spans over 950 acres and offers a plethora of activities, such as kayaking, paddle boarding, and even fishing. For a drier experience with the outdoors, spend your day at Burr Oak Woods Conservation Area. Nestled within thick woods, it boasts six beautiful nature trails that take you through lovely sights. The area is also known for its rich flora and fauna, with animals such as deer, coyotes, turkeys, and raccoons found here. Nearby, visit Blue Springs Lake, Pink Hill Park, and many others!
Take a step back into town after your nature endeavors, and there is an endless array of culture and fun waiting for you. One of the best ways to witness this is by walking through town. The entire town is flush with unique art installations, whether it is in the streets, parks, or even buildings. Continue your stroll into Northeast Coronado Drive, and you can spend some time at the amazing Adams Dairy Landing shopping center. With an area of over 100,000 square feet, this center has everything from luxury stores to retail options like Target! Moreover, it boasts aesthetic Italian and Mediterranean architecture, which is sure to keep you happy while shopping.
St. Charles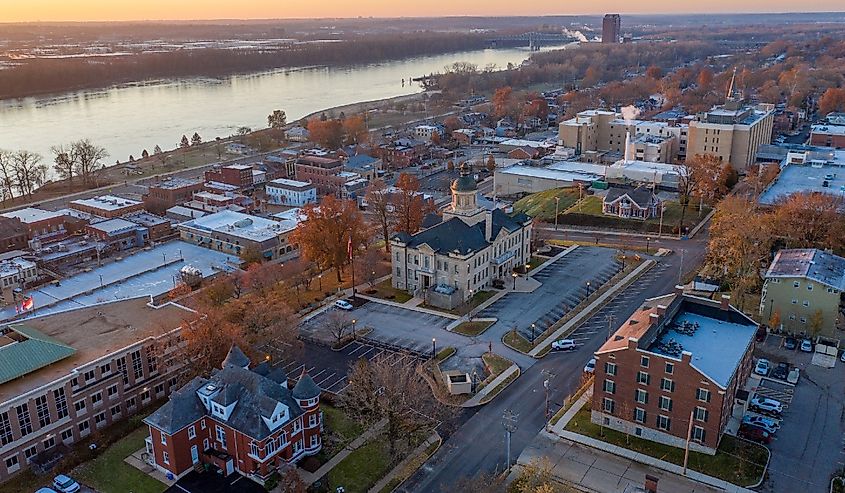 While it may not be the oldest settlement in Missouri, St. Charles has a rich history as the state's first capital. The city held this title from 1821 to 1826 before the capital was shifted to Jefferson City. Thanks to this, St. Charles has many historical events, sights, and activities no matter where you go. The First Missouri State Capitol and Lewis and Clark Boat House and Nature Center are two of the best places to take in this past. The First Missouri State Capitol boasts a lovely brick complex that was once the capitol for Missouri. On the other hand, Lewis and Clark Boat House showcases full-size boat replicas and exhibits from an 1804 exhibition. While these sites are amazing, St. Charles also offers a unique ghost tour. Covering sights such as the 1800s Lost Graveyard, this tour takes you through some of the city's most haunted destinations.
For a more lively experience, there is no need to fret! St. Charles boasts a population of 70,500 people and a lively set of attractions. For example, the historic main street is an ideal place to combine history and shopping. This site has been a shopping center since the 19th century and offers all sorts of art galleries, cafes, souvenir shops, and more. If you get hungry during your shopping spree, visit Salt + Smoke, a delicious BBQ restaurant with some of the state's best ribs and wings! All in all, St. Charles is an underrated combination of history and entertainment!
St. Peters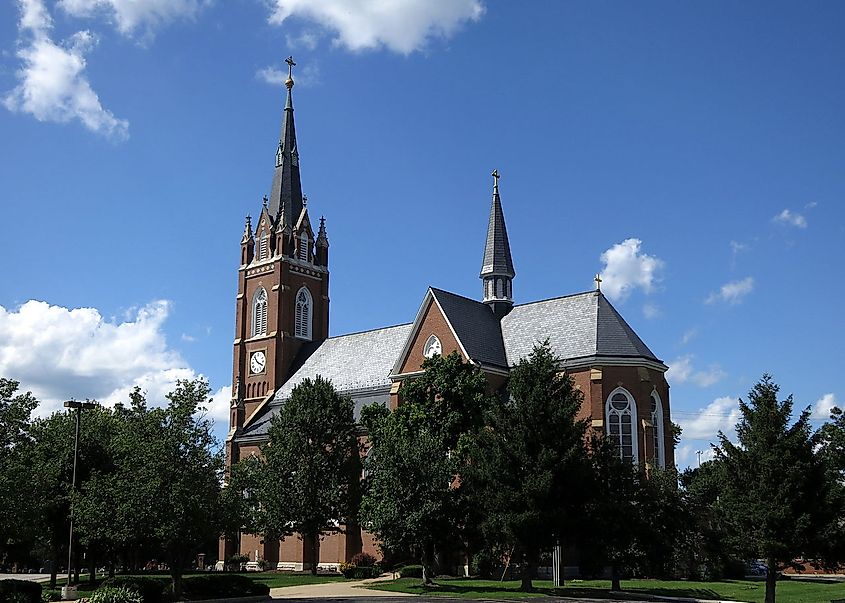 Often overlooked by the larger cities in Missouri, St. Peters is a lively and fun place to visit. Located in St. Charles County, this city is home to nearly 58,000 residents and is often ranked the best place to live in Missouri. This is thanks to the wide range of entertainment, and cultural attractions spread throughout St. Peters. One of the top spots in this regard is Mid Rivers Mall. Covering an area of more than 1,000,000 sq. feet (100,000 sq. m.), this shopping center boasts 140 stores. So, you can find everything from amazing clothes to souvenirs and even sporting goods in this fantastic shopping center. If you're in St. Peters with family, Kokomo Joe's Family Fun Center is a place you can consider. Filled with fun activities like a trampoline park, escape room, cafe, and bar for the adults, it is complete fun for the family!
Once you have had your fair share of indoor fun, you might want to check out the many natural sights in St. Peters. For example, 370 Lakeside Park is a lovely park located within the city. It boasts a large 140-acre lake which is perfect for fishing, boating, canoeing, and other activities. The park also has camping sites that support RVs and tents so you can enjoy the thrill of nature within urban security. While this park is amazing, for those of you who want a more active time out in the sun, check out the Dardenne Greenway Trail. Spanning more than 27 miles, this hiking/biking trail goes through residential areas, wetlands, business districts, and more! So, if peaceful fun and good vibes are what you are looking for, St. Peters fits the description.
Joplin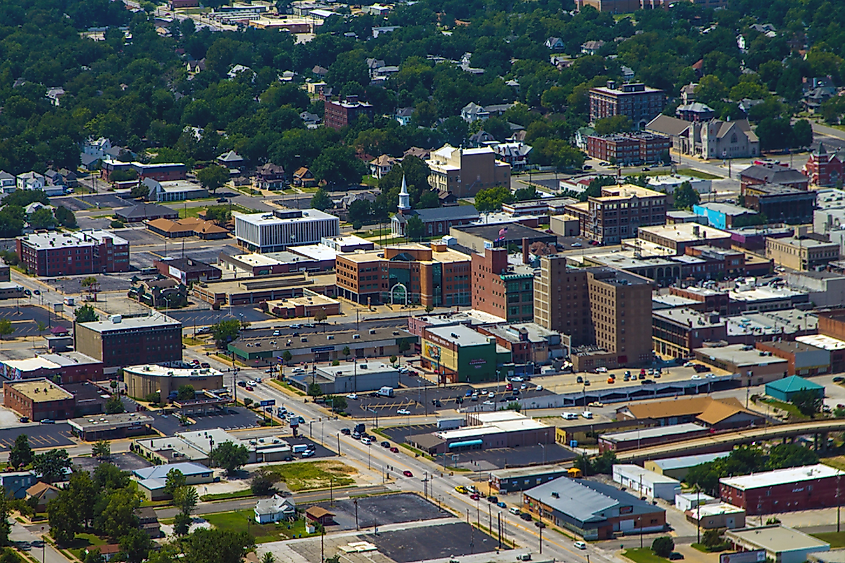 Split between Jasper and Netwon counties in Missouri, Joplin is a bustling hub combining urban sights with natural beauty. This is because Joplin is part of the major Joplin-Miami, Missouri-Oklahoma Metro area while also sitting on the Ozark Mountains' outer edge. So, you get the best of both worlds in this underrated city. When it comes to the city itself, you can appreciate a range of historical and entertainment attractions. For example, the Joplin History and Mineral Museum is an amazing collection of five museums. Here, you can learn about sports, science, history, cookies, and dolls in each unique museum which boasts hundreds of displays. On the other hand, you can visit Rangeline Antique Mall, which sells some of the best vintage items in the region. Whether it is a vintage toy, comic, or even furniture, you will find it here. With these sites and more, Joplin has positive vibes ideal for long walks and fun conversations.
For nature enthusiasts, the outskirts of Joplin boast amazing sights that you will not find near most urban hubs. For a unique sight, Grand Falls is an option you have to check out. This waterfall flows continuously and offers a stunning view of the surrounding rocks and forest. It also has swimming pools so you can enjoy the fall firsthand from inside the water! If you want to immerse yourself in nature, another great place to see is the Shoal Creek Conservation Center. This place houses one of the last chert glades ecosystems, thanks to which it has a rich biodiversity. So, spend the day hiking through paved trails, wildlife watching, or just relaxing in nature! From urban to natural, Joplin is a perfect mix of attractions that can make anyone happy!
Ozark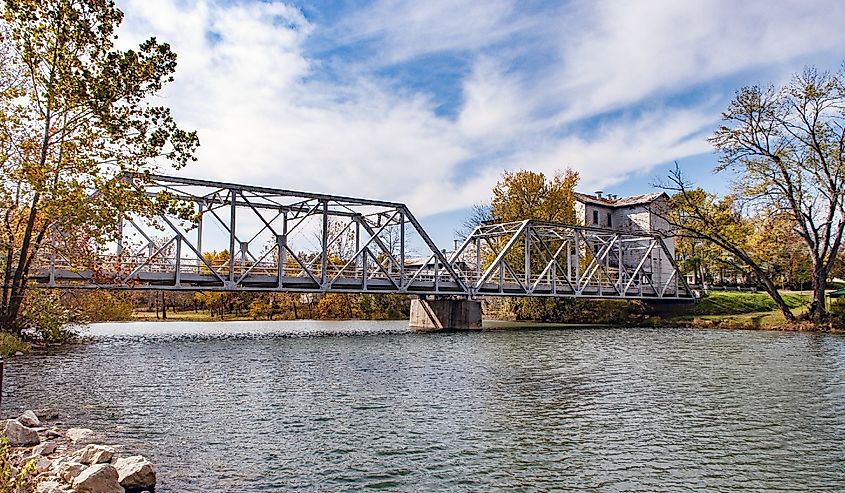 Taking its name from the famous mountain range in the state, Ozark is an underrated gem of unique attractions. It is the county seat of Christian County in southern Missouri and has a tranquil population of 21,000. When it comes to the unique attractions here, Smallin Civil War Cave is at the top of the list. Visited by tourists year round, this cave has both amazing sights and an interesting past. It was initially discovered in 1818 by the explorer Henry Schoolcraft and boasts an entrance that is 55 feet tall and 100 feet wide. Moving into the cave, you can take a two-hour tour that goes a mile underground through water, rugged terrain, and other amazing sights. While few things can top this, another popular destination is Ozark Mill. Constructed in the 1800s, this 40-acre property is an amazing historic sight that now offers tours, food, and space for events.
After enjoying the interesting sights at Ozark, you might be in the mood for something more simple. Well, the city has you covered. If you want some delicious food, try out Heather Hill Farms, which offers cheese, wine, salsas, and meat. Or, you can energize yourself with coffee at the Ozark Mountain Coffee Company, a famous cage known for its custom blends. End the day with a tour of the Camp Flea Antique Mall, which includes unique antiquities, and you are sure to enjoy your stay in Ozark.
Whether it is the historical value, natural beauty, or cultural scene, Missouri has many underrated cities. These cities not only provide a peaceful place to relax but are also filled with amazing people and places that match big cities. For example, you can spend the day camping near Blue Springs or learning about history at St. Charles. So, look further than the major destinations and give one of these underrated gems in Missouri a visit!