South Dakota is every nature lover's paradise not only because it is scenic and beautiful, with some of the best natural attractions in the world, but because it is packed with activities for people of all ages. The smaller cities are best to experience the charm and character of small-town life in the Great Plains.
Since small towns are away from the chaos of busy cities, they are perfect for weekend getaways, thus amplifying the holiday experience. South Dakota's small towns are sparsely populated with wide open spaces, where local shops, restaurants, and businesses offer a more authentic and personal experience than chain stores or franchises of big cities. 
Chamberlain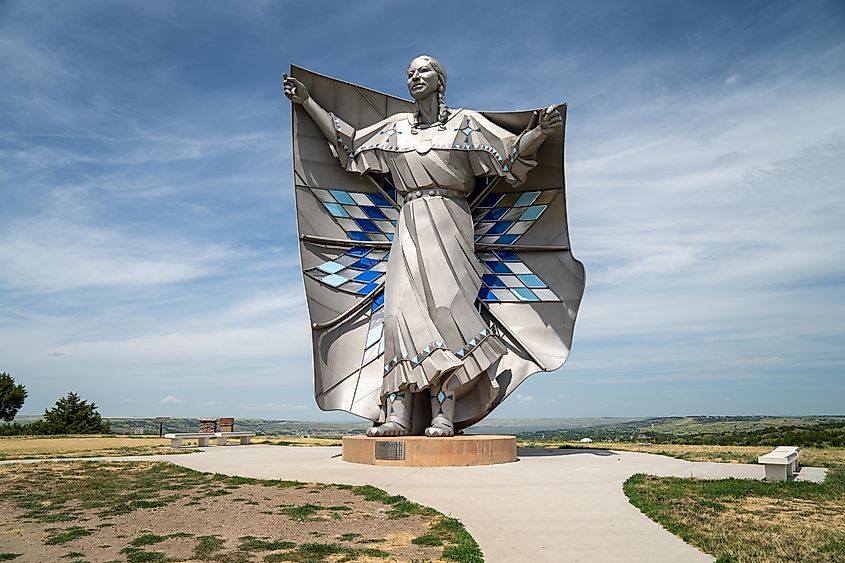 This Brule County town is located at the dammed section of the Lake Francis Case on the eastern banks of the Missouri River. Chamberlain gets its name from a railroad director of the Chicago, Milwaukee, and St. Paul Railway, Selah Chamberlain. 
With a population of about 2,500, it is known for its nearby fifty-foot-tall Dignity statue set upon a bluff overlooking the Missouri River and the South Dakota Hall of Fame for its inspiring exhibits. Other great places to visit in and around the town are the Akta Lakota Museum & Cultural Center, which highlights the culture of the Northern Plains Native Americans, and the Chamberlain Lewis & Clark Welcome Center & Rest Area for views and information about Lewis and Clark. The Old West Trading Post, a shopping place for exquisite items characteristic of this town, and Tranquil Desires, selling essential oils, coffee, and more, are also must-visit places in Chamberlain.
Clark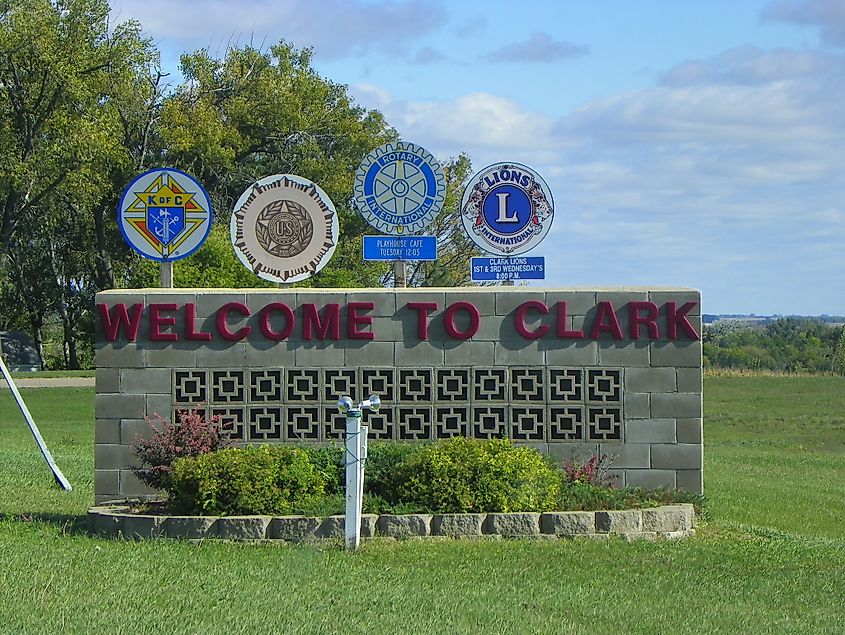 Clark is the county seat of Clark County, located west of Watertown. Being a small town of just about 1,000 people, the community is close-knit, with everyone knowing each other. In 1873 Clark got its name after South Dakota's legislator Newton Clark. Besides its farming and ranching communities in the Glacial Lakes region, this little town has much to explore.
Most residents own their homes, and those visiting will notice the town's suburban feel with bars and eat-outs and lots of recreational and outdoor activities like fishing, hunting, swimming, golfing, or just relaxing at the parks. Some of the town's famous attractions are Flat Iron Park, Dickinson Park, Softball Field Park, Horace Bennett Swimming Pool & Park, Lookout Bar & Grill, and the Clark Municipal Golf Course and Clubhouse.
Deadwood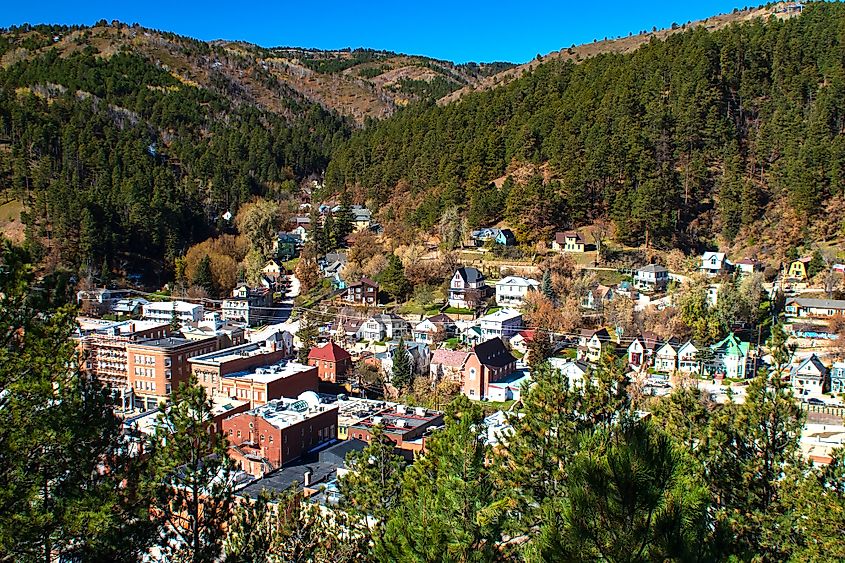 Deadwood serves as the seat of Lawrence County in western South Dakota and is located about 40 miles northwest of Rapid City, lying in a canyon formed by Whitewood Creek in the northern Black Hills. Deadwood is at an altitude of more than 4,530 feet above sea level. It gets its name from the dead trees in the canyon and is also among many other places that came up during the 1876 Gold Rush.
The town is a perfect destination for weekend getaways, with a population of 1,200 and a scenic setting, beautiful Victorian architecture, and rich American history. The unique part about Deadwood is that the entire town is listed on the National Historic Register. Almost everything seen around the place has been carefully preserved over the years in honor of their historical significance. There are many attractions to explore, with the top few being Historic Old Town, Adams House and the Museum, George S. Mickelson Trail, Mt Roosevelt Monument, Deadwood Model Train, and Broken Boot Gold Mine.
Dell Rapids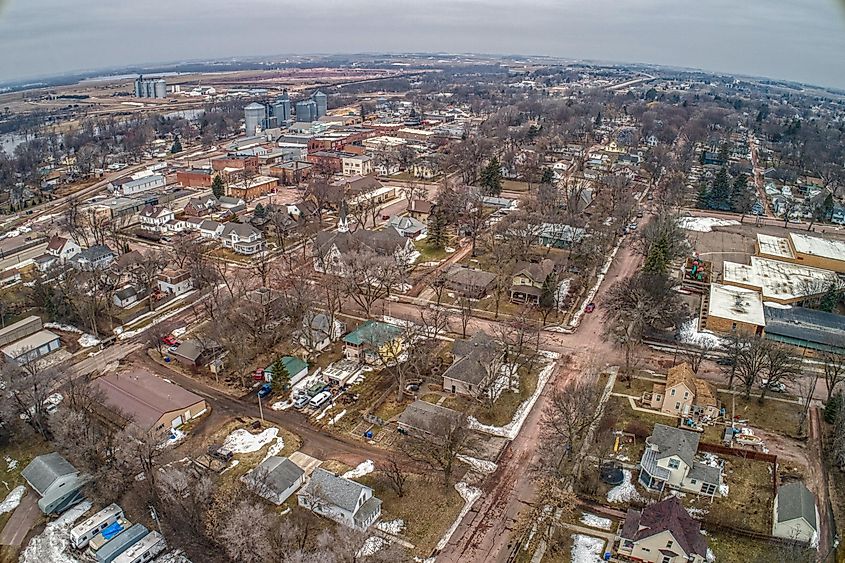 Called "The Little City with the Big Attractions," this Minnehaha County city is located just twenty minutes to the north of Sioux Falls. With a population of about 4,000, the small-town vibe is unique because of the architecture, and history. Named after the Dells of the Wisconsin River which were compared to the local rapids on the Big Sioux River, Dell Rapid's identity comes from the network of quartzite that passes through Wisconsin Dells to eastern South Dakota. This network is a rich vein of red or rose-colored quartzite, hundreds of miles long with a depth of 2,500 feet. 
The founders of Dell Rapids were inspired to create captivating architecture with the quartzite stone adding to its beauty. Wallace Dow was the main architect behind the charm of the place and was instrumental in designing some historical mansions including the 1885 First Stone School House, the 1888 Augustine Johnson Block, and the 1889 First National Bank. The historic downtown area dates back to the nineteenth century, a visit that tourists love. Other great attractions are the Dell Rapid Museum, the quilt store, the restored Dells Theatre, the Sioux River Red Rock Trail, and Dell Rapids Campground.
Keystone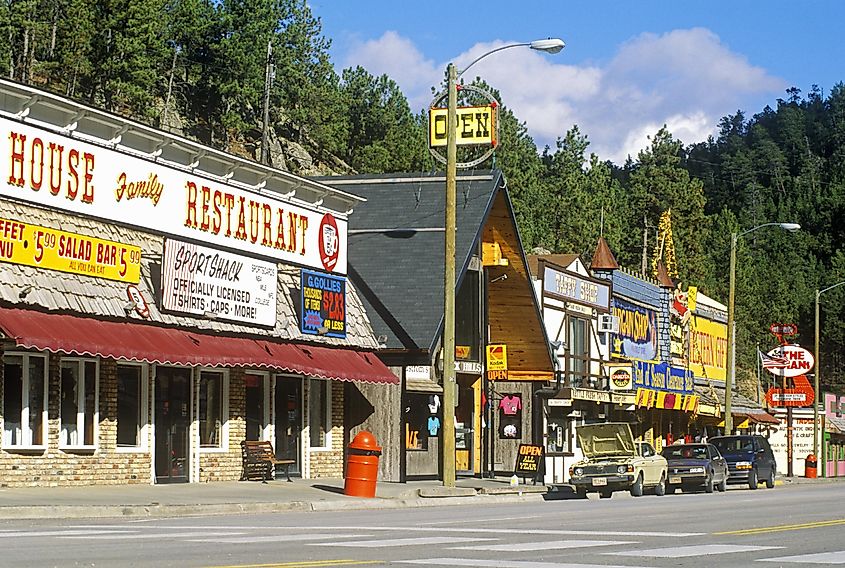 This little town is set at the perfect vacationing spot with its central location amidst the Black Hills and being home to Mount Rushmore. With a population of just about 240, this Pennington County town has transformed over the years into a resort-like place. Once a mining town, Keystone gets its name from the keystone Masonic symbol originating from a local mine. Some divide the town into "New Keystone," referred to as the mile-long retail district along the US highway, and "Old Keystone," which is the gold mining colony along east-streaming Battle Creek.
From family fun to outdoor adventures and lots about the history of the country, Keystone has many outdoor activities to explore for people of all ages. While in this town, visit the Black Hills National Forest to escape into nature or book tours such as the Black Hill Helicopters or Geofuntrek Tours. Among many other attractions, the most popular places to visit around are Mount Rushmore National Memorial, Crazy Horse Memorial, Big Thunder Gold Mine, Keystone Historical Museum, National Presidential Wax Museum, and the 1880 Train. 
Pollock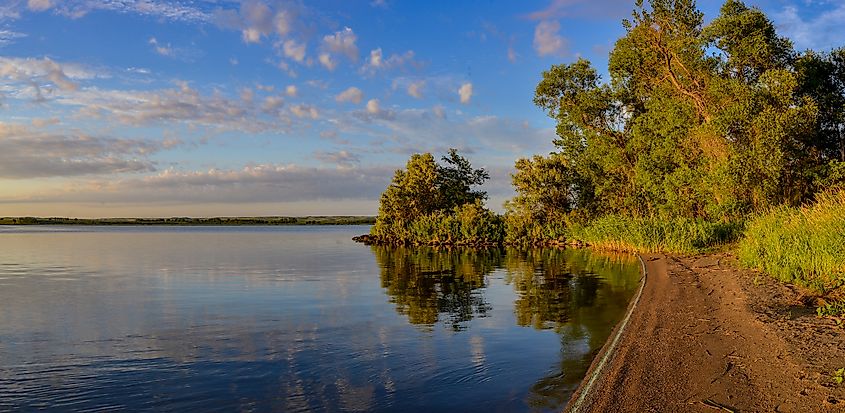 Pollock is a small scenic little place with a population of just about 220. It is located in Campbell County in north central South Dakota along the shores of Lake Oahe, Missouri River, and Lake Pocasse. Its old name Herba changed to its current name Pollock in honor of R.Y. Pollock, a lay minister.
Besides the lakes Oahe and Pocasse, the town has glorious parks and wide streets and is known for recreational activities such as fishing, hunting, cycling, hiking, and camping, with provisions made for recreational vehicles at certain places. The State Wildlife Reserve land, West Pollock Recreation Area, The Pollock Trailer Court, and Lakeview Motel and Campground are popular places to enjoy while in Pollock. Visitors also enjoy the softball and football sports complex, tennis courts, lodging, shopping, and the visitor's center.
Wall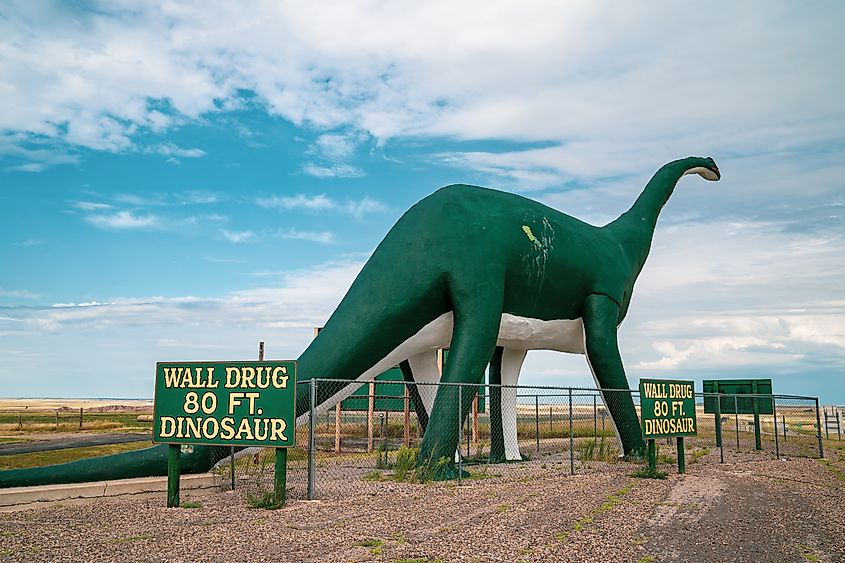 Named for the "natural wall" in rock formations by the Badlands National Park, this small Pennington County town with a population under 800 is located in the western part of the state, near the Badlands National Park, which is a popular attraction. Also located near other popular destinations such as Rapid City, Mount Rushmore, and the Black Hills, the city is a popular tourist destination to enjoy local festivals and its natural and cultural attractions.
Whether you are a history buff, nature lover, or adventure seeker looking for a unique and memorable experience, this city is an ideal place to visit. The most iconic part of the city is Wall Drug, a tourist stop that has been in operation since 1931. Today, Wall Drug is a sprawling complex of shops, restaurants, and attractions that draws visitors from all over the world. Wall also has many events and festivals throughout the year, such as rodeos, fairs, and craft shows, and the more popular Wall Celebration, a community festival held each summer that features live music, food vendors, and family-friendly activities.
It is worth visiting South Dakota's cities, whether big or small. The advantage of small-town getaways over vacationing in larger cities is that these little places offer you a more easy-going and fulfilling holiday. Besides natural beauty, cultural attractions, and local festivals, the traditional and historical significance of many of these small towns is remarkable, for instance, Deadwood's recognition as a historical town and Dell Rapid's unique quartzite architecture. A weekend escape into one or more of these small towns will be fascinating, rejuvenating, and worthwhile.