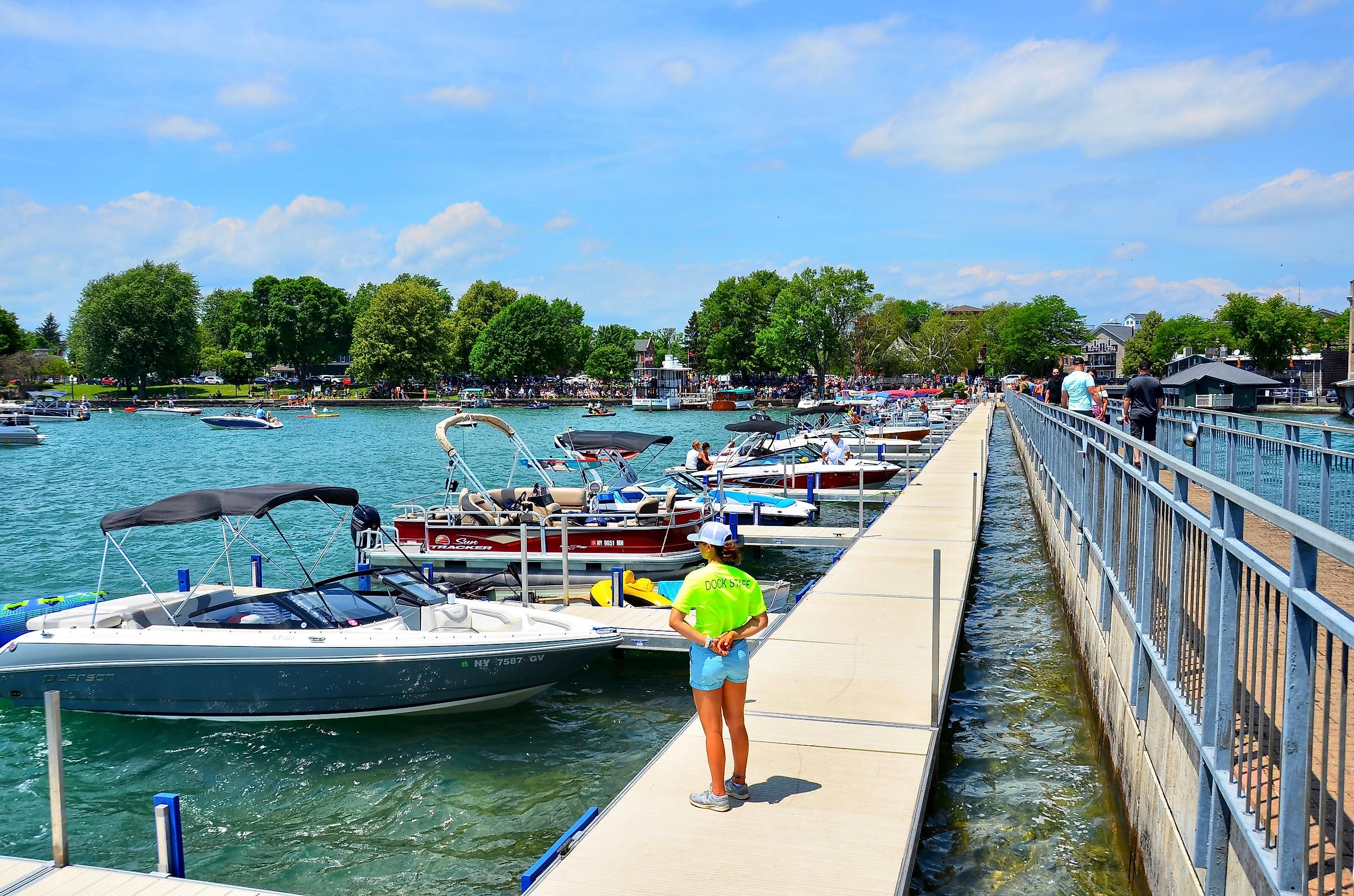 14 Gorgeous Upstate New York Towns To Visit In 2023
Upstate New York has something to offer everyone. Whether you're into dreamy landscapes that resemble computer screensavers or you're a history geek who loves digging into old museums and hidden gems, Upstate's got something for you. The region offers travelers a mix of alluring destinations. Think huge mountains, calm lakes, and super cozy towns that make you feel like right at home. And with the Autumn season just around the corner, you'll have all the stunning red, orange, and yellow leaves you'll need to make you remember beautiful sceneries. So, pack up your travel gear and boots, and let's embark on a journey and explore what this gorgeous state offers.   
Ithaca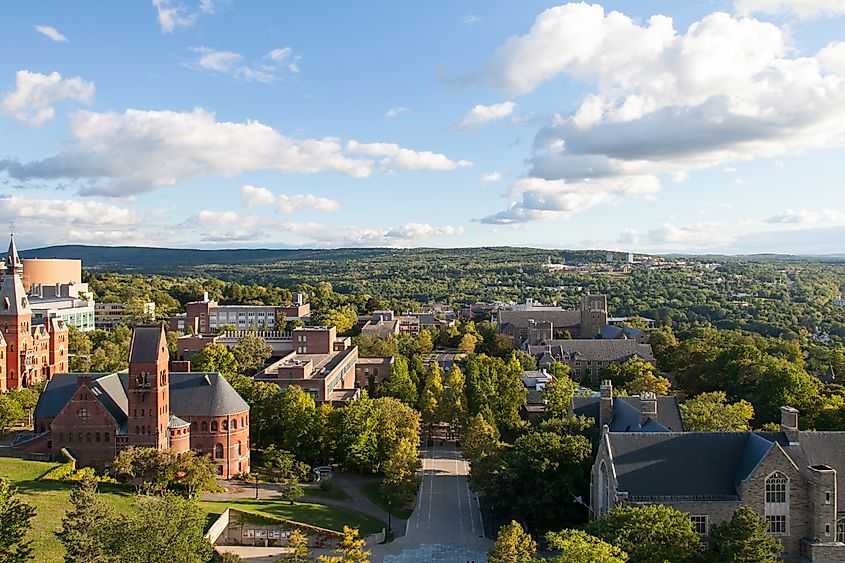 Let's start with the lovely Ithaca. This tiny city is positioned along the southern edge of Cayuga Lake. Named after the Greek island of Ithaca, it has various stunning, fun, and memorable attractions. Travelers can visit four state parks, see over 150 waterfalls and enjoy a youthful atmosphere given that it's home to Cornell University, a globally known Ivy League school. Ithaca also offers foodies tons of yummy options; with over 50 eateries clustered around its downtown core in the Ithaca Commons, you have the option to snuggle in one of many warm coffee shops, upscale restaurants, and vibrant pubs to mingle with locals. For those who adore books, visiting the A.D. White Library offers a journey into a Hogwarts-like realm nestled inside Cornell University. Unveiled 132 years ago, in 1891, this awe-inspiring library spans three stories, embracing book lovers in a cozy atmosphere — what's more, the library is also famed for its role in the 1988 comic fantasy novel "Fool on a Hill," adding to its mystique. 
Saratoga Springs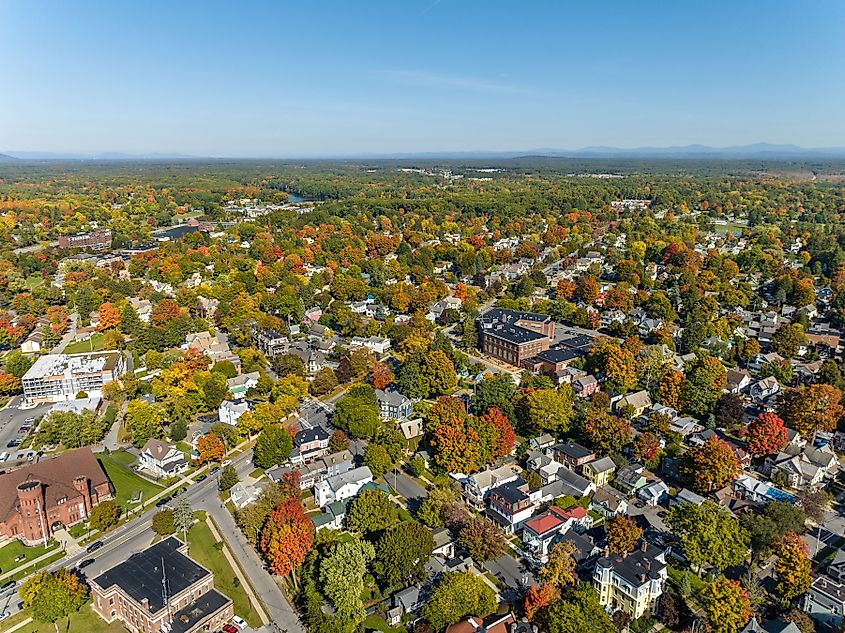 Fancy yourself a soothing spa to make you forget about everything? Look no further than Saratoga Springs! Known to many as "the Queen of the Spas," this mystic town is rich with culture and history that dates back to tens of thousands of years ago. During the Paleozoic Era, rock fractures formed, creating gaps in bedrocks that eventually allowed carbonated water to fizzle up. This water turned into bubbly springs, which the Mohawks (and other nations) believed was gifted to them from the divine. Today, Saratoga is home to world-class spas and dozens of other fun tourist attractions to fulfill your travel urges.  While you're there, consider a stop at the Saratoga Race Course — established in 1863; it's regarded as one of America's most treasured sports arenas, standing as the fourth oldest racetrack in the country's history. But don't let the word "old" fool you, its stunning architecture will dazzle you.   
Skaneateles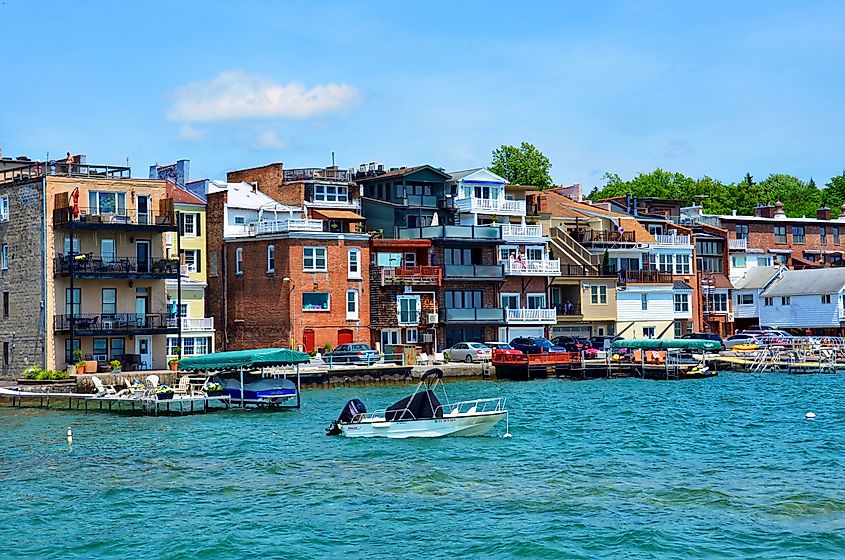 Perched by the colorful waters of Skaneateles Lake, this inviting small town has something to offer everyone. Visiting Skaneateles (pronounced ski-nee-at-luhs) is nothing short of fun, offering visitors a plethora of fun activities: from enjoying a leisurely ride through the enchanting blue waters, picking apples with your friends, or breaking a sweat in one of the numerous available trails. Additionally, you can visit the Skaneateles Historic District, which showcases an array of older buildings taking back to the 19th century, evoking a distinct sense of time travel.  You should not miss two notable events: the Skaneateles Music Festival and the Dickens Christmas celebration. 
Cortland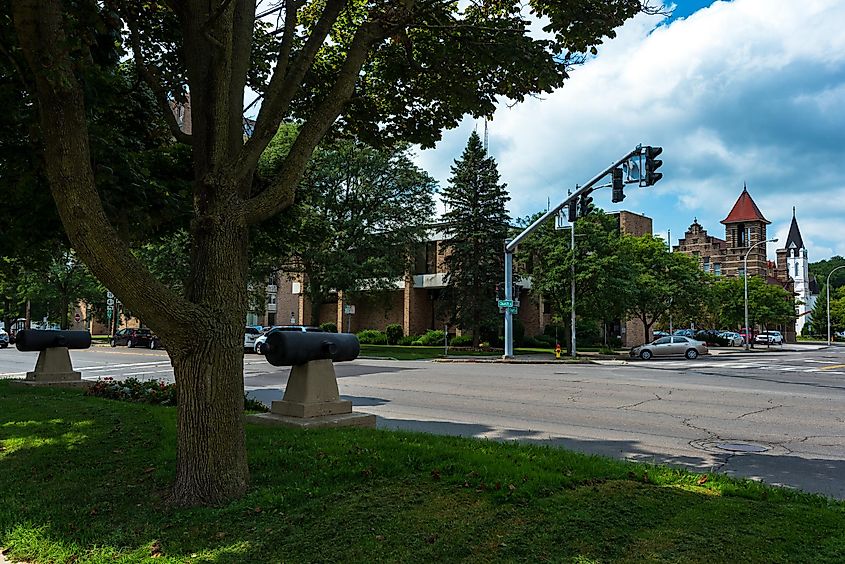 Cortland, a charming getaway named after New York's first lieutenant governor, Pierre Van Cortlandt, seamlessly blends nature and history. Nicknamed the "Crown City," it sits at an elevation of 1,130 feet above sea level, formed by the convergence of seven valleys. In the Fall, the town is particularly attractive, thanks to the colorful trees that create a breathtaking view that will stay with you forever. You can also explore the 1890 House Museum, which resembes a huge castle, or embark on a thrilling ski trip at the Greek Peak Mountain Resort while visiting Cortland.
Kinderhook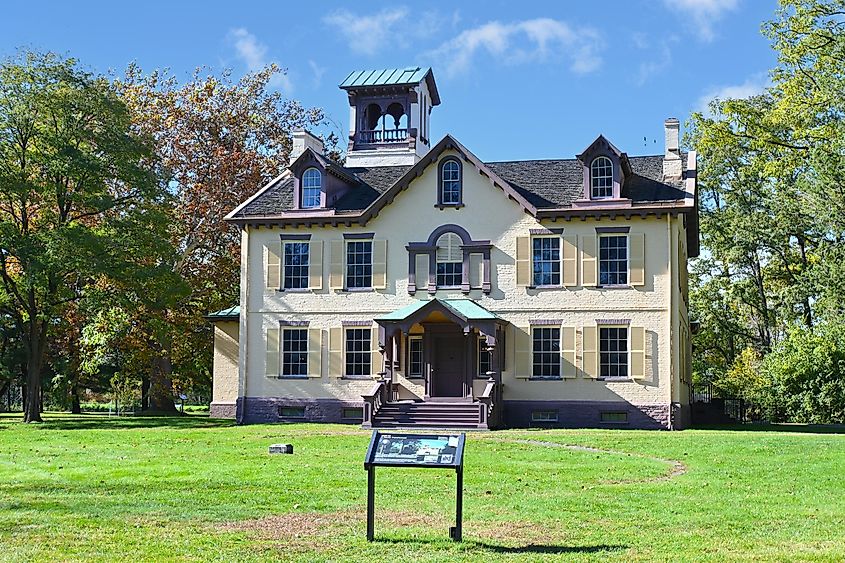 Are you a fan of history and museums? If the answer is yes, then you should definitely plan a visit to this charming town located in Columbus County. One of the town's main attractions is Van Buren's residence, which was once the home of the eighth president of the United States, Martin Van Buren. Additionally, the Martin Van Buren Nature Trail is just a short distance away and provides an excellent opportunity to explore the surrounding natural scenery. If you're looking for more adventure, Stuyvesant Falls is only six minutes away. After a day full of activities, you can satisfy your sweet tooth at Samascott's Garden Market, where they offer delicious homemade ice cream and a corn maze for a relaxing stroll.
Glen Falls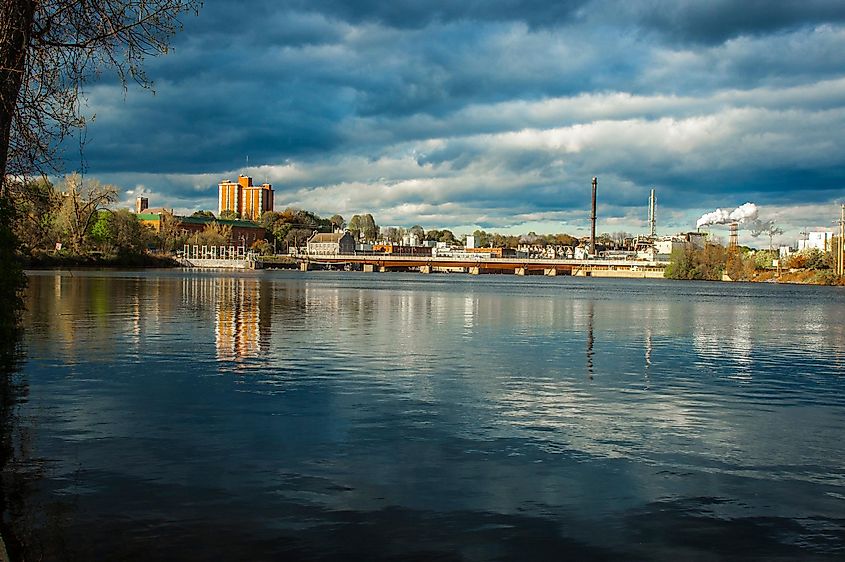 Looking for a town that literally has it all? Look no further than Glen Falls! This gorgeous town caters to a wide variety of choices. Glen Falls hosts an annual summer theater festival and three museums, and if that's not enough, it also is home to the Cool Insuring Arena, a venue offering an extensive range of entertainment, from theater productions and dance performances to musicals, rodeos, circuses, hockey matches, and basketball games. To complete this assortment of fun activities, an unforgettable experience awaits you at the Glen Drive-In Theatre located near Lake George Road, where you can bring your cozy blanket and relish a delightful movie underneath the stars.  
Guilderland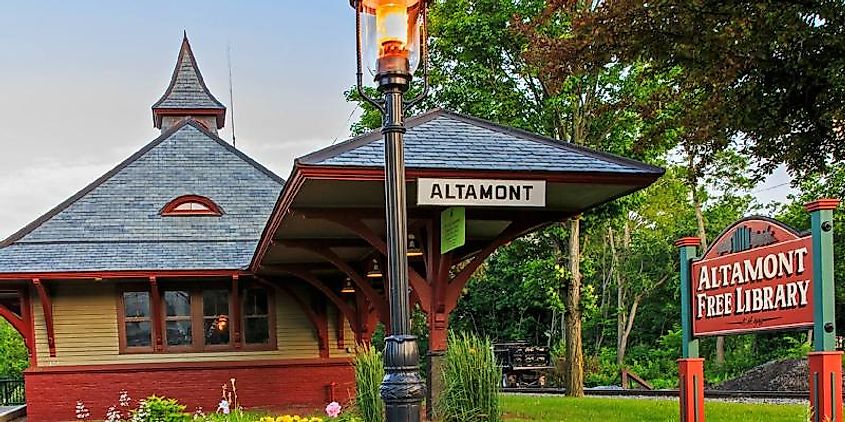 Situated near the northwest of Albany, Guilderland includes a rich hub of retail outlets and natural attractions. A local favorite is the Pine Bush Nature Preserve, a rare inland pine barren that spans 3,200 acres. If you're lucky, you may see the rare Karner blue butterfly, an endangered species first identified nearly 80 years ago! And depending on the season, you can ski, jog, or mountain bike. Guilderland also features various parks; Tawasenta Park, for example, is ideal for anyone who loves to fish, hike or enjoy a quiet picnic. And last but not least, shopaholics can visit the Crossgates Mall for all their shopping needs, the third largest mall in the state of New York.   
Lockport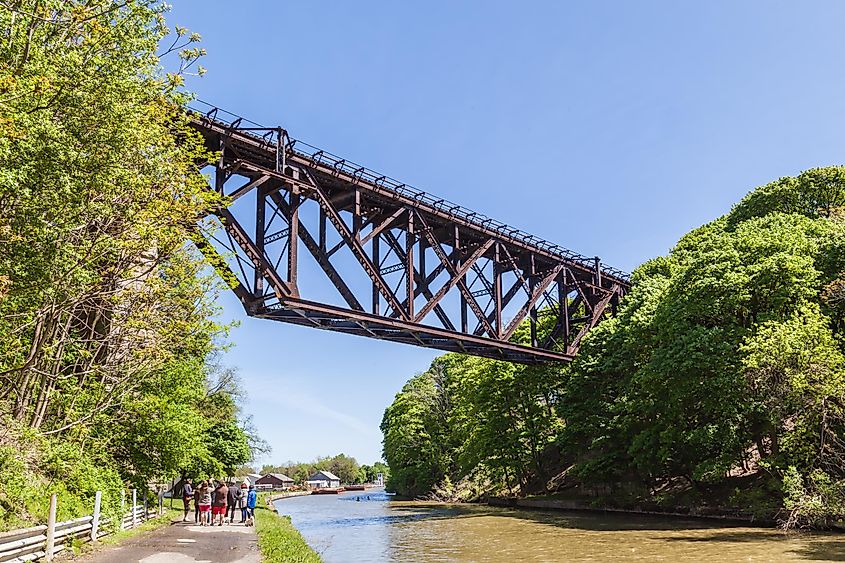 This town is known as one of the best places to live in the state. You can find a variety of unique shops here, offering everything from antiques and clothing to jewelry and gifts. If you're looking for some excitement, try the Niagara Zipper - a thrilling ride that takes you 110 feet above the waters of the Erie Canal. For nature lovers, the Gulf Wilderness Park is nearby and offers four trails marked by different colors. Hikers and cyclists can enjoy the beautiful scenery, including colorful wildflowers and wildlife.
Penfield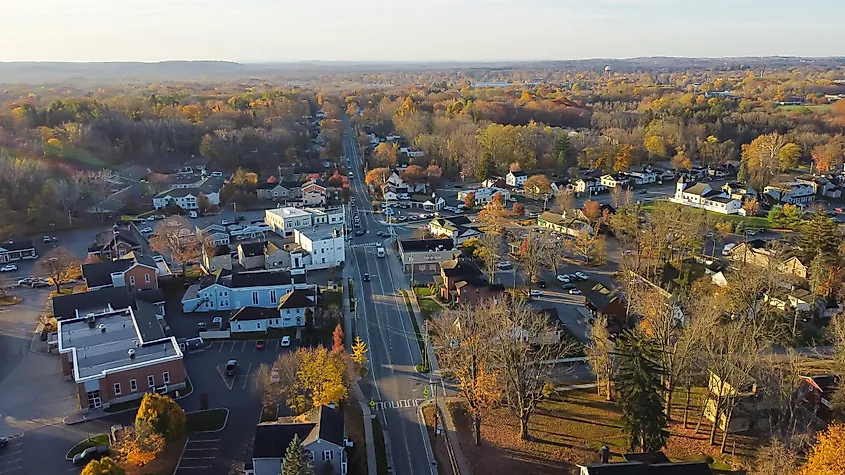 Penfield is a wonderful place to visit throughout the year, but it truly shines during the Fall season when the trees burst into a stunning array of colors. One of the top destinations during this time is the famed "Wickham Farms," a family-owned enterprise that has been running since 1986. This farm attracts many visitors every year and provides an opportunity to pick pumpkins, take horse-riding lessons, and enjoy the breathtaking scenery. While you're there, make sure to indulge in the delicious offerings at the Guacamole Tacos & Margaritas restaurant to satisfy your taste buds.
Keene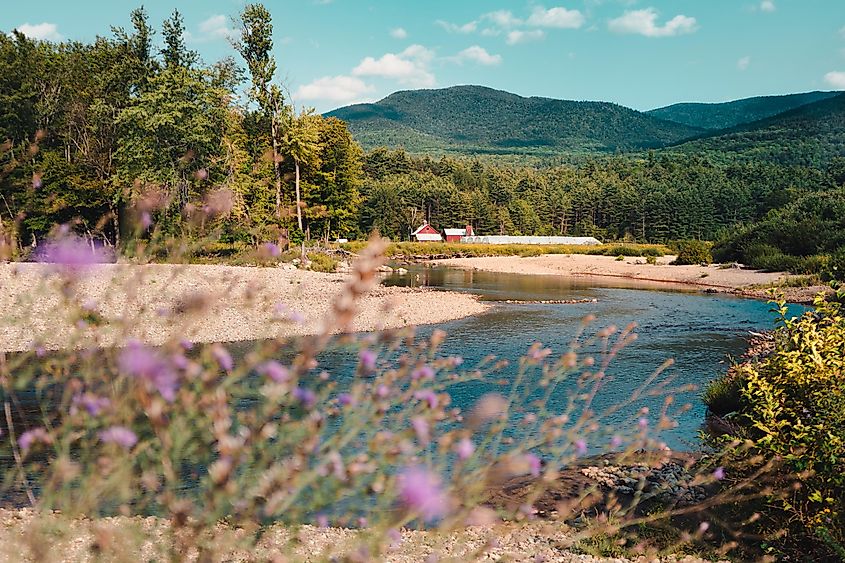 Keene is a breathtaking natural destination in New York surrounded by beautiful mountains and forests, making it a standout location amidst other natural wonders. It is situated within Adirondack Park, which includes the highest peak in the state of New York, Mount Macy. To add to the experience, stop by Dartbrook Rustic Foods, a family-owned business since 1920, for all your rustic furnishing and home décor needs. If you want to extend your stay to appreciate all the natural beauty, you can book a night at the luxurious four-star retreat, Dartbrook Lodge.
Rome
Rome was once the site of intense battles and played a significant role in the French and Indian War and the Revolutionary War. Today, it is a peaceful town that offers plenty of exciting activities for visitors year-round. One of the main attractions is the Fort Rickey Discovery Zoo, where you can see the beautiful Arctic Fox named "Jack Frost." Additionally, you can enjoy Delta Lake State Park and Bellamy Harbor Park for outdoor recreation. If you are however interested in Rome's unique military history, be sure to visit the famous Fort Stanwix, also known as the "fort that never surrendered."
Watertown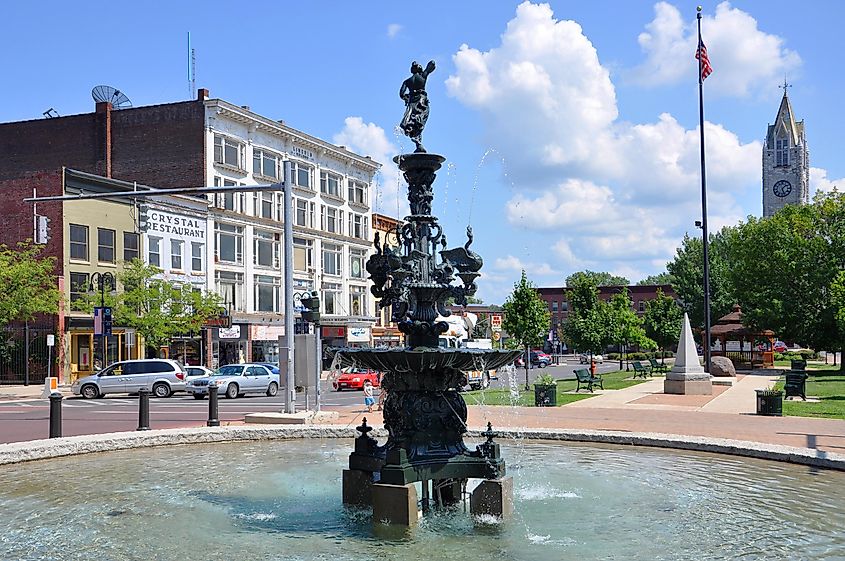 Located in the North County Region, Watertown is aptly named after the Black River, which is a renowned kayaking destination worldwide. Visitors can take a refreshing dip in its cool waters or witness competitive events such as the World Cup Freestyle Kayak Championship and the Blackwater Challenge. Other exciting attractions in the area include Zoo New York, Dry Hill Ski Area, and Escape Works Inc. Here, you can participate in an immersive game that involves working together with friends to escape from a locked room. It's a thrilling physical adventure experience situated on Stone Street.
Oswego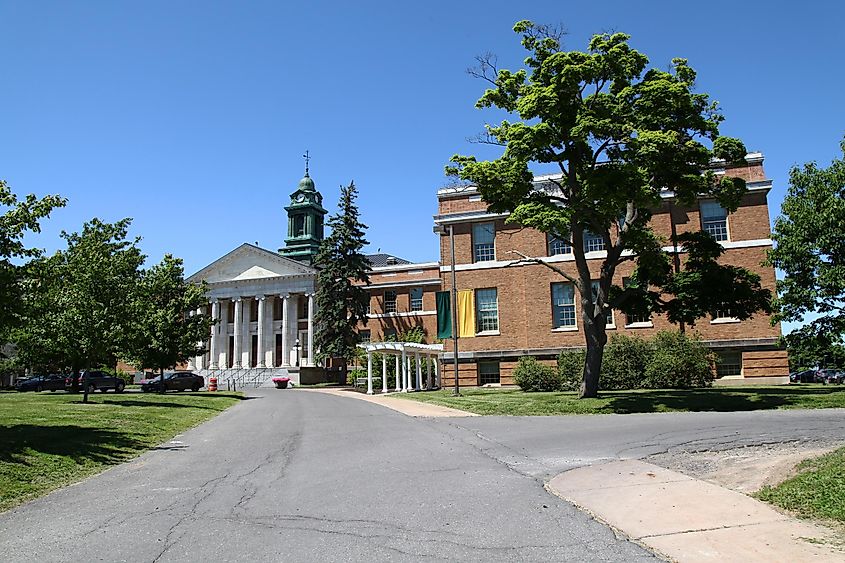 Oswego, known as "The Port City," has a rich history that dates back more than 300 years to its establishment as a fort during the French and Indian War in 1722. One way to experience this history is by visiting the impressive Fort Ontario State Historic Site located on the eastern bank of the Oswego River. But there's more to see and do in Oswego, including the exciting Oswego Speedway, which has hosted Nascar events. For those who enjoy some spooky fun, there's also the option to take a 90-minute journey through the Haunted Oswego Tours to search for rumored ghosts lurking around town.
New Paltz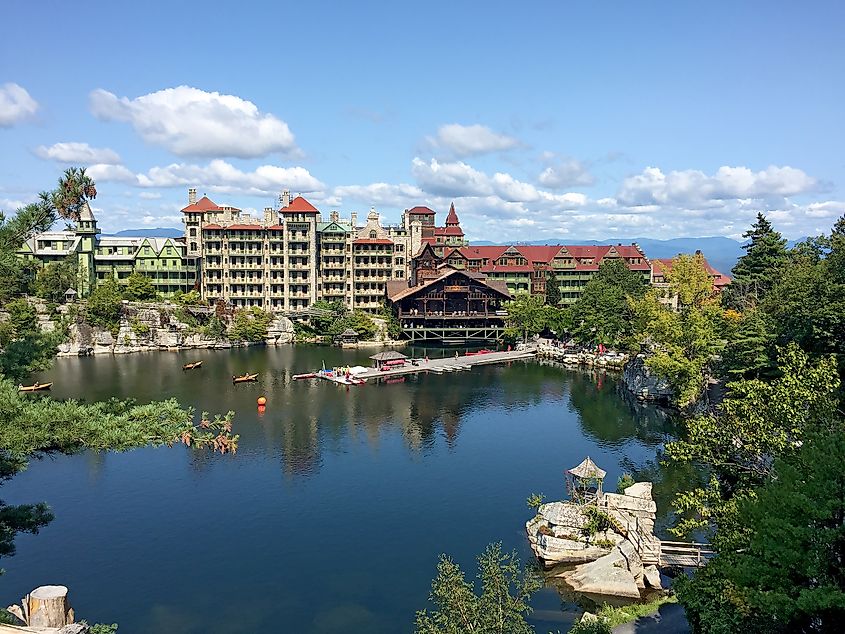 Do you enjoy being outdoors and surrounded by nature? If so, you'll love the quaint town of New Paltz! This lively community may be small, but it offers a wide range of outdoor activities like hiking and cycling on various scenic trails. For nature enthusiasts, the Mohonk Preserve is a must-visit destination. Spanning an impressive 90 miles, it features diverse landscapes and stunning trails. Climbing enthusiasts also frequent Mohonk, with over 1,000 climbing routes attracting 50,000 visitors annually. Another exciting attraction in New Paltz is the historic Huguenot Street. Visitors can explore residences built by immigrants centuries ago as they pursued the American dream. These well-preserved homes have earned recognition as a National Historic Landmark since 1960.