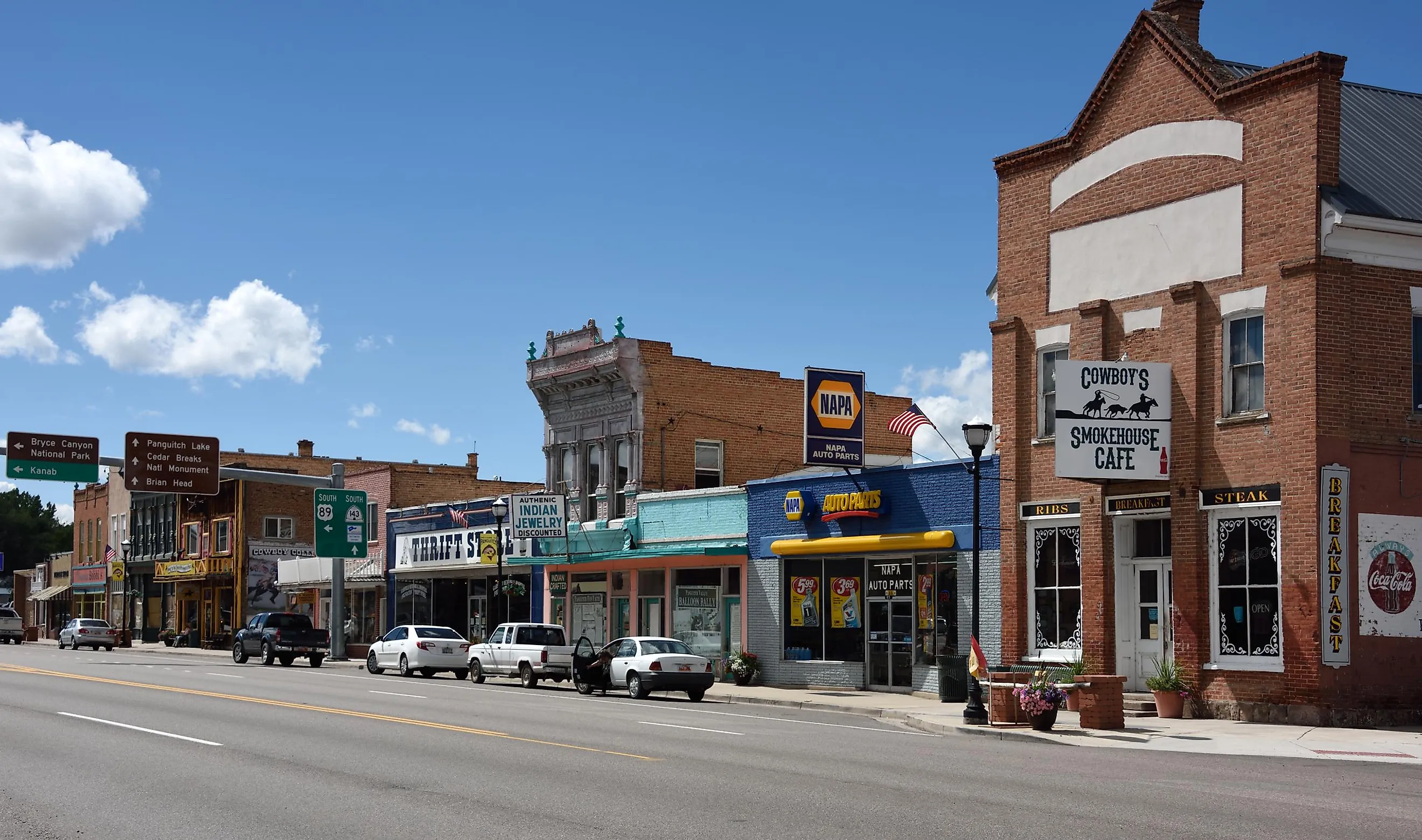 11 Unforgettable Small Towns to Visit in Utah
Utah is home to some of the most beautiful national parks in the United States. It is a true mecca for hikers, mountain bikers, dark sky viewers, and photographers as both the highways and the parks are equally mesmerizing and sometimes treacherous to explore.
Beyond the parks, there are dozens of beautiful small towns to visit in Utah that should not be missed. In between visiting the parks, travelers can plan to visit history museums, admire petroglyphs, sample local cuisine, and pet the rescue animals at the largest sanctuary in the country.
Moab, Utah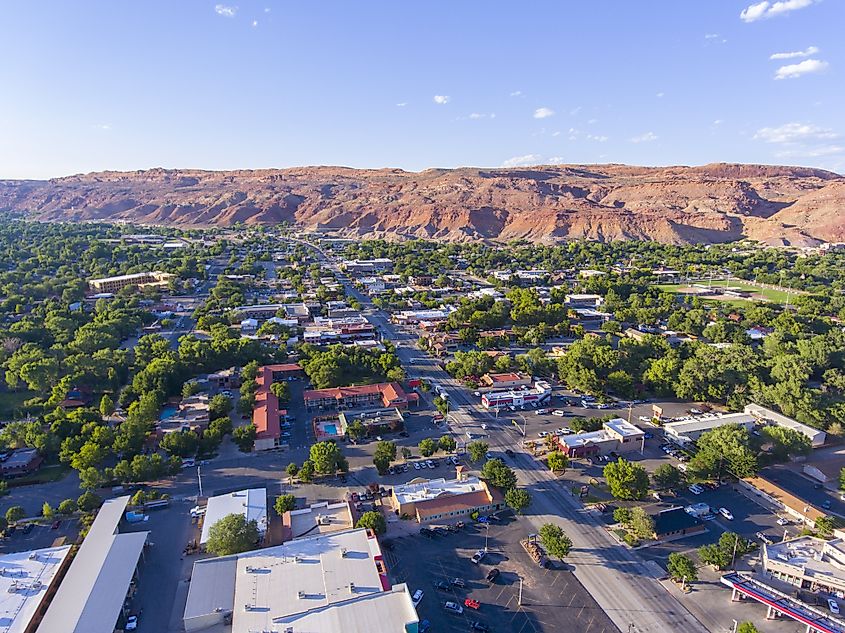 Moab is one of the most frequented small towns in Utah with 3 million visitors every year as it is located mere miles from both the entrances to Arches National Park and Canyonlands National Park. Dead Horse Point Overlook, one of the most photographed spots in the world, is only 30 minutes from Moab's main drag. However, if travelers do not want to visit a national park, there are easy trails near Moab—Grandstaff and Corona Arch—that also feature arches. 
Mountain bikers will want to visit for their expert mountain trails including Slickrock Bike Trail, Porcupine Rim, and The Whole Enchilada. If they are not experts, they can choose the Intrepid Trail System in Dead Horse Point State Park for equally incredible views and rides.
Just south of Moab, whitewater rafters will want to visit Cataract Canyon, the biggest whitewater section in North America.
Regardless of the traveler's bucket list agenda, everyone can come back to a home base in Moab to enjoy a coffee at Moab Coffee Roasters, a beer at Moab Brewery, or a history lesson at the Moab Museum.
Park City, Utah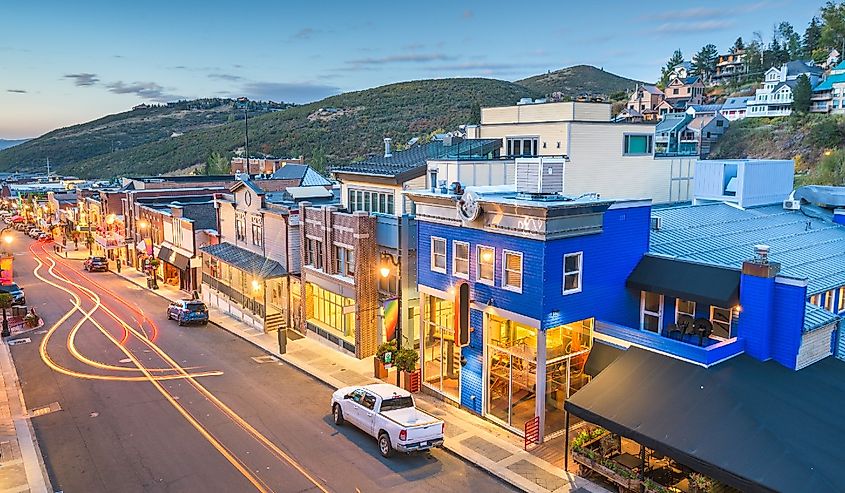 Park City is most well-known for hosting the Sundance Film Festival every year and as the home of Utah Olympic Park, the location of the 2002 Olympic Games. The town itself offers up beautiful boutiques for jewelry, gourmet food, and sportswear, as well as other self-care experiences, including yoga and spas. Park City sits at the base of Park City Mountain and Bald Mountain making for an idyllic location for a couples getaway as the mountains are always draped in snow.
Park City is a big draw for adrenaline-rushing activities as travelers can experience both The Comet, a 3,000-foot long slide at Utah Olympic Park, and the Alpine Coaster at the Park City Mountain Resort, a kilometer-long elevated track with toboggan-style cars. Regardless of the elevation of the sport of your choice, there are dozens of ways to stay active in Park City all while admiring a backdrop of mountain ranges covered in fir, pine, and deciduous trees.
Kanab, Utah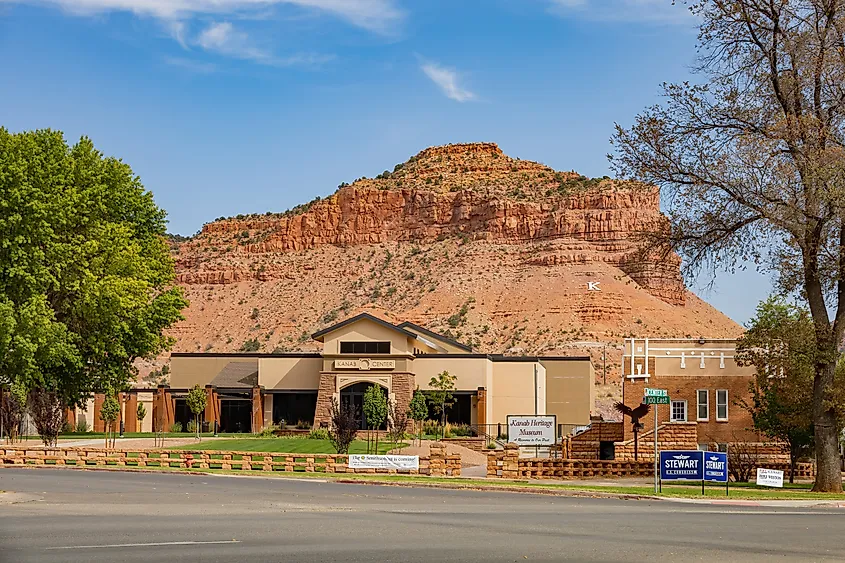 If tourists are looking for a destination with an Old American West vibe, Kanab is the place to go. Visitors will be following in the footsteps of old Hollywood directors who also flocked to this flatter area of Utah, giving the town its nickname: Little Hollywood. Around town and at the Little Hollywood Museum, travelers can view old movie powers, autographed photos, and abandoned film sets.
One of the more extraordinary draws to Kanab is that the largest sanctuary for homeless animals in the country, Best Friends Animal Society, is a few minutes outside of town. BFAS has been a world leader in the no-kill movement since its inception in 1984 and protects its animals on its 20,000 acres of land. Animal lovers can book a tour to meet some of their nearly 1,700 on-site rescue animals as well as enjoy a $5 all-you-can-eat vegan lunch buffet.
Kanab also hosts a yearly Balloons and Tunes Roundup every February where tourists can experience a music competition, lantern launch, street fair, and balloon event.
Cedar City, Utah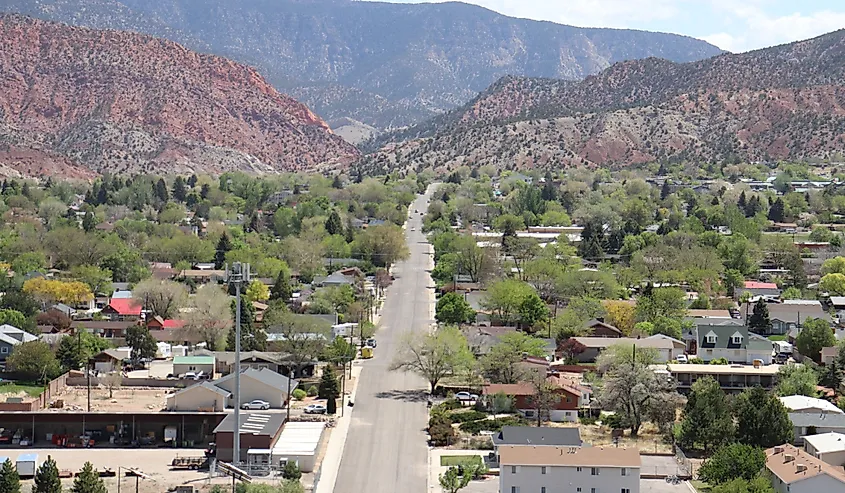 Accessible by Interstate 15, Cedar City is framed by none other than the Cedar Breaks National Monument. This monument was given the nickname of "Circle of Painted Cliffs" by the early Paiute people as this stone amphitheater has naturally-carved multicolored stone ridges that get its majestic colors from mineral deposits.
In town, tourists can visit the Frontier Homestead State Park Museum to view their large horse-drawn wagon collection and learn about how the local native peoples lived in the area before Euroamerican settlers.
Another big draw in town is the popular Rock Church: a church built in the 1930s from donated labor and local materials, including rocks hauled in from neighboring states and moldings from Rocky Mountain juniper trees.
Vernal, Utah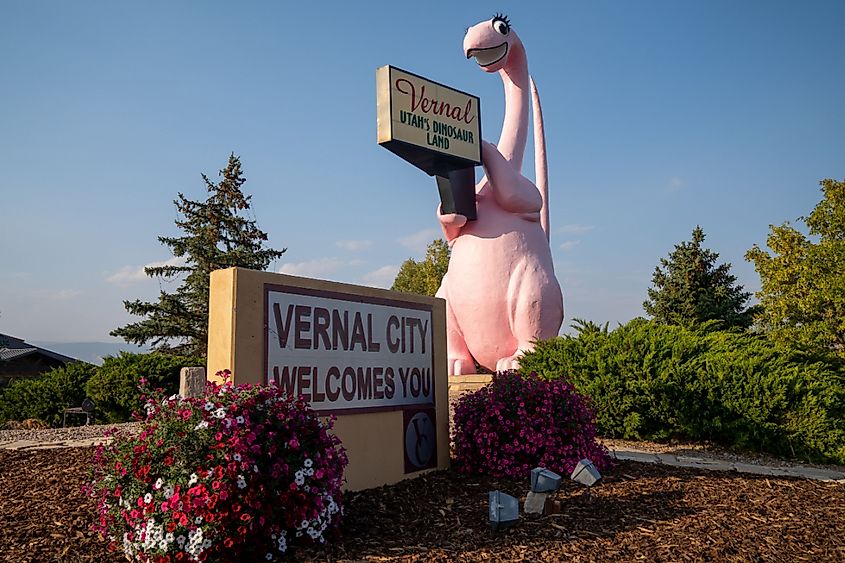 Roughly 40 miles from both the Colorado and Wyoming border, this small town in Utah is one that draws in travelers who love natural history. Aptly nicknamed "Dinosaurland," Vernal's biggest attraction is Dinosaur National Monument, a park that straddles both Utah and Colorado. This monument offers moderate day hikes, including the Fossil Discovery Trail and Desert Voices Trail, as well as access to a museum with 1,500-plus fossils, and petroglyphs.
At the Utah Field House of Natural History State Park Museum, visitors can go for a "dino dig" and check out hundreds of plant and animal fossils, including a 90-foot Diplodocus skeleton. 
In town, travelers can enjoy many outdoor activities at Buckskin Hills Recreation Complex—such as motocross, camping, biking, shooting, and skiing. For travelers needing a moment away from the heat and performance sports, they can visit the local bowling alley, Dinoland Bowl, Inc, and chow down at an array of Mexican restaurants.
Helper, Utah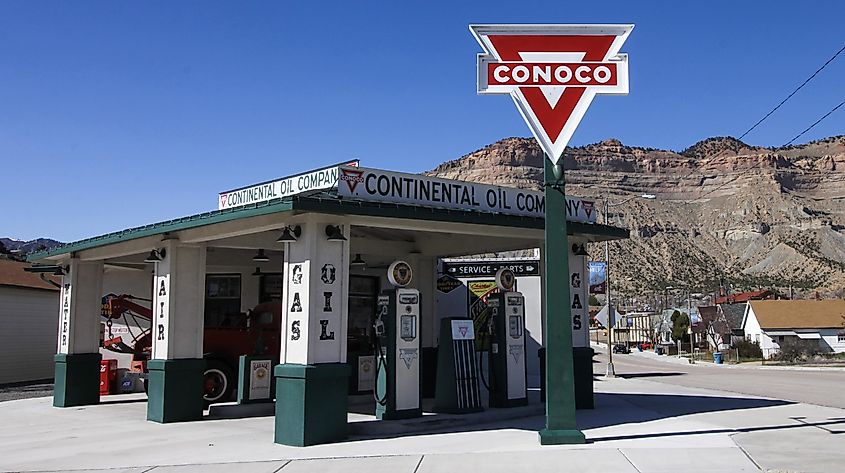 Since its settler founding in 1881, Helper was named after the coal-powered steam engines that "helped" freight trains over Soldier's Summit. History buffs will want to visit the Western Mining and Railroad Museum to learn about Helper's mining history and see personal items of some of the original settlers.
Helper no longer needs to revolve around the coal industry and currently fosters the growth of their local arts community with a number of galleries in town and the yearly Helper Arts, Music, and Film Festival.
Tourists also love to wander around The Helper Riverwalk for long walks in the cooler months, the beaches in the warmer months, and birdwatching. Its starting point can be found at the corner of Ivy Street and S 100 W street, which will take you along the river, through a sandstone labyrinth, under bridges, and much more.
Torrey, Utah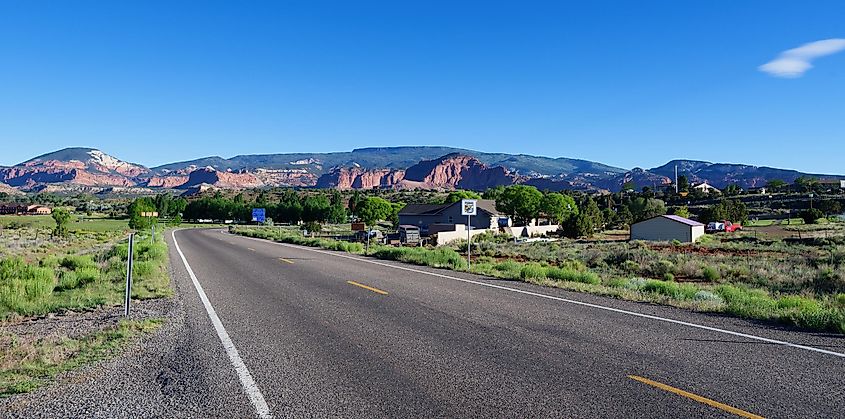 Torrey's population may be under 500 people, but its biggest draw is none other than Capitol Reef National Park. This national park offers red rock hiking, slot canyons, an eight-mile scenic drive with viewpoints, summer U-pick orchards, petroglyphs, and so much more.
In the evenings, travelers can enjoy a casual feast at Slackers Burger Joint—where they also have veggie burger options— and take in the stunning, night sky as Torrey earned its Dark-Sky Association accreditation in 2018.
Panguitch, Utah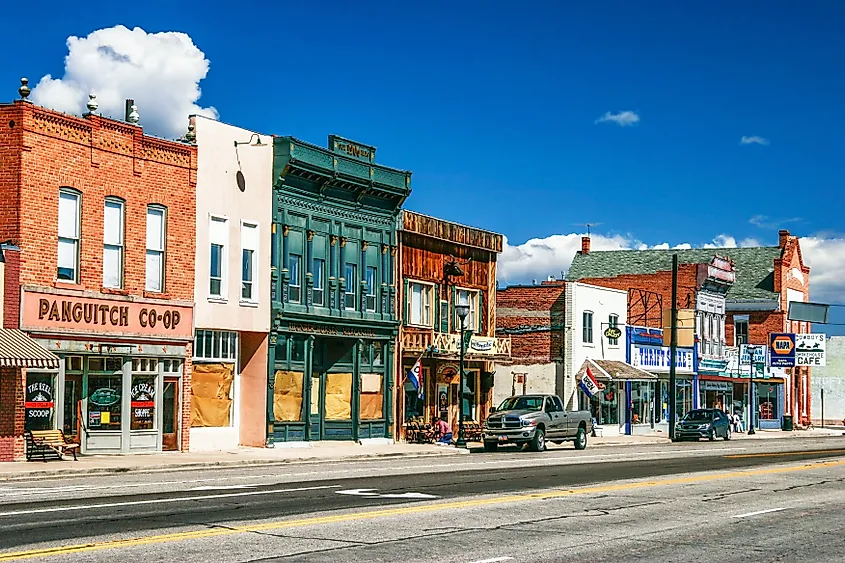 Skilled fisherman and campers will want to flock to Panguitch as this town was nicknamed "Big Fish" for its healthy fish populations. Nearby Panguitch, fishing enthusiasts can visit Panguitch Lake, Languitch Creek, Asay Creek, and Paragonah Reservoir.
Fans of hyperlocal festivals will want to visit in June to participate in the stunning The Sky's the Limit Bike Rally & Panguitch Valley Balloon Rally to see hot air balloons ascend over the small town, as well as the Quilt Walk Festival to celebrate a successful early mission by the settlers that brought back supplies after a baron harvest and cold winter.
If travelers are only there for a short while, it is worth a stop to explore Main Street's antique shops and quilt stores and grab a bite at Henrie's Drive-In: the home of the Chubby Cheese burger.
Fillmore, Utah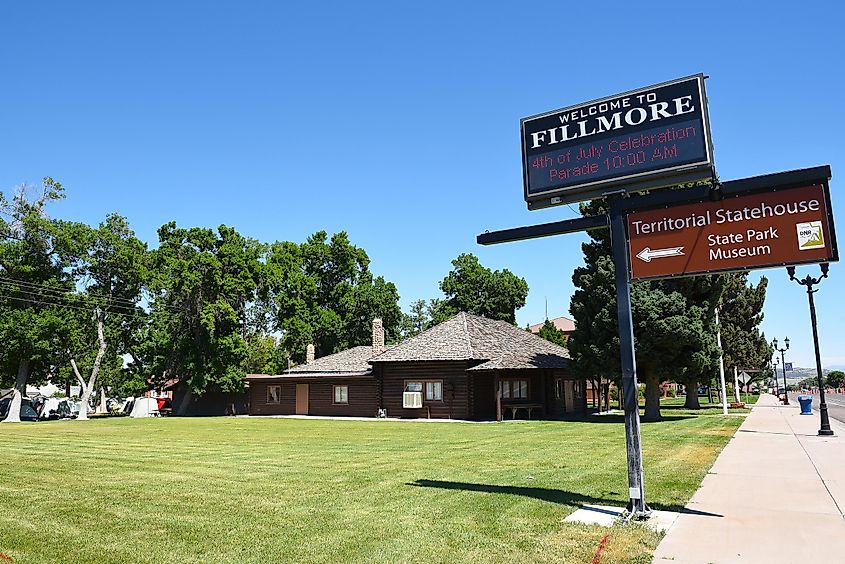 Pre-Utah statehood, Fillmore was the original capital of the Utah territory. Today you can see the one wing that was built of the statehouse before state leaders changed their mind and relocated the capital to Salt Lake City. This wing is now the Territorial Statehouse State Park Museum.
Located at the bottom of the Pahvant Mountain Range, Fillmore is a mostly flat desert with distant views of the mountains. However, a local gem of the area is the Meadow Hot Springs. The hot springs contain three natural pools that hover around 100 degrees Fahrenheit, which are a lovely respite after a day exploring in the fall or winter.
Before heading out, local dining can be enjoyed at the Iceberg Drive-In (fast food burgers), Costa Vida Cafe (Tex-Mex), and 5 Buck Pizza (pizza and wings). 
Delta, Utah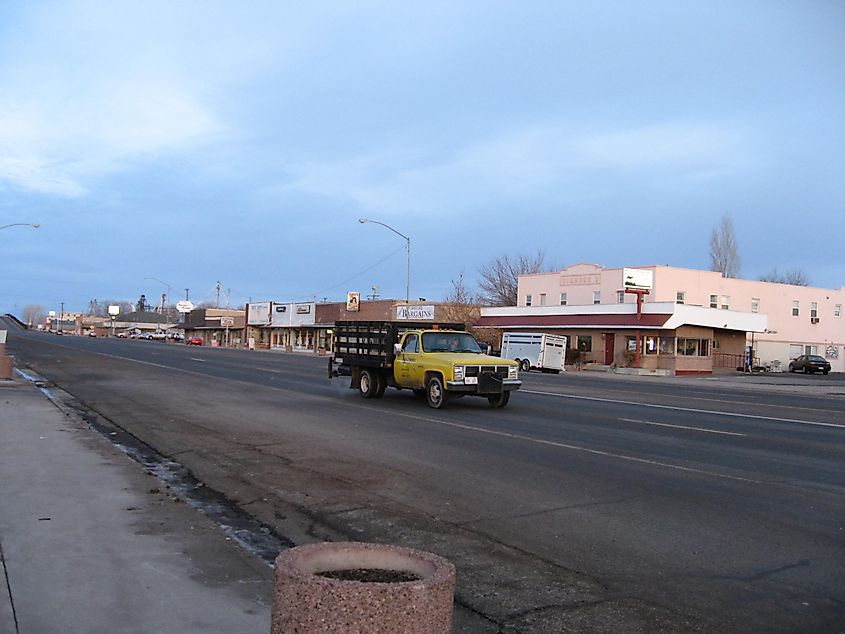 What used to be covered by expansive seas is now the gateway to Utah's west desert and the basecamp for many travelers in town to visit the Little Sahara Sand Dunes and West Desert.
Every spring, birdwatchers love to attend the Delta Snow Goose Festival to admire the snow geese flying over Delta back to Canada, and participate in the local 5k and 10k runs.
For an indoor activity, the Great Basin Historical Society Museum offers exhibits of the land's past featuring geodes, trilobites, and fossils found in the Delta region.
A calmer activity travelers can choose is to go boating on the Gunnison Bend Reservoir as its water is never aggressive and is shallow enough to keep itself comfortably warm for swimming.
History buffs will want to pay respect at the Topaz Museum to hear about the Topaz Internment Camp during World War II. Visitors can hear stories of the internees and take a driving tour to see the original camp's buildings.
Monticello, Utah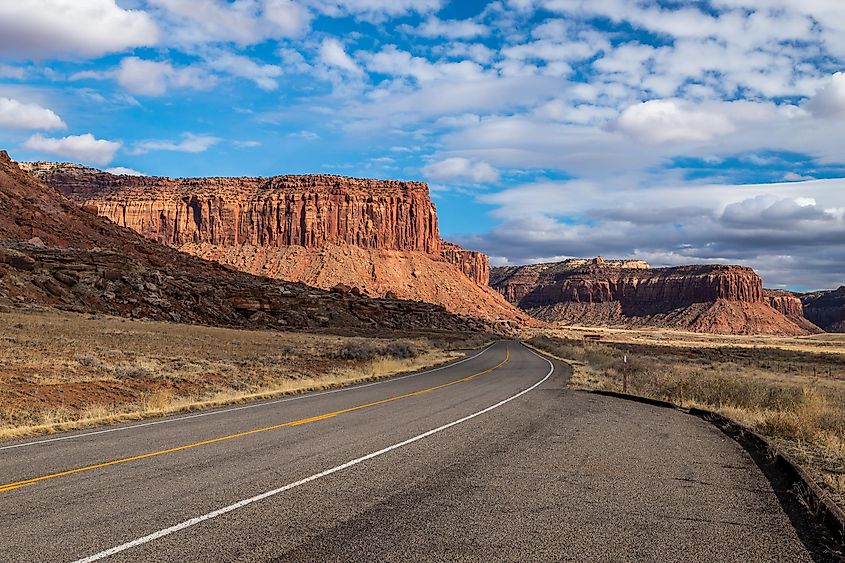 This high-elevation town sits on the edge of Utah's Canyon Country, on the eastern slope of the Abajo Mountains. Visitors will see views of sandstone canyons, plateaus, and Manti-La Sal National Forest.
Monticello dates back to its settlement in 1887 and has since been a town centered around farmers and ranchers. Tourists can learn about the town's past at the Frontier Museum—a museum aptly located in an old barn.
For a beautiful scenic drive, road trippers will love the 43-mile drive along Harts Draw Road that overlooks the corrugated Needles District in Canyonlands National Park, as well as golden autumn landscapes on the hillsides.
In Conclusion 
For an authentic Old West experience and some of the best hiking in the United States, these small towns in Utah should not be skipped. While it can be easy to prioritize the national parks, there are so many natural wonders, museums, Old West historical sites, and native history to absorb in the dynamic state of Utah. In a few short days, you can see petroglyphs, canyon landscapes, dinosaur fossils, hot springs, and hot air balloon festivals. Sounds like an adventure to cherish.