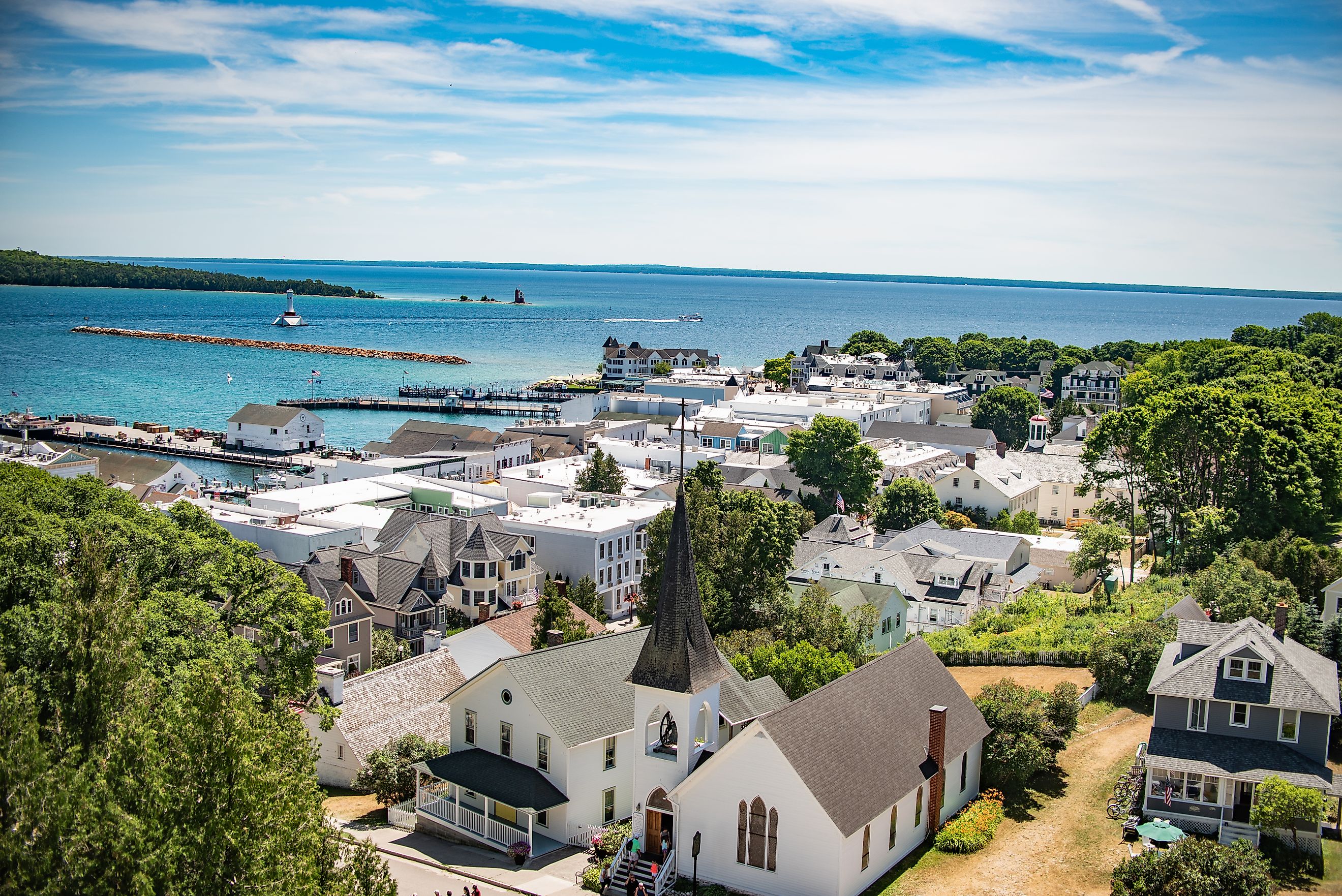 11 Off The Beaten Path Michigan Towns
Discover the uniqueness of small-town visits with Michigan's hidden gems offering scenic views, historic landmarks, and vibrant cultural practices. Explore each town's adventure opportunities and have fun, from discovering over 20,000 fish species at St Joseph's beaches to stone hunting in Mt. McSauba. Enjoy a beautiful afternoon relaxing on St Joseph beaches or a perfect evening stargazing at the Peninsula Point Lighthouse. History buffs also have a place here, taking history lessons at the Historic Fort Mackinac or going on a historic ride with the Bavarian Belle Riverboat. Observe each town's architectural structure and theme, like the Bavarian style of Frankenmuth and the old-world charm of Mackinac Island. There are little to no misses in these off-the-beaten-path small towns awaiting your exploration. 
St Joseph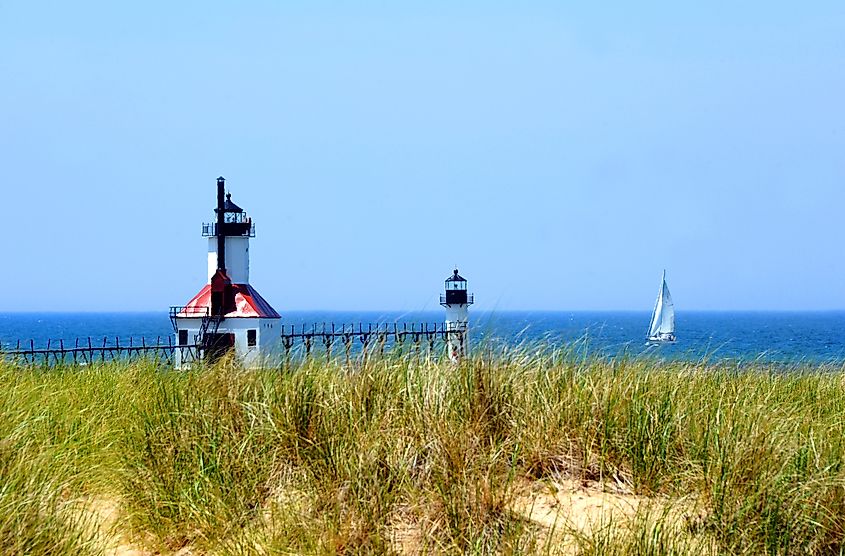 Nestled in Southwest Michigan, St. Joseph is one of the best beach towns in the state, perfect for a romantic getaway, family trip, or adventure. It is home to several beaches, and popular among them are Lions Beach and Silver Beach, located on the shores of Lake Michigan. There's also the Silver Beach County Park, with an abundant outdoor space and setting, including beach woods, dunes, an old lake bed, and more. So you can enjoy hiking, cross-country skiing, and exploring nature by watching native birds and other animals. Visit St Joseph's downtown, experience the history in St Joseph's North and South Pier lighthouses, and meet artists at Beckwith Theatre Co.
Traverse City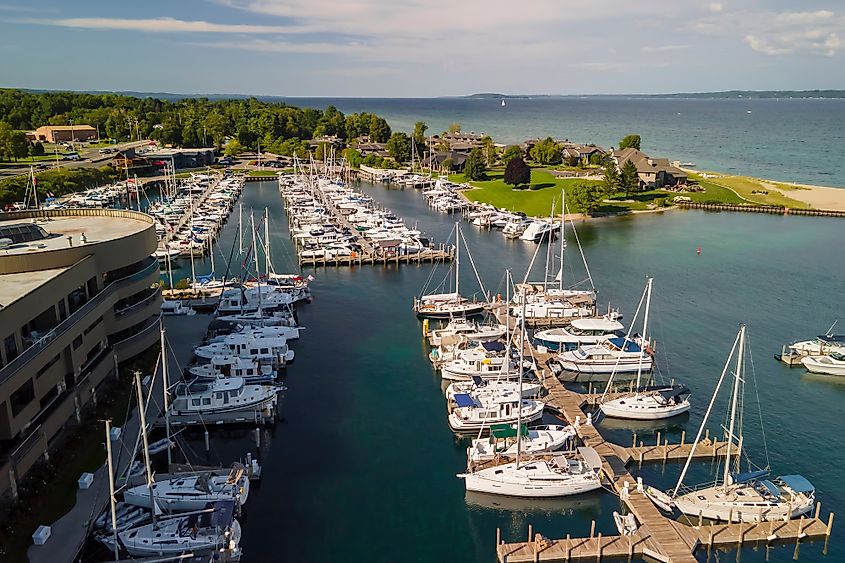 A small town with a great atmosphere, Traverse City is situated in Grand Traverse County along the scenic Grand Traverse Bay in Northern Michigan. This town is called the Cherry Capital of the World as it produces up to 75% of the World's tart cherries; you can find cherry trees in the Old Mission Peninsula. Attending the National Cherry Festival is also one of the critical highlights of visiting this town, as it features outstanding activities like fireworks, air shows, outdoor concerts, midway rides, and cherry-pie-eating contests.
Hike at the Sleeping Bear Dunes National Lakeshore, tagged by 'Good Morning America" TV show viewers as the "Most Beautiful Place in America." It includes curves of islands, beaches, and hills for outdoor activities, including picnicking. Pay a visit to Old Mission Peninsula or Leelanau Peninsula to taste quality wines and grapes paired with nearby fine dining options.
Frankenmuth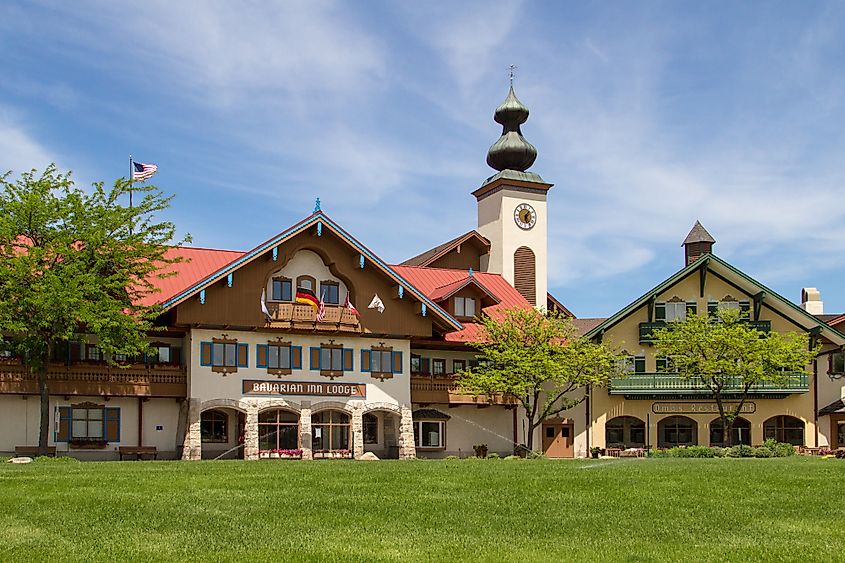 Fashioned in a Bavarian style, Frankenmuth is one of the must-visit towns in Michigan because there's nothing not to love, from its German heritage and German-styled architecture to its welcoming people. It is deeply rooted in its Bavarian origin, attracting millions of visitors year round. Start your trip hopping on the Bavarian Belle Riverboat located at "The Waterfall," a paddle wheel-style vessel, which is a one-hour tour with a historical account of the town as you glide through the water. Step into the Frankenmuth Historical Museum or Lager Mill for a broader perspective of Frankenmuth's history. Discover Zehnder's of Frankenmuth, including Zehnder's Splash Village Hotel and waterpark spanning over 50,000 square feet with an indoor waterpark, Zehnder's restaurant, a golf course, and a marketplace. 
Munising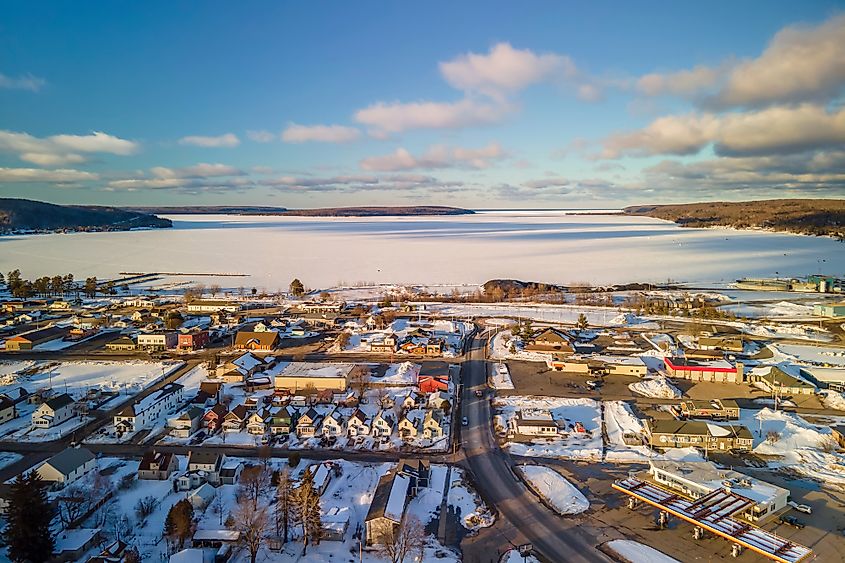 Munising is an adventurous small town with scenic waterfalls like Munising Falls & Horseshoe Falls, boat tours, and historic lighthouses like the Munising Front Range Lighthouse. The town is a gateway to the famous Pictured Rocks National Lakeshore, a picture-perfect attraction featuring weather-sculpted cliffs, beautiful beaches, lighthouses and waterfalls. It has a tower 50 to 200 feet from Lake Superior, giving a good overview of the beautiful area. Additionally, the Hiawatha National Forest provides hiking trails, lighthouses such as the Round Island lighthouse, and observing the forest's ecosystem. Visit the Grand Island Recreational Area for fun fishing, hiking, and exploring through the tranquil waters and cultural sites. Complete your adventure at Alger Underwater Diving Preserve, the first and one of Michigan's most popular diving preserves, to observe wreck sites and dive safely in the pristine waters.
Escanaba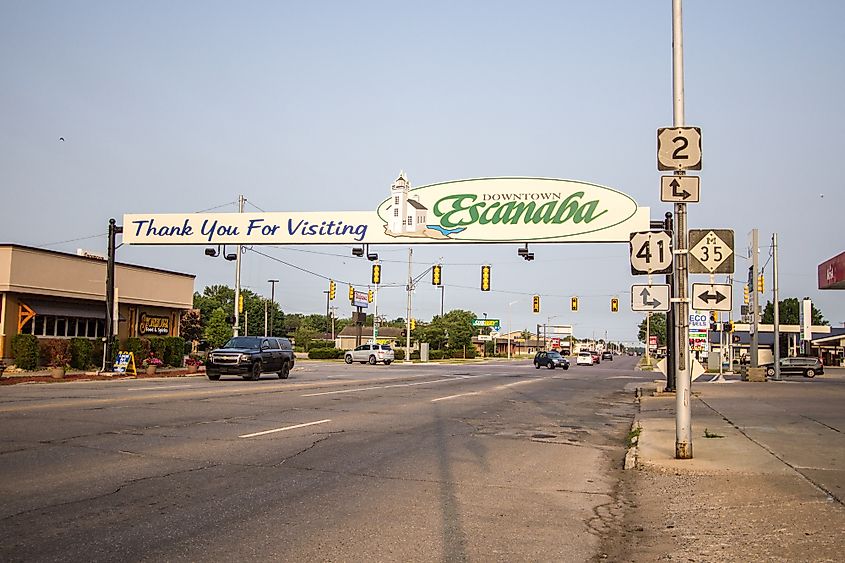 Explore the beautiful small town of Escanaba in Delta County, Upper Peninsula Michigan, with one of the best shorelines in the country. Fish in Bays De Noc, Ford River, and Rapid River freshwaters and find over 20,000 fish species from Walleye to Salmon and bass. Discover Escanaba wineries with the best Michigan-made wine in Northern Sun Winery and Leigh's Garden Winery. If you're a golf lover, take the chance to play and learn golf at the Sage Run Golf Club and Sweetgrass Golf Club; take courses with Gladstone Golf Club and Escanaba Country Club.
Revel in the area's beauty in the nightlight stargazing in Ludington Park, Peninsula Point Lighthouse or Sac Bay Beach Lighthouse. Visit the Fayette Historic State Park & Townsite during the day for family camping and picnicking and James Conkis historic site. 
South Haven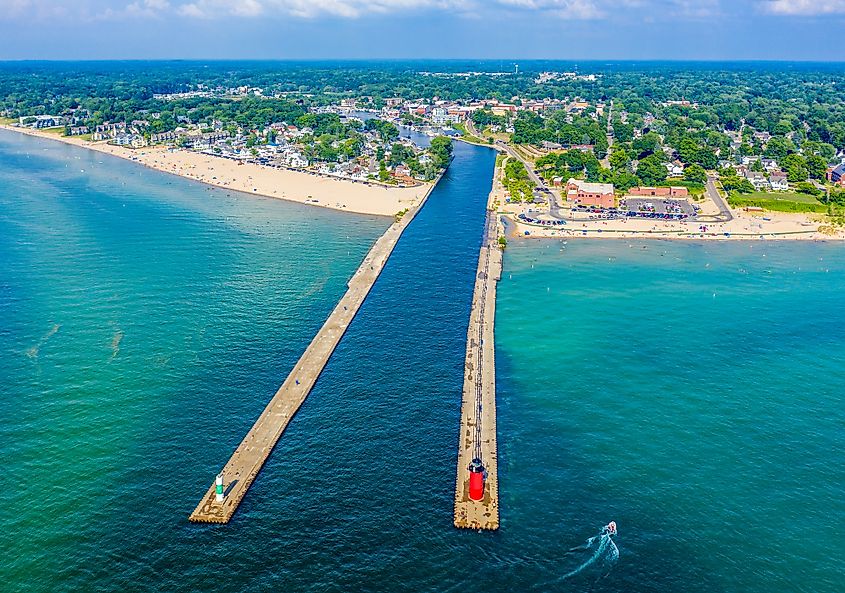 Relish in the unspoiled South Haven, Michigan beach, with a perfect idyllic view from Deerlick Creek Beach (South Haven Township Park) and Oak Street Beach to Dyckman Beach and North Beach. Relax and sunbathe on the sandy beach and the lake's calm waters. Take a historic stroll with the Pier-to-Pier Harbor Walk tour and learn the town's history and heritage. Observing and exploring wildlife is a top activity in this town; walk around the forest and paths of Casco Township Nature Preserve or a trip to the grassy meadows at Pilgrim Haven Natural Area.
Chill out in South Haven's seasonal and occasional events, experiencing live concerts, music and festivals like this season's South Haven Storywalk, running from September 25 to 30 and the Touch a Truck event. 
Mackinac Island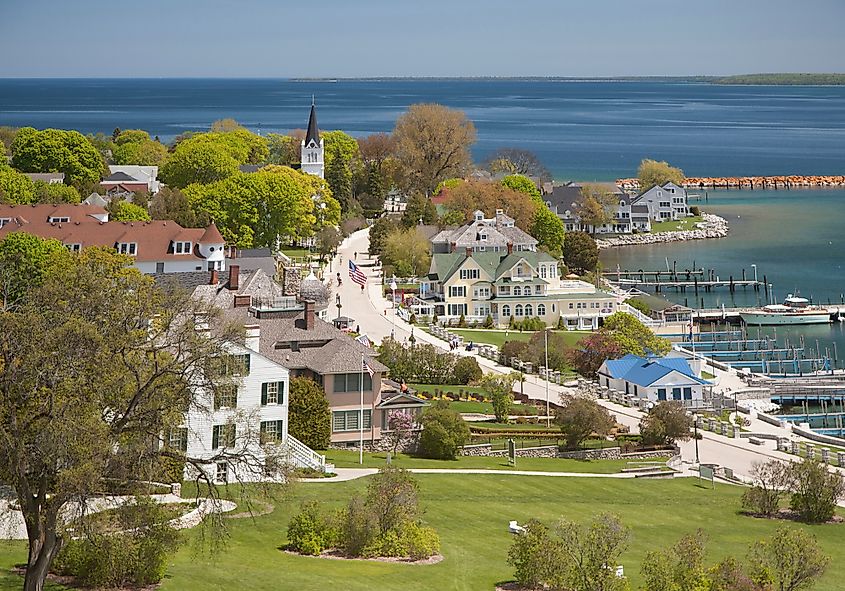 This town has become increasingly known by visitors who seek a unique vacation experience with an old-world charm. A thrilling part of this town is that cars are not allowed as "Horseless carriages" were banned in the Okay town in 1898, so the only way to get to the island is by a ferry or charter plane and navigate around the town with a bicycle or horse-and-carriage ride. With this, you'll have time to properly experience the town's culture, starting with its most famous attraction- historic Fort Mackinac. Michigan's oldest structure, built in 1782, includes live canon firings and other historical enactments. Also, Fort Holmes is a tiny outpost established in 1814 on the island's highest point. Give in to nature's seduction in the Mackinac Island State Park, comprising sea caves, forests and limestone rock formations like Arch Rock, Devil's Kitchen and Skull Cave. 
Copper Harbor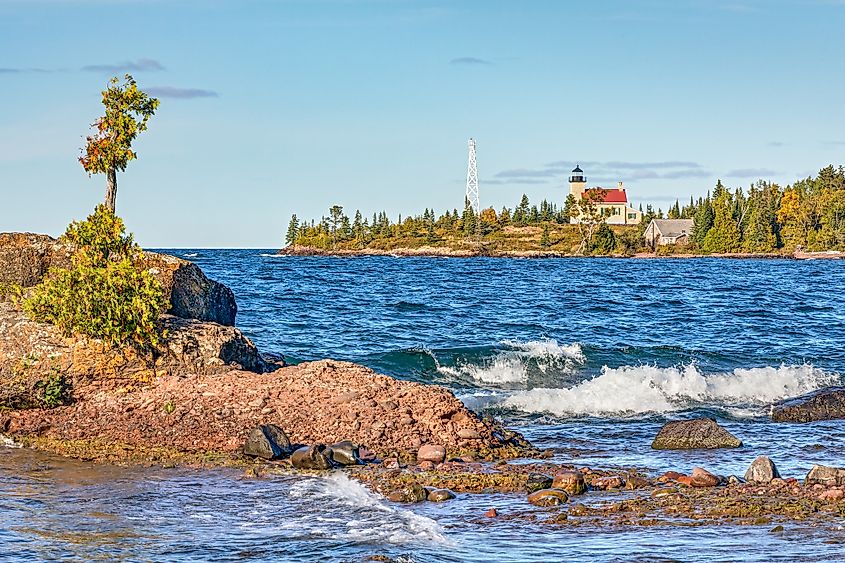 Copper Harbor is a magical small town in Keweenaw County with a fantastic look out of Lake Superior. Check out the town's dramatic history at the Astor House Museum, Brockway Mountain Drive, Copper Harbor Cemetery and the Historic Fort. Experience scenic moments in the natural wonders of Haven Falls or Eagle River Falls waterfalls. Observe wildflowers on pathways while biking in the mountains or on Copper Harbor Trails and witness wildlife at Estivant Pines Nature Sanctuary. Ride through the scenic Brockway Mountain Drive, soaking in the aura of the natural areas. 
Enjoy an energetic day at Copper Harbor's parks and landmarks at Fort Wilkins State Park, Hunter's Point Park and High Rock Bay, all offering outstanding views and a charming natural experience.
Saugatuck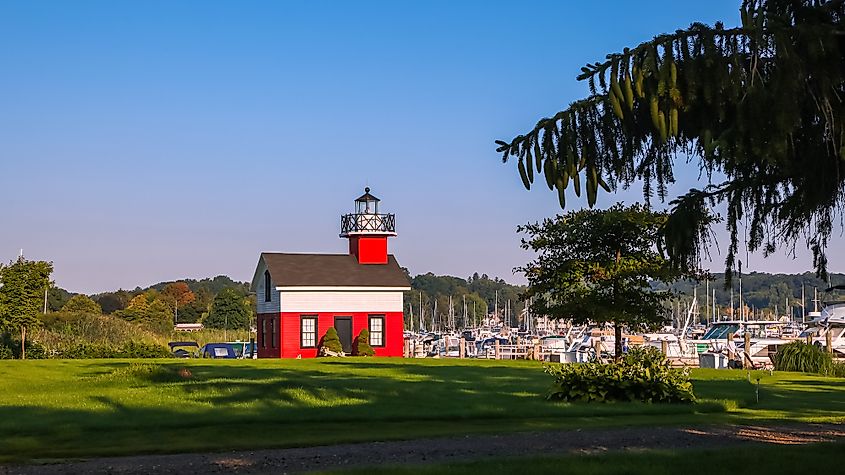 This town is in Allegan County, Michigan, on the eastern shore of Lake Michigan, with a small-town charm for beach lovers and nature enthusiasts. Packed with loads of fun, begin with the thrills of the trails at the Saugatuck Harbor Natural Area, where you can go hiking or biking or wander along the shoreline. Continue to an energetic adventure climbing Mt. Baldhead, offering a stunning view of Lake Michigan. Check out the Kalamazoo River through a double-decker paddle boat, a sailing charter or a kayak and feel the salted waves. Peruse the best of Sagatuck's art galleries, showcasing several sculptures and paintings, including the James Conner Gallery, Amazwi Contemporary Art and Jeff Blandford Gallery. Take an art class at the Ox-Bow School established by the Art Institute of Chicago and learn reliable skills.
Charlevoix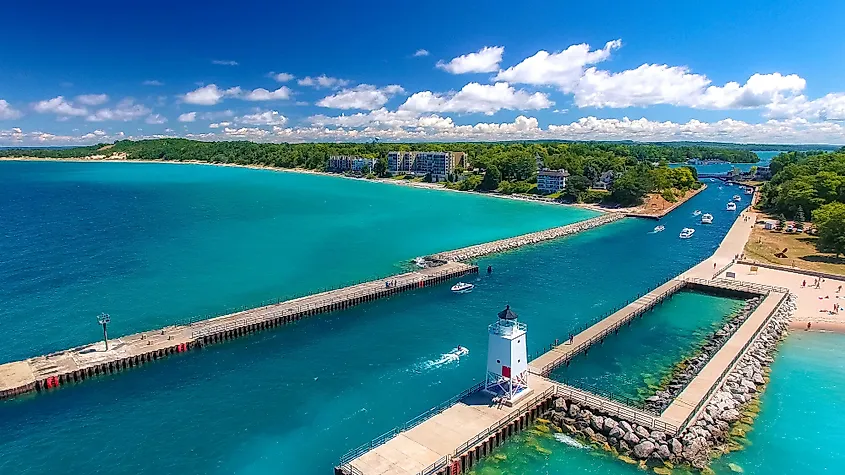 Prepare yourself for the best moments at Charlevoix, soaking in the refreshing air along Lake Michigan's shoreline with a picturesque view. Catch the best views in the nighttime at Fisherman's Island State Park, Charlevoix South Pier, and Charles Ransom Nature Preserve. Check out historic sites and monuments to get a little context about the town's status, such as the World's largest Cherry Pie, Charlevoix Public Library, Orchards and Earl Young Mushroom Houses. Visit Depot Beach and Ferry Beach and have a bonding time with various outdoor activities such as hiking and picnicking; also, go on a little adventure trip stone hunting at Mt McSauba. And have a little you-moment feeling biking through the paths of Little Traverse Wheelway. 
Calumet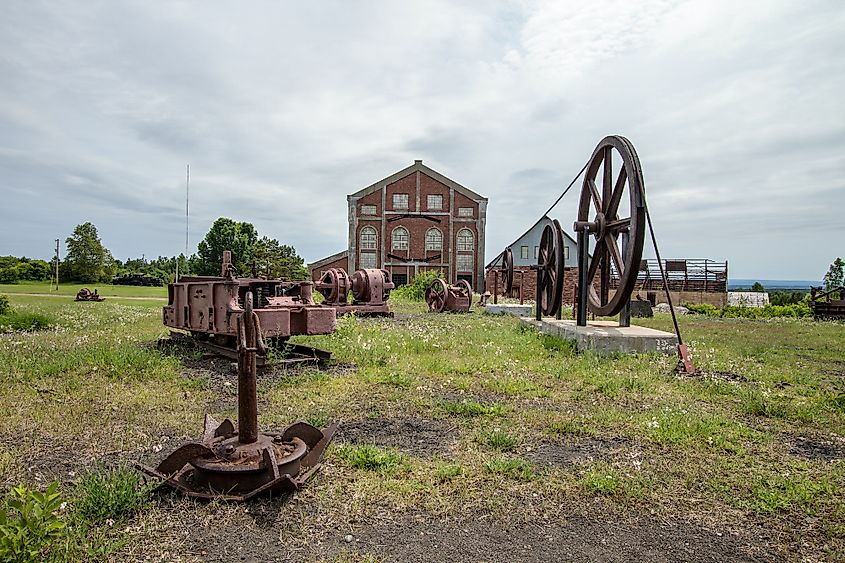 Calumet is situated 30 miles South of Copper Harbor, offering unique experiences and having a history as a copper mining town. Head to one of Calumet's top attractions, the Keweenaw National Historical Park Visitors Center, which gives you a little backstory of the mining legacy here. You can also visit the Historic Calumet Theater and experience a cinematic evening, live music or a guided tour through the old established theater. Go cross-country skiing at Swedetown Ski Trails and visit the historic landmark of the Italian Hall site and Copper County Firefighters History Museum. Collect and observe in Calumet's antique shops, including the Red Jacket general store and the Copper World. End your day engaging in games, entertainment and fun sports at the Copper Axe.
Whether it is a family getaway, romantic trip or solo vacation, these Michigan towns will make you reluctant to return home if you are wanderlust. Have no regrets about diving into the pristine waters of Munising or experiencing Mt McSauba. The nature and view will sweep you off your feet, allowing you to soak in the tranquility of the waters and bask in the radiant sun at the shoreline of Lake Michigan on Silver Beach in St Joseph. What's there not to love about the outdoor activities at Mackinac Island State Park, featuring greenery and the best of nature's preserve, or cherry-pie eating at the unique National Cherry Festival in Traverse City, allowing you a different version of entertainment and live concerts? 
It is undeniable that once you're done visiting these towns, you'll relive the memorable experience for days until you're back there again. Now that you have the list of getaways sifted to just 11 buckle up your shoes and start your journey in these Michigan towns.