The fourth-largest state by area, Montana is one of the Western United States' true wonders. With vast swathes of wilderness, diverse natural beauty, wide-open skies, and plenty of fascinating history, Montana is an adventure waiting to be experienced. Whether it is ranching, camping, skiing, horseback riding, or discovering some Gold Rush history, Montana is truly the Big Sky Country with loads of fun for any holiday or residency. This article looks at the 11 Most Charming Towns in Montana.
West Yellowstone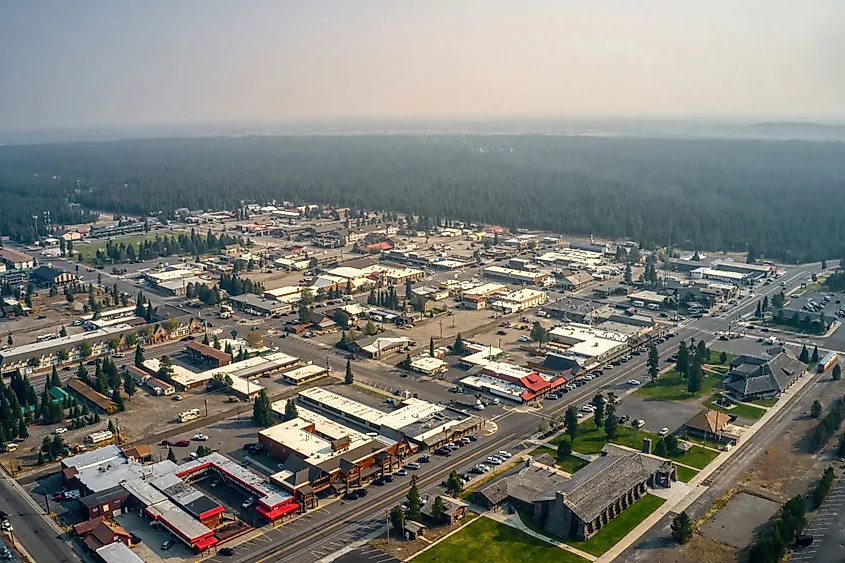 Adjacent to Yellowstone National Park, the 1,300-person town of West Yellowstone is the ideal place for quick access to the famed Park. Founded as a rail town at the turn of the 20th century, West Yellowstone today is primarily a stopover destination, but it offers great Montana charm and hospitality. Tourists can enjoy quaint and tasty local restaurants, shops, boutiques, and local galleries, while a sojourn at the Grizzly & Wolf Discovery Center allows visitors to see local wildlife outside of Yellowstone Park.
Choteau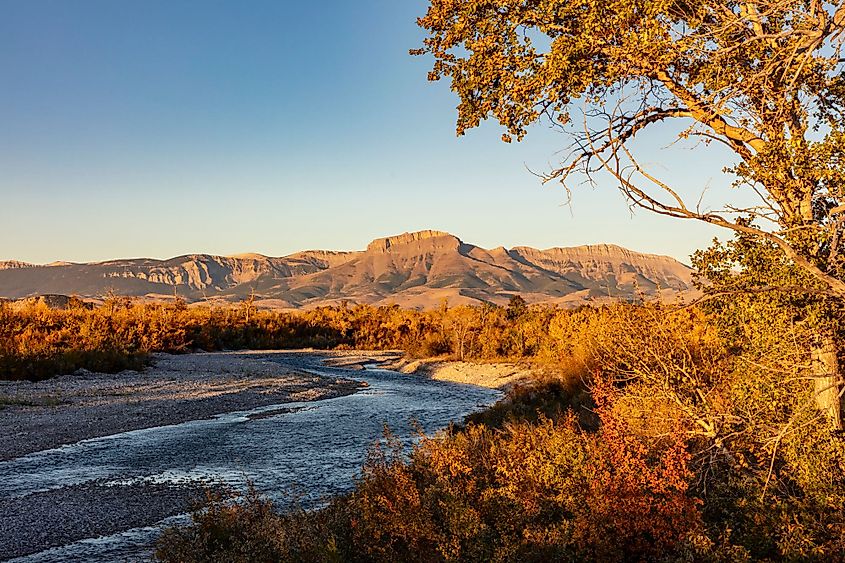 Around 32 km east of the Rocky Mountains, adjacent to the Flathead National Forest, Choteau is surrounded by trees, mountain peaks, and ranches. Near Egg Mountain, an important site of dinosaur paleontology, visitors can stop by the Old Trail Museum for interactive exhibits and a variety of dinosaur skeletons on display. The seat of Teton County, visitors to Choteau, can also enjoy great opportunities for hiking, scenic drives, hot summer sun, and the famous big Montana sky in a quiet and peaceful community.
Whitefish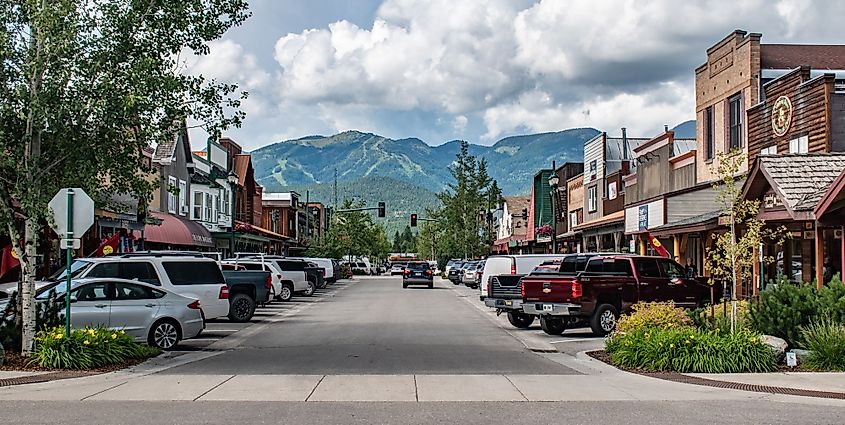 Situated in Flathead County, the town of Whitefish is considered one of the best ski destinations in the United States, where visitors can enjoy great slopes like those at the Whitefish Mountain Resort. Just a 35-minute drive from Glacier National Park, tourists can also take advantage of great opportunities for fly fishing and hiking. For the arts-inclined visitor, Whitefish also offers an abundance of great festivals year-round, including the food festival "Taste of Whitefish," "Big Sky Music Festival," and the "Whitefish Winter Carnival."
Livingston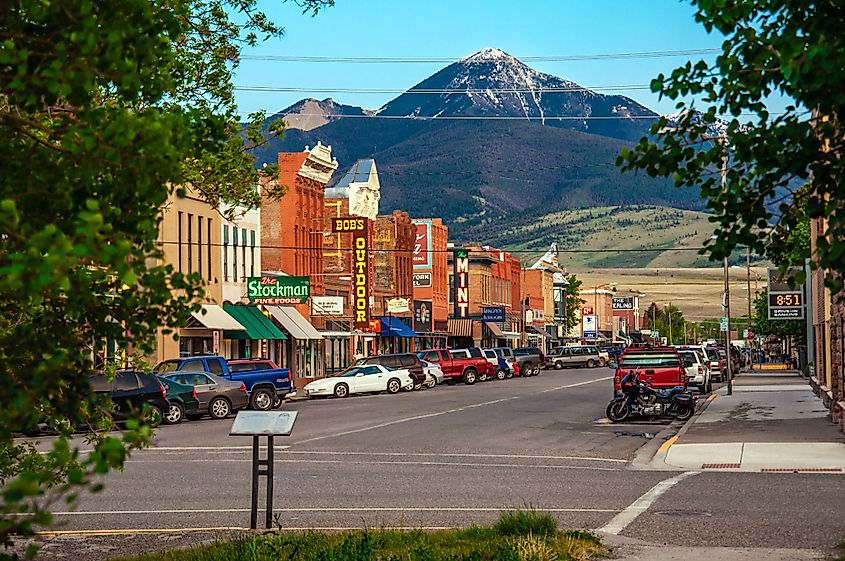 Right on the Yellowstone River in southwestern Montana and adjacent to Yellowstone National Park, Livingston is a beautiful and picturesque mountain town. Catch stunning views of Livingston Peak, enjoy hiking and biking trails, or just take a stroll through the downtown. Meanwhile, a visit to the historic Livingston Depot (a former rail stop constructed in 1902) brings tourists back to the glorious past of steam engines, while several 19th-century buildings dot the Main Street. A quaint and charming community, Livingston is a great snapshot of Anytown, with a unique Montana flavor.
Libby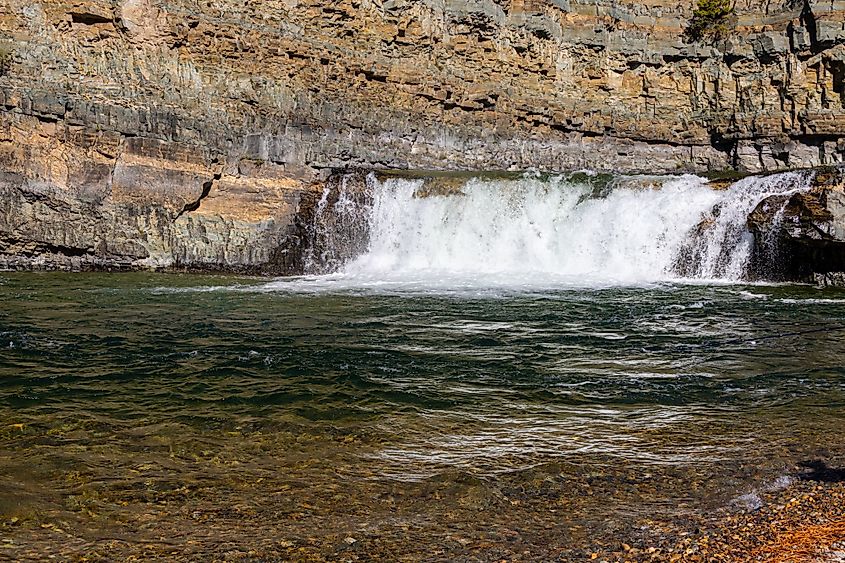 Libby is a stunning place to experience Montana's natural beauty. Located at the confluence of the Kootenai River and Libby Creek, visitors can enjoy fishing for trout or sturgeon or go for a hike on the numerous mountain trails all around. Stop at Kootenai Falls for great views of the rushing water and perhaps a sight or two of black bears and big horn sheep. And, of course, a trek across the Swinging Bridge is sure to create a memory to be talked about for years to come.
Big Sky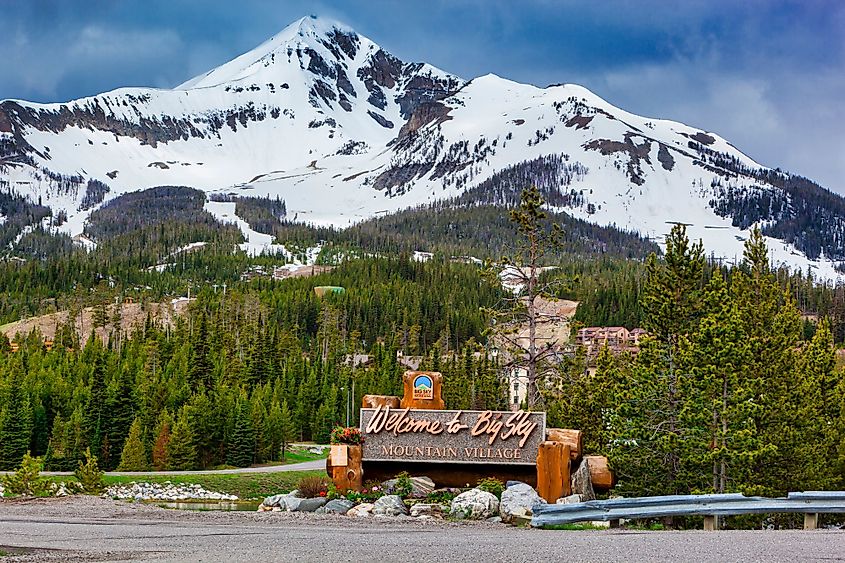 With moderate temperatures year-round, Big Sky is an ideal place for outdoor activities in both winter and summer. A mountain community, it is home to the Big Sky Resort, the second largest ski resort in the United States. Catch incredible views of the Rocky Mountains and enjoy world-class slopes, or visit the Chalet for a beautiful alpine atmosphere. The nearby Gallatin National Forest and River are perfect for hiking, biking, camping, rafting, and fly fishing in the summer months. As its name implies, time spent in this community showcases exactly why Montana is the "Big Sky Country."
Philipsburg
With a population of just 841 inhabitants, Philipsburg is a charming snapshot of a once prosperous 19th-century mining town. Visit several historic buildings that continue to populate the downtown area, including the Sayrs Building, constructed in 1888, or enjoy some local hiking trails before grabbing a pint at the Philipsburg Brewing Company. For a unique piece of Montana to bring back home, visitors can find an abundance of sapphires and other gems at many local boutique shops, meaning a part of Philipsburg is always with you.
Stevensville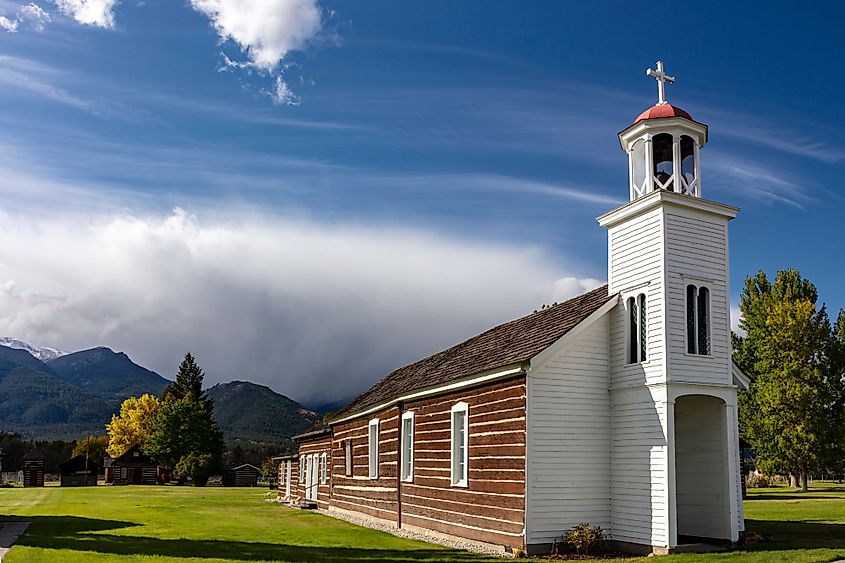 Founded by Jesuit Missionaries in 1841, Stevensville is noteworthy as the first settlement by non-indigenous people in the entire State. Surrounded by majestic mountain ranges, including the Sapphire and Bitterroot Mountains, a drive-through and stop in Stevensville offers some of Montana's very best scenery. For the history lover, a visit to the Stevensville Museum (detailing the community's founding and growth) and the historic St. Mary's Mission are interesting destinations that shed light on the expansion of America in the 19th century.
Hamilton
With hot summers and mild winters, Hamilton in Ravalli County is a great destination along Highway 93 for a mix of history, outdoor fun, and tasty local meals. Take a stroll in the charming downtown and view Daly Mansion, an example of 20th-century revival-style architecture, and its lush green courtyard. At the nearby Trapper Peak, opportunities for biking and hiking are in abundance, while back on Main Street, a locally cooked Montana dinner is always ready to be served by welcoming residents.
Fort Benton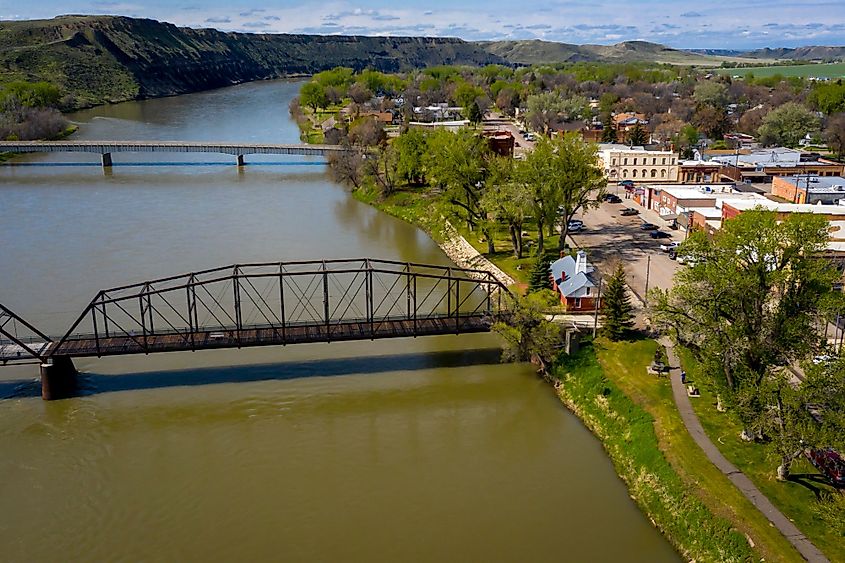 The county seat of Chouteau County, the 1,500-person town of Fort Benton, was established in 1846 and is the second oldest non-indigenous settlement in the State after Stevensville. An important location along the banks of the Missouri River, Fort Benson was founded as a fur trading post and played a pivotal role in the growth of the American West. This waterfront area and Fort section were designated a National Historic Landmark in 1961. Visitors can enjoy firsthand views of preserved 19th-century buildings, outposts, and museums dedicated to the period. And naturally, there's also an opportunity for hiking, camping, and canoeing, in typical Montana fashion.
Anaconda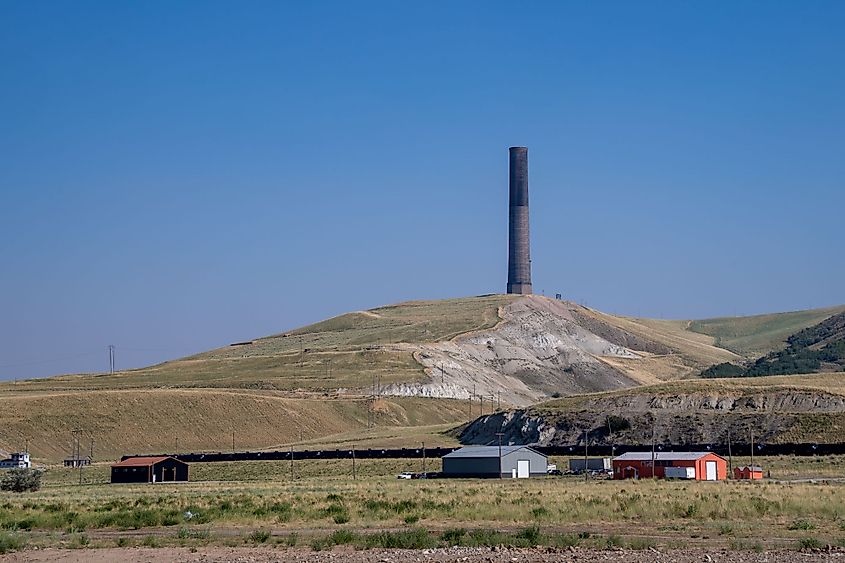 Right on the foot of the Anaconda Mountain range, a stop in the town of Anaconda is the prime place for stunning views and easy access to these majestic land formations. Anaconda is also a rich cultural town with plenty to appreciate and is perfect for loads of outdoor adventures like rock climbing, hiking, and camping. Visit the historic Washoe Theatre (built in 1931) added to the National Register of Historic Places in 1988 or the famed Club Moderne bar constructed in 1937. A stroll along Anaconda's downtown is full of beautiful Western-inspired facades, while its moderate year-round climate makes it a desirable place of rest no matter the season.
Montana is known as Big Sky Country, and with its abundance of natural beauty and fascinating history, it is clear that the possibilities for discovery are as plentiful as its big skies. These small towns each offer some of the very best the State has to offer outside of the major cities, and a visit to any of them showcases not just the charm of small-town USA but the unique attraction of Montana and its beauty.