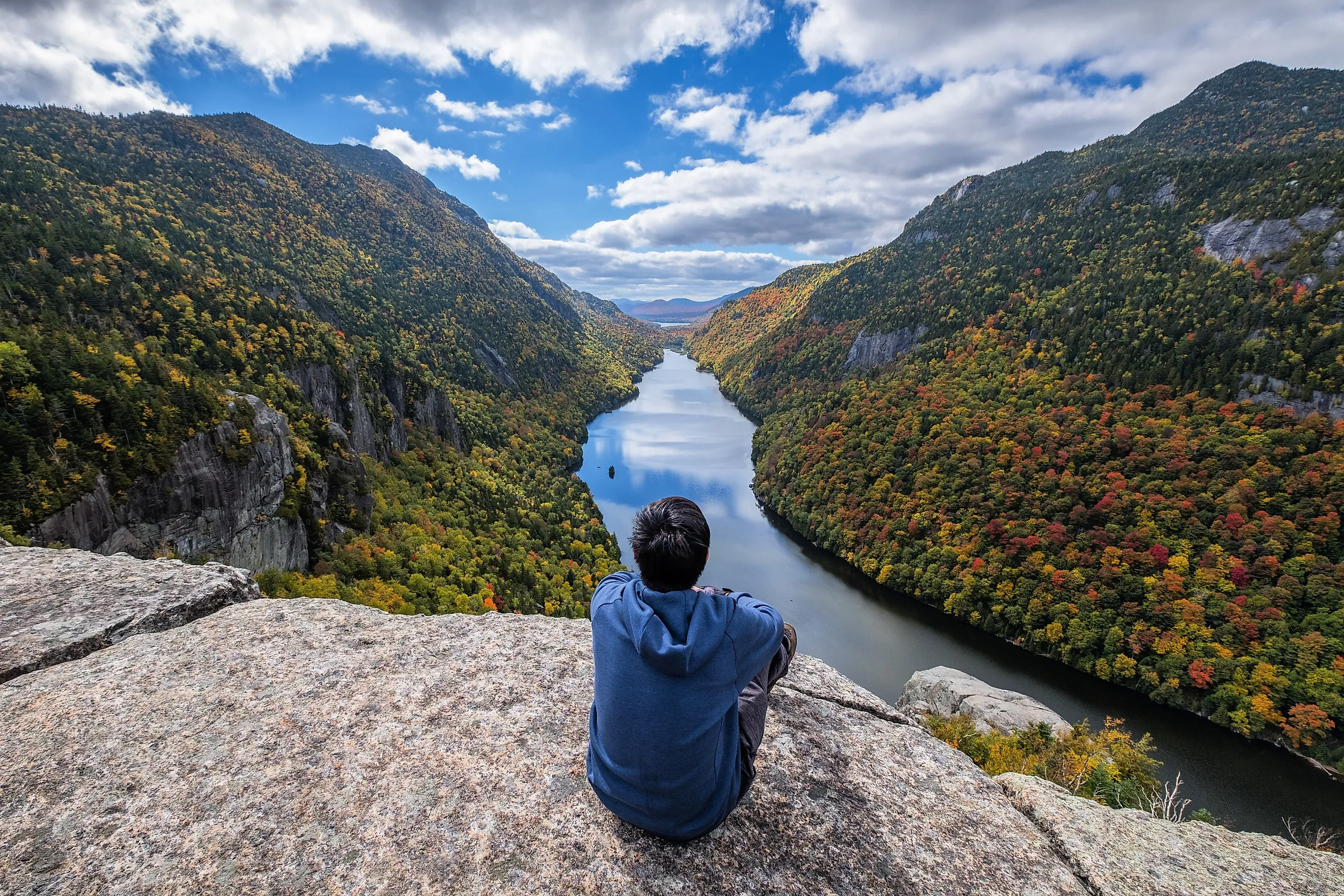 10 Gorgeous Adirondack Mountains Towns To Visit In 2023
Covering more than 2.4 million hectares, the Adirondack is a massive place full of endless wonders. From dense forests to towering mountains, charming lakes, and rivers, there is so much to enjoy here. And that's not all. The Adirondacks are also home to several charming towns, most of which are positioned in the middle of all the incredible natural wonders the region offers. These towns are gorgeous, laid-back, and full of things to see and do. Some even host exciting events throughout the year to keep visitors entertained at all times. Whether you're looking for relaxation away from the hustle and bustle of large cities or to spend some time in nature, these gorgeous Adirondack mountain towns have something for everybody. 
Lake Placid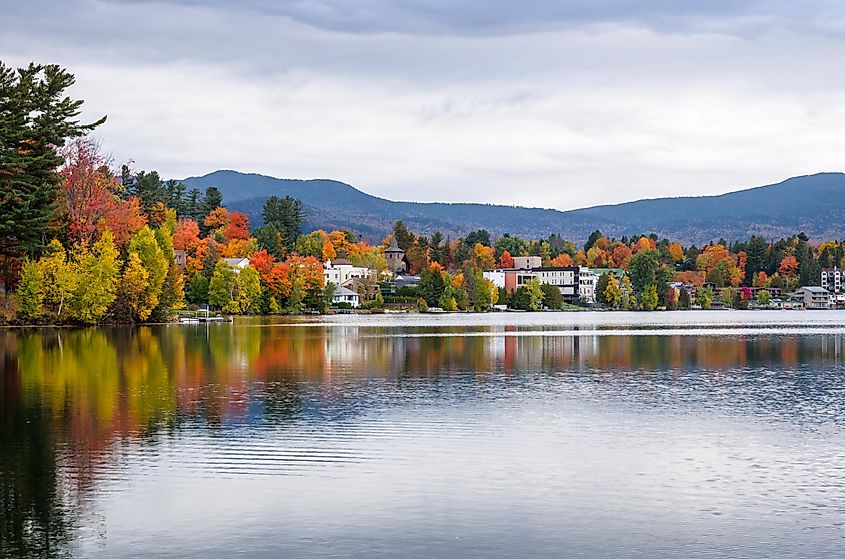 At every turn in Lake Placid, visitors will be met with stunning sights as the town is surrounded by imposing mountains and dense forests that make the air so fresh. 
The crystal clear lake is the main feature of this town as it can be seen from all directions and offers a long list of adventures like kayaking and swimming, paddle boarding, and canoeing.
Lake Placid is home to attractions like High Falls Gorge which features a half-mile walk across a gorge and incredible views of a waterfall. For winter lovers, the town is overlooked by the 4,867 feet tall Whiteface Mountain - one of the tallest mountains in New York State, which becomes a haven for winter activities like skiing and snowmobiling when it gets chilly.   
Lake Placid was chosen as the venue for the 1932 and 1980 Winter Olympic Games. The unique qualities and characteristics that led the organizers to select this town back then continue to define and shape Lake Placid today. 
Johnsburg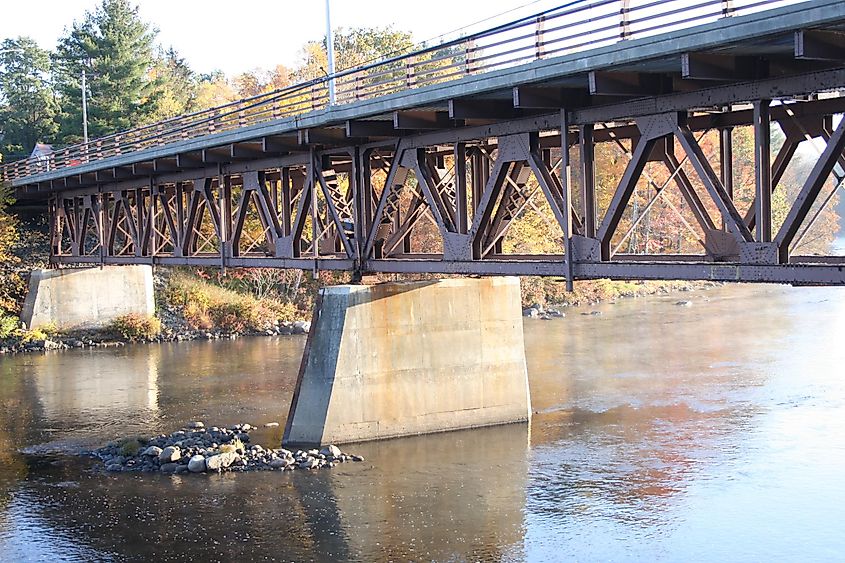 Positioned at the heart of the Adirondacks, Johnsburg is a gorgeous town full of several hamlets with friendly locals and a wide range of facilities. The town's two main natural attractions - the Gore Mountains and Hudson River, combine to create endless adventure opportunities. While Gore Mountains offer amazing scenery and activities like skiing, snowboarding, and tubing, the Hudson River offers kayaking and whitewater rafting opportunities. 
There's something to see and do here year-round, and during fall, visitors can head over to the Northwoods Gondola at Gore Mountain Ski Center to witness the mesmerizing foliage surrounding the town.  
In addition to all the outdoor activities in nature, Johnsburg offers amazing shopping, boating, and golfing experiences, so there's no dull moment here. 
Schroon Lake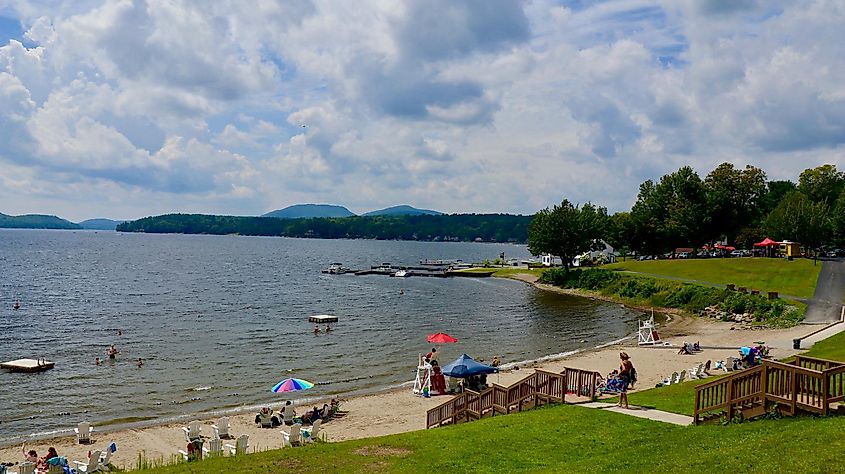 Schroon Lake is a small town of less than a thousand people worth a mention as it has everything from natural scenery to exciting adventures, and also a deep sense of community. Visitors to this town can go to the nine-mile-long shoreline to swim and enjoy a picnic. Next, they can head out into the lake to fish for trout, bullhead, salmon, and many other species. The town is also home to interesting hiking trails like the 2.4 miles (round trip) Mount Severance which features views of Schoon Lake and Paradox Lake, and the 14.7 (round trip) Hoffman Notch Trail, which takes visitors deep into the wilderness. 
Unlike many small towns worldwide, Schroon Lake is not deserted during winter, as the pouring snow transforms it into a haven for exciting winter sports like cross-country skiing and snowmobiling. Schoon Lake Ski Center and Big Pond Trail are some amazing spots to enjoy those exciting winter activities. 
Saranac Lake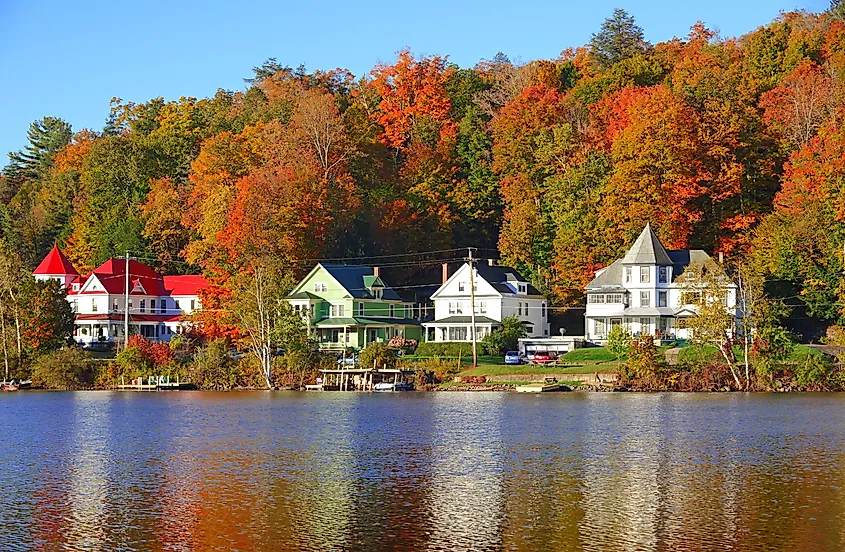 Although the scenery changes, Saranac Lake stays gorgeous year-round, and there's always something to do in the town. Saranac Lake is one of the best wine towns in the Adirondacks, and it is filled with breweries like the Hex & Hop Brewery and the Blue Line Brewery, where visitors can enjoy amazing wine tasting and delicious meals. Check out the Saranac Laboratory Museum, which was established in 1894 as the first lab in the United States to research tuberculosis.
For some more outdoor adventures, the one-mile Saranac Lake River Walk beckons visitors to stroll through the town on a brick-paved path, crossing bridges, and getting up close to the Saranac River and the historic downtown lined up with shops and restaurants. 
Saranac Lake is choked by dense forests, and in Fall, the leaves on the trees transform into gorgeous red and yellow colors making the town one of the best places to watch fall foliage in the world. 
In addition, Saranac Lake hosts several exciting festivals like the week-long Winter Carnival, which features fireworks, competitions, and food, and the Adirondack Plein Air Festival, which invites artists from all over the country to come to paint the town and its surrounding natural features. Held every year in August, the Adirondack Plein Air Festival is particularly exciting as visitors will get to watch the painting process and also be able to buy the best painting right off the wall while some are still wet. 
Ticonderoga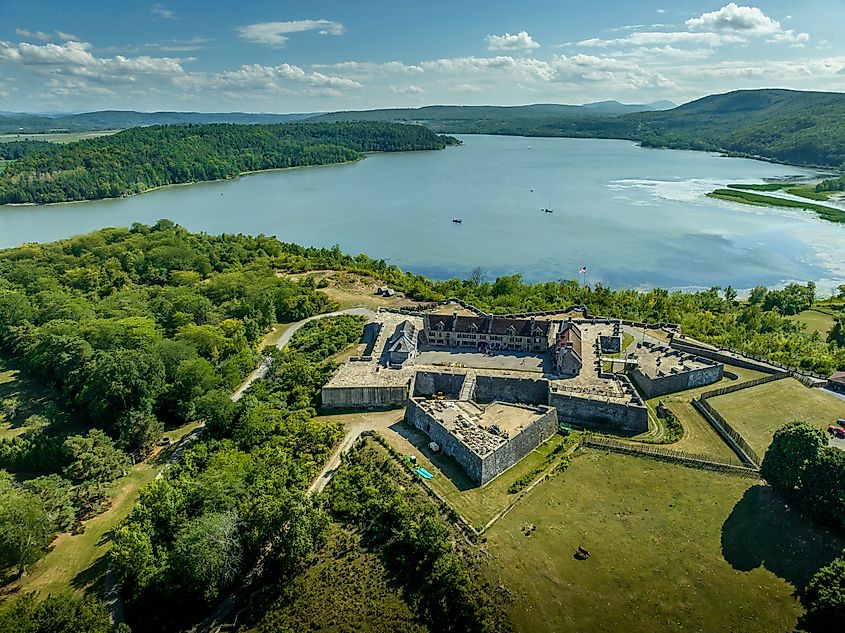 Ticonderoga offers much more than incredible natural scenery and exciting outdoor adventures. This small town located between Lake George and Lake Champlain is home to Fort Ticonderoga - an 18th-century fort that sheds more light on American military history. In addition to being surrounded by beautiful greenery and positioned in front of Lake Champlin, the fort offers interesting exhibitions and war reenactments aimed at teaching guests more about American history. 
Regarding water sports, Lake George and Lake Champlain offer endless fishing, swimming, and paddling opportunities. Shop for some fresh food at Ticonderoga Area Farmers Market, which is open every Saturday from July to September. Hike the 3-mile Lachute River Walk Trail in Bicentennial Park to see the water as it races to Lake Champlin and also visit Ticonderoga Heritage Museum to learn more about the town's history. 
Long Lake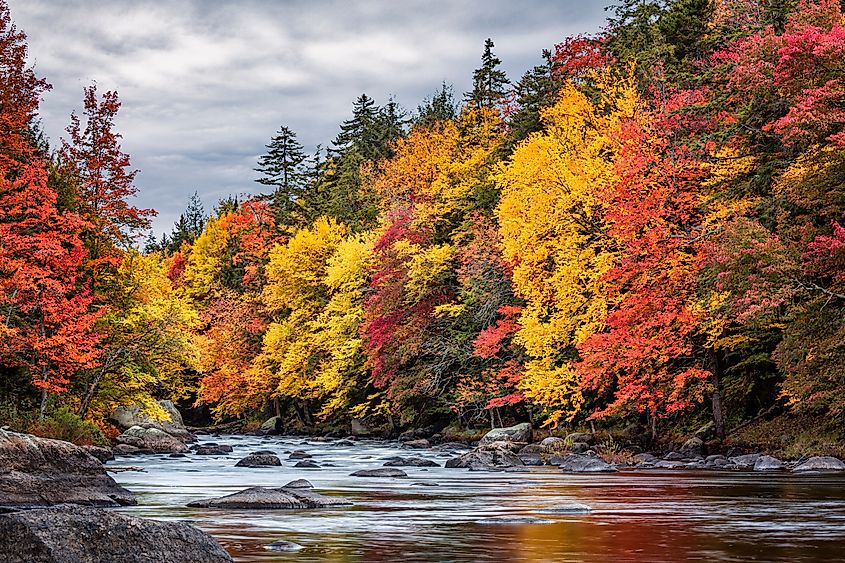 Long Lake is a gorgeous year-round vacation spot. This town sits on the shores of the 14-mile Long Lake, which begs visitors to come to enjoy exciting activities like swimming, kayaking, and boating. The town has some pretty unique attractions like the Helms Seaplane Base, where seaplane rides are offered, and the Hoss's Country Corner, where visitors can enjoy an exciting shopping experience. 
Also surrounding the town are hectares of pristine forests cut through by miles of hiking trails and filled with many birds and campsites. Whatever idea one has for an enjoyable vacation, this town has something to match. The only regret a person visiting this town will have is not coming with a camera. 
Tupper Lake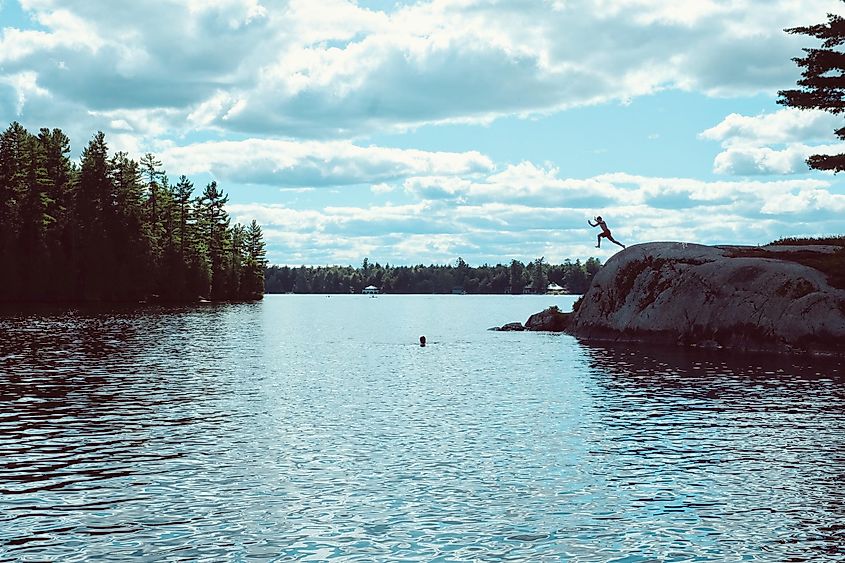 Tupper Lake is one of those places where visitors will wish they could fly to see everything from above. But even without wings, there are still plenty of ways to witness the incredible scenery of this town. Walking to the 40-foot-tall Eagle's Nest via the treetop trail is perhaps the best way to get this experience. This treetop trail is located in Wild Center - a 115-acre nature park, and it offers amazing views of gorgeous mountain peaks and the forest scenery of this town. 
This town is also home to the Tupper Lake Municipal Park, which is positioned on the shores of Raquette Pond and offers amazing natural scenery and is also great for relaxation, strolling, and playing. Tupper Lake features amazing shopping and dining experiences. On the waters, activities like snorkeling and kayaking can be done. Those who want more unique experiences can head to the Adirondack Sky Center & Observatory for some incredible stargazing experiences. 
Inlet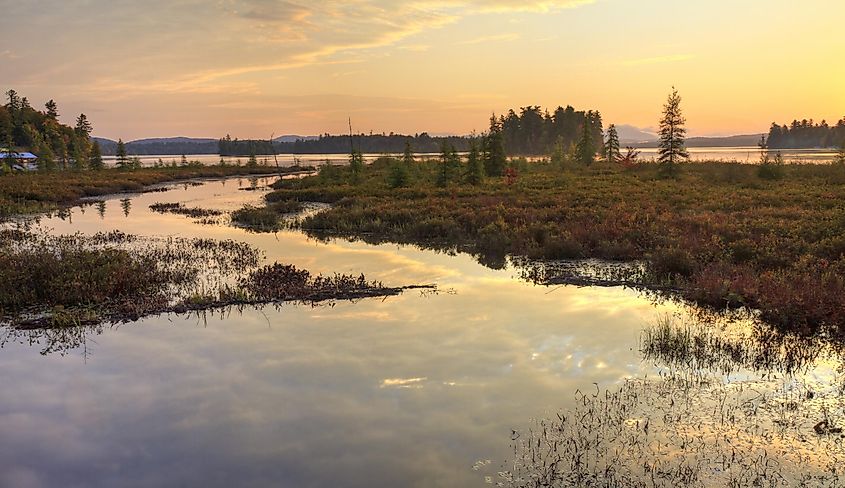 Inlet is one of New York's best-kept secrets. Located in a hidden part of the Adirondack, Inlet is a small town with a sense of community and incredible natural scenery. The town is dubbed "a place where mountains and memories meet," and visitors will attest to this as soon as they touch down. 
Mountains covered in greenery surround the town while the Fulton Chain of Lakes flows right in front of it, combining to create exciting adventures and post-card views. From swimming and fishing to boating, hiking, camping, and shopping, there's so much to do here. 
Year-round events like the Black Fly Challenge Bike Race, which features thousands of bikers, and Inlet Frozen Fire & Lights, which celebrates winter takes place in this town, so there's always something to enjoy here.  
Speculator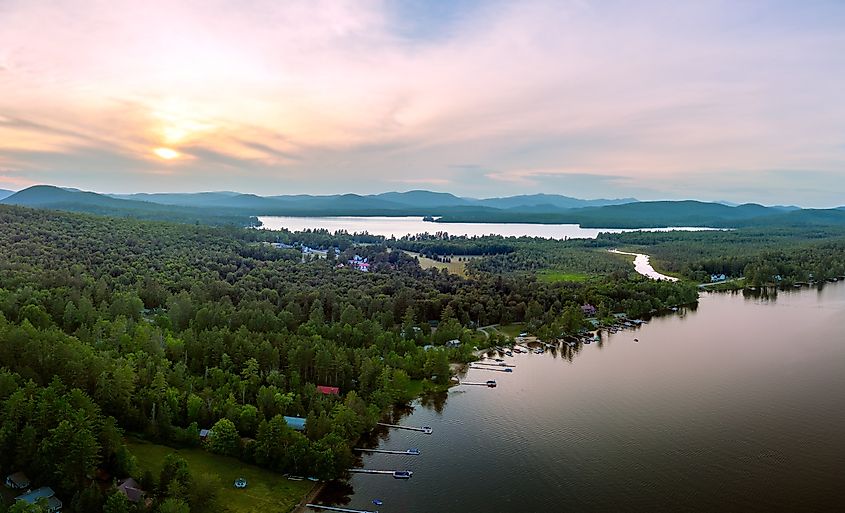 There are many spectacular things about Speculator. The most obvious is the massive mountains and forests surrounding the laid-back town and the charming Lake Pleasant that sits right in front of it and offers activities like kayaking and fishing. 
Winter is particularly exciting in Speculator as the town is home to over 750 miles of groomed snowmobile trails and the Oak Mountain ski center - an all-season resort with 22 trails, a pub and eatery, a Quad chairlift, and incredible forest scenery. 
The town also has camps and miles of exciting hiking trails, one of which leads to the 15 feet deep Kunjamuk Cave, which has left many scratching their heads, wondering how it got there. 
Lake George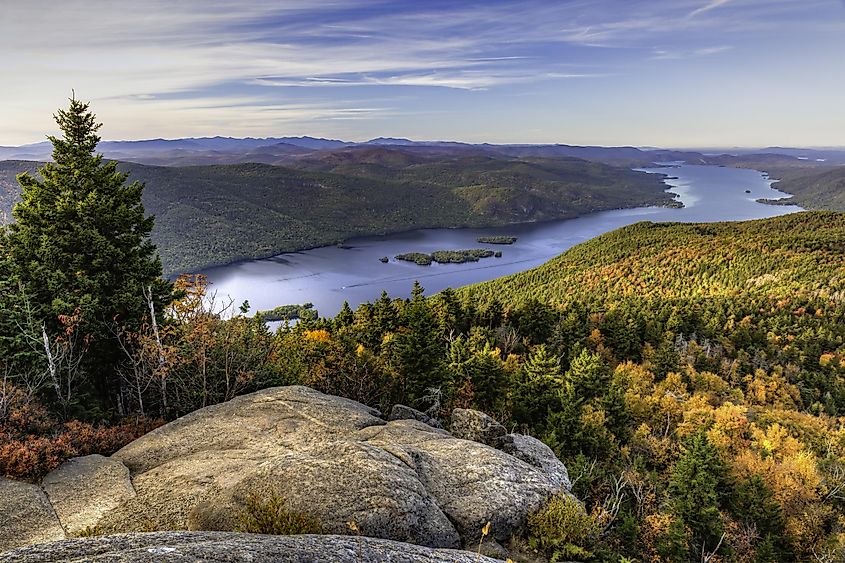 Positioned on the shores of the charming Lake George and hugged from all sides by pristine forests, this little town is a paradise full of gorgeous sights and exciting activities for everybody. Also known as the birthplace of American vacation, Lake George was a hot spot for early New Yorkers who got inspired by Murray's Guidebook. This was because everything suggested in the book, including fishing in mirror lakes, camping in nature, and hiking through pristine forests, could be enjoyed in this small town. Today, every adventure suggested in the book can still be enjoyed here, and the raw beauty can still be witnessed. 
Every season in this town is exciting and has a basket full of things to offer. In contrast, spring opens up the stage for exciting cruises and other water activities, and summer ushers in exciting events like Americade - one of the biggest motorcycle rallies in the US and Lake George Music Festival, featuring incredible performances and classical and modern music. 
During fall, one does not even have to leave one's cabin to get those "wow" moments as the scenery is everywhere. In winter, the fluffy snow transforms the entire area into a wonderland where coat-covered people of all ages abandon all caution and play in the snow like little toddlers. In addition, activities like hiking, kayaking, and fishing can be done year-round in the town. 
The Adirondacks: Where Nature Meets Adventure
The Adirondack Mountains in New York are not just a sight to behold; they're a destination filled with activities and attractions for all types of travelers. Whether it's families looking for a bonding experience, adventure-seekers, or those searching for a peaceful retreat, these towns have something to offer. The natural beauty of the region, combined with opportunities for adventure, fresh air, and a strong sense of community, make the Adirondacks a compelling destination.