Gulf Hagas is a 4.8 km long gorge situated in the mountains in northern Maine, United States. Gulf Hagas is along the West Branch of the Pleasant River and was named a National Natural Landmark in 1968. It is often referred to as "Maine's Grand Canyon" due to its 130 ft cliff walls, maximum depth of almost 400 ft, fantastic rock formations, and a series of picture-perfect waterfalls. The Pleasant River drops roughly 370 ft over this 4.8 km stretch. Despite their isolated position, the Gulf Hagas trails are a well-known hiking attraction because of the surrounding natural splendor.
Geography Of Gulf Hagas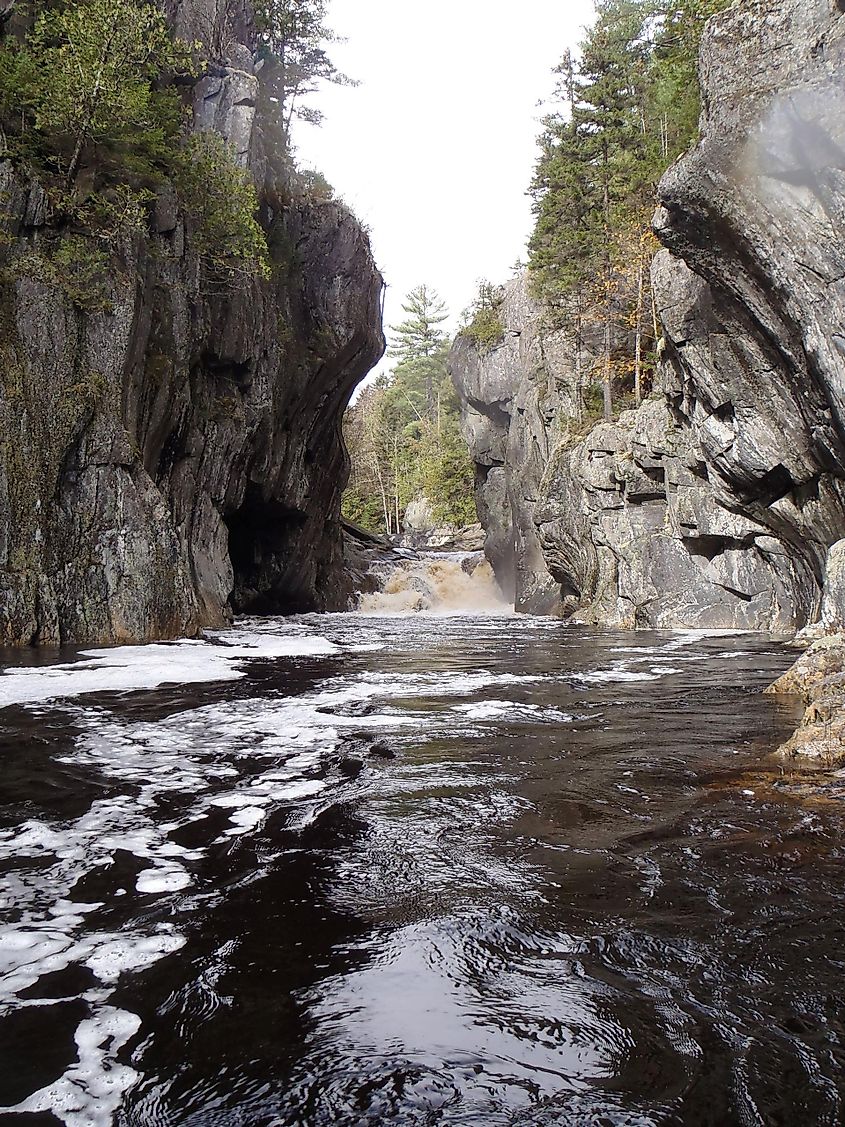 Gulf Hagas is a component of the Appalachian Trail (AT) Corridor in northern Maine. The AT Corridor is federally owned and overseen by the National Park Service and the Appalachian Trail Conference, and it contains a tiny stretch of the AT's 100 Mile Wilderness. The blue-blazed Rim Trail splits off the AT to the left at 1.3 miles from the river. Bangor is about 140 km and an hour and 20 minutes trip from Gulf Hagas. Portland is about 277 km and a 3 hours and 40 minutes trip from Gulf Hagas. 
Geology Of Gulf Hagas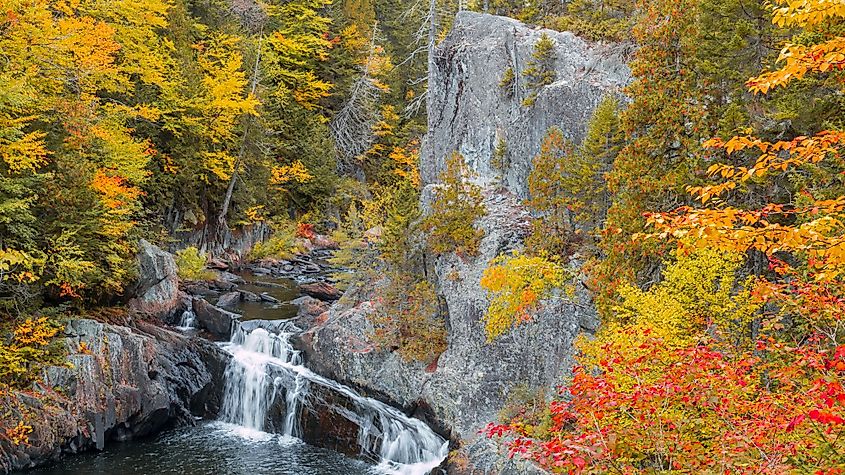 A location in the world known for its richness of geological wonders is where the breathtaking beauty of Gulf Hagas originated. Many amazing geologic features line Gulf Hagas, which were formed by a river that fell 500 ft over 3 km. Buttermilk Falls has been named from the foamy water the river creates as it cascades down the rock face. Other waterfalls include Stair Falls, which resembles a huge, angular staircase beneath gently cascading waters; and several other waterfalls. 
Hiking In Gulf Hagas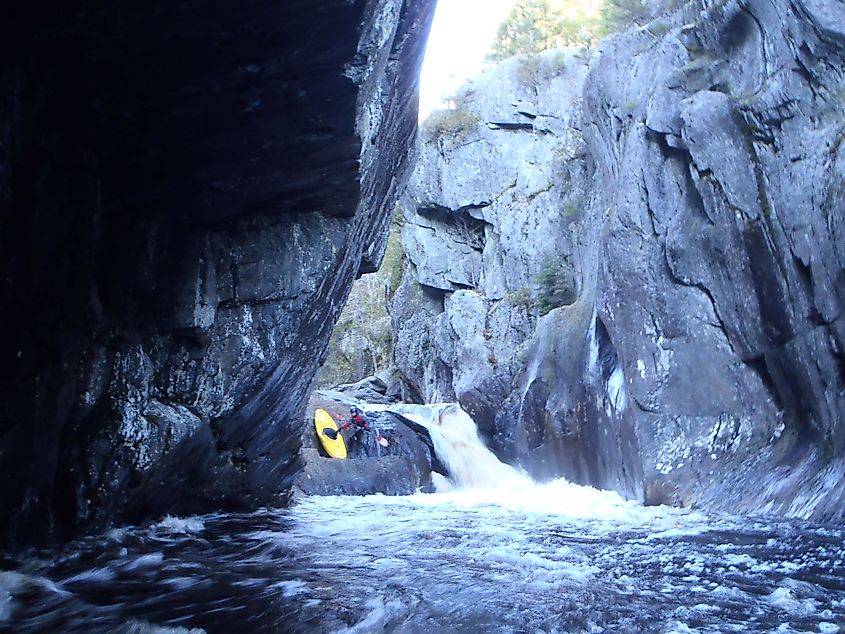 Approximately a dozen natural features can be explored and enjoyed in Gulf Hagas in just about nine miles of hiking, featuring two scenic rivers, Gulf Hagas Brook and the West Branch of the Pleasant River, four named falls, dozens of unidentified cascades, tempting swimming pools, and a gorge. The Gulf Hagas Rim loop can be done in either direction: either from the Head of the Gulf to Screw Auger Falls and back or the other way around. It is hardly surprising that the waterfalls of Gulf Hagas are among the most well-known in the state, given their abundant natural beauty.
Brief History Of Gulf Hagas
Loggers gave the waterfalls in Gulf Hagas their names. Before its designation as a National Natural Landmark in 1969, the area belonged to the paper mills that used it for the transportation of logs, but the owners agreed to conserve 500 acres of it, which included Gulf Hagas. The locals were referred to as the "Red Paint People." Red ochre, a locally accessible impure form of iron ore, was used to line the graves of this Native American tribe. The gorge contained a few places known as the Jaws, which were narrower than 2.4 m. 
Attractions In And Around Gulf Hagas
Katahdin Iron Works State Historic Site
An unincorporated township with the same name is home to the Katahdin Iron Works, a state historic site in Maine. Ironworks once stood there and was active between 1845 and 1890. In 1969, the location was added to the National Register of Historic Places. The Katahdin Iron Works was made possible by the iron ore from nearby Ore Mountain and the timber from Maine's enormous northern forest. The remains of the previous blast furnace and a charcoal kiln are still visible today.
Borestone Mountain
The nearly 1,600-acre Borestone Mountain Audubon Sanctuary in Maine's Hundred Mile Wilderness offers a stunning variety of natural features, including a unique elder forest, three crystal-clear ponds, exposed granite crags, and panoramic views. Borestone Mountain, one of Maine's most well-liked hiking locations, offers a moderately challenging ascent that ends with breathtaking 360-degree vistas from two peaks at little under 2,000 ft.
Little Wilson Falls
Little Wilson Falls' lower falls, which are 18 ft tall, have a wonderful swimming and wading area. During hot summers, this is where the locals congregate most frequently. One can reach this magnificent waterfall by taking the 1.4-mile, reasonably easy trail. There isn't much elevation increase on the trail, and there aren't many boulders to negotiate.