You have probably heard the term Jim Crow or "Jim Crow Laws" used at least once in your life. Perhaps you wondered what the term means, but the explanation is not that obvious.
Jim Crow is not an actual person. Originally, the name referred to a type of character that was used in theatre plays. It was an incredibly racist depiction of black people, mostly African-Americans, that was making fun of them and their culture while perpetuating stereotypes.
The person who created the character was Thomas D. Rice, an American playwright, and he based him off of a trickster from folk tales that were popular among slaves. However, later on, during the 19th and 20th centuries, the term was used to denote a set of laws that were enforcing racial segregation in the American South. Those laws were extremely racist and represented a dark era in American history, one that should not be forgotten but definitely one that should only serve as an example of all the wrong things Americans did to black people.
The Character
Thomas Dartmouth "Daddy" Rice was a white playwright and actor who became extremely popular in the 1830s. He performed racist minstrel shows in which he was portraying the fictional character called Jim Crow. This character was a caricature of a black person, a clumsy slave that acted like a goofy cartoon character. Needless to say that this portrayal was incredibly racist and problematic. He appropriated the character from a song that was sung by black slaves, so not only was his portrayal racist, but he also stole from black folklore and culture.
While he was performing as the character, he was using the stereotypical slave dialect, and his show was actually extremely popular among white audiences. This was, of course, prevalent in the American South, where slavery was still rampant. Still, he toured all over the United States with his racist songs and even visited Great Britain. Since the show became increasingly popular, "Jim Crow" was actually starting to be used as a derogatory term for African-Americans.
The Laws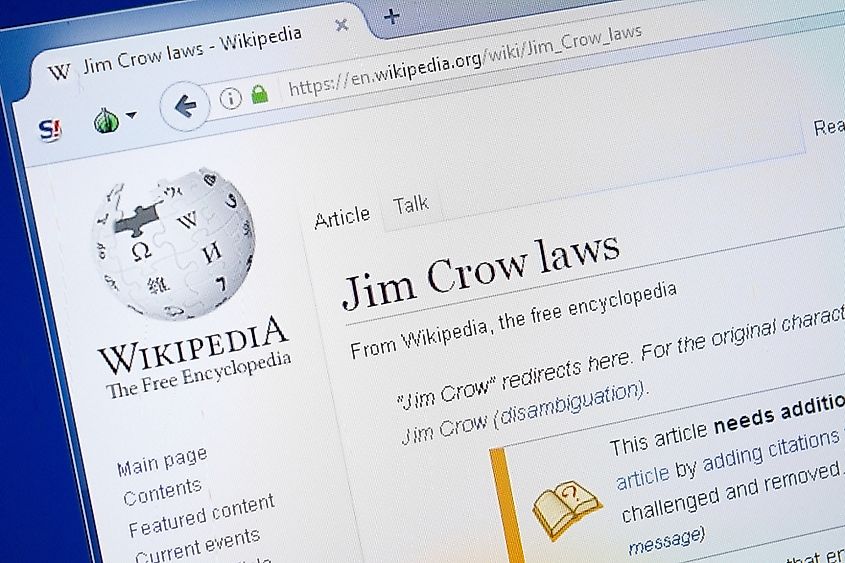 The popularity of the character was so big that a set of laws were named after him. It is not hard to guess that the laws were based on racist beliefs. These laws were enforced during the Reconstruction period in American history in the 19th century, and they perpetuated racial segregation in the South of the United States. The saddest thing about these laws is that they were actually enforced all the way up to 1965. Their goal was to remove any political and economic benefits acquired by black people and disenfranchise them.
The laws required that all public facilities enforced racial segregation, mostly in the former Confederate States. These laws started to gain traction in the 1870s. The laws in their most drastic form were upheld until 1896 but still continued in one shape or another until 1965. These laws mandated the segregation of all public places, transportation, and public schools. They demanded that black people should be separate from white people on every occasion.
The Civil Rights Act of 1964 eventually overruled the Jim Crow Laws and ended this dark time in American history. However, the traces of the dark racist past of the country can still be felt, and we need to do everything in our power to abolish any and all racist tendencies and practices completely.