Which Countries Border East Timor?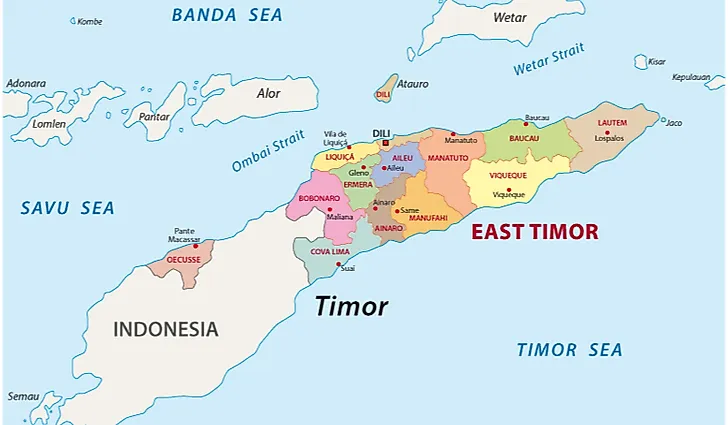 Brief History of East Timor
East Timor, also known as Timor-Leste, is a country in Asia, situated on the eastern part of Timor, an island in the Indonesian archipelago. The country's territory includes the eastern half of island of Timor, an enclave on West Timor known as Oecusse, and neighboring islands such as Jaco and Atauro. East Timor was known as Portuguese Timor until November 1975, when it declared its independence. Indonesia invaded the country on December 7, 1975, just nine days after gaining independence from the Portugal, and it subsequently became Indonesia's 27th province. Indonesia gave up control of East Timor in 1999 after encouragement from the United Nations, and the country became a sovereign state on May 20, 2002.
Geography of East Timor
The island of Timor is part of Maritime Southeast Asia. It is the largest island of the Lesser Sunda Islands, and is separated from Australia by the Timor Sea. The island is divided into two parts: east and west. The western part belongs to the Republic of Indonesia, and is sometimes referred to as West Timor, while the eastern part forms the nation of East Timor.
The country covers a total area of approximately 14,874 square kilometers, and is bounded to the north and northwest by Wetar Strait and Ombai Strait, respectively. The Timor Sea, located to the southeast, separates East Timor from Australia. East Timor is a mountainous country, and its highest point is Tatamailau, which has an elevation of 9,721 feet above sea level. The country experiences tropical climate and is generally hot and humid with distinct dry and rainy seasons. 
Countries Bordering East Timor
East Timor has only two neighbors: Indonesia and Australia. The country shares a land border with Indonesia, and is separated from Australia by a maritime border.
Indonesia
East Timor's immediate neighbor is Indonesia. The two countries share a land border on the island of Timor. Indonesia's portion of the island, West Timor, constitutes part of Indonesia's southernmost province of East Nusa Tenggara. Indonesia occupied East Timor in 1975 following the country's declaration of independence from Portugal. The occupation of East Timor by Indonesia was marked by violence and brutality, resulting in 102,800 deaths. The Indonesian government subjected East Timorese to systematic and routine torture, execution, sexual slavery, starvation, and massacre. The occupation of East Timor has been labeled genocide, and is taught as part of the Genocide Studies Program at Yale University. Indonesia relinquished its occupation of East Timor in 1999.
Australia
Australia is East Timor's southern neighbor, separated by the Timor Sea. The island of Timor lies approximately 610 kilometers from the city of Darwin, Australia. Australia has played a critical role in shaping East Timor's history, and the two countries have close political, social, and trade ties. Australia was a leading supporter of East Timor during its first 10 years of independence by ensuring the country's security and stability. It provided military forces to help stabilize stabilize the country after it gained independence from the Indonesia in 1999. Australia continues to provide aid to East Timor to date. However, the Australian-East Timor spying scandal has threatened to break the strong relations between the two countries.