The Largest Tech Companies in the World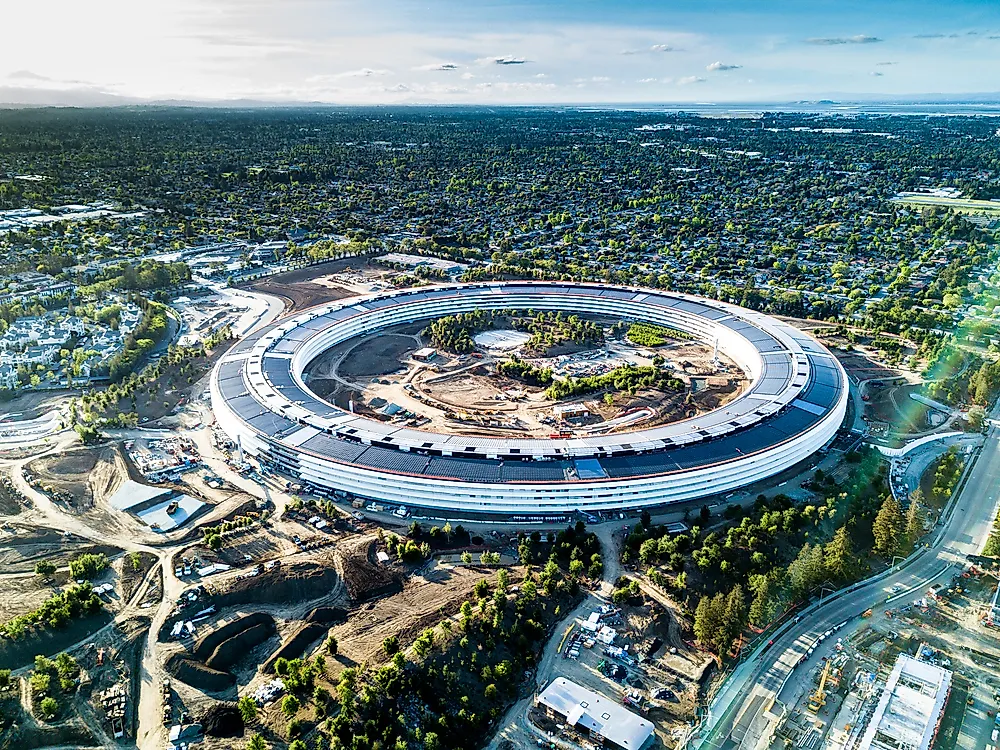 Technology companies primarily produce computer hardware, internet, telecom equipment, software, semiconductors, e-commerce, and computer services. This article takes a look at some of the largest technology companies in the world by revenue.
Apple Inc.
Apple was founded in April of 1976 by Steve Jobs, Ronald Wayne, and Steve Wozniak. Its headquarters are located in Cupertino, California in the United States. Today, it has 115,000 employees and 478 retail stores in 17 countries. Apple is the largest technology company in the world with an annual revenue of approximately $29.2 billion. This revenue contributes 1.25% of the US national gross domestic product (GDP). In 2014, Apple become the first US company valued at over $700 billion.
Samsung Electronics
Samsung was founded in Suwon, South Korea in 1969, when it primarily produced electrical appliances and electronics. Today, it is the second largest technology company in the world with annual revenue of $211.9 billion. Samsung has approximately 319,000 full-time employees in 80 countries. Additionally, this company is the largest producer of mobile phones, smartphones, and televisions in the world.
Amazon
The third largest technology company is Amazon. This organization has an annual revenue of $177.9 billion and employs around 230,800 full-time employees. Its headquarters are located in Seattle, Washington in the United States. Amazon was founded in 1994 by Jeff Bezos as an online bookstore. It later incorporated DVD and CD sales, video and audiobook downloading and streaming, software, apparel, video games, jewelry, food, and toys. Today, it is considered a cloud computing and electronic commerce company. Amazon is the largest internet retailer by both sales and market capitalization.
Foxconn
Foxconn is the fourth largest technology company in the world with average annual revenue of $154.7 billion. It was founded in 1974 by Terry Gou as Hon Hai Precision Industry; Foxconn was originally its trade name. Its headquarters are located in New Taipei City, Taiwan and it employees 1.3 million individuals on a full-time basis. Foxconn is a contract manufacturer, meaning that it produces electronic components and products for other companies. Some of its biggest clients include: Nokia, Nintendo 3DS, iPad, iPod, iPhone, Blackberry, Playstation 3, Playstation 4, and Xbox One. 
Which Are The World's Largest Technology Companies?
| Rank | Company | Revenue (Billions) | Location |
| --- | --- | --- | --- |
| 1 | Apple Inc. | $229.2 | United States |
| 2 | Samsung Electronics | $211.9 | South Korea |
| 3 | Amazon | $177.9 | United States |
| 4 | Hon Hai Precision/Foxconn | $154.7 | Taiwan |
| 5 | Alphabet Inc. | $110.8 | United States |
| 6 | Microsoft | $90.0 | United States |
| 7 | Huawei | $89.3 | China |
| 8 | Hitachi | $84.6 | Japan |
| 9 | IBM | $79.1 | United States |
| 10 | Dell Technologies | $78.7 | United States |