Society
Biggest Cities Of Costa Rica
San José, the capital and most populous city of Costa Rica, is also the political, cultural, and economic center of the country.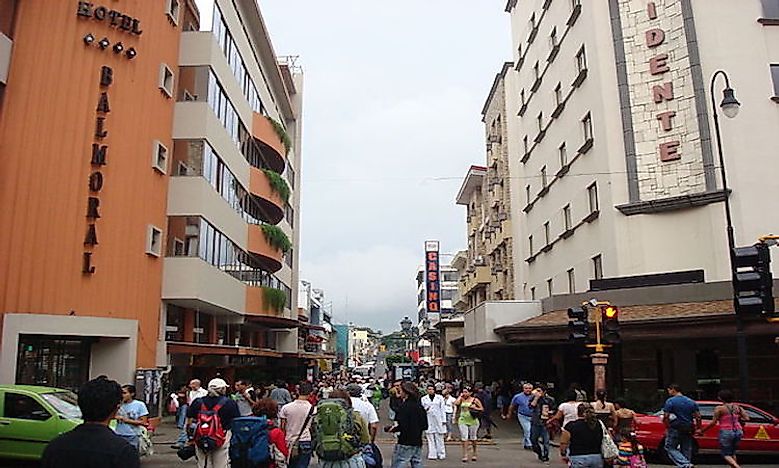 Demographics Of Costa Rica
Costa Rica is located in Central America between Nicaragua and Panama bordering the Caribbean Sea and North Pacific Ocean. The country has an estimated population of 4,872,543 people who mainly reside in the urban centers. The white or Mestizo group makes up to 83.6% of the population followed by 6.7% Mulato, 2.45% indigenous, 2.4% blacks of African origin. The Costa Rican residents are mainly Roman Catholic with 76.3% adherents, Evangelical 13.7%, Jehovah witness 1.3% other Protestants 0.7%, other religion 4.8% with 3.2% of the population adhering to no faith. The country has a high dependency ratio of 45.4% and a poverty rate of 20%. The population growth rate is at 1.19% with 15.7 births/1000 population and a death rate of 4.6 deaths/1000 people. Maternal mortality rate is at 25deaths/100,000 live births and infant mortality rate is at 8.3 deaths/1000 live births. The life expectancy for males is 75.9 years while that of females is 81.4 years.
San José was founded around 1739 and is the largest city in Costa Rica with a population of 309,612. San José is located in the central valley, in the province of San Jose and serves as the capital of Costa Rica with national government offices located here. The city is an important economic and political center in Costa Rica.
2. Limón (Puerto Limón)
Limon is the capital city of Limon province founded in 1870. The city has a total population of 55,667 people who are from various cultures making the city a multicultural urban center in Costa Rica. The city is composed of Afro-Caribbean who speaks Spanish and Limonese Creole. Limon has two main ports through which most of the Costa Rican exports are shipped.
3. San Francisco
San Francisco is a district located in Heredia province with a population of 40,840 people making it the largest in Heredia province. San Francisco is mainly a residential and industrial town and has some of the famous motels.
4. Cinco Esquinas
Cinco Esquinas is located in San Jose province within Tibás district and has a population of 36,627. Cinco Esquinas covers an area of 0.66km² with an altitude of 1158m above sea level.
5. Desamparados
Desamparados is a city in San Jose province with a population of 36,437and it is also the name of the district that includes the city. It is in the southern part of the capital city of San Jose. The city covers an area of 3.03km2. The city lies in an area with an elevation of 1,162 meters.
Problems Associated With The Biggest Cities In Costa Rica
The largest cities in Costa Rica are home to a large number of people who move to these cities in search of employment and educational opportunities. However, this population increase in the cities has led to a set of problems such as congestion, increased crime rates, and violence. The rapid population growth in the country is likely to put a strain on the natural resources and decreased employment opportunities. Transport routes especially roads are faced with an influx of traffic slowing down movement from one place to another and increasing the chances of traffic accidents. Poverty rates in the country have led to increased crime rate and violence thus undermining the general security of the Costa Ricans. Congestion of people in the town has resulted in shortages of accommodation facilities and water. Other important cities in Costa Rica include Liberia, Puntarenas, San Vicente, Barranca, and Curridabat.
Which Are The Biggest Cities Of Costa Rica?
| Rank | Name | Province | Population |
| --- | --- | --- | --- |
| 1 | San José | San José | 309,672 |
| 2 | Limón (Puerto Limón) | Limón | 55,667 |
| 3 | Alajuela | Alajuela | 42,889 |
| 4 | San Francisco | Heredia | 40,840 |
| 5 | Cinco Esquinas | San José | 36,627 |
| 6 | Desamparados | San José | 36,437 |
| 7 | Liberia | Guanacaste | 34,469 |
| 8 | Puntarenas | Puntarenas | 32,460 |
| 9 | San Vicente | San José | 31,693 |
| 10 | Barranca | Puntarenas | 31,386 |
| 11 | Curridabat | San José | 30,316 |
| 12 | Paraíso | Cartago | 30,049 |
| 13 | San Isidro de El General | San José | 28,527 |
| 14 | San José de Alajuela | Alajuela | 27,774 |
| 15 | Purral | San José | 26,767 |
| 16 | San Pedro | San José | 26,524 |
| 17 | Ipís | San José | 26,155 |
| 18 | San Miguel | San José | 25,691 |
| 19 | Aguacaliente (San Francisco) | Cartago | 25,382 |
| 20 | San Juan (San Juan de Tibás) | San José | 24,944 |
| 21 | Turrialba | Cartago | 24,671 |
| 22 | Cartago | Cartago | 23,978 |
| 23 | Guadalupe | San José | 23,723 |
| 24 | Quesada | Alajuela | 23,331 |
| 25 | Aserrí | San José | 23,059 |
| 26 | San Rafael | Cartago | 22,592 |
| 27 | San Rafael Abajo | San José | 22,481 |
| 28 | San Felipe | San José | 22,267 |
| 29 | Patarrá | San José | 21,374 |
| 30 | Heredia | Heredia | 20,191 |
| 31 | San Nicolás | Cartago | 20,171 |
| 32 | Mercedes | Heredia | 19,717 |
| 33 | Calle Blancos | San José | 19,411 |
| 34 | San Rafael | San José | 19,198 |
| 35 | Concepción | San José | 18,762 |
| 36 | Ulloa (Barrial) | Heredia | 17,747 |
| 37 | Tejar | Cartago | 17,746 |
| 38 | Patalillo | San José | 17,731 |
| 39 | San Pablo | Heredia | 17,519 |
| 40 | Cañas | Guanacaste | 16,512 |
| 41 | San Antonio | San José | 16,072 |
| 42 | Mata de Plátano | San José | 15,926 |
| 43 | Gravilias | San José | 15,846 |
| 44 | Tirrases | San José | 15,826 |
| 45 | Guápiles | Limón | 15,723 |
| 46 | San Rafael | Alajuela | 15,596 |
| 47 | Siquirres | Limón | 15,259 |
| 48 | San Diego | Cartago | 15,132 |
| 49 | San Isidro | San José | 14,830 |
| 50 | Carmen | Cartago | 14,385 |
| 51 | San Juan de Dios | San José | 13,786 |
| 52 | Nicoya | Guanacaste | 13,334 |
| 53 | Alajuelita | San José | 12,247 |