Society
Biggest Cities In Mongolia
Located in North-Central Mongolia, Ulaanbaatar is the capital and most populous city in Mongolia.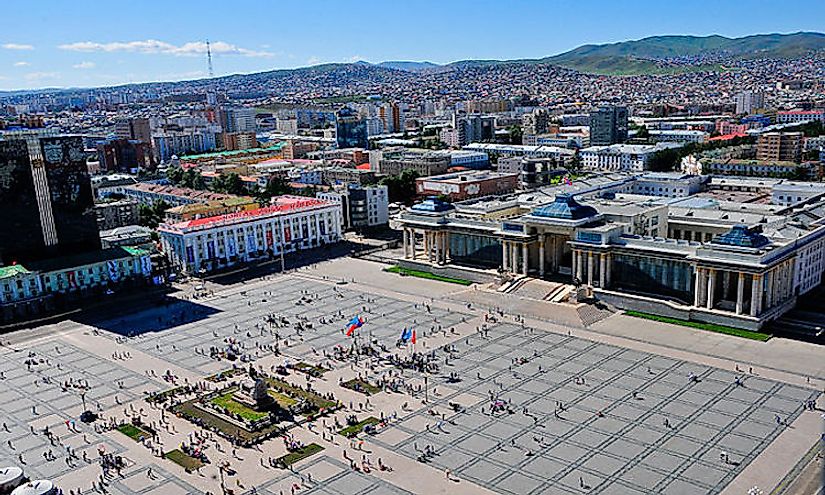 Mongolia is a landlocked country located in the Eastern region of Central Asia bordering China, Russia, and Kazakhstan. Mongolia has a population of about 3 million people. Found in North Central Mongolia, Ulaanbaatar is the capital city and also the largest city accommodating 45% of Mongolia's population.

The Six Biggest Cities In Mongolia
Ulan Bator
Located in North Central of Mongolia is Ulan Bator also officially known as Ulaanbaatar. Ulan Bator is not only Mongolia's capital city but also the largest city in the country with a population of more than 1.3 million according to a census of 2014. Ulan Bator was established in 1639 as a nomadic Buddhist monastic center which was permanently settled in 1778 at its present location after changing it 28 times before. Ulaanbaatar is Mongolia's industrial, financial, and cultural hub and with time has developed into a big manufacturing center. Currently, Ulan Bator has a population of 844,818.
Erdenet
Located in northern Mongolia in the valley between the Orkhon and the Selenge is Erdenet which is officially known as Bayan-Öndör sum. Erdenet is the capital of the Aimag meaning Province of Orkhon. Erdenet was founded in 1974 and currently has a population of 79,647.
Darkhan
Most of Darkhan is an industrial region which was built with extensive economic aid from the Soviet Union in 1961. Darkhan is also the capital of the Province of Darkhan-Uul and the provinces industrial hub. Most of Darkhan population lives in apartments while the remainder of the population in Darkhan's outskirts lives in yurts. Darkhan has a population of 74,300 inhabitants.
Khvod
Located at the foot of the Altay Mountains on Mongol on River Buyant Khovd officially known as Jargalant sum and is also the capital of the Province of Khovd in Mongolia. The city of Khovd was founded in the 17th century by Galdan Khan of Dzungaria on the Khovd River banks. Horticulture was established around Khovd due to land tilling prowess from central Asian captives. At present Khovd is most famous for the harvest of watermelon and tomato in the summer and also the availability of high-quality products. The inhabitants of Khovd belong to more than ten ethnicities making up a population of 30,500 people.
Ölgii
Located in Western Mongolia is Ölgii the capital of the Province of Bayan-Ölgii. Initially, Ölgii was an ethnic Kazakh village before the modern nation of Mongolia was founded in 1911. The city's primary dialect is Kazakh and is best known for its embroidery, Kazakh music, hunting with eagles mostly seen each October during the annual Golden Eagle Festival and art. Ölgii has at least four mosques and has a population of 28,400 inhabitants.
Ulaangom
Located on the slopes of Mount Kharkhiraa is Ulaangom which was believed to have been established in 1686 whose Monastery was erected in 1871 and was known as the Dechinravjaa Monastery. Ulaangom has a number of cultural and educational institutions and organizations. The city has a University branch, five secondary schools, and a vocational college. Ulaangom has a population of 28,085 people.
Challenges In Mongolia
The country of Mongolia is currently facing different challenges including desertification, pollution of water supply, urban pollution, illegal hunting of endangered species, and illegal harvesting of timber. Air pollution and desertification are the most endemic problems in the country. The main sources of pollution in urban centers and particularly Ulaanbaatar are vehicles and stoves including thermal power stations. Air pollution in the city has reached critical levels and visibility occasionally reaching only ten meters because of the smog.
What is the biggest city in Mongolia?
Ulaanbaatar is Mongolia's largest city with a population of over 1.3 million.
Which Are The Biggest Cities In Mongolia?
| Rank | Name | Population |
| --- | --- | --- |
| 1 | Ulan Bator | 844,818 |
| 2 | Erdenet | 79,647 |
| 3 | Darhan | 74,300 |
| 4 | Khovd | 30,500 |
| 5 | Ölgii | 28,400 |
| 6 | Ulaangom | 28,085 |
| 7 | Hovd | 27,924 |
| 8 | Mörön | 27,690 |
| 9 | Bayanhongor | 26,252 |
| 10 | Arvayheer | 25,622 |
About the Author
Benjamin Elisha Sawe holds a Bachelor of Arts in Economics and Statistics and an MBA in Strategic Management. He is a frequent World Atlas contributor. 
This page was last updated on April 25, 2017.
Citations
Your MLA Citation
Your APA Citation
Your Chicago Citation
Your Harvard Citation
Remember to italicize the title of this article in your Harvard citation.