Where Is PayPal Headquartered?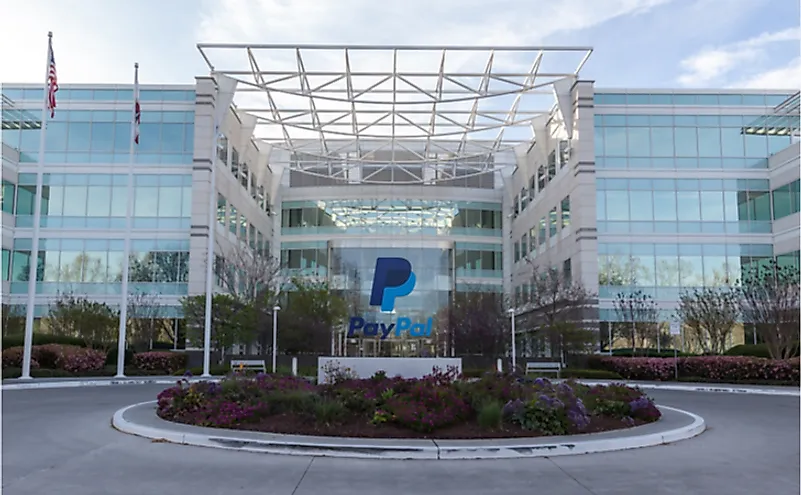 PayPal is a financial company that was founded in December 1998 as a worldwide online payment system. It processes electronic payments and transfers. The company is among the leading online payment systems in the world. It has about 148 million users who process slightly above nine million payments every day in over 200 currencies. The owners of PayPal are eBay Corporation. Key individuals mandated with the running of the company are John Donahoe (who is the Chairman) and Daniel Schulman (who is the President and CEO). As of 2018, the company's employees were 21,800 in number. The main headquarters of PayPal is based at the North 1st Street in San Jose, California (United States).
PayPal Headquarters
Two offices serve as the PayPal headquarters in the US. One of the headquarters is located in Nebraska while the other one is in California. The offices in California are located in San Jose City whereas those in Nebraska are found in Omaha City. The California location acts as the corporate headquarters whereas the Nebraska location acts as the firm's operations center. PayPal operates 65 offices which are located in 29 countries where they have set up a physical presence. PayPal offices in the US are about 30 in number with some of the locations being Austin (Texas), Chicago (Illinois), Wilmington (Delaware), Chandler (Arizona), and Salt Lake City (Utah). Besides the United States, other PayPal offices are in Berlin (Germany), Milano (Italy), Shanghai (China), Tel-Aviv-Yafo (Israel), Brussels (Belgium), Chennai (India), Paris (France), and Toronto (Canada) among other countries. PayPal's European headquarters are based in Luxembourg while its international headquarters are found in Singapore. Furthermore, PayPal has software development center in Chennai (India), data service center in Austin (Texas, US), and customer support centers in Germany, Arizona (US), China, Ireland, and Omaha (Nebraska, US).
The expansion of PayPal has been as a result of a lot of acquisitions to acquire every system that was necessary for the support of its large customer base. Examples of these acquisitions include Sweden's iZettle (provided PayPal with digital marketing and in-store expertise strength), Xoom Corporation (facilitated the growth of PayPal's international markets), and Paydiant (provides PayPal with cloud-based services). In total, PayPal has had close to 19 acquisitions that were targeted to strengthen its operations.
Challenges Faced By PayPal
The first major challenge faced by PayPal as with other businesses is stiff competition. Some of the major competitors of the company include Payoneer, Western Union, Request Network, Visa, Stripe, American Express, and Century Business Solutions among other online payment options. Much as the company faces heightened competition in the online payment space, it still maintains a large market share with its annual revenue in 2018 being $15.5 billion. The second challenge that PayPal encountered in the initial stages of its formation was fraudulent activities. However, the company has since adopted high safety systems which have increased the security of its online transactions.