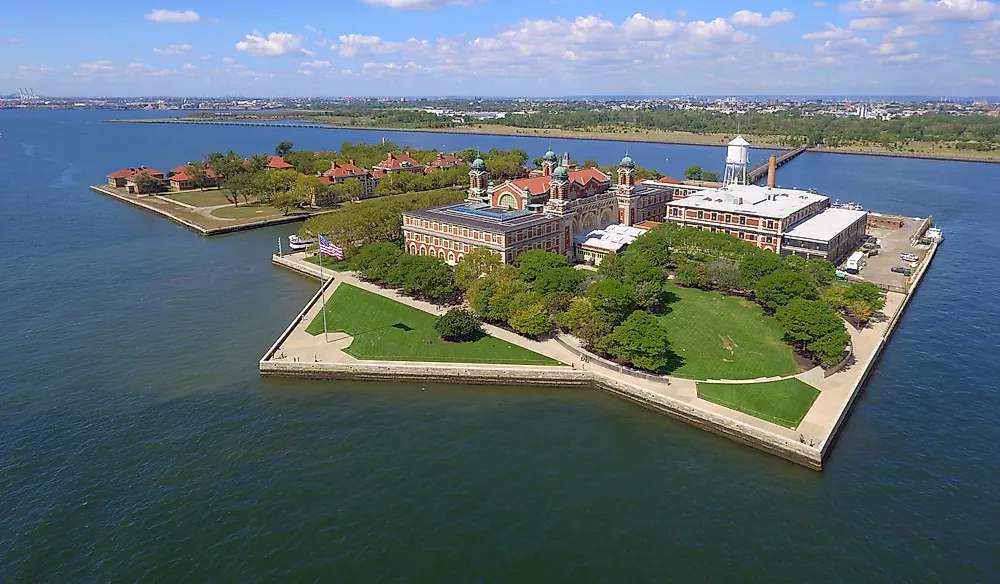 Ellis Island is located in New York Bay, north of Liberty Island and east of Liberty State Park. The island initially covered 3.3 acres but was expanded over time to 27.5 acres. Ellis Island was contested by the states of New York and New Jersey until 1998 when the Supreme Court allowed New York to retain the original 3.3 acres while New Jersey was awarded sovereignty of the reclaimed acreage. Between 1892 and 1954, the island served as a gateway for immigrants seeking admission to the United States. It was the busiest inspection station in the country for over 60 years, and over 12 million people entered the United States through the port. Samuel Ellis, for whom it is named after, owned the island until the government bought it in 1808. The military built Fort Gibson as part of a harbor defense system to defend against a naval invasion of New York City.
National Gateway
Before 1890, states, rather than the federal government, regulated immigration into the United States. The New York state immigration offices in Castle Garden served over 8 million immigrants between 1855 and 1890. It became apparent that the office was ill-equipped to handle the growing number of immigrants from Europe prompting the government to construct a federally-operated immigration station. On January 1, 1892, an immigration station was opened, and for the next 60 years, about 12 million immigrants entered the country through Ellis Island. On the morning of June 15, 1897, the immigration station was reduced to ashes by fire. No lives were lost but state and federal immigration records dating back to 1855 were lost. The federal treasury ordered the immediate reconstruction of fireproof buildings to avert future disasters.
A Record Year for New Immigrants
The number of immigrants to the United States slowed down in the early 1900s. In 1905, the numbers began rising again, and in 1907 a record 1.25 million people were processed at the island. Immigration slowed down again after the United States joined the First World War as several suspected enemy aliens were detained on the island between 1918 and 1919. Fear and suspicion spread across the United States even as thousands of suspected radical immigrants were deported.
National Monument
The national park service (NPS) assumed the role of managing the island after President Lyndon Johnson proclaimed it a national monument in 1965 as part of the Statue of Liberty National Monument. It was partially opened to the public between 1976 and 1982 and later closed down for renovation. It was reopened on September 10, 1990, with the main building being converted to Ellis Island National Museum of Immigration.
.