Where Is Ascension Island?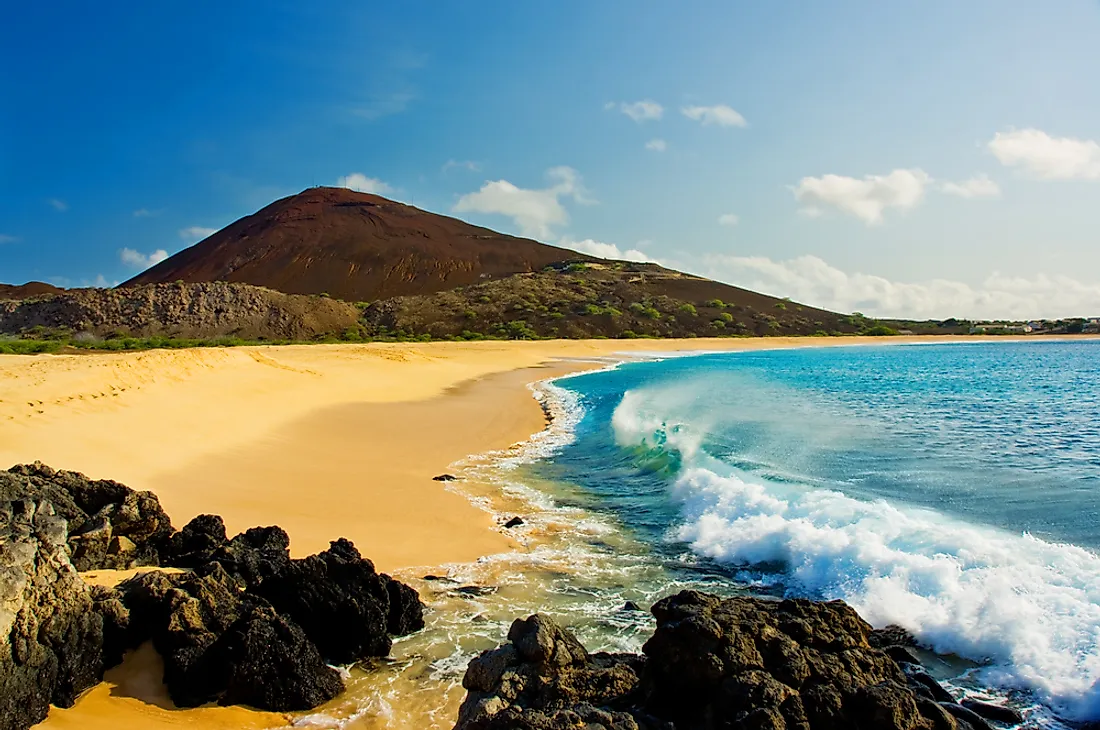 Ascension Island is a part of Saint Helena, Ascension and Tristan da Cunha, which is a British Overseas Territory (BOT) located in the South Atlantic Ocean. The island is approximately 1,400 mi from the coast of Brazil and 1,000 miles from the African shoreline. Additionally, Ascension Island is roughly 800 mi from St Helena and 2,300 mi from Tristan da Cunha.  Historically, Ascension served as a vital coaling station and safe haven for ships and commercial airliners, particularly when seaplanes were used for international air travel. The island also served as a British air and naval station during the Second World War.
Geography
Ascension Island occupies an area of approximately 34 sq mi and is a volcanic islet that contians 44 distinct dormant craters. A considerable percentage of its terrain is described as a wasteland of cinder cones and lava flows, and the island's soil is primarily made up of clinker, which is broken lava blocks. The last volcanic eruption on the island is believed to have occurred in the sixteenth century. Ascension contains numerous alkaline rocks such as rhyolite, trachyte, trachyandesite, and basalt. The island is also treeless and arid, with no plants growing on its shores.
History
The island was discovered by Portuguese navigator João da Nova on May 21, 1501. This date fell on Ascension Day, a Christian holy day, and João da Nova therefore the island was named Ilha-da-Ascensão after the religious feast day. Ascension was a dry, barren islet that was not appealing to most passing vessels, except for hunting fresh meat, and therefore was not claimed by the Portuguese Crown. Sailors hunted sea birds and large green sea turtles, which laid their eggs on Ascension's beaches, and goats were later introduced to the island by the Portuguese as a source of food for future explorers.
In 1701, British Royal Navy warship, HMS Roebuck, which was captained by William Dampier, sank in Clarence Bay, off the northwest part of Ascension. The 60 survivors lived on Ascension Island for two months until they were rescued. The survivors found a water spring in the island's interior, which is now referred to as Breakneck Valley, as well as a small source of fresh water that was named Dampier's Drip after the captain. The first organized settlement on the island was established in 1815 when Britain fortified the region after imprisoning Napoleon I on the island of St Helena, which is located southeast of Ascension Island. Later that year, British Royal Navy ships HSM Peruvian and HSM Zenobia claimed the island, and it became a naval base, referred to as a stone frigate. The island's location made it a useful stopping-point for ships and communications. The British established a Royal Marines barracks on Ascension Island in 1823.
Demographics
Ascension Island had an estimated population of 806 in 2016, which included 556 people from Saint Helena and 250 people of other nationalities. The island contains five settlements, which are Traveler's Hill, Wide-awake Airfield, Cat Hill, Georgetown, and Two-Boats. There are also cottages on Green Mountain that serve as the residence of Ascension Island's Administrator, and are sometimes occupied by visitors. However, Ascension Island has no permaent residents, but rather anyone living on the island must have a contract of employment. Additionally, all visitors to the island require written permission from the Administrator.