Politics
What Justices Are Currently On The U.S. Supreme Court?
8 justices appointed by 5 Presidents currently sit on the U.S. Supreme Court, with 1 slot remaining vacant as of 2016.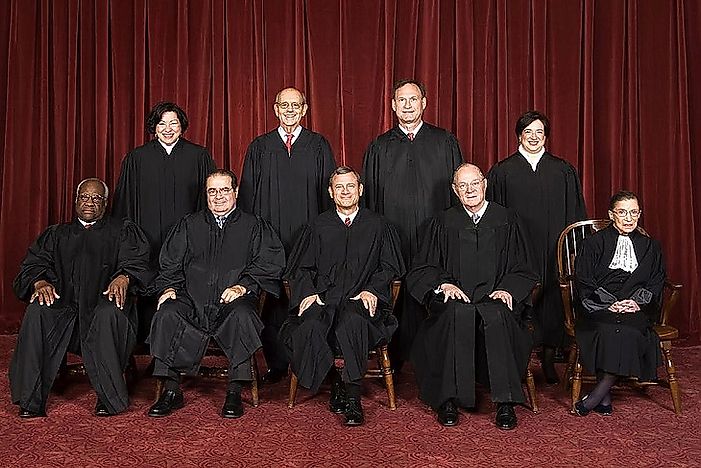 Eight justices appointed by five different Presidents currently sit on the U.S. Supreme Court, with one slot remaining vacant as of 2016 following the death of Justice Antonin Scalia. The Supreme Court of the US is the highest court in the country and is made up of the Chief Justice of the US and other eight associate justices. The president nominates the justices, and they are appointed after the confirmation of the Senate. The Justices in the US have life tenure. Elena Kagan was named the Chief Justice of the Supreme Court on August 7, 2010, and became the 112th justice to serve on the Supreme Court of the US. The Supreme Court was established in 1789 under the US constitution which states that judicial power of the US is vested in the Supreme Court. The following are the current members of the US Supreme Court.
John Roberts
Justice John Roberts was born on January 27, 1955 in New York, and was raised in Indiana. He is the only son of John Roberts and Rosemary Podrasky Roberts. He has three sisters, namely including Barbara, Kathy, and Peggy. In high school, he was the captain of the school football team because of his leadership skill, though he was not a gifted athlete. He attended Harvard University and studied Law School. He served in the court of appeals for around two years before he was confirmed Chief Justice of the US on September 29, 2005, after he was nominated by President George W. Bush. In 2015, Justice Roberts made a landmark ruling on two legislative cases. First, he sided with the liberal arm of the court to reaffirm the legality of Obamacare, together with Justice Anthony Kennedy held the swing the vote of the court. Secondly, he voted against the decision of the court to legalize gay marriage throughout the US.

Anthony Kennedy
Anthony Kennedy was born on July 23, 1936 in California as the second born son of Anthony Kennedy and Gladys McLeod. He attended McClatchy High school in Sacramento and graduated in 1954, and later joined Stanford University to study constitutional law. He also attended London School of Economics and later joined Harvard Law School graduating in 1961. He briefly served in California Army National Guard for one year, and from 1962 he went to private practice in Sacramento and San Francisco. In 1963 he married Mary Davis and together they had three children. In the mid-1970s he joined the US court of appeal and on February 18, 1988, he was appointed by President Ronald Reagan as Supreme Court justice. Initially, Kennedy was a conservative and voted with Chief Justice William and Justice Scalia more than 90% of the time. Justice Kennedy voted for Obamacare to allow the federal government to provide subsidies to help all citizens access health insurance.
Clarence Thomas
Clarence Thomas was born in Georgia on June 23, 1948 where he would grow up in an African-American community alongside of his younger brother Lee and his older sister Emma. Early in life, he wanted to be a priest and attended a seminary, which he later quit after the assassination of Martin Luther King, Jr. He then attended Yale Law School and after that served in different positions in the administration of Reagan and Bush. President Bush nominated Thomas Clarence on October 23rd, 1991, becoming the second African-American justice of the Supreme Court in the US. His appointment was controversial after alleged sexual harassment by lawyer Anita Hill. Clarence Thomas is a staunch conservative always opposing the liberals on issues such as the gay marriage and affirmative action.
Ruth Bader Ginsburg
On March 15, 1933, Ruth Ginsburg was born in Brooklyn, New York as the second daughter of Nathan and Cecilia Bader, who were Russian Jewish immigrants. Ruth attended James Madison High school and later joined Cornell University graduating with a degree in Bachelor Arts in governance. She got married to Martin Ginsburg in 1954, and they moved to Oklahoma. She joined Harvard Law School in 1956, and she was one of the nine women out of 500 students. Ruth Bader also received LL.B from Columbia Law School. Between 1959 and 1961 she worked as a law clerk in US district court for South District of New York. Ruth Ginsburg in 1980 was appointed by President Jimmy Carter to the US Court of Appeal for the District of Columbia Circuit. On June 14, 1993, she was nominated as a justice of the Supreme Court by President Clinton and took office on August 10, 1993.
Other Current Justices
Other Justices currently on the Supreme Court include Stephen Brayer, who was appointed by President Clinton on August 3, 1994, Justice Samuel Alito, who was appointed on January 31, 2006 by President George Bush, Justice Sonia Sotomayor, who was appointed on August 8, 2009 by President Obama, and Justice Elena Kagan, who was appointed on August 7, 2010 by President Barack Obama.
| | |
| --- | --- |
| Current Members of the U.S. Supreme Court | Appointment |
| Chief Justice John Roberts | September 29th, 2005 by George W. Bush |
| Anthony Kennedy | February 18th, 1988 by Ronald Reagan |
| Clarence Thomas | October 23rd, 1991 by George H. W. Bush |
| Ruth Bader Ginsberg | August 10th, 1993 by Bill Clinton |
| Stephen Breyer | August 3rd, 1994 by Bill Clinton |
| Samuel Alito | January 31st, 2006 by George W. Bush |
| Sonia Sotomayor | August 8th, 2009 by Barack Obama |
| Elena Kagan | August 7th, 2010 by Barack Obama |