What is the Currency of Sri Lanka?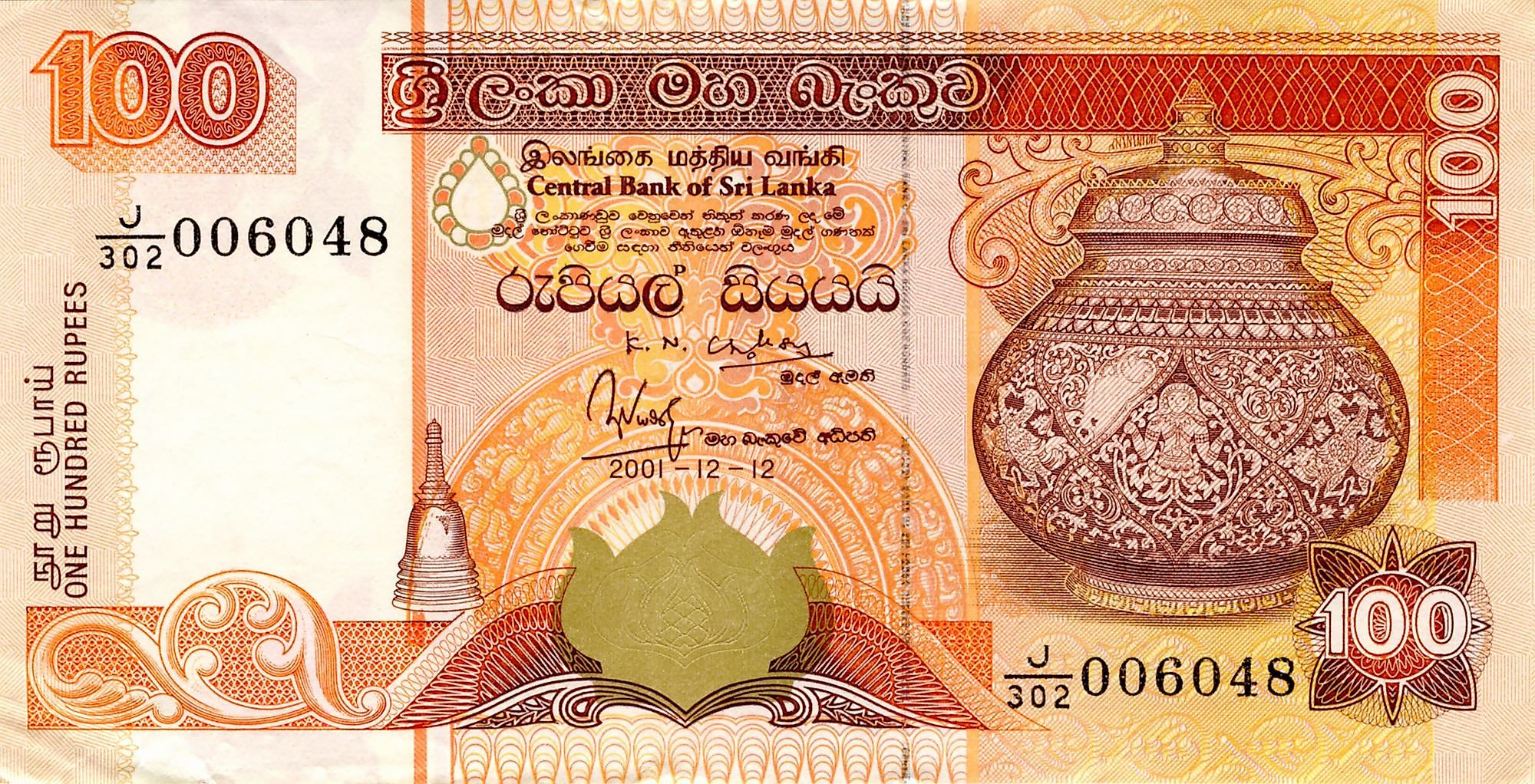 The currency in Sri Lanka is the Sri Lankan Rupee which has a sign of Rs and a currency code LKR. One Sri Lankan Rupee is comprised of 100 cents. Sometimes, 'Rp' and 'SLR' are used as currency symbol and abbreviation.
The Central Bank of Sri Lanka
The Central Bank of Sri Lanka (CBSL) was established in 1950 under the Monetary Law Act of 1949. In Sri Lanka, only the CBSL is authorized to issue currency notes and coins. In 1884, the Currency Board System was created to carry out the central banking functions. However, after independence in 1948, the government sought United States' help to set up a central bank. The US government obliged and Mr. John Exter (creator of Exter's Pyramid), was assigned to advise and report on the feasibility of setting up of a central bank in Sri Lanka. Mr. John produced his report, known after his name as the "Exter Report". Based on this report, the Central Bank of Ceylon (CBC) was created in 1949. John Exter served as the founder governor of the CBC from 1950 to 1953. CBC was renamed the Central Bank of Sri Lanka in 1985.
Banknotes and Coins
The first paper currency was introduced in Sri Lanka during the Dutch period (1640 AD - 1796 AD). It was known as Kredit Brieven or Kas-nooten. The currently circulating banknotes are of nine denominations. These are, Rs10, Rs20, Rs50, Rs100, Rs200, Rs500, Rs1,000, Rs2,000, and Rs5,000. All banknotes are made up of 100% cotton pulp except for the Rs200 note which was printed on a polymer substance. This note was issued to observe the 50th anniversary of country's independence (1948–1998).
The CBSL has so far issued eleven series of currency notes. The first note series was King George VI series and it had only two denominations (Rs1 and Rs10). The Queen Elizabeth II series was the second note series. Development, Prosperity, and Sri Lankan Dancers form themes of the eleventh series of the banknotes.
Sri Lanka used the British issued notes until 1951 and the British issued coins until 1963. The first homegrown coins began circulating in 1963. These coins had the Emblem of Ceylon on the obverse (front side). This series had seven coin denominations of Cts1, Cts2, Cts5, Cts10, Cts25, Cts50, and Rs1. The Rs2 and Rs5 denominated coins were introduced in 1984. On November 17, 2014, the CBSL issued a new series of Rs10 denominated coins to represent the twenty five districts of Sri Lanka. These coins featured one or more distinctive archaeological, cultural, economic, environmental, religious, or social characteristics of each of Sri Lanka's twenty five districts. The designs of these coins were selected by a nationwide competition called "Design and Shine".
Historical Currency
Some of the ancient coins and notes prevalent in Sri Lanka were Kahapana (punch marked coins), Lakshmi Plaques, Mane less Lion coins, Kahavanu or Lankeshvara coin, Swastika coins, and Massa coins. Foreign coins mostly of Greek, Roman, Chinese, Arabic, and Indian origin found presence in Sri Lanka during the ancient times. During the colonial period, Portuguese, Dutch, and British all brought their coins and currencies to Sri Lanka.