What Is The Capital Of Turkmenistan?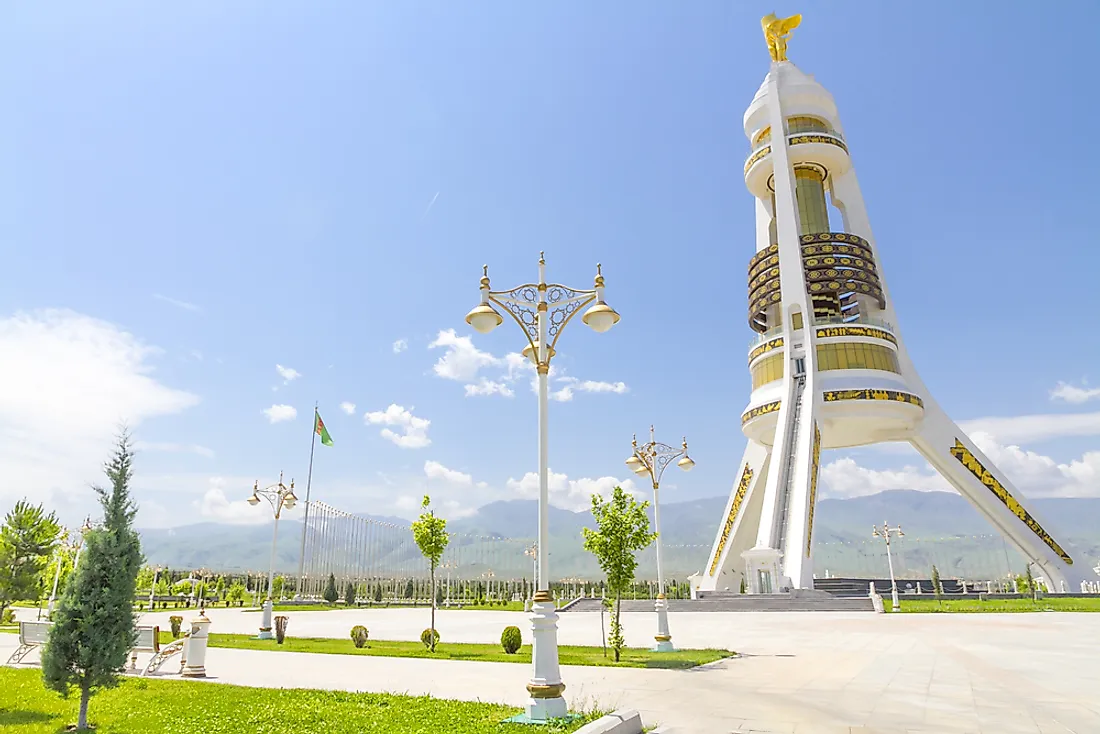 Ashgabat is the capital city of Turkmenistan. It is located in Central Asia bordering the Caspian Sea and is primarily covered by the Karakum Desert. It measures 47 square miles with an estimated population of 755,000 residents. It is known for its white marble buildings and grandiose national monuments which makes it the biggest attraction in Ashgabat.
History
Ashgabat was founded in 1881 and served as an administrative center of Russia's Trans-Caspian region up to 1918. Between the years 1918 and 1925 it became an administrative center of the Turkmen Oblast in Turkmenistan Autonomous Soviet Socialist Republic (ASSR). In February 1925, the administrative center became the capital city of Turkmen Soviet Socialist Republic (SSR) and was finally made the capital city of independent Turkmenistan in October 1991. The growth of Ashgabat has seen it develop into an industrialized city despite the fact that it was hit by one of the worst earthquakes in the 20th century which claimed the lives of around 110,000 people. The catastrophic earthquake with a surface wave magnitude of 7.3 on the Richter scale was not only reasonable for a large amount of casualties but also flattened the city's infrastructure.
Economy
The leading industries in Ashgabat are glass works, carpet weaving, cotton mills, and metal-working. The incredible natural setting has made it a center of the filmmaking industries in Turkmenistan. Ashgabat is a significant stopover of the Trans-Caspian Railway, which aid in the transportation of the industrial products. The city of Ashgabat is home to more than 43 large and 128 medium sized industries, besides more than 1,700 small industrial facilities in and around the suburbs of the city. The famous textile industries include Turkmenbashi, Turkmenkabel, Ashneftemash textile complex.
Education
Ashgabat is home to institutions of higher learning which include research institutions and universities. Some of the biggest learning institutions include the Turkmen State University which traces its roots to 1950. There is also the Turkmen State Medical University, which is directly under the Ministry of Health and Medical in the country. The country has only one foreign university and in 2016 the Japanese university in collaboration with the government established the Technology University of Oguzhan, which offers Japanese system of education and English and Japanese are the languages of instructions.
Transportation
The airport serving Ashgabat is the brand new Oguz Han International airport. The leading airlines include S7 Airlines, Turkish Airlines, and Lufthansa who make several flights in and out of the city every week. Ashgabat has a good train network which runs through the city and connects with the other main towns of Turkmenistan. In addition, the bus system in Ashgabat is reasonable. Unofficial taxis are another common mode of transportation.