World Facts
What Is The Capital Of Hubei Province?
Wuhan is the capital of China's Hubei Province.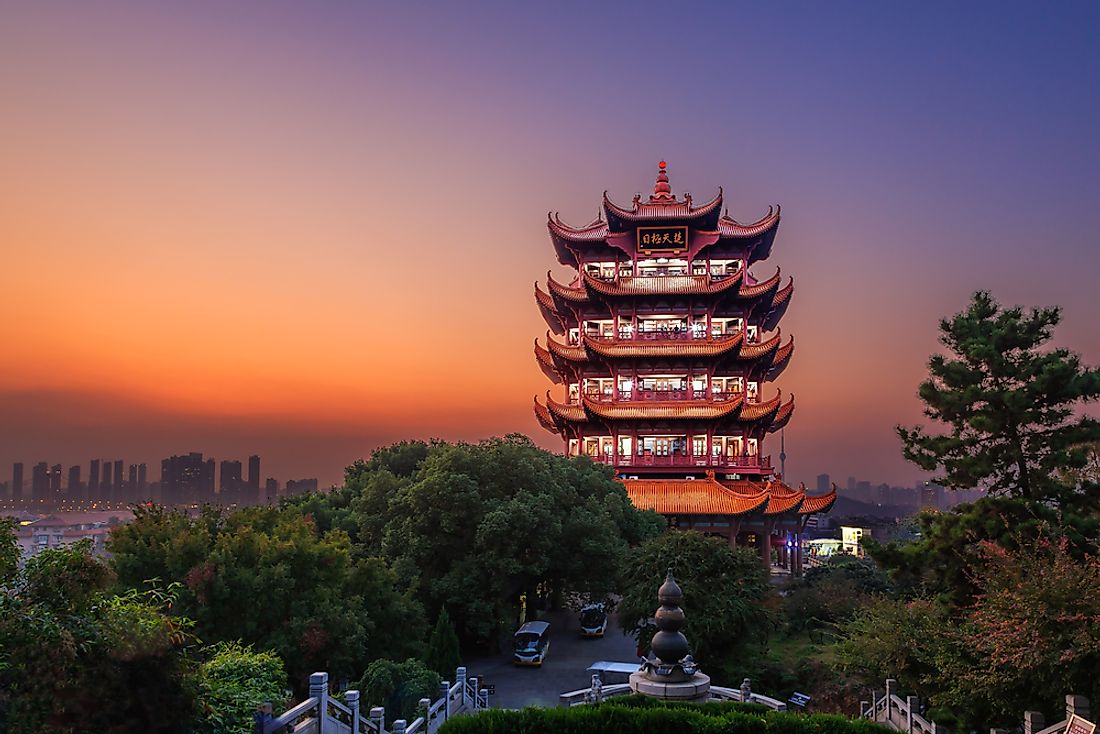 Hubei is a Chinese province located in the central part of the country. It occupies an area of 185,900 km2, making it the 13th most extensive province in China, and has a population of 58,500,000, which ranks as the 9th most populous. Additionally, Hubei is the 12th most densely populated province in the country. The highest point in Hubei is Shennong Peak, which has an elevation of 3,105 m.
Capital of Hubei
Wuhan is the capital of Hubei, and is one of China's nine National Central Cities. The city is located in the east-central part of the province, at the confluence of the Han River and the Yangtze River, in the eastern Jianghan Plain. The city covers an area of 8,494.41 km2 and its metropolitan area is composed of three cities: Hanyang, Hankou, and Wuchang. The terrain of the city varies slightly, as it is hilly in the south but flat and low in the central parts. Wuhan has an average elevation of 37 m above sea level and its highest point of elevation is 709 m above sea level. Wuhan experiences a humid subtropical type of climate, and numerous lakes and ponds dot the city.
History of Wuhan
The area that is now Wuhan was home to some of the oldest settlements in China, and its history dates back more than 3,500 years. The settlements that are now part of modern-day Wuhan were ruled by various dynasties throughout its history and have experienced numerous battles, uprisings, and invasions. The modern city was created as a merger of three cities: Hankou, Wuchang, and Hanyang. Hankou was located on the north bank of the Yangtze River, at the mouth of the Han River. Hanyang and Wuchang were located across the Han River, on the south bank of the Yangtze River. In 1949, following the establishment of the People's Republic of China, these three cities merged to become Wuhan.
Demographics of Wuhan
Wuhan is the biggest city in Central China in terms of population. According to recent estimates, the city was home to more than 10 million people, and its metropolitan area had a population of approximately 19 million. The Han people make up the majority of Wuhan's population. A large segment of the city's population adhere to Chinese folk religion or are not religious. Additionally, Wuhan contains a Buddhist population (14.69%), as well as small Christian and Muslim populations.
Economy of Wuhan
In addition to serving as the political capital of Hubei Province, Wuhan is also the province's transportation, education, economic, financial, and cultural hub. Wuhan is a significant transportation center that contains major roads and railways that connect it with other important Chinese cities. Foreign investment in the city is significant, and various incentives for attracting investment in Wuhan's automotive, iron, steel, and pharmaceutical industries have been introduced. For example, one-third of all French investment value in China is focused in Wuhan. The city also features numerous cultural and historical attractions, which make it a popular tourist spot.
About the Author
Oishimaya is an Indian native, currently residing in Kolkata. She has earned her Ph.D. degree and is presently engaged in full-time freelance writing and editing. She is an avid reader and travel enthusiast and is sensitively aware of her surroundings, both locally and globally. She loves mingling with people of eclectic cultures and also participates in activities concerning wildlife conservation.
This page was last updated on April 29, 2019.
Citations
Your MLA Citation
Your APA Citation
Your Chicago Citation
Your Harvard Citation
Remember to italicize the title of this article in your Harvard citation.