Society
What Former Soviet Republics are Located West of Russia?
Ukraine, Belarus, Moldova, Lithuania, Latvia, and Estonia are all located west of Russia.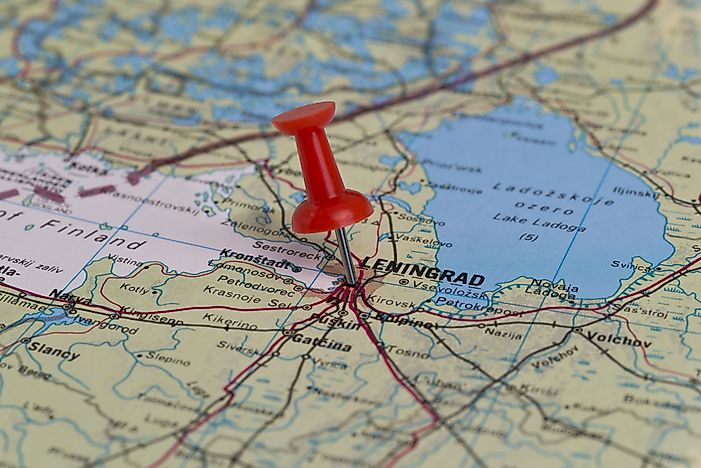 The Union of Soviet Socialist Republics, (USSR), consisted of quasi-states reporting to the Government of the Soviet Union. The Union, which formed in 1922, went by other names like the Soviet Union or Union Republics and practiced a centralized system of governance under the socialist ideology. At a time when socialism and capitalism rivaled each other while trying to spread globally, the USSR crumbled in December 1991. At its peak, the union had fifteen Soviet Socialist Republics, save for Russia. Geographically speaking, Ukraine, Belarus, Moldova, Lithuania, Latvia, and Estonia are former USSR states located west of Russia.
The Baltic States
The Baltic States (Lithuania, Latvia, and Estonia) were not legal members of the USSR since their incorporation into the Soviet Union was illegal. Therefore these states were referred to as independent states under Soviet occupation. Though Russia maintained that this was legitimate, the US, UN, and EU supported the Baltic States' illegitimacy claim. These three states later on joined the EU and NATO though most of their infrastructure was linked to former USSR member states.
Ukraine
Ukraine, Belarus, and Russia formed the Commonwealth of Independent States, (CIS) after the fall of the USSR with Moldova joining later. Ukraine and Moldova have cooperated with other regional bodies not associated with Russia like the Community of Democratic Choice. Interestingly, even after the founding of CIS, Ukraine never ratified the charter and therefore, legally, was never a member of the CIS and finally gave a notice of withdrawal from the body in 2014.
Belarus
Belarus, Russia, Kazakhstan, Kyrgyzstan, and Tajikistan formed the Eurasian Economic Community with Ukraine and Moldova acting as observers. Moldova could not join this community because members should have common borders with all the members, which Moldova does not have. However, this community was terminated in 2015 following the formation of the Eurasian Economic Union (EEU) by the same countries with Moldova as an aspiring member. In 2010, Belarus joined Russia and Kazakhstan to create the Customs Union of Belarus, Kazakhstan, and Russia. Ukraine and Moldova expressed interest in joining the union and shunning the EU. In 2010, Belarus, Russia, and Kazakhstan established the Eurasian Economic Commission (EEC) to enable a single market for goods, labor, and services. EEC is the regulatory body of EEU.
What Happened After The Fall Of The USSR?
After the fall of the USSR, independent countries emerged in Central Asia and Eastern Europe. The countries included Azerbaijan, Georgia, Armenia, Tajikistan, Turkmenistan, Kyrgyzstan, Kazakhstan, and Uzbekistan. In Eastern Europe (west of Russia) emerged Ukraine, Belarus, Moldova, Lithuania, Latvia, and Estonia. Within Eastern Europe, there were countries like Poland, East Germany, Yugoslavia, Albania, Bulgaria, Hungary, Romania, and Czechoslovakia who were not part of the USSR but were under Soviet domination. All these countries were equally freed. All former USSR states are now independent countries. East Germany reunited with West Germany. Save for the Baltic States, former USSR states to the west of Russia tried forming regional security and economic blocks, but to no avail. Those that have been formed are weak while some of these nations appear not to be sure of the way forward whether to follow socialism or democracy.
This page was last updated on August 28, 2017.
Citations
Your MLA Citation
Your APA Citation
Your Chicago Citation
Your Harvard Citation
Remember to italicize the title of this article in your Harvard citation.