World Facts
Which Countries Border Bulgaria?
Romania is one of the countries bordering Bulgaria.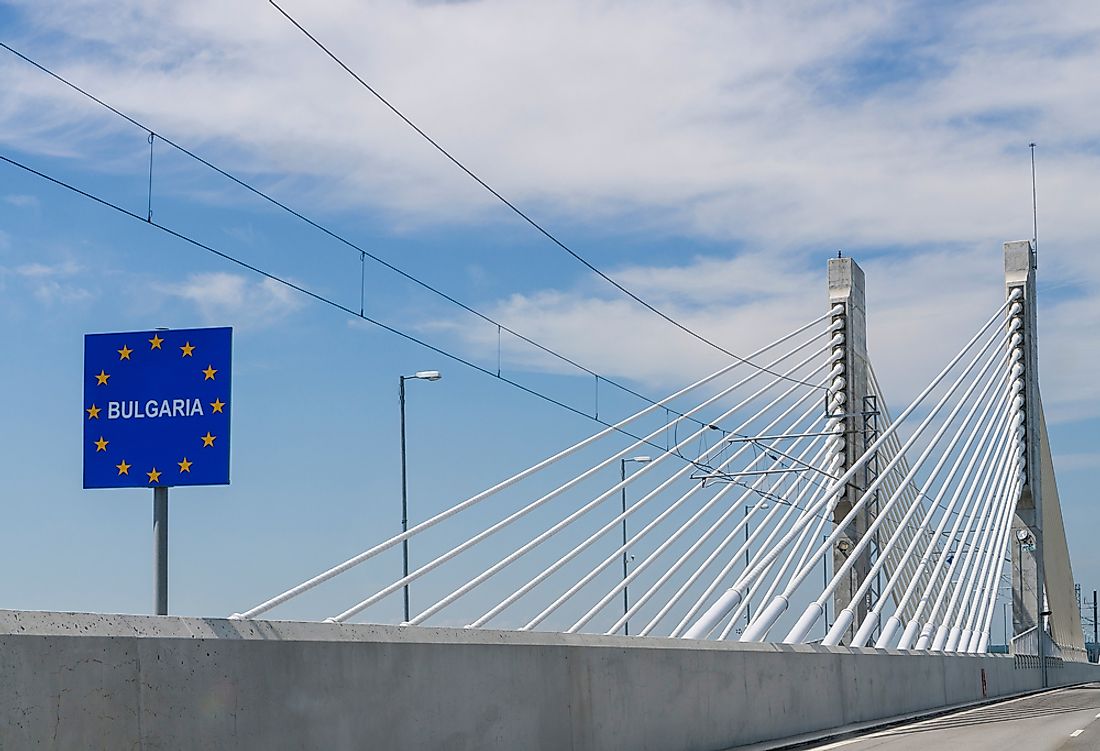 Bulgaria, formally known as the Republic of Bulgaria, is a country situated in the southeastern region of continental Europe. According to recent estimates from the United Nations, Bulgaria's current population stands at approximately 7,019,624 with a population density of 168 people per mile. In terms of area, the country covers some 41,915 square miles with the majority of its residents, about 74%, living in urbanized areas. Once a part of the Ottoman Empire Bulgaria became a democratic republic in 1991 and is currently a member of a number of international organizations including NATO, the Organization for Security and Co-operation in Europe, the European Union, the United Nations, and the Council of Europe. In terms of geography Bulgaria is bordered by the Black Sea on its eastern coast as well as numerous countries including Romania, Serbia, Macedonia, Turkey, and Greece.
Romania
Romania is located in the central southeastern portion of Europe. Covering a land area of about 92,043 square miles the nation is home to some 19,542,827 residents. 60% of who live in the urban areas of the country. Perhaps one of the best known regions of Romania is Transylvania, a place name which can be translated to "land beyond the forest".
Serbia
Officially known as the Republic of Serbia, this country of 8,751,074 residents has a population density of 259 people per square mile. Serbia was previously a part of the former Yugoslavia before entering into a political union with Montenegro and then gaining its independence in 2006. Serbia is a member of several international organizations including the Council of Europe, Central European Free Trade Agreement, the United Nations, and the Organization for Security and Cooperation in Europe.
Macedonia
The Republic of Macedonia currently has a population of approximately 2,085,779 with a density of 214 people per square mile. The country is made up of people from a variety of ethnic groups including about 64% Macedonians, 25% Albanians, 3.9% Turks, 2.7% Romani, and 1.8% Serbians. Although the official languages of the nation is Macedonian residents also speak a variety of other languages include Albanian, Romani, Turkish, and Serbian.
Turkey
The country of Turkey has a long and storied past that includes being inhabited by various foreign peoples including the Greeks, Assyrians, and Armenians. Today the country, formally known as the Republic of Turkey, is a presidential constitutional republic. Turkey is also an important member of a wide array of international organizations including NATO, the United Nations (since 1945), the International Monetary Fund, the Organisation of Islamic Cooperation (starting in 1969), and the G-20 (1999).
Greece
Greece, or the Hellenic Republic, has a population of approximately 11,135,394 people over a land area of 49,769 square miles. A significant percentage of its population (78.7%) reside in the country's urban centers. As a parliamentary democracy Greece's head of state is its president who is elected by the 300 member parliament. According to its constitution political power in Greece is divided between three branches of government; executive, legislative, and judicial.
About the Author
C.L. Illsley hods a BA degree in English and a BFA. in Film Studies. She has written for various publications & websites including Montreal Rampage where she currently contributes film reviews & entertainment related articles.
This page was last updated on June 18, 2019.
Citations
Your MLA Citation
Your APA Citation
Your Chicago Citation
Your Harvard Citation
Remember to italicize the title of this article in your Harvard citation.