What Are The Major Natural Resources Of Tonga?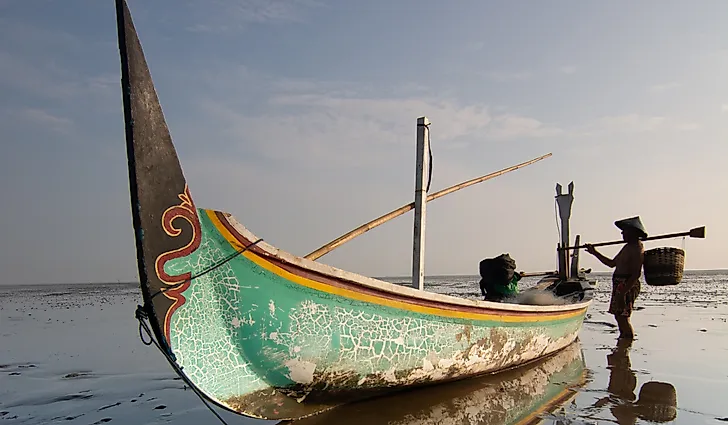 Tonga, officially the Kingdom of Tonga, is a Polynesian country located in the South Pacific. This archipelago is made up of 169 islands of which 36 are inhabited. Comprising a total area of 289 square miles Tonga has a population of 100,651 residents the majority of whom live on the island of Tongatapu. The nation of Tonga is divided into five districts; ʻEua, Haʻapai, Niuas, Tongatapu, and Vavaʻu.
Tonga's capital city Nukuʻalofa has a population estimated to include 24,571 residents. In total approximately 97% of the island nation's inhabitants are native Tongans with another small percentage of the population identifying as part Tongan, and 2.2% of residents coming from various other ethnic backgrounds. 
Tonga's natural resources include fish, fertile soil, and agricultural crops such as bananas, coffee and vanilla beans, coconuts, squash, black pepper, ginger, and copra.
Fertile Soil
According to figures from 2011, just over 21% of Tonga's land is suitable for growing agricultural crops while 14.7% has already been permanently utilized for farming. Due to factors such as climate change and population pressure arable land has become an increasingly important commodity throughout the world. According to figures from 2016 25% of Tonga's land area was considered arable. Included in this estimate are fallow areas, land planted with temporary crops, and meadowlands.
Fish
Tonga is home to a number of endemic fish species. Among the types of fish native to the island nation are the Blackstreaked Blenny, Green Canary Blenny, Swallowtail Fangblenny, Black Foxface, Linedfin Rockskipper, Tonga Grouper, Blackfin Damselfish, Few-pored Coralbrotula, Tiger Pygmy Goby, Winged Coralbrotula, and the Sharpnose Puffer.
Native species of freshwater fish found in Tonga include the Flathead Mullet and Broadhead Sleeper while the Mozambique Tilapia was introduced to the local environment and thrives in places such as Monga Bay.
Sport fishing is a popular activity in Tonga especially for tourists visiting the islands. Among the fish species caught in the area include Marlin, Mahi-mahi, Yellow Fin Tuna, and the Giant Trevally. The majority of sports fishing on the island nation takes place within approximately a quarter to three-quarters of a mile off Tonga's sandy shores.
Agriculture
In 2017 it was estimated that the banana crop in Tonga consisted of a yield of 1.51 tonnes with associated product production weighing in at 800 tonnes.
Coffee and vanilla beans are also important agricultural products in Tonga. The country's vanilla is known to be less spicy and with a distinctive woody taste. Popular ways of utilizing Tongan vanilla beans include using them in dishes containing figs and raisins. In 2014 Tonga ranked as the world's eighth-largest producer of vanilla beans; producing a total of 186 tonnes.
Coconuts and related products such as coconut oil have proven to be important to the economy of Tonga, particularly in terms of providing residents living in isolated areas with opportunities to farm this crop. Coconut oil is exported to various neighboring countries including Australia, New Zealand, and Japan. After the coconuts are harvested they are processed, husked, and cut apart before being put into an oil press machine which extracts the valuable oil. Production is designed so that nothing goes to waste. The husks are used as fuel for fire while the coconut shells are transformed into kava cups, and the remaining pressed coconut flesh is fed to farm animals such as pigs. One local company, Fiesta Ice Cream, located in Ma'ufanga, produces ice cream products using locally sourced coconut oil.
Squash farming in Tonga has benefited due to increased international demand for the vegetable. China is one of the main buyers for Tonga's squash crop. It's interesting to note that squash is not a traditional crop in Tonga but rather its production as an export crop began in the 1980s courtesy of numerous private enterprises. Major importers of squash from Tonga include Japan and Korea. The industry, however, has experienced a downturn in recent years.
Black pepper has been referred to as the king of spices and is a key agricultural product in Tonga. The island nation provides an ideal environment for growing the prized spice. Black pepper grows best in tropical humid weather conditions in temperatures ranging from 50 to 104F. The plant further needs about 78.7 inches of rain per year. Black pepper is thought to have a variety of health benefits including aiding in the digestive process, relieving the symptoms of the flu, colds, and coughs as well as possibly preventing such medical conditions as skin cancer and bacterial infections.
Ginger is also grown in Tonga. The roots of this flowering plant have become renowned for their healing and assorted health benefits. Aside from its use in folk remedies, ginger is also used for relieving nausea particularly in pregnant women and patients undergoing chemotherapy treatments. Ginger is also a key ingredient in a wide range of products including Gari (pickled ginger), wine and liqueur, candies, and tea.
Copra is another key agricultural product produced in Tonga. Consisting of the kernel or dried meat of a coconut, copra is made by removing the coconut's shell, chopping it up, and then drying it by either smoking it, drying it in the sun, or in a kiln. Copra is also regularly used as feed for farm animals. It is particularly useful for this purpose because copra contains large amounts of oil and protein which are beneficial to animals such as deer, cows, and sheep. Despite its positive properties, however, copra is also known to be a highly combustible material which has resulted in the natural product being classified as a dangerous good which isn't allowed to be shipped by air without express written permission by an authorized agency.