What Are The Major Natural Resources Of Sao Tome And Principe?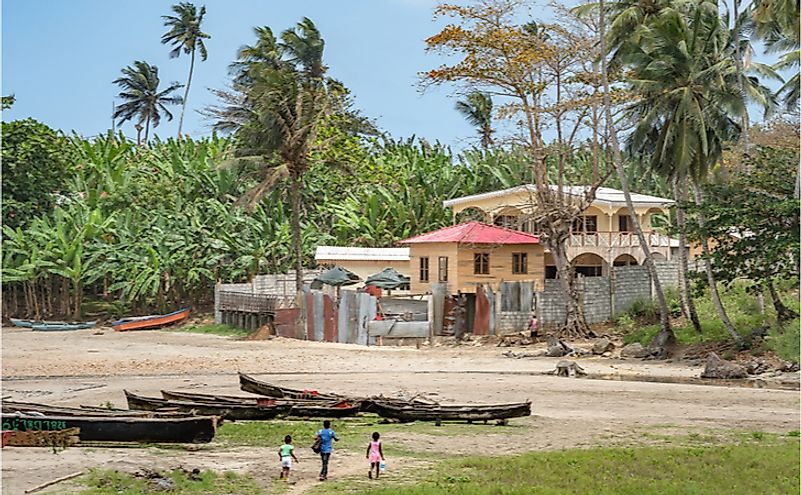 The Island nation of Sao Tome and Principe is separated from mainland West Africa by the Atlantic Ocean. The country has four islands, Sao Tome, Principe, Annobon, and Bioko. Three-quarters of the country is rainforest although most of the lowlands forests have been cleared for palm and coconut tree plantations. The forests are mostly inaccessible and cannot support farming which makes them an ideal haven for endemic and threatened species of fauna and flora. With 30% of the land being a national park, agriculture is not widely practiced. However, the country's topography provides a conducive environment for hydropower and fishing, its major natural resources.
Hydropower
Currently, hydropower accounts for 11% of consumed energy whereas 88% is from fossil fuels. The heavy dependence on expensive fossil fuel, which is majorly imported has for years proven costly both financially and environmentally. As a result, the country launched its Power Sector Recovery Project whose aim is to increase the generation of renewable energy and enhance the reliability of electricity supply in the country. Most of the work will be on rehabilitating and expanding the country's central hydropower plant, the 4 MW Contador, which as a result of under maintenance produces less than 2 MW. The European Investment Bank will provide $13 million in concessional financing and another $16 million in a grant from the World Bank. Upon completion, this project is expected to improve the lives of more than 90,000 beneficiaries.
Future Hydro Power Plans
Other green energy power solutions under the Mini-Hydro Promotion for Clean Energy and Water Management project are underway. These plans will focus on rehabilitating and developing numerous mini-hydro electricity sites on both islands. So far, there are 16 potential sites with the most powerful power plant being Dona Eugenia on river Io Grande whose installation capacity is 9.60MW, Bombaim 4.00MW on Abade, Monte Rosa 3.75MW on Quija, Santa Irene 3.000MW on Lemba, Neves on Provoz, Claudino Faro on Abade, and Mato Cana on Abade, each having 2.00MW, and Santa Luzia 1.15MWon Manuel Jorge. The plan includes an integrated approach that will improve water storage, treatment, and pipe-water supply to multiple rural communities. So far, about $1 million has been released from the Sustainable Energy for Africa (SEFA) Trust Bank for preliminary studies, and prequalified contractors have been called to submit their formal bids. The United Nations Development Programme (UNDP) has also promised to chip in another $1 million. Should these projects succeed, they will add about 30MW to the national grid. With the current power base being 20MW, the new plants will provide enough endogenous energy to fuel the country's economy, thereby leaving fossil fuels for peak seasons. Between 2022 and 2030, Sao Tome and Principe should be 100% hydro-powered.
Fish
The location of the islands of Sao Tome and Principe is found right at the confluence of oceanographic dynamics where three major surface fluxes: the South Equatorial, Benguela current, and Guinea currents meet to create 4 different oceanographic seasons. These seasonal variations result in rich waters where more than 230 species of fish thrive. The most famous fish include the gigantic sailfish, barracuda, and wahoo, in addition to dolphins, and numerous species of tuna such as the Atlantic Bluefin tunas. The diversity of Sao Tome and Principe waters make fishing one of its major economic activities. The fishing industry employs about 16,000 to 20,000 people. Most of the fish is for domestic consumption with nearly 88% to 98% of Sao Tomeans having fish regularly. Fish accounts for 75% of all proteins eaten by Sao Tomeans, making fish a primary natural resource. To conserve this natural resource, Sao Tome and Principe have entered into bilateral agreements with the Europeans which allows vessels from the EU, particularly from France, Portugal, and Spain to fish in the country's waters.
Wildlife Of Sao Tome And Principe
Sao Tome and Principe have high levels of endemism to the extent that the islands have been compared to the world's centers of endemism such as Hawaii and Galapagos. The evolutionary features such as gigantism, dwarfism, and very rare ecological, behavioral, and physiological adaptations of its wildlife are so unique that taxonomic status of many of its fauna and flora remains a subject of debate.
The country has more than 26 endemic bird species with three of them, the Sao Tome grosbeak (Crithagraconcolor), Sao Tome short-tail (Motacillabocagii), and Dohrn's Thrush-babbler (Sylvia dohrni), having no close relatives. The islands are also home to the world's largest sunbird, the Sao Tome giant sunbird (Nectariniathomensis)and the Sao Tome Olive pigeon (Columba thomensis) whose size is relatively larger than other members of the genus. Additionally, the country houses the dwarf olive ibis (Bostrychiabocagei), one of the smallest ibis on the planet. Sao Tome and Principle is also home to seven native and endemic amphibian species. Six of them are frogs: the palm forest tree frog (Leptopelispalmatus), Sao Tome giant treefrog (Hyperoliusthomensis), Hyperoliusmolleri, Phrynobatrachusdispar, Phrynobatrachusleveleve, and Ptychadenanewtoni, one caecilian and the cobra bobo (Schistometopumthomense). Little is known about how these amphibians managed to colonize the region because most amphibians have a low tolerance to seawater. Peculiar behavioral and physiological adaptations of its fauna have been observed in the Sao Tome Weaver (Ploceussancthithomae), whose forest-dwelling, tree-crawling behavior is uncommon in weavers. The island also has an unusual bat called the São Tomé collared fruit bat (Myonycterisbrachycephala) with an asymmetrical dental formula that has not been observed in other known mammals.
Economic Status Of Sao Tome And Principe
The country is a middle-income nation with a fragile economy. While the mountainous terrain and the rainforests, which cover 74% of the surface, provide a haven for numerous species of fauna and flora, the topography restricts extensive agriculture, and more than 90% of food is imported. Cocoa accounts for 80% of the exports and all exports are valued at $13 million, while imports are valued at $99 million. On the overall, the 2019 Index of Economic Freedom indicates that the country's national debt is 83.3% of the country's GDP.