What Are The Major Natural Resources Of Hong Kong?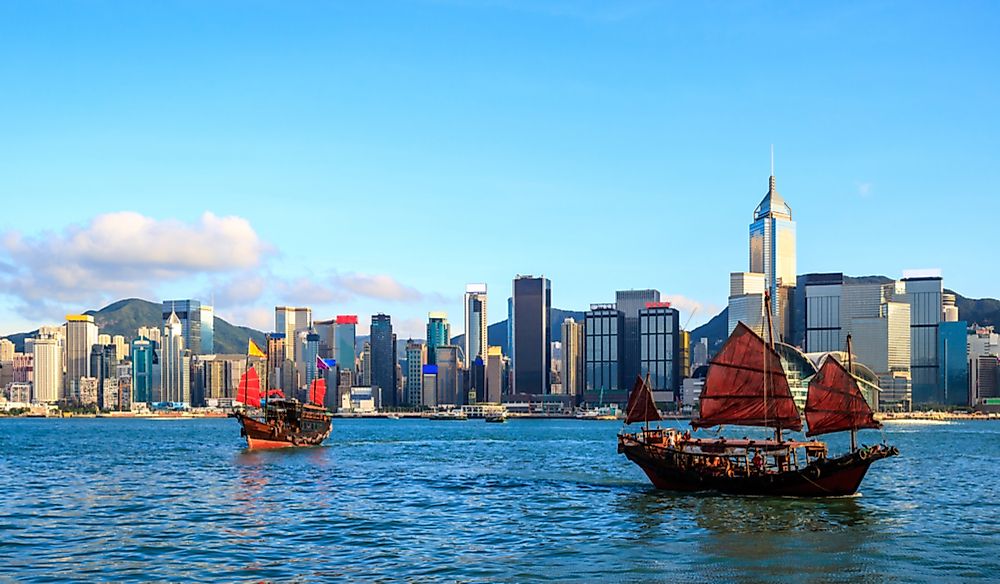 Hong Kong, a Chinese special administrative region, is found in the eastern part of the Pearl River in southern China. The territory covers an area of 426 square miles and has a population of 7.4 million people of different nationalities making it the 4th most densely populated region in the world. Initially, Hong Kong was a British colony and was handed over to China in 1997 after the lease expired as a special administrative area and therefore the system of government in Hong Kong is different from that in mainland China. Initially, the population was composed of mainly fishing villages and farmers, but it has transformed itself into the pinnacle of the world finance and commerce. Presently Hong Kong is the 7th largest trading territory, and its currency is the 13th most traded in the world. Hong Kong is trading in goods which is valued more than its GDP and has one of the highest per capita income globally, but income inequality is a major problem. Currently, Hong Kong has the largest number of skyscrapers buildings in the world according to the UN the territory is ranked as the seventh in the human development index. Although Hong Kong has a small land area it has different types of natural resources found within its borders including arable land, fish, and natural harbors.
Hong Kong's Natural Resources
Arable Land
Hong Kong has little land which is considered arable and has comparatively few natural resources and therefore imports most of its food items. Hong Kong imports about 90% of food supplies which includes items like rice and meat. Agriculture accounts for only 0.1% of the GDP and consists of premium foods and flowers. As of 2015, the arable land in Hong Kong was only 3% of the total land area with contrasts to 1961 when the arable land was 11.8% the total land area. As of 2006, there were approximately 2,100 farms in Hong Kong which employed approximately 5,300 farmers and workers, while in 2005 approximately 330 hectares of land was under vegetable, 190 hectares were under flowers, 290 hectares were utilized for field crops. In 2003 crops valued at $272 million were produced in Hong Kong and flowers and vegetables accounted for 97% of the value which was $264 million. Vegetable grown throughout the year include flowering cabbages, lettuce, radish, Chinese kale, spring onion, leaf mustard, and chive. Vegetables such as watercress, spinach, and matrimony vine are cultivated during cooler months. Vegetable produced during summer includes gourd, water spinach, yardlong beans, cucumbers, and amaranth.
Animal Husbandry
Animal husbandry is practiced across the territory of Hong Kong, and by 2004 there were 205 poultry farms and 281 farms rearing pigs. In 2003 production of pigs was valued at $527 million while poultry production which included eggs and pigeons was valued at $250 million. Pigs reared in the local farms are mostly crossbreed of landrace large white and Duroc, while most of the local chickens reared in local farms include crosses of Shek Ki breeds. Currently, brand names of chickens such as Tai on and Ka Mei have become common with farmers, and they were introduced at the local market by different investors. Presently there are two dairies in operation having a population of fewer than 50 cows.
Fishing
Fishing activities in Hong Kong are carried out mainly in its waters found on the continental shelf of East China and south sea, an area which stretches about 99.5 square miles wide. Most of the sea vessels are family-owned, and the primary fishing methods include gull netting, long lining, purse seining, and trawling with the most fish catch being obtained from trawling. The fishing sector composed of about 4,150 fishing vessels and approximately 9,200 fishers working abroad and employing other sectors of the fishing industry such as ice manufacturing, fish gear supply, fuel, retail and wholesale fish marketing. Some of the important marine fish include golden thread, horsehead, crocker, and pomfret among others. About 31% of the seafood consumed in Hong Kong is primarily from the marine fish culture production and capture fisheries, while 6% of freshwater fish consumed in Hong Kong is from pond fish farmers. The majority of fish farmers in the new territories of Hong Kong carrying out carp polyculture together with grey mullet or tilapia as the primary fish species. Besides, there are many other cultured species which include spotted scat and sea breams. Currently, in Hong Kong, there are about 26 fish culture zones, which are under the Marine Fish Culture Ordinance.
Harbors
Hong Kong has numerous natural harbors spread across the island, and these include Victoria Harbor, Aberdeen Harbor, Double Haven Harbor, Port Shelter Harbor, Inner Port Shelter Harbor, Tolo Harbor, Tai Ham Harbor, Rocky Harbor, and Three Fathoms Cove Harbor.
Victoria Port Harbor
Victoria Harbor in Hong Kong is one of the natural harbors located in the south of the island separating Hong Kong from mainland China. It is characterized by deep waters, and its strategic location in south china sea played a key role in establishing Hong Kong as a British colony and subsequently making Hong Kong a major trading hub. Hong Kong is one of the main seaports serving other parts of Southeast and East Asia, and it also plays an economic role as the gateway to mainland China. The port is among the busiest in the world, and every year Victoria port receives 220,000 ships which include ocean-going and river vessels for both passengers and cargo. Kwai Chung Container Terminal is located in the westernmost part of the harbor and is the primary container handling facility which operates 24 hours a day, and in 2016, it handled about 19.8 million containers. More than 400 container ships dock on Hong Kong every week which connect to more than 500 destinations around the world.
The Economy Of Hong Kong
The economy of Hong Kong is extremely dependent on trade, and the combined value of imports and exports is equivalent to 373% of its GDP. The average amount of tariff is typically 0%; however, there are some non-tariff barriers which to some extent affect certain types of trade. In Hong Kong there is no screening of foreign investment and foreigners can maintain 100% of ownership most of the time. The financial sector is very competitive and highly capitalized with, and the territory is one of the leading hubs in the world. The economic growth in Hong Kong is anticipated to slow down to 2.3% in 2019, and it is projected to go down further as US-China trade war continues to rage on coupled with local property downturn.