What Are The Biggest Industries In Vanuatu?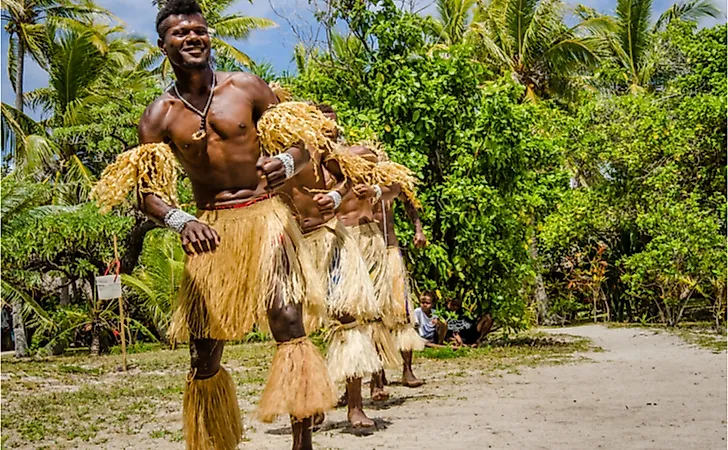 Vanuatu, formally known as the Republic of Vanuatu, is a chain of islands located in the southern portion of the Pacific Ocean and comprised of some 83 islands. Australia, its largest neighbor, both in terms of population and land area, lies approximately 1,090 miles west of the archipelago. Occupying a total area of 4,706 square miles this tropical island nation is home to a population of 301,277 residents with a density of 64 people per square mile.
In the 1880s parts of Vanuatu were claimed by both England and France. In 1906 the south pacific island became known as the New Hebrides and operated as an Anglo-French territory. Vanuatu officially gained its political independence on July 30, 1980. Today the island group operates as a parliamentary democracy and is a member of several international organizations including the United Nations, Organisation internationale de la Francophonie, and the Commonwealth of Nations. Vanuatu's economy depends in large part to four major industries; agriculture, offshore financial services, cattle, and tourism.
Agriculture
Vanuatu's agricultural industry plays a key role in its national economy. According to estimates, about 80% of people living in the country are employed in this sector. Important agricultural exports include cocoa, kava, and copra. Among the other food products grown on Vanuatu include a wide variety of vegetables and fruits such as pineapples, yam, sugarcane, bananas, vanilla, pepper, taro, carrots, watermelons, cucumber, eggplant, and squash.
In terms of its impact on the local economy, Vanuatu's most important agricultural product is copra which accounts for over 35% of the nation's total exports. Copra consists of the dried flesh or inner meat of a coconut from which oil can be extracted. Because of its high protein and oil content copra is also used as a feed for animals such as horses and cows. Copra is made by removing the coconut shell, breaking up the material, and then drying it.
Another important crop, kava, is a plant largely used for medicinal purposes. About 80 species of kava grow on Vanuatu. The roots are used to make a drink known for its sedative and anesthetic properties. Traditionally kava root is chewed, ground up, or pounded to produce a mixture that can be used as a pharmaceutical or herbal supplement.
Although the fishing industry is another important part of Vanuatu's economy it doesn't generate as much foreign export revenue as the land based agricultural sector. Most of the fish caught on the island is consumed by local residents rather than being sold and shipped to other countries.
Offshore Financial Services
Beginning in 1971 Vanuatu became well known for its offshore financial services. About 2,000 local financial institutions operate on the archipelago. Services available include trust management, ship and gaming registration, offshore company incorporation, and banking. Due to factors such as its tax incentives and strict banking secrecy laws, Vanuatu has also become a popular tax haven. The major reasons why the island nation has earned an international reputation as a safe tax haven include its lack of exchange control as well as the absence of estate, capital gains, withholding, inheritance, and gift taxes. A large part of why offshore banking is so attractive to international businesses as well as wealthy individuals is due to the fact that Vanuatu doesn't charge its residents or foreign customers any corporate or income taxes.
Cattle
Because of the high demand for beef products, raising cattle is an important industry in Vanuatu. With its sub-tropical climate the island chain is well suited to the establishment and maintenance of pasture lands which are required to raise cows. Producers in Vanuatu export local cattle to numerous countries including Japan, New Caledonia, Australia, and New Zealand.
According to Val Pacific, a public and privately owned Vanuatu beef company, cattle from Vanuatu are grass-fed as well as disease free and raised without antibiotics or hormones. The export industry is closely regulated by the Vanuatu Government's Livestock & Quarantine Department.
Vanuatu is the home of Santo beef which is a very popular meat used in local cuisine. Known for being tender and lean, this prized beef is harvested from cows which have been fed a diet rich in healthy vitamins and nutrients.
Tourism
Vanuatu has become a popular tourism destination for travelers around the world especially for those who enjoy scuba diving. In 2000 the tourism industry accounted for 40% of the nation's GDP (Gross Domestic Product). The island nation is well known for its underwater coral reefs as well as being the site of the shipwreck SS President Coolidge which can be found off the coast of the country's largest island, Espiritu Santo. The 650 foot luxury U.S. ocean liner was being used to transport troops during World War II when it was sank in 1942.
Tourism has become more and more important to Vanuatu's economy throughout the years. From 2007 to 2008 the industry increased by 17%. At that time it's estimated that 196,134 people visited the nation. Most tourists came from countries such as Australia, New Zealand, New Caledonia, Japan, Europe, and America. Vanuatu was also the home to season nine of the U.S. TV reality competition show Survivor in 2004 as well as season two of the Australian Celebrity Survivor in 2006.
Aside from the opportunities for scuba divers to enjoy the waters of the South Pacific, Vanuatu also offers an abundance of land based attractions. Among the country's historic sites include Ekasup Village, a traditional Melanesian settlement located amidst a tropical rain forest. Here visitors can learn about the history, culture, and traditions of the native peoples. Another popular destination is 'The Reef' Vanuatu Zoological, an educational and wildlife conservation center. The facility has an extensive turtle program dedicated to rehabilitating native species such as Hawksbill and Green Sea Turtles. Other wildlife found at the sanctuary include an assortment of native reptiles including the flowerpot snake and endangered Fijian banded iguana.