Economics
What Are The Biggest Industries In Mauritius?
Food processing is one of the major industries in Mauritius.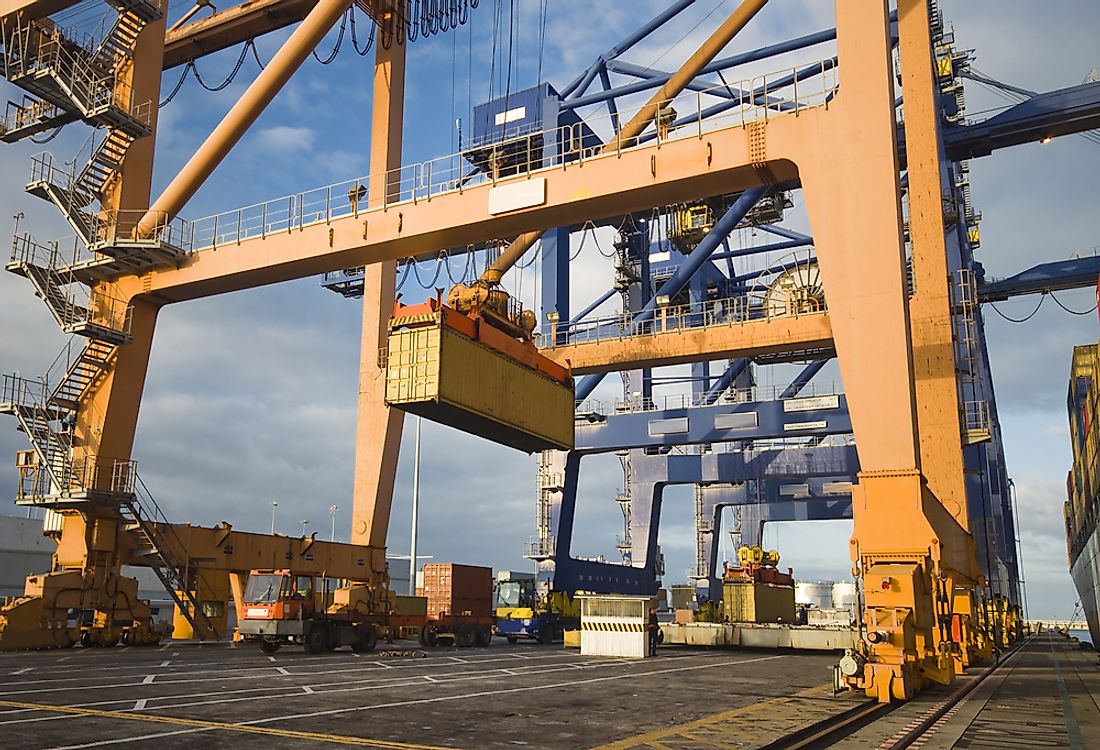 The island nation of Mauritius is in the southwestern part of Indian Ocean, and its main island is located some 1,200 miles to the Southeastern coast of the continent of Africa. The largest city in the island nation of Mauritius is Port Louis, which is also the country's capital city. Mauritius gained its independence in 1968, and its main economic activity has historically been agriculture. Since independence, Mauritius has managed to transition into a middle-income country. The country's economy has growing financial, industrial, tourism, and IT industries. The economy of Mauritius grows at a rate of 4% annually, which is comparable to other sub-Saharan African nations.
Agriculture
About 40% of Mauritius' land area is used for agriculture and out of this 90% is covered by sugarcane which is by far the most important agricultural crop in the country, and accounts for about 25% of all export earnings. The remaining part of arable land is for other crops such as tobacco, tea, and other food crops. In 2010, the government, in collaboration with the European Union, promised to invest €13 million to enhance competitiveness in the sugar industry. In the same year, Mauritius produced 430,000 tons of sugar, which was an increase of 0.6% from the previous year. Mauritius relies on imports of 70% of the country's food requirement and is therefore vulnerable to rising prices of food items in the international market.
Mauritius was severely affected by the 2008 crisis of global food prices, and since that time the government has been trying to improve the agricultural sector to boost food production in an attempt to achieve self-sufficiency in food. There has been a reasonable level of success in that direction because currently, the country is self-sufficient in fresh vegetable needs and 60% self-sufficient in potato needs. Fruit production in the country, which are primarily made up of mangoes, litchi, pineapple, and bananas meet only about 50% of the country's needs.
Tourism
Tourism in Mauritius is the 4th most vital industry in the economy, and the country has all along been a popular tourist destination. Mauritius experiences the tropical climate and has clear warm seawater, beautiful tropical plants and animals, beautiful beaches, and a multicultural ethnic population, which has been attracting tourists. The government estimated that by the end of 2019 tourist arrival in Mauritius should be approximately 1.5 million visitors, which will be at 3.6% increase from the 2018 tourist arrivals. Other significant tourist attraction sites in Mauritius include two of the UNESCO's World Heritage sites of Le Morne cultural landscape and the Aapravasi Ghat.
Mining
Mining in Mauritius is a relatively small industry, and there are no commercial mining of precious stones or coal; however, quarrying is widely carried out in the country, and in 2007 it accounted for only 0.1% of the GDP. Mauritius does not play a significant role in the world regarding consumption or the production of minerals. By 2006 the country was producing basalt mainly for construction, lime from coral, fertilizers, semi-manufactured Steel, and salt from solar evaporated seawater. Quarrying of sand is carried out along the coastal areas and within the lagoons as well as the coral rocks; however coral rock quarrying was banned from 2001 as a result of environmental damage and destruction of marine ecosystems.
Manufacturing
The manufacturing industry in Mauritius has experienced tremendous growth, and the country's economy has grown because of the manufacturing sector particularly with the adoption of the EPZs, which have attracted numerous companies from different countries seeking locations with cheaper cost of production. The huge unemployment which has reduced in Mauritius in the past 20 years is attributed primarily to the growth of EPZs. These export processing zones (EPZs) offer duty-free on imports, subsidized rates on electricity, lower tax rates, favorable transport costs, access to credit, institutional support facilities, and other utilities.
About the Author
Benjamin Elisha Sawe holds a Bachelor of Arts in Economics and Statistics and an MBA in Strategic Management. He is a frequent World Atlas contributor. 
This page was last updated on May 15, 2019.
Citations
Your MLA Citation
Your APA Citation
Your Chicago Citation
Your Harvard Citation
Remember to italicize the title of this article in your Harvard citation.