What Are The Biggest Industries In Cambodia?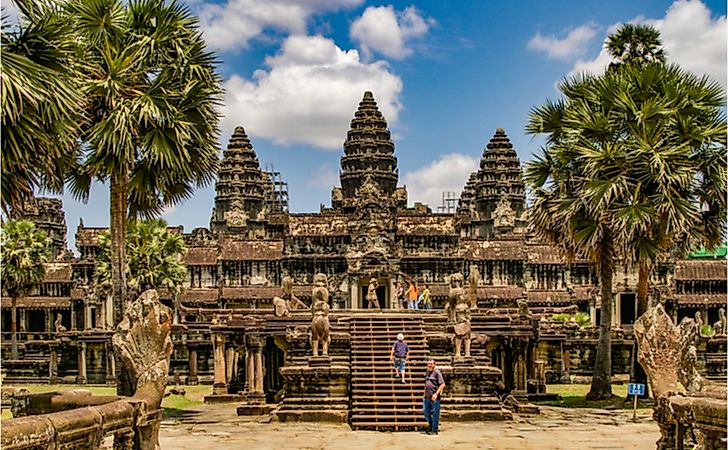 Formally known as the Kingdom of Cambodia, Cambodia is an Asian country located in the southeastern portion of the continent, specifically on the southern portion of the Indochina Peninsula. It is bordered by the nations of Thailand, Laos, and Vietnam. In total, Cambodia is composed of a land area of 68,155 square miles of which only 22% is designated as urban. The country is home to a population of 16,499,382 residents with a population density of 242 people per square mile.
Cambodia has a long history of being under the control of various regimes, foreign countries, and empires. From 1867 to 1953 the nation was a protectorate of France but gained its political independence in November 1953. It adopted its current constitution in September 1993.
Despite its turbulent past as well as persistent internal problems including high rates of poverty and political corruption, Cambodia's economy has continued to grow. In its modern form, the nation's economy is fueled by several major industries including agriculture, tourism, and textiles.
Agriculture
Because Cambodia has remained a largely rural nation, it is not surprising that agriculture has continued to play a crucial part in its economic survival. In 1985, for example, Cambodia's agricultural industry accounted for 90% of the country's gross domestic product while approximately 80% of its workers were employed in some aspect of the farming industry.
Rice is one of the most important crops in Cambodia. Various parts of the country where this valuable crop is grown include the Mekong and the Tonle Sap regions as well as in the provinces of Bătdâmbâng, Kâmpóng Cham, Takêv, and Prey Vêng. Traditionally, planting of this vital crop takes place during July and August while the rice is then harvested from November to January.
Cambodia is known for growing some of the best quality rice in the entire world. Rice grown in the Asian country can be divided into two major types; fragrant rice and white rice. Premium jasmine rice is a popular variety of fragrant rice. Types of white rice grown in Cambodia include ginger rice and pearl rice.
Other crops grown in Cambodia include a variety of local fruits and vegetables such as corn, coconuts, cassava (yucca), sugarcane, sweet potatoes, soybeans, groundnuts, sesame seeds, mangoes, bananas, oranges, breadfruits, and papayas.
In terms of livestock, Cambodian farmers raise animals such as pigs and cattle. The fishing industry also plays an important role in sustaining the nation's economy. Some of the species which can typically be found in Cambodia's Mekong and Tonle Sap rivers include carp, perch, smelt, and lungfish.
Tourism
The tourism industry plays an important role in the economy of Cambodia. In 2018, for instance, it was reported that approximately six million travelers from around the world visited Cambodia. Top tourist destinations include Phnom Penh, Angkor Wat, the beaches of Sihanoukville, Battambang (the country's number one rice-producing province), Kampot, Kep National Park, and Bokor Hill Station. Most international visitors who make the journey to Cambodia come from China. According to estimates, in just one year (2018) the tourism industry injected over $4.4 billion into Cambodia's economy.
Formerly known as Krong Chaktomuk, Phnom Penh is Cambodia's capital and the most populated city with a population of approximately 1,501,725 residents. Founded in 1372, the city didn't take on its current status as the nation's capital city until 1865. Phnom Penh is one of Cambodia's most popular tourist destinations with an array of one of a kind attractions such as Wat Ounalom (the national Buddhist headquarters), the National Museum of Cambodia (which features a large collection of valuable cultural and religious artifacts), Wat Phnom (an iconic temple set atop a hill), the Royal Palace of Cambodia, and the city's main market Phsar Thmei.
Year after year, one of Cambodia's most popular sites is the monumental temple complex known as Angkor Wat located in the town of Siem Reap. In 2013 it was estimated that some two million tourists visited this site. Designating the status of UNESCO World Heritage Site in 1992, Angkor Wat occupies an area of 402 acres and is renowned as one of the largest religious monuments in the world. Although the site initially began as a Hindu temple for the Khmer Empire over the years it morphed into its present form as a sacred Buddhist space.
The purchase of souvenirs from local vendors also plays a large part in fueling Cambodia's domestic economy. Among the most sought after products available to tourists in the country include locally produced items such as ceramics, traditional scarves (Krama), wood carvings, soap, candles, and spices.
Textiles
The garment industry plays a key role in Cambodia's economy. It is estimated that this sector accounts for approximately 80% of the Asian nation's exports. In 2012 textile exports were valued at $4.61 billion. This important industry also factors high in terms of employment stats with some 335,400 workers (the majority being female) having jobs in this sector. Factories in Cambodia often import raw materials from countries such as China and then exports the finished products to the United States as well as various countries in Europe and Asia.
Factors contributing to the success of Cambodia's textile industry include the country's abundance of natural resources and its cheap labor force. The nation's garment industry is also heavily supported by foreign investment. Cambodia's success in the textile industry is due to its reputation for producing cheap yet well-made garments.
Women play a major role in Cambodia's textile industry. Estimates show that about one-fifth of the country's female population is employed in some aspect of the garment sector. This has led to many positive social changes; primarily giving women more financial independence. In turn, Cambodia's overall standard of living has gone up.
Among the most successful garment factories in Cambodia are Quantum (based in the United Kingdom), Dewhirst Cambodia (Co) Ltd., Son Keng (founded in 1990), Scandinavian Textile (Cambodia) Co., Ltd. (specializing in athletic and leisure garments such as polo shirts), and Craigwood Garment Factory Ltd. (based in Hong Kong, UK, and South America).