World Facts
What and Where Is Siwash Rock?
Siwash Rock is found in Stanley Park in Vancouver, British Columbia, Canada.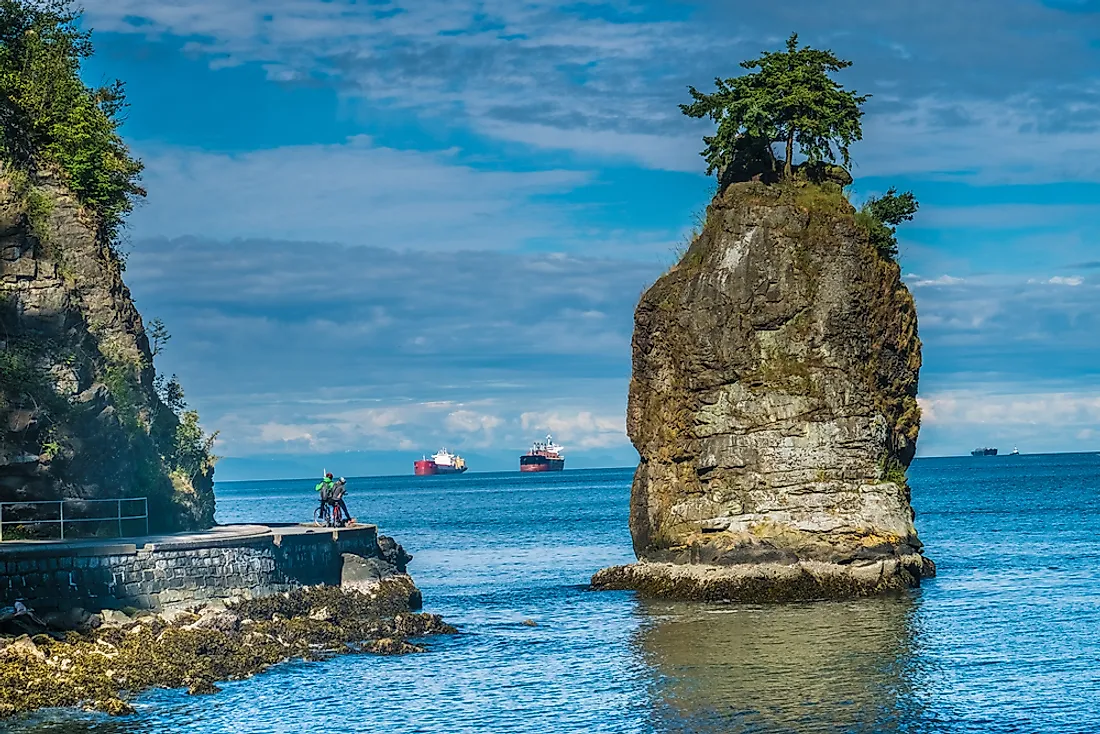 Siwash rock is a well-known rock outcropping just off the coast of Stanley Park in Vancouver, British Columbia. The rock is between 49 and 59 feet (15 and 18m) tall and is notable for the small trees growing atop it. At one point it vaguely resembles a blowing pin hence became referred to as Nine Pin Rock by mariners. The rock is known as Skalsh or Slhx̱i7lsh in Squamish, the language spoken by the indigenous Squamish people of southwestern British Columbia, and a Squamish legend surrounds the origin and naming of the rock.
Geology
In the sedimentary rock which is the foundation of the park (mudstone and sandstone), a volcanic dike was formed. That was over thirty-two million years ago. A fissure inside the Earth's crust let out magma to the surface hence it created the basalt stack. Compared to the softer cliffs of the sandstone, this basalt stack tended to resist erosion more. In the Vancouver, the Siwash rock is the only such sea stack.
Name
Slhx̱i7lsh is a name referring to a story of the transformation of a man by Xaays and is the rock's Squamish name. According to Andrew Paull, the fishing tackle of SIhxi7sh was kept in the rock's hole. Poet Pauline Johnson related a Squamish legend of the transformation of a man into Siwash rock. This was to Clean Fatherhood as an indestructible monument. As a reward for selfishness, there is a plate near the rock which says that it is 'skalsh the unselfish', and was transformed by, Q'uas, who was the Transformer.
In contrast, the name Siwash is a Chinook Jargon word for a person of Native American Heritage or of First Nations. Though this word did not necessarily have a negative connotation in the Jargon and only native peoples used it themselves, we can trace its etymology to 'sauvage', a French word meaning undomesticated or wild, it remains in use in other contexts and in certain places without derogatory association, even though some consider it to be derisive.
History
'Fort Siwash' is a lookout point of the Siwash hiking trail up on the cliffs which overlook Siwash rock. This was its name during the wars. As searchlight in the forthcoming war, they mounted an artillery battery in the First World War. According to park board lore, there freely lived a runaway mountain goat in the area in the mid-1960s until it was eventually hit by a car and died in another area in that park. It had lived in there for almost a whole year. A man also living in this area in a nearby cave for 17 years got interrupted by service overseas to go and fight in the war. He was shortly arrested after the Second World War.
What made Siwash rock a distinctive landmark for the first generations of Vancouverites was the small Douglas fir on top of Siwash rock. However, it did not survive the severe dry summer of 1965. An article was written on the tree's death as it was one of their main attractions in Stanley Park. Park crews worked to restore the forest which had been devastated by Typhoon Freda. New saplings began to take root thus their efforts being rewarded.
This page was last updated on May 25, 2018.
Citations
Your MLA Citation
Your APA Citation
Your Chicago Citation
Your Harvard Citation
Remember to italicize the title of this article in your Harvard citation.