UNESCO World Heritage Sites In Slovakia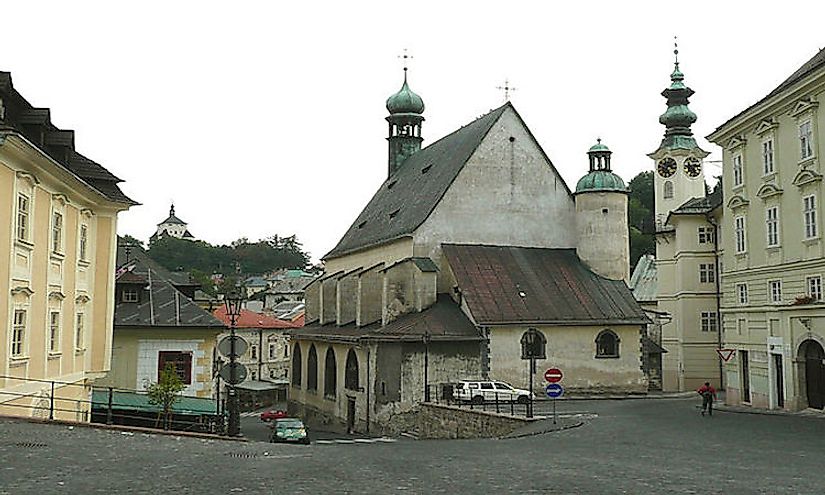 UNESCO World Heritage Sites are protected places that have an outstanding cultural and natural value. Various international bodies united during the Word Heritage Convention of 1972 in order to protect these places for future generations to enjoy them as they are today. The United Nations Educational, Scientific and Cultural Organisation (UNESCO), ensures that World Heritage Sites are protected all over the world.
World Heritage Sites In Slovakia
Banská Štiavnica Historic Town and Monuments
The town of Banská Štiavnica is the oldest mining town in Slovakia and was established in the 13th century. This beautiful historical town is located in the mountains of Štiavnické Vrchy, and represents mineral wealth and prosperity which is abundant in the surrounding landscapes. The town has technical monuments, renaissance palaces, 16th-century churches, castles and magnificent town squares. The town center is surrounded by remains of the original mining town and metallurgical activities of the past. The ministry of environment of the Slovak republic, Monuments board, and ministry of culture are responsible for the protection of the property within the historic town of Banská Štiavnica. This site is protected by UNESCO for its outstanding universal value.
Bardejov Town Conservation Reserve
Bardejov town is located in north-eastern Slovakia near river Topla and the Polish border. Bardejov was able to develop into an important medieval town due to its proximity to a major trade route that extends from the Carpathian Mountains, from Hungary to Poland. The town's urban plan contains a regular division of streets which are spacious around the market squares. This town characteristic is important because it is an indication or 13th Century European civilization. Additionally, Bardejov town features small Jewish quarters and 18th Century synagogue which is evident of a multi-cultural society.
Caves of Aggtelek Karst And Slovak Karst
The Caves of Aggtelek Karst and Slovak Karst are located at the north-eastern border of Hungary and the south-eastern border of Slovakia. They consist of 712 caves concentrated in a relatively small area, all of which are complex and diverse. The currently identified group of caves make up a temperate-zone karstic system due to their rare combination which displays glacial and tropical climatic effects. Today, the caves are well persevered and protected with at least 99% in original natural condition. The caves of Aggtelek Karst and Slovak Karst attract about 300,000 visitors annually. The integrity of the caves is especially sensitive to the environmental changes such as soil erosion, agricultural pollution and deforestation.
Levoča, Spišský Hrad, And Associated Cultural Monuments
Spišský Hrad is a historical town that ensembles the largest number of 13th and 14th century political, military and religious buildings in the whole of eastern Europe. The buildings are amazingly intact and display various architectural styles such as Romanesque and Gothic styles. This historic site includes the town-center of Levoča which very much maintains the integrity of the original buildings. Famous buildings include the 14th-century church of St James and collection of polychrome works including an 18.6-meter-high altarpiece.
Protection And Management Of Slovakia's World Heritage Sites
Other world heritage sites in Slovakia include Primeval Beech Forests of the Carpathians, Vlkolínec and the Wooden Churches of the Slovak Carpathian Mountains. Currently, the protection and management of the sites is adequate. However, management plan needs to be published for the various historical, cultural and natural sites in order to strengthen and improve protection.
UNESCO World Heritage Sites In Slovakia
| | |
| --- | --- |
| UNESCO World Heritage Sites In Slovakia | Year of Inscription; Type |
| Banská Štiavnica Historic Town and Monuments | 1993; Cultural |
| Bardejov Town Conservation Reserve | 2000; Cultural |
| Caves of Aggtelek Karst and Slovak Karst | 1995; Natural |
| Levoča, Spišský Hrad, and Associated Cultural Monuments | 1993; Cultural |
| Primeval Beech Forests of the Carpathians | 2007; Natural |
| Vlkolínec | 1993; Cultural |
| Wooden Churches of the Slovak Carpathian Mountains | 2008; Cultural |