Travel
UNESCO World Heritage Sites In Poland
Massive mixed forests teeming with wildlife, medieval towns, churches, and castles, and one of the most horrific concentration camps, all have made their way onto Poland's list of World Heritage Sites.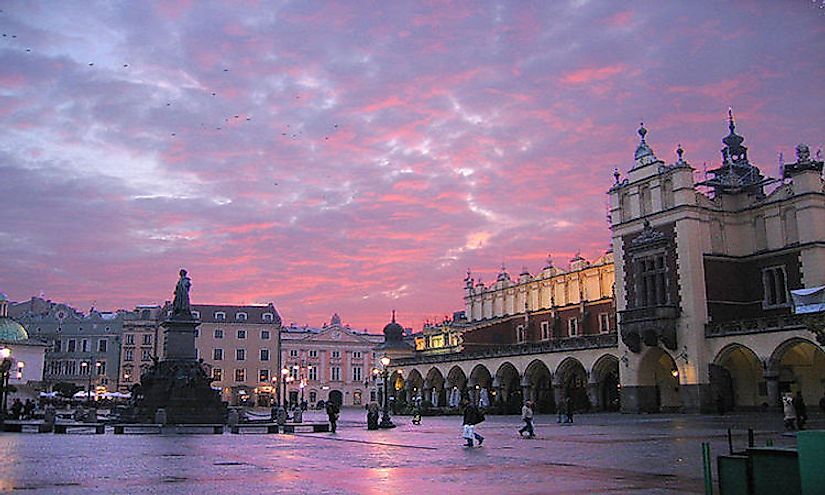 Poland is a country in Europe and officially known as the Republic of Poland. It situated between the Baltic seas in the north and mountain ranges in the south. It is the 69th largest country in the world with an area coverage of 120,726 square miles and 34th most populous country in the world with an average population of 38.5 million. It is divided into 16 administrative subdivisions and is a unitary state. Warsaw is the capital and largest city in the country. During the Second World War, a lot of destruction took place, but the country managed to preserve much of its cultural wealth. UNESCO has inscribed 14 world heritage sites in Poland some of which are discussed below.
UNESCO World Heritage Sites In Poland
Biatowieza Forest
Biatowieza forest is one of the largest existing parts of the primeval forest that had stretched across the European plain. It is home to 800 European bisons which is the heaviest land animal in Europe. It was established in August 1932 and covers an area of 547.8 square miles. The UNESCO's Man and the Biosphere Programme (MAB) in 1976 designated the polish Biosphere Reserve Biatowieza and the Belarusian Biosphere Reserve in 1993. It was inscribed in 1997 by UNESCO as a world heritage site. In June 2014, the world heritage committee approved the extension of the site to Biatowieza forest, Belarus, Poland.
Krakow Historical Center
This historic Centre was the former capital city of Poland and is located at the foot of the Royal Wawel Castle. It was a merchant's town in the 13th century since it is home to the largest market square and numerous historic houses, palaces, and churches with breathe-taking interiors in Europe. The remnants of the 14th-century provide the town's fascinating history through various fortifications and the Middle Ages site of Kazimierz. In the southern part of the town are the Ancient synagogues, Jagiellonian University, and the gothic cathedral which acted as a cemetery to the kings of Poland. It was inscribed in the UNESCO's world heritage list in 1978 as a cultural site.
Medieval Town Of Torun
It is a historic district located city of Torun and is one oldest historical sites. It was inscribed as a world heritage site by UNESCO in 1997 as a cultural site. It is a small historic trading center which has preserved the original street pattern and magnificent early buildings to remarkable extents and providing an exceptional overview of the Middle Ages way of life. It covers an area of approximately 0.2 square miles and a buffer zone of nearly 1.16 square miles.
Warsaw Historical Center
In 1944 this historic was destroyed by Nazi troop (German) in the August uprising, but after the war, the old town was restored after a five-year reconstruction campaign by citizens was launched. It was an important site which ensured the survival of one of the most important testimonials of Polish culture. The restored town had important sites like churches, palaces, and market-place. Futhermore, the reconstruction enhanced symbol of elective authority and was a significant contribution to changes in doctrines related to urbanization. It was inscribed in the UNESCO's world heritage list in 1980 as a cultural site.
Other Heritage Sites In Poland
Other heritage sites in Poland include; Zamosc Old City inscribed in 1992 as a cultural center, Wrocław Centennial Hall inscribed in 2006 as a cultural center, and the Białowieża Forest inscribed in 1979 as a natural heritage centers.
UNESCO World Heritage Sites In Poland
| | |
| --- | --- |
| UNESCO World Heritage Sites In Poland | Year of Inscription; Type |
| Auschwitz Birkenau Concentration Camp | 1979; Cultural |
| Białowieża Forest | 1979; Natural |
| Churches of Peace in Jawor and Świdnica | 2001; Cultural |
| Kalwaria Zebrzydowska Mannerist Architecture and Landscapes and Pilgrimage Park | 1999; Cultural |
| Kraków Historic Center | 1978; Cultural |
| Malbork Castle of the Teutonic Order | 1997; Cultural |
| Muskauer Park & Park Mużakowski | 2004; Cultural |
| Toruń Medieval Town | 1997; Cultural |
| Warsaw Historic Center | 1980; Cultural |
| Wieliczka and Bochnia Royal Salt Mines | 1978; Cultural |
| Wooden Churches of Southern Małopolska | 2003; Cultural |
| Wooden Tserkvas of the Carpathian Region in Poland | 2013; Cultural |
| Wrocław Centennial Hall | 2006; Cultural |
| Zamość Old City | 1992; Cultural |
This page was last updated on April 25, 2017.
Citations
Your MLA Citation
Your APA Citation
Your Chicago Citation
Your Harvard Citation
Remember to italicize the title of this article in your Harvard citation.