Travel
Tourist Attractions In The Most Visited Cities In Colombia
Bogotá is Colombia's most visited city.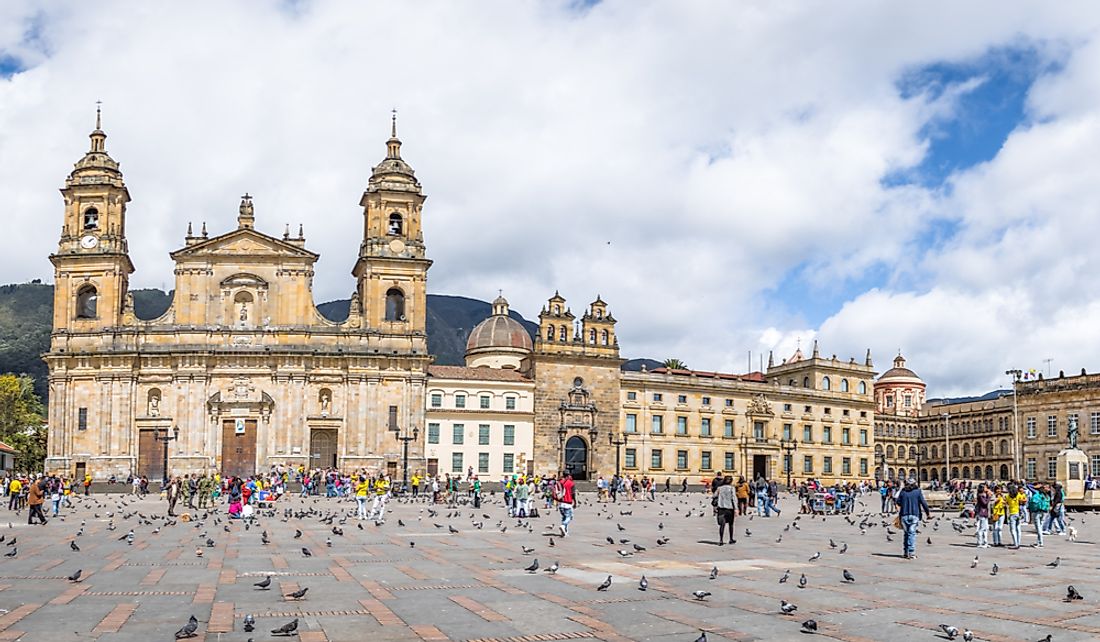 Colombia is a country located in the northwestern part of South America. With coastlines on the Pacific Ocean and the Caribbean Sea, and crossed by three large chains of mountains, Colombia is endowed with great natural beauty. Its varied landscapes and ecological regions include tropical jungles, deserts, volcanoes, and waterfalls. In addition to its natural beauty, the country features places of historical and cultural interest. Many Colombian cities have emerged as popular tourist destinations. Some serve as gateways to nearby natural attractions, while others are home to points of interest within their boundaries. Many of Colombia's cities now have improved museums, parks, extensive networks of cycling routes, and newly developed entertainment facilities that are appealing to tourists.
Tourism is a fast-growing industry in Colombia. In 2016, tourism contributed 2% of Colombia's total gross domestic product (GDP) and was responsible for 2.5% of total employment. Between 2007 and 2017, the total number of foreign tourists that visited Colombia rose from 0.6 million to 4 million. The United States, Venezuela, and Ecuador were the three top source countries for tourists visiting Colombia in 2015. The country's government stresses the need to ensure responsible tourism by minimizing the negative impacts of tourism on the environment. The attractions in Colombia's five most visited cities are highlighted below.
5. Attractions in Santiago de Cali
Santiago de Cali, also known simply as Cali, is southwest Colombia's most populous city. Founded in 1536 by Spanish explorer Sebastián de Belalcázar, Cali is now the sports hub of Colombia. Many international sports tournaments like the 1971 Pan American Games, 2015 World Youth Championships in Athletics, and the 1992 World Wrestling Championships have been held in the city. Cali also features many historical attractions like churches, monuments, museums, parks, squares, and a well-preserved historical center. The Cali River flows through the city, providing a natural charm. In recent years, Cali has also become a top destination for individuals seeking inexpensive cosmetic surgery.
4. Attractions in Medellín
Colombia's fourth most visited city, Medellín, is located in the Aburrá Valley of the Andes Mountains. Medellín is a charming city with many tourist attractions. Numerous festivals, such as the Festival of the Flowers, International Poetry Festival, International Tango Festival, and the Book and Culture Festival, are held in the city. Christmas lights in the city, referred to as "The Lighting in Medellín" is a traditional event during which millions of lights are hung throughout the city during the Christmas season. In fact, National Geographic has ranked Medellín among the world's ten best places to see Christmas lights. Cultural programs and light shows are also held during the festive season. Medellín is home to 40 galleries and museums, including the Museum of Antioquia, Planetarium of Medellín, and Museum of Modern Art of Medellín.
3. Attractions in Ipiales
The city of Ipiales is a popular tourist destination in Colombia. It is nicknamed "the city of the green clouds," as greenish clouds can sometimes be seen over the city. One of the city's most popular attractions among international tourists is the Las Lajas Sanctuary, a beautiful Catholic church with impressive architecture. The church was built in the Gothic Revival style and is located in the canyon of the Guáitara River. The surrounding green, hilly terrain, rippling cascades, and Guáitara River enhance the beauty of the Las Lajas Sanctuary. Ipiales is also the venue of the annual "Black and White Carnival," a festival that celebrates racial diversity, and is attended by tourists from across the country. During the festival, individuals paint each other with white soap and make-up.
2. Attractions in Cartagena
Cartagena is Colombia's second most visited city. Founded in 1533 as a port and colonial fortress, old the walled city of Cartagena has been designated a UNESCO World Heritage Site. Tourism is the mainstay of Cartagena's economy, and some of the most visited sites include Las Bóvedas, the Clock Tower, Teatro Heredia, and the Cartagena Gold Museum. A number of cultural festivals are also held in Cartagena, such as the Cartagena International Music Festival, Festival of the Sweets, Summer Festival, Festival de Jazz bajo la Luna, which attract tourists to the city from far and wide.
1. Attractions in Bogotá
Bogotá is Colombia's capital city and is responsible for 56% of the country's tourism. The city was established in 1538 by Spanish conquistador Gonzalo Jiménez de Quesada y Rivera, but was inhabited much earlier by indigenous populations. La Candelaria, the historical center of the city, has many hotels and historical places of tourist interest, including the Museum of Gold, Botero Museum, José Celestino Mutis (a botanical garden), Quinta de Bolívar (national observatory), and several monuments. Major international events like the 16th World Summit of Nobel Peace Laureates and One Young World are often held in Bogotá. Tourists can travel to the city through El Dorado International Airport.
List of the Top 5 Most Visited Cities in Colombia
| Rank | City | Number of International Arrivals (First Half of 2018) |
| --- | --- | --- |
| 1 | Bogotá | 841,280 |
| 2 | Cartagena | 279,080 |
| 3 | Ipiales | 244,010 |
| 4 | Medellín | 197,880 |
| 5 | Santiago de Cali | 84,450 |
About the Author
Oishimaya is an Indian native, currently residing in Kolkata. She has earned her Ph.D. degree and is presently engaged in full-time freelance writing and editing. She is an avid reader and travel enthusiast and is sensitively aware of her surroundings, both locally and globally. She loves mingling with people of eclectic cultures and also participates in activities concerning wildlife conservation.
This page was last updated on March 4, 2019.
Citations
Your MLA Citation
Your APA Citation
Your Chicago Citation
Your Harvard Citation
Remember to italicize the title of this article in your Harvard citation.