Travel
Top Source Countries For International Tourists To Australia
Tourists from New Zealand constitute a major percentage of international tourists visiting Australia, and primarily concentrate on short package tours to the iconic destinations in the country.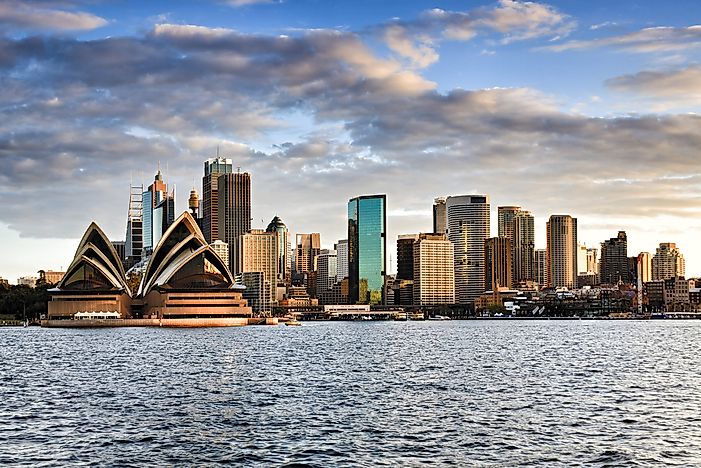 Tourism In Australia
A large part of the economy of Australia is comprised of its tourism sector, which contributed $47.5 billion to the national gross domestic product in the 2014/2015 fiscal year. This sum represents 3% of the GDP total. In addition to providing a large amount of money to the national GDP, the Australian tourism sector also creates 5% of the country's jobs. International tourism has been on the rise in Australia, with a 4.4% increase in the 2010/2011 fiscal year. This number is expected to continue growing. This article takes a closer look at where international tourists go in Australia and where exactly they themselves are coming from.
Tourist Destinations In Australia
One of the reasons for Australia's growing tourism sector is its wide range of tourist destinations. Sydney, Melbourne, and Brisbane, the major cities in Australia, are popular tourist locations. Other popular destinations include the Great Barrier Reef, the Tasmanian wilderness, the Australian outback, the Gold Coast, Queensland, casinos, shopping, and vineyards. Perhaps the most famous of these places is the Great Barrier Reef. Approximately 2 million tourists visit the Great Barrier Reef annually. The government has implemented strict regulation surrounding the area in order to reduce potential negative impacts to this sensitive ecosystem.
Top Source Countries For International Tourists
As previously mentioned, Australia receives a large number of international tourists every year. In fact, 7,428,600 international tourists visited Australia in 2015. Statistics show that international tourists tend to purchase or plan package trips that include the major sites and at least 1 wildlife viewing excursion. Additionally, Australia receives a large number of backpacker-type tourists. These types of travelers tend to stay for longer periods of time, getting to know more of Australia and even seeing places and things that are not on the typical tourist list. In order to finance their extended stays, many backpackers apply for working holiday visas. These visas allow individuals to work in the country while on vacation. They are available to people between 18 and 30 years of age and primarily to those individuals from the western region of Europe, Canada, some Eastern Asian countries.
1.New Zealand
A large portion of these individuals come from New Zealand. New Zealand, which sent 1,309,900 tourists in 2015, has been the number 1 source country for international tourists to Australia since at least the year 2000.
2.China
In 2013, the number of visitors from China made a large leap from 285,000 to 708,900, moving the country from 5th place to 2nd place. Today, it remains at 2nd place, but with a significantly larger number of tourists. As of 2015, tourists leaving China for Australia are numbered at 1,023,600.
3.Great Britain
Great Britain comes in 3rd place, a position held since the year 2000, by sending 688,400 tourists in 2015. Many of these tourists follow the trend of a short-term package trip like that previously mentioned. Great Britain, however, is one of the biggest sources of backpackers to Australia.
4.United States
The United States also sends a significant number of backpackers to Australia. This country is also the 4th largest source of tourists. In 2015, the US sent around 609,900 travelers to Australia.
The chart published below offers a more in-depth look at the major source countries for international tourists to Australia.
Top Source Countries For International Tourists To Australia
| Rank | Country | Number Of Visitors, 2015 |
| --- | --- | --- |
| 1 | New Zealand | 1,309,900 |
| 2 | China | 1,023,600 |
| 3 | United Kingdom | 688,400 |
| 4 | United States | 609,900 |
| 5 | Singapore | 395,800 |
| 6 | Malaysia | 338,800 |
| 7 | Japan | 335,500 |
| 8 | India | 233,100 |
| 9 | South Korea | 230,100 |
| 10 | Hong Kong | 219,700 |
This page was last updated on April 25, 2017.
Citations
Your MLA Citation
Your APA Citation
Your Chicago Citation
Your Harvard Citation
Remember to italicize the title of this article in your Harvard citation.