Economics
Top Pineapple Producing Countries
Costa Rica is the largest pineapple producer in the world, followed closely by Brazil and Philippines.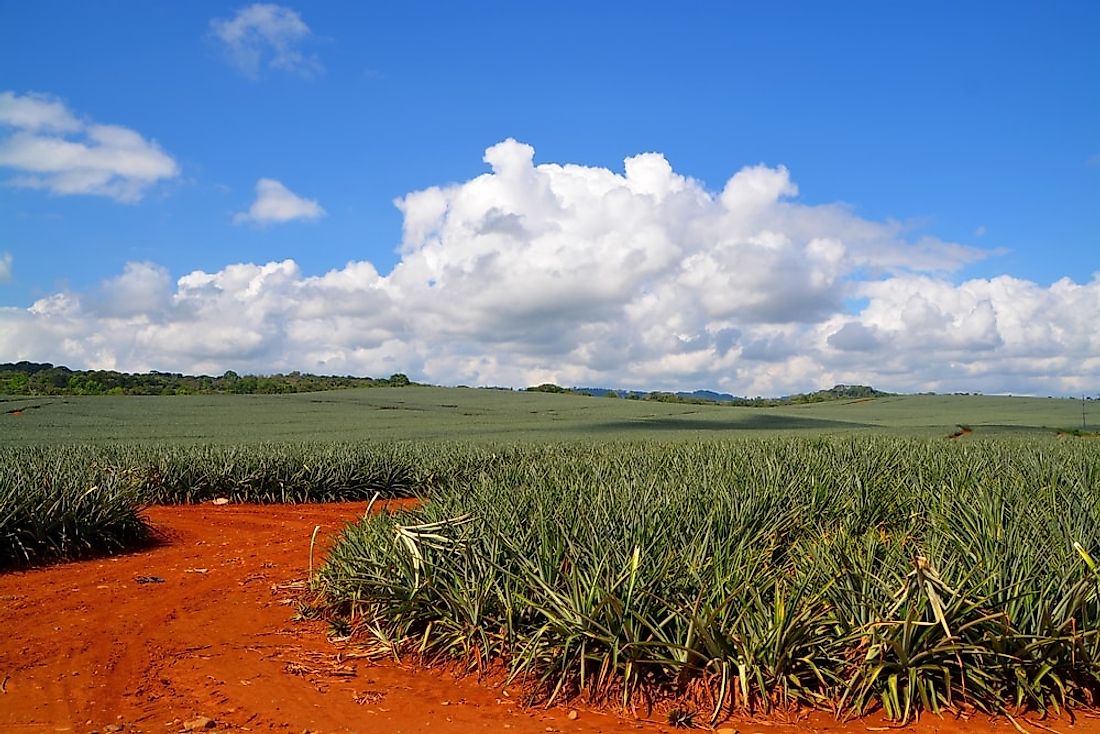 Pineapple is a native fruit of South America. The Spanish and Portuguese explorers distributed the pineapple plant to the rest of the world. Hawaii was the first place to commercially cultivate the fruit. Today, it is globally produced at around 24.8 million tons annually. Some of the top pineapple producers are listed below.
The World's Top Three Pineapple Producing Countries
1. Costa Rica - 2,930,661 Tonnes
Costa Rica tops the list of pineapple producing countries with approximately 2,930,661 tonnes produced every year. With its tropical environment, Costa Rica is the perfect environment for promoting pineapple growth. The country diligently invested in developing that sector of its economy at the beginning of 2000 and the since then has increased production by almost 300 percent. Roughly 111,200 acres of this tiny, Central American nation is covered with the crop. The biggest customers for Costa Rica are the US and Europe. While this agricultural pursuit has been great for the country, the impact on the environment is devastating. The country is now struggling with land erosion and groundwater contamination.
2. Brazil - 2,694,555 Tonnes

The second top pineapple producer is Brazil where the pineapple is thought to have originated. The production here reaches 2,694,555 tonnes annually. Pineapples are grown all over the country, but the climate of northern Brazil is more conducive to pineapple cultivation. High temperatures produce sweeter pineapples which are preferred on the world market. Harvesting occurs year-round. Exports are sent to the US and Europe, the biggest pineapple importers in the world. One of the biggest fruit producing companies, Del Monte, has 11,800 acres in Brazil, but that is for various fruits.
3. Philippines - 2,612,474 Tonnes
Next, on the list is the Philippines with an annual production rate of 2,612,474 tonnes. The pineapple is one of the most important crops in this nation, and 172,974 acres are dedicated to its production. The majority of harvested fruit is exported and accounts for 17% of the global supply. Japan purchases the greatest amount of fresh fruit (about 79%), followed by Korea (15%). Processed pineapple is mainly sold to the US. Large fruit companies like Dole and Del Monte control 85% of the production.
Culinary Uses
With its sweet and sometimes tart flavor, pineapple has captivated taste buds around the world since its introduction to other countries during the 1500's. Once a symbol of holding an elite status, today most people around the world enjoy this fruit. It has many culinary uses and can be consumed as juice, fresh, preserved, or cooked.
Throughout Mexico and Central America, pineapple can be found at roadside stands where it is served covered in lime juice, spicy sauce, and sometimes salt. In the US, pineapple is often pinned to hams with cloves to help keep the meat moist while cooking and to add a distinct flavor. Many countries are familiar with pineapple-upside down cake, a delicious dessert option. Others consume fruit for breakfast with yogurt or as part of fruit salad. Pineapple has become a popular pizza topping, which is often referred to as Hawaiian style and even finds its way onto grills where it is seared with ginger. Whichever way it is enjoyed, pineapple is an extremely nutritious fruit with high levels of vitamin C.
Which Countries Grow the Most Pineapples?
Costa Rica is the largest pineapple producer in the world, followed closely by Brazil and Philippines.
Pineapple Production By Country
| Rank | Area | Value |
| --- | --- | --- |
| 1 | Costa Rica | 2,930,661 |
| 2 | Brazil | 2,694,555 |
| 3 | Philippines | 2,612,474 |
| 4 | China | 2,078,126 |
| 5 | India | 1,964,000 |
| 6 | Thailand | 1,811,591 |
| 7 | Nigeria | 1,591,276 |
| 8 | China, mainland | 1,550,965 |
| 9 | Indonesia | 1,396,153 |
| 10 | Mexico | 875,839 |
| 11 | Colombia | 755,971 |
| 12 | Ghana | 661,500 |
| 13 | Angola | 644,373 |
| 14 | Viet Nam | 555,407 |
| 15 | China, Taiwan Province of | 527,161 |
| 16 | Peru | 461,286 |
| 17 | Venezuela (Bolivarian Republic of) | 452,654 |
| 18 | United Republic of Tanzania | 418,988 |
| 19 | Malaysia | 391,714 |
| 20 | Dominican Republic | 375,506 |
About the Author
Amber is a freelance writer, English as a foreign language teacher, and Spanish-English translator. She lives with her husband and 3 cats.
This page was last updated on April 19, 2018.
Citations
Your MLA Citation
Your APA Citation
Your Chicago Citation
Your Harvard Citation
Remember to italicize the title of this article in your Harvard citation.