Society
Top Cities In Oregon
Naturally rich in spectacular landscapes and having mild climates, many cities in the US state of Oregon provide idyllic living spaces for their residents.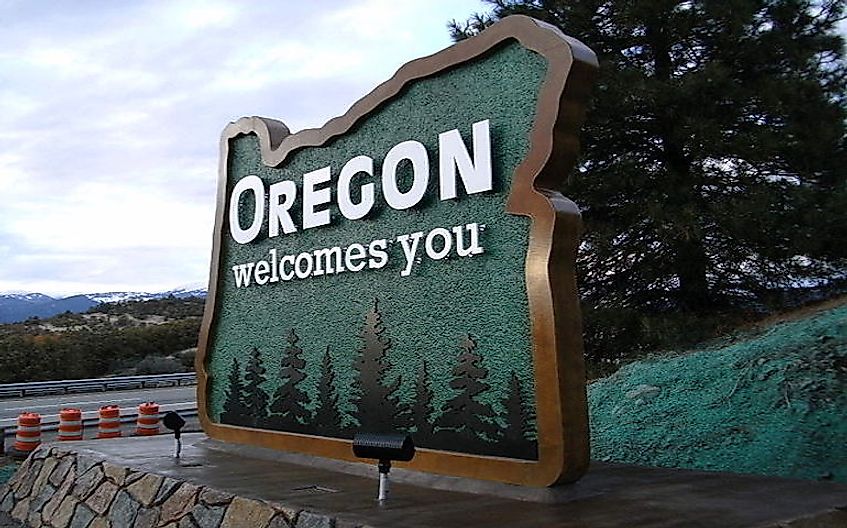 The US State Of Oregon
Oregon is a Pacific northwestern state in the United States (US), located between Washington and California. The state consists of 8 geographic areas including coastlines, valleys, mountains, and high altitude deserts. Various climates occur throughout the state due to its varied geography. The climate patterns prevalent across the state includes oceanic, Mediterranean, steppe, and subarctic. The Pacific Ocean heavily influences the weather along the coast, creating mild and wet winters. The population size is 4,028,977 and comprised of various ethnicities: white (83.6%), Asian (3.7%), Black (1.8%), and Native (1.4%). Residents here have an average income of $39,848, and the unemployment rate is 6.7% (1.1% higher than the national average). The population is concentrated in urban areas, some of which are discussed below.
Most Populated Cities
The most populated cities are located in the Willamette Valley and include Portland (632.309), Salem (164,549), Eugene (163,460), Gresham (110,553), Hillsboro (102,347), and Beaverton (96,577).
Portland
Portland became a popular destination for settlers in the mid-1800's due to its location at the end of the historic Oregon Trail. Its location on the Columbia River offers easy access to the Pacific Ocean which promoted trade and the logging industry. In the 1950's, this city developed a reputation for organized crime and in the 60's became a center for liberal political ideologies. Although the organized crime rates reduced, crime overall has not. According to the 2009 FBI Uniform Crime Report, Portland ranks 53rd in violent crimes. These crimes include aggravated assault, homicide, rape, and robbery. Although Portland continues to be the most populated urban area in the state, its crime rate prevents it from being listed on the list of Top 50 Best Places to Live in Oregon. Below is a look at some of the top cities in Oregon.
Top Places to Live in Oregon
Top cities in Oregon have been ranked by AreaVibes according to a livability scale which includes such factors as amenities, the cost of living, crime, education, employment, housing, and weather. Although these cities do not make it to our list of most populated cities in Oregon, they are definitely famous for their high living standards.
West Linn
According to this scale, West Linn (population 26,593) is the best place to live in Oregon. This city received a livability score of 82 against a national average of 60. West Linn scored particularly high in local amenities and low crime rates. For people living here, supermarkets, restaurants, public transportation, and libraries are easy to access. Additionally, the crime rate is 68% lower than in the rest of the state. These perks do come with their downfall, however, the cost of living is 18% higher than the state average.
Lake Oswego
The second top city in Oregon is Lake Oswego (population 38,496) which also scored 82. This town is high in amenities and enjoys low crime rates, though not as low as that in West Linn. Here, the crime rate is 55% lower than the rest of the state. In addition, this town has a high school graduation rate that is 14% higher than the Oregon average and test scores that are 34% higher than the national average. Like West Linn, however, the cost of living in Lake Oswego is significantly higher than the rest of Oregon (28% more to be exact). This cost of living places it at number 2.
Durham
Ranking third among the top cities in Oregon is Durham, a small town of 1,327 people located south of Portland in the Willamette Valley. This town also received a livability score of 82 due to varied conveniences located nearby and a crime rate that is 85% lower than the rest of the state! Unfortunately, its education rating brought its rank down to number 3. Although the high school graduation rate is 7% higher than the Oregon average, less than half of the population holds a Bachelor's degree.
These are just the top three places to live in the state. Choosing a city to live in is a long process and requires considering many factors. For a look at Oregon's urban areas in order of population, there is a table published below.
What is the Largest City in Oregon?
Portland is the most populated city in Oregon with a population of 632.309.
Top Cities In Oregon
| Rank | City | Population (2015 est.) | County |
| --- | --- | --- | --- |
| 1 | Portland | 632,309 | Multnomah, Washington, Clackamas |
| 2 | Salem | 164,549 | Marion, Polk |
| 3 | Eugene | 163,460 | Lane |
| 4 | Gresham | 110,553 | Multnomah |
| 5 | Hillsboro | 102,347 | Washington |
| 6 | Beaverton | 96,577 | Washington |
| 7 | Bend | 87,014 | Deschutes |
| 8 | Medford | 79,805 | Jackson |
| 9 | Springfield | 60,870 | Lane |
| 10 | Corvallis | 55,780 | Benton |
| 11 | Albany | 52,175 | Linn, Benton |
| 12 | Tigard | 51,253 | Washington |
| 13 | Lake Oswego | 38,496 | Clackamas, Multnomah, Washington |
| 14 | Keizer | 37,895 | Marion |
| 15 | Grants Pass | 37,088 | Josephine |
| 16 | Oregon City | 35,831 | Clackamas |
| 17 | McMinnville | 33,892 | Yamhill |
| 18 | Redmond | 28,654 | Deschutes |
| 19 | Tualatin | 27,154 | Washington, Clackamas |
| 20 | West Linn | 26,593 | Clackamas |
About the Author
Amber is a freelance writer, English as a foreign language teacher, and Spanish-English translator. She lives with her husband and 3 cats.
This page was last updated on April 25, 2017.
Citations
Your MLA Citation
Your APA Citation
Your Chicago Citation
Your Harvard Citation
Remember to italicize the title of this article in your Harvard citation.