Economics
Top Cement Producing Countries In The World
China, India, and the United States were the top three cement producers in the world in 2014.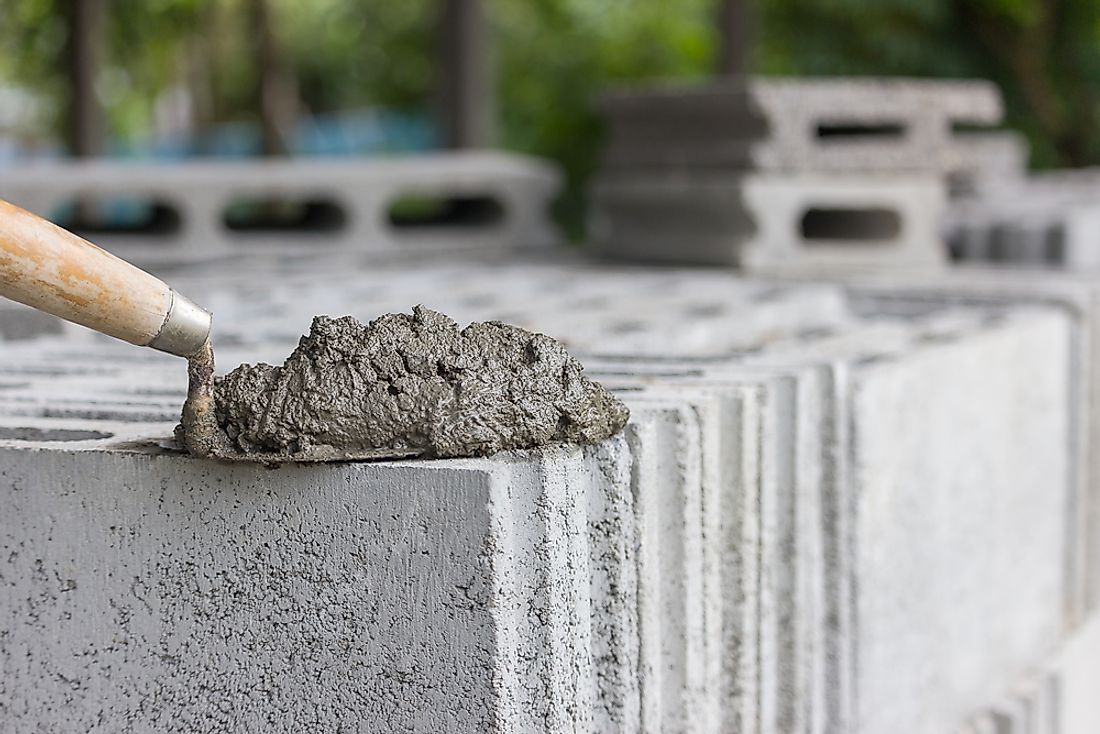 Cement is a fine powder commonly used as a binder in construction. When the substance is mixed with water, gravel, and sand, concrete is formed. Mixing cement, water, sand, and lime will create mortar. Cement is manufactured from different materials including limestone, chalk, shells, or marble combined with clay, iron ore, silica sand, shale, and slate. These resources are heated to high temperatures to form a rock-like material which is subsequently ground to form cement.
1. China
In 2014, China produced 2,500 million metric tons of cement. The nation has the world's largest cement industry. China is urbanizing at a rapid rate characterized by the growth of small and large cities and metropolises. More and more people in China are moving from rural areas into cities every year and the government has invested in infrastructure from roads, railways, and buildings. The majority of residents in China live in structures made from cement (unlike some countries like the US where many houses are built of wood). Most of the country's cement companies are owned by the state and therefore access cheap capital and government support. These factors have boosted over-production. The cement industry in China has been praised and criticized in equal measure. While improved infrastructure has expanded the Chinese economy, large-scale cement manufacture has also contributed to massive environmental pollution.
2. India
India's cement industry produced 280 million metric tons in 2014. Cement production in the country records a 5-6% growth annually. The top players in the nation's cement sector are Ultratech Cement which commands 22% of the domestic market followed by ACC and Ambuja with an estimated 15% and 13% market share respectively. Residential real-estate construction is the biggest consumer of cement in India. Infrastructure and commercial real-estate construction in addition to industrial development are other cement users in the country.
3. The United States
The US is home to the third largest cement industry in the world. In 2014, 83 million metric tons of cement was produced in the nation. 34 American states have cement manufacturing plants. The states of Texas, Missouri, Alabama, California, and Florida produced nearly half of the total cement manufacturers in the US in 2013. The US also has two plants located in Puerto Rico. In 2015, 10% of the cement consumed in the nation was imported with the bulk coming from Greece and Canada. Portland cement in the US is produced by leading companies such as CEMEX, Lehigh Hanson Inc., Texas Industries Inc., and LafargeHolcim.
4. Iran
The total cement produced in Iran in 2014 amounted to 75 million metric tons. The country has increased its capacity to become the largest cement producer in the Middle East. Iran is a major cement exporter destined for countries such as Iraq, Turkmenistan, Azerbaijan, Kuwait, and Afghanistan. In 2015, the country had 71 cement plants which together have a capacity of 80.6 million tons/year. The leading cement companies such as Fars and Khuzestan Cement Company and Ghadir Investment Company are backed by the government.
Emerging Trends
The manufacture of cement is associated with the release of greenhouse gasses. Urbanizing countries such as India and China have been blamed for the increasing cement-related pollution. The concept of green cement was developed as a substitute for the current methods of producing cement. Green cement uses less natural raw materials, energy, and water and it is emerging as a replacement for Portland cement. Research is ongoing to develop innovative manufacturing methods of green cement with the aim of reducing and even eliminating the emission of greenhouse gasses and other toxic pollutants.
Which Country Produces the Most Cement?
Countries that produce the most cement are China, India, the United States, and Iran.
Top Cement Producing Countries In The World
| Rank | Country | Cement Production (million metric tons), 2014 |
| --- | --- | --- |
| 1 | China | 2,500 |
| 2 | India | 280 |
| 3 | United States | 83 |
| 4 | Iran | 75 |
| 5 | Turkey | 75 |
| 6 | Brazil | 72 |
| 7 | Russia | 69 |
| 8 | Saudi Arabia | 63 |
| 9 | Indonesia | 60 |
| 10 | Vietnam | 60 |
| 11 | Japan | 58 |
| 12 | Egypt | 50 |
| 13 | Korea ROK | 48 |
| 14 | Thailand | 42 |
| 15 | Mexico | 35 |
This page was last updated on August 1, 2017.
Citations
Your MLA Citation
Your APA Citation
Your Chicago Citation
Your Harvard Citation
Remember to italicize the title of this article in your Harvard citation.