Society
The World's Tallest Waterslides
These are some of the tallest waterslides in the world.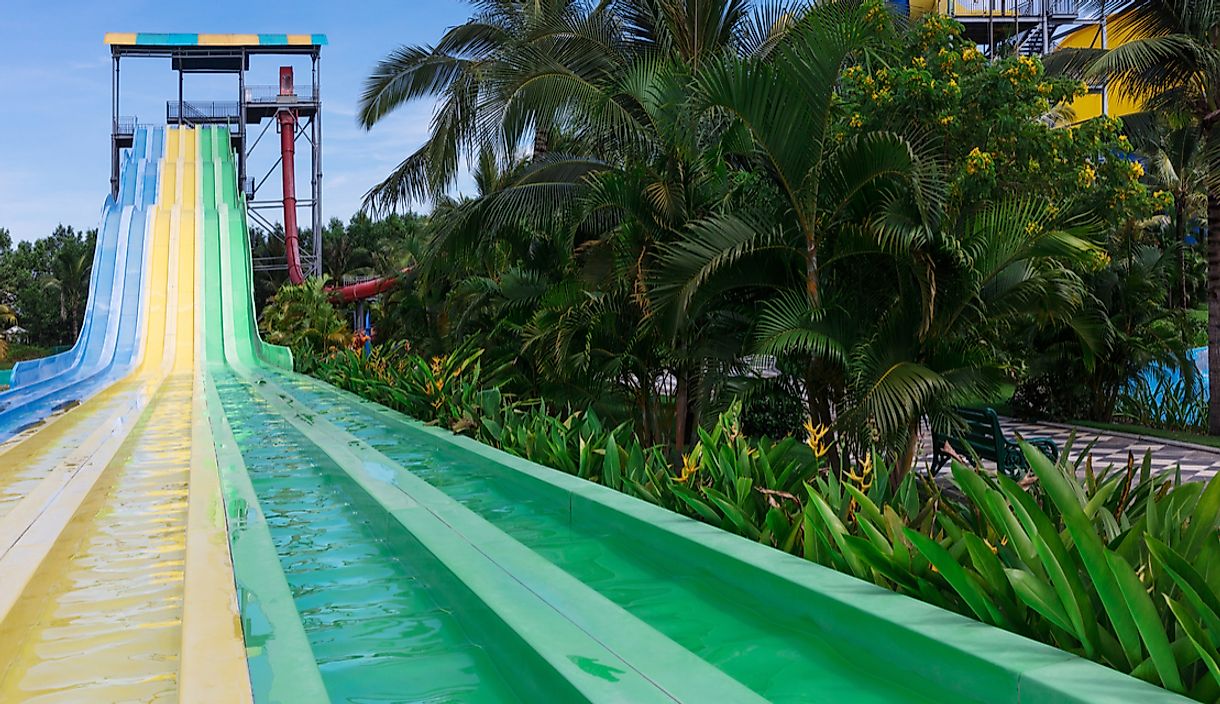 Waterslides came into existence in the 20th century with the Toboggan Slide being the earliest invention. Since becoming popular attractions in the mid-80's, the world's leading water parks have been competing in a bid to give riders once in a lifetime experiences. These are some of the world's tallest waterslides.
Four Tallest Waterslides
Kilimanjaro
The kilimanjaro is a waterslide that is located in the Aldeia das Aguas Park Resort in Brazil. Standing at 164 feet, it is the world's tallest free-fall body slide and holds the Guinness World Record for the highest drop on a waterslide. People willing to brave the plunge slide down at an estimated speed of 60 miles per hour off of a 60 degree incline. The waterslide rests on the side of a hill and safely extends upwards to attain its height. To achieve its massive drop height, it is dug into the side of the hill.
Insano
Standing at 135 feet or 41 meters tall, the Insano holds the world record for the world's tallest free-standing water slide. Just like its name suggests, it is one of the most extreme slides in the world with riders descending at a speed exceeding 105 km/hr. The entire descent takes 4 to 5 seconds with the riders plunging into an awaiting pool. The water slide is part of a water park near Fortaleza in Brazil. The park is known as Beach Park, and is the largest water park Latin America.
Captain Spacemaker
The Captain Spacemaker is a raft waterslide located in the award winning Aqualandia Water Park in Jesolo, Italy. Three or four riders in an inflatable raft descend the 60° incline at a speed of 62 miles per hour before splashing into a breathtaking finale. The slide is known to be visited by various celebrities for excitement. Its height is still debated with some records reporting it to be 137 feet tall while others say it is 132 feet tall. Whichever the case, it is the tallest water slide in Europe and the park's signature ride.
Ko'okiri Body Plunge
This slide is known as one of the wildest waterslides in the world and is a massive attraction in the recently opened Volcano Bay Water Theme Park in Orlando, USA. The slide is part of three other waterslides in the Krakatou which is a 200 foot tall volcano in the park with cascading waterfalls and hidden caverns. The Ko'okiri has a vertical height of 125 feet and sliders descend by taking a 70° fall through a drop door. The slide holds the record for the world's tallest drop capsule slide. It is also the world's first slide to travel through a pool filled with guests.
Conclusion
With the current demand for extreme adventure among thrill riders, more water parks are coming up with unique waterslides as their distinct features. Considering the current trends and the need to meet these demands, one can predict that future waterslides are bound to be bigger, taller, faster and even longer.
The World's Tallest Waterslides
| Rank | Waterslide Name | Location | Drop Height (Feet/Meters) |
| --- | --- | --- | --- |
| 1 | Kilimanjaro | Barro Do Pirai, Brazil | 164/49 |
| 2 | Insano | Aquiraz, Brazil | 135/41 |
| 3 | Captain Spacemaker | Jesolo, Italy | 132/42 |
| 4 | Ko'okiri Body Plunge | Orlando, United States | 125/38 |
| 5 | Kala and Ta Nui | Orlando, United States | 124/37.8 |
| 6 | Deep Water Dive | Louisville, United States | 121/37 |
| 7 | Summit Plummet | Orlando, United States | 120/36.6 |
| 8 | Verti-Go | Benidorm, Spain | 108/33 |
| 9 | Huricana Sliide | Monteux, France | 108/33 |
| 10 | Jumeirah Sceirah | Dubai, United Arab Emirates | 105/32 |
| 11 | Stukas Boom | Localita Fossalta, Italy | 105/32 |
| 12 | Xpirado | Rio Qunte, Brazil | 105/32 |
| 13 | Free Fall | Quarteira, Portugal | 105/32 |
| 14 | King Khajuna | Salou, Spain | 102/31 |
| 15 | ZOOMbabwe | Santa Claus, United States | 102/31 |
This page was last updated on June 13, 2017.
Citations
Your MLA Citation
Your APA Citation
Your Chicago Citation
Your Harvard Citation
Remember to italicize the title of this article in your Harvard citation.