World Facts
The World's Largest Casino Markets
The Chinese Special Administrative Region of Macao is the world's top-earning gambling destination.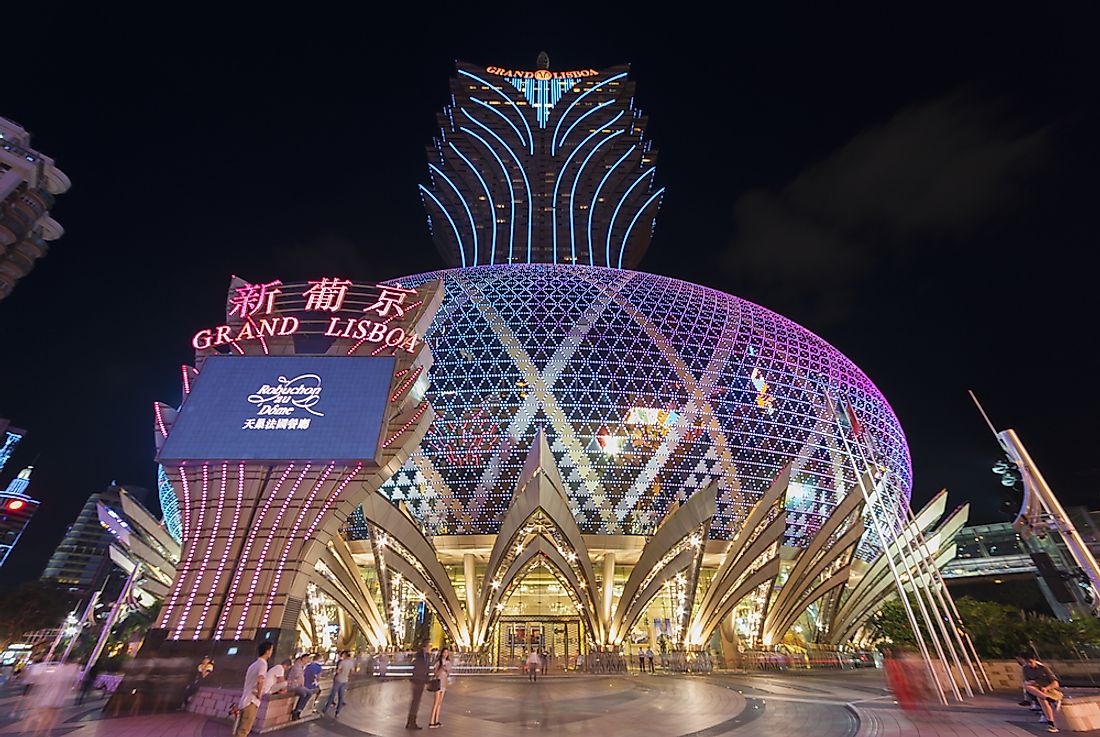 A casino is a place where people engage in gaming and gambling activities whose results are not known with an aim of making money and other valuables such as gold. This gambling game is by chance and may result in gaining or losing money and other valuables. Most famous casinos around the world are places of extravagant and reckless spending of cash and other valuables. However, they can also be sources of wealth for those who play their cards well.
Largest Casino Markets
Macau
Gambling has been going on in Macau legally since the 1850s, generating more than half of China's GDP, amounting to over USD $28,379 million. Tourists from across the globe visit the casino majorly because of the introduction of wagering games from the west. Other games include blackjack, Sic Bo, Fan Tan, Keno, baccarat, Greyhound racing, and bouleroulette slot machines with the latest entry being poker. The main companies facilitating casino acts are Las Vegas Sands and Galaxy Entertainment. The monetary unit used is Hong Kong Dollar. A board called the Gaming Inspection and Coordination Bureau regulates the casino industry. A casino should comply with tax requirements and contractual penal codes.
Las Vegas, Nevada
Las Vegas has the highest number of casinos in the US, with over 104 establishments and a turnover of USD $10,300 million. Major activities include slot machines video pokers, online betting, horse racing, and lotteries. There are four regions with high concentration of Casinos namely the Strip, North Vegas, Downtown, and the boulder strip. The largest casino in Les Vegas, Venetian, is built on a 243,684 square ground and holds 2,639 slots and table games. The casinos are regulated by the Nevada State Gaming Control Board and the Nevada Gaming Commission.
Singapore
The main casinos in Singapore, Marina Bay Sands and Resorts World Sentosa, opened their doors to the public in 2010. The casinos offer mostly lottery games including the 4D bets, Toto and Singapore Sweep, sports betting, online gambling, and horse betting. The revenue collected from all the casinos in Singapore is in excess of USD $5,479 million. The Casinos Control Act was passed in 2006 to ensure casinos are operated lawfully. The National Council of problem gambling was also put in places in August 2005 to regulate the casino activities. In 2005, the Prime Minister Lee Hsien Loong approved the building of legitimate casinos.
France
The casino industry in France began in the 17th century and has since grown to include activities such as porker, horse racing, lotteries, land-based gambling, internet gambling, and pool betting. French casinos generate total revenue of over USD 3,957 annually. In 2012, the Security Code was enacted to regulate casinos in the sea, climate resorts, and in marine carriers. Other parastatals regulating the industry are Pari Mutuel Urbain (PMU) which monitors horseracing and Francaise Des Jeux (FDJ) responsible for gaming and lotteries. The Regulatory Authority for Online games (ARJEL) is in charge of internet gambling.
Atlantic City, New Jersey
Established in the early 1800s with only lotteries, the industry has currently incorporated online betting, horse racing, off-track betting, amusement gambling and both the social and charity gambling. The Atlantic City-based casino employs more than 33,000 people with close to 30 million gamblers each year and generates more than USD $3,330 annually. The early laws were enacted in the early 1800s. In 1894, prohibitive laws were passed to make gambling illegal though it was legitimized in 1970 when a New Jersey Lottery was commissioned. A referendum conducted in 1976 passed that casinos should be built in the Atlantic City area only. In January 2011, a bill was passed to embrace online wagering when one attains 21 years.
Casino Controversy
The casino industry contributes greatly to the economy through taxation and also promotes tourism. However, opponents of casino gambling argue that the social and economic consequences of gambling far outweigh the revenue. Casinos are mainly built near hotels and other shopping facilities as a marketing strategy and also to offer those visiting a city a variety of option for their entertainment.
Where are the world's largest casino markets?
Macau, Las Vegas, Singapore, France, and Atlantic City, New Jersey are some of the world's largest casino markets.
The World's Largest Casino Markets
| Rank | Location | Casino Revenue, in US Millions |
| --- | --- | --- |
| 1 | Macau | 28,379 |
| 2 | Las Vegas, Nevada | 10,300 |
| 3 | Singapore | 5,479 |
| 4 | France | 3,957 |
| 5 | Atlantic City, New Jersey | 3,330 |
| 6 | Australia | 2,847 |
| 7 | South Korea | 2,512 |
| 8 | Germany | 2,081 |
| 9 | South Africa | 2,012 |
| 10 | United Kingdom | 1,209 |
| 11 | Poland | 1,126 |
| 12 | Niagara Falls, Canada | 1,203 |
About the Author
John Misachi is a seasoned writer with 5+ years of experience. His favorite topics include finance, history, geography, agriculture, legal, and sports. 
This page was last updated on November 16, 2017.
Citations
Your MLA Citation
Your APA Citation
Your Chicago Citation
Your Harvard Citation
Remember to italicize the title of this article in your Harvard citation.