The Underwater Roller Coaster of Yokohama, Japan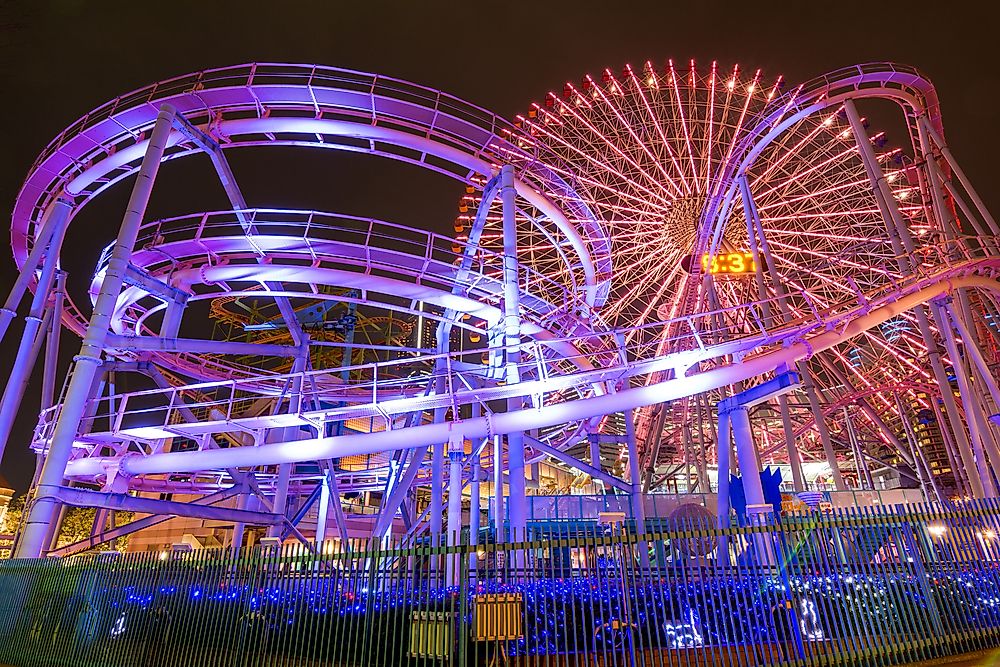 Visitors will become momentarily invisible as they take an almost vertical plunge underwater while riding the Underwater Roller Coaster of Yokohama, Japan. Indeed, the attraction is actually called Vanish for that very reason. As its name implies, the ride dives headlong into a tunnel constructed underwater. It is 2,440 feet in length, and a single ride will take around one minute and 58 seconds to complete.
3. Tourism
Vanish is just one of the many attractions which are easily accessible at the Yokohama Cosmo World Amusement Park in Yokohama, Japan. Conveniently situated at the central section of Minato Mirai, this amusement park does not have an entrance fee. Instead, its visitors need only pay for each attraction or ride that they are interested in. Those who are not faint of heart may visit this underwater roller coaster for the sheer thrill that it offers, while others can visit other nearby attractions which include the famous Cosmo Clock 21 ferris wheel (which is actually the park's main attraction), a series of carnival games, and other activities.
2. Uniqueness
The Vanish Underwater Roller Coaster has long been listed on many bloggers' sites as being among the most exciting and must-try attractions in the world. This is not only due to the singular experience that it offers, but also because of the many other rides that the park provides right beside it. From child-friendly activities to countless bars, shops and bars, everything Cosmo World offers is within walking distance from each other, with its own Chinatown being listed as one of them. The prices for rides meant for children average out at around $3 USD, or 300-500 Japanese Yen, and rides for adults seldom exceed $6 USD (or 700 Yen).
1. Habitat
This widely popular tourist attraction is found in the city of Yokohama, Japan, and was first made open to the public in 1999. A primary commercial hub of the Greater Tokyo Area, Yokohama is the second largest city in all of Japan. With close to four million people within its borders, the city is also Japan's most populated municipality and is the capital city of the Kanagawa Prefecture. Like the capital Tokyo Metropolis bordering Kanagawa's north, Yokohama is a major port city which has had an enormous impact on the economy and history of Japan. The city's famous Cosmo Clock 21 ferris wheel, located in the same amusement park as the Vanish roller coaster. obtained its fame for having been the tallest ferris wheel in the world at the time of its construction.