Amusement Parks With The Most Roller Coasters In The World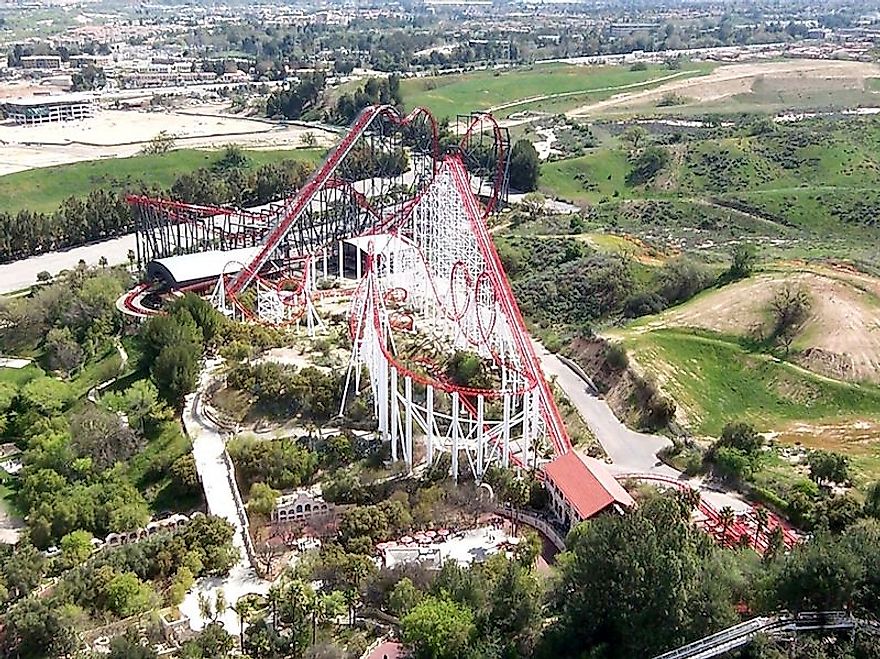 Roller Coasters Thrills
A roller coaster is a type of amusement park ride that consists of small cars that move over a specially designed track. These tracks often include uphill movements that end in steep declines, loops that force riders to go upside down, and sharp turns that tip the car sideways. Roller coasters are popular with thrill seekers around the world because they provide a much-desired rush of adrenaline. Today, they go faster and taller than ever before. The fastest roller coaster in the world is the Formula Rossa which reaches speeds of up to 149.1 miles per hour (mph)! Located in Abu Dhabi of the United Arab Emirates, riders are required to wear goggles for eye protection. For the tallest roller coaster in the world, thrill seekers need only travel to Six Flags Great Adventure in New Jersey of the United States. Here, the Kingda Ka surprises passengers with a 418-foot drop!
For anyone planning their next adrenaline packed vacation, below is a list of amusement parks with the most roller coaster options.
Amusement Parks with the Most Roller Coasters
Six Flags Magic Mountain
Six Flags Magic Mountain located in Valencia, California in the US tops the list with 19 different roller coasters for visitors! This park receives just over 3 million people a year. For the absolute thrill, vacationers should check out the Tatsu ride, a flying roller coaster that simulates the feeling of flying by strapping passengers into a laying down position. The Tatsu is the tallest and fastest flying coaster in the world, reaching 170 feet and 62 mph.
Cedar Point
Cedar Point in Sandusky, Ohio of the US takes second place on the list. This park's 3.51 million visitors can find a collection of 17 roller coasters. Cedar Point is the only amusement park in the world with five roller coasters above 200 feet. One of the most popular of these is the Millennium Force which was the world's first Giga Coaster, which means it has a drop between 300 and 399 feet. In the case of Millennium Force, it is 310 feet. This park is also home to the Giant Wheel, one of the tallest ferris wheels in North America, and Snake River Falls, a water boat attraction.
Canada's Wonderland
Number 3 on the list is Canada's Wonderland located in Maple near Toronto in the Ontario province. This amusement park is home to 16 roller coasters and receives 3.62 million visitors every year. An interesting roller coaster here is the Wonder Mountain's Guardian, unique because it is a 4D, interactive dark ride. These types of rides allow passengers to be directly involved and at this particular ride, passengers have a light gun and can choose to hit objects on the passing screens. The Wonder Mountain's Guardian is located inside Wonder Mountain and stretches to 1000 feet in length.
A complete list of amusement parks with plentiful roller coasters can be found below.
Future Roller Coaster Projects
Amusement parks have already begun to promote 2017 roller coaster projects. Kings Island in Mason, Ohio, USA (number 4 on the list) will be adding a new ride called Mystic Timbers. This roller coaster plays with a fictional story of a logging company that was forced to shut down for mysterious reasons. It is a wooden coaster that will reach over 3,000 feet in length and top speeds of 53 mph. Another wooden roller coaster, the first for the park, is planned for Busch Gardens in Williamsburg, Virginia, USA. This time, the park is asking its fans to get involved, making this the first crowdsourced roller coaster in the world. Developers are giving people the opportunity to answer surveys and participatory questionnaires in order to design the ride. This roller coaster will have a Viking invasion theme to keep riders entertained.
Amusement Parks Around The World With The Largest Number Of Roller Coasters
| Rank | Amusement Park | Location | Number Of Roller Coasters |
| --- | --- | --- | --- |
| 1 | Six Flags Magic Mountain | Valencia, California, US | 19 |
| 2 | Cedar Point | Sandusky, Ohio, US | 17 |
| 3 | Canada's Wonderland | Maple, Ontario,Toronto, Canada | 16 |
| 4 | Kings Island | Mason, Ohio, US | 14 |
| 5 | Six Flags Great Adventure | Jackson, New Jersey, US | 13 |
| 5 | Europa Park | Rust, Germany | 13 |
| 5 | Carowinds | Charlotte, North Carolina, US | 13 |
| 5 | Kings Dominion | Doswell, Virginia, US | 13 |
| 5 | Hersheypark | Hershey, Pennsylvania, US | 13 |